The purpose of marketing automation is simple. Do more with less:
spend less energy to make a series of repetitive and boring actions;
take less time to make complex and hardly repeatable actions;
experience less stress to remember the redundant actions to be taken every day;
sell more by creating targetized promotions to the right customers;
have more time available for the actions or tasks that are of higher value added;
quality life, more time for family, hobbies, etc.
It looks like an effective strategy, right?
The problem is that most of the services available online are really expensive and often too hard to implement in your business.
Aside that, many bloggers and internet marketers are already using several different tools and platforms, like WordPress, Google Analytics, hosting services, affiliate networks, email marketing and social media software (Hootsuite, for example).
At the end, adding another paid service to the list is something that many would avoid.
But what if you had the option to integrate marketing automation to a platform you are already using?
GetResponse is a well known service provider, offering email marketing (included autoresponders, A/B testing, email creator and responsive email design with landing page and webinar service).
Today the company is introducing the marketing automation at really competitive prices (in relation to other competitors out there), becoming an all in one online marketing platform.
Here's a short video that quickly introduces you to GetResponse's new marketing automation platform:
GetResponse Marketing Automation
As showed in the video, there are many features included.
Let's see the most important ones included in GetResponse's new marketing automation.
The basic rules of marketing automation is inviting the users to complete an action.
So, GetResponse created an intuitive if-then-logic: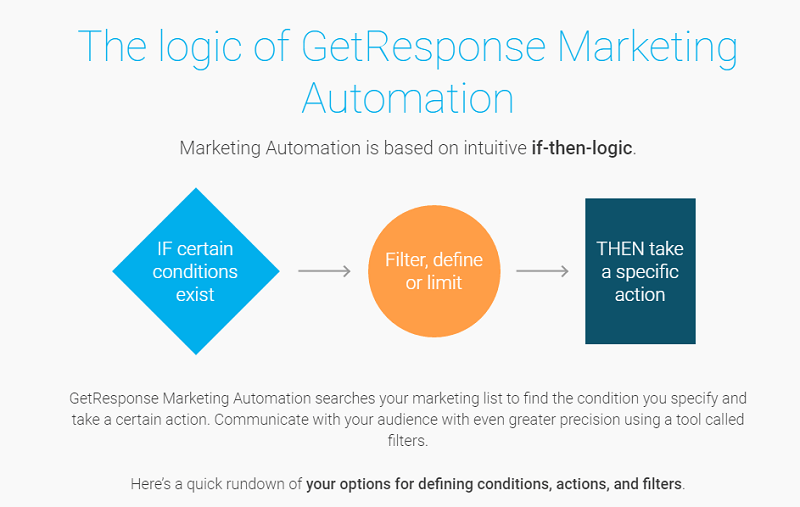 Basically, if certain condition exists, you can filter, define or limit to take a specific action.
Conditions
Here are the conditions you can set:
Scoring (used to define the part of subscribers you want to communicate based on their score value)
Subscribe (you can filter your search to those subscribers of a certain campaign or optin method)
Message open (target those who opened a specific email)
Message link clicked (set this condition to find users who clicked on a certain link)
Tag value (for those users you have tagged in the past)
Purchased (target those subscribers who engage with you immediately by completing a purchase)
Cart abandoned (track abandoned carts and invite to complete the purchase)
Visited URL (check if a user visited a certain URL and track their actions)
Actions
Once you have set the conditions to select certain subscribers, you can specify determined actions.
Here are your options:
Send email (it sends a certain email to the users you targeted)
Scoring (this adds or subtracts a specific numer of points to the scoring of determined subscribers)
Tag (use this to tag certain users with a specific tag value)
Move (it lets you move your contacts from one campaign to another, depending on engagement and interests)
Copy (use this to copy your users from any desired campaign)
Custom field (assign or remove custom fields to your subscriber profiles).
Filters
If you need to target your subscribers even further, you can use filters to select groups of users.
Here what you can do:
Range (use this to limit the segment to a certain range. For instance the first 10 subscribers who open your message)
Amount (set this filter to target a specific number of subscribers. For example, send a coupon to just 20 users)
Delay (use this option to set the amount of time to wait before taking the action. Example: for condition-open, wait 3 days before sending a certain message)
GetResponse: Easy To Use Platform
As any other feature of GetResponse, marketing automation is set to be easy to use, but advanced at the same time.
Use the drag-and-drop workflow builder to create complex campaigns.
Design the complete user experience with your strategy and simple but powerful workflows.
You can create many different scenarios and check in real time what is happening with your subscribers.
Use all the options available to track and target users to make them complete the purchase.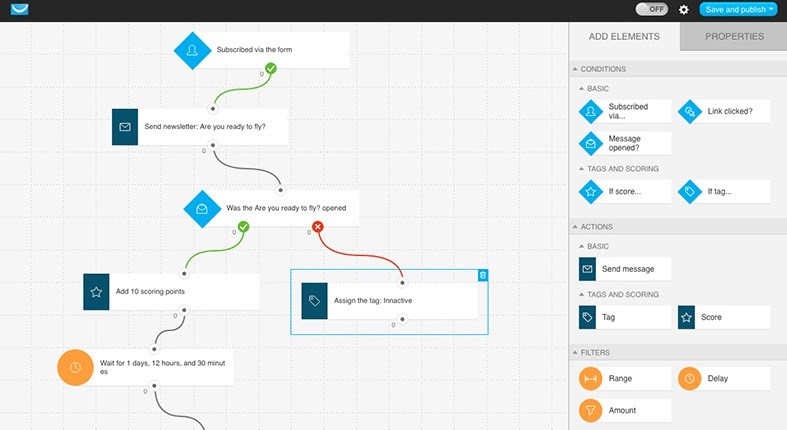 Turn Subscribers into Customers
This should be the last goal of your marketing automation: turn subscribers into customers.
Use GetResponse's tools to set actions, based on different conditions.
Implement, for example, tagging and scoring for more targetization.
Create a conversation with your subscribers, which should be enjoyable and educational.
Track results and get the most out of your mailing list.
Is It Good For You?
If you are a small business, then GetResponse's new marketing automation is for you.
Whether you need to reward your customer loyalty, create a promo campaign, run an online course or welcome new customers, this service is the perfect solution.
The platform is intuitive and easy to use.
The marketing automation comes included with all the plans, also with the basic one at $15/mo: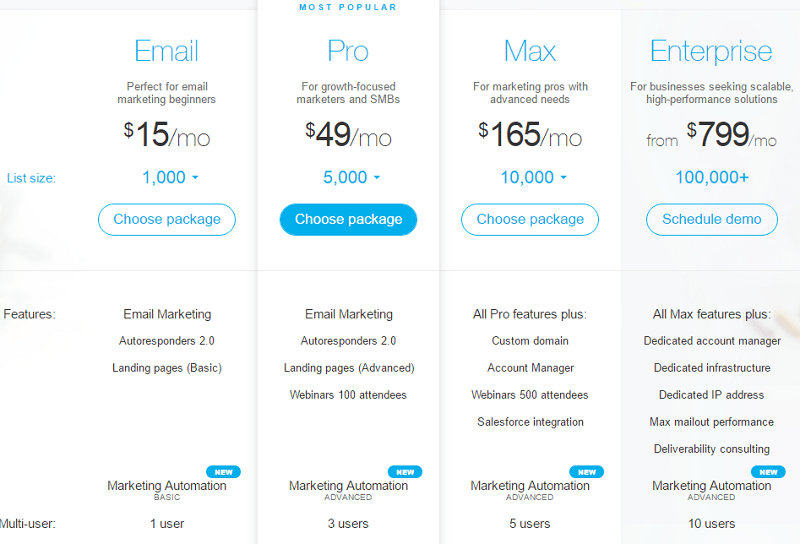 Final Words
No matter how big if your business or what industry you are currently in, you need to use marketing tools in order to compete.
With GetResponse, you will be able to automate your marketing, track your audience and user performance, so to optimize your results.
Learn more about GetResponse marketing automation and how you can improve your business.
And you?
Are you running a mailing list?
Are you using marketing automation?
If so, please share your experience and views in the comments below, thanks!