If you could do one thing to dramatically improve the ROI of your marketing campaign, that would be improving the landing page on your website.
For the few of you who do not know what it is, think about a dedicated web page, where the user lands after clicking a link, a banner or an advertisement present on social networks or search engines.
You create a landing page to achieve certain goals, like inviting the user to:
fill out a contact form
subscribe to a newsletter
start a buying process
In this post we're going to evaluate the best landing page builder tools, reviewing Unbounce versus GetResponse.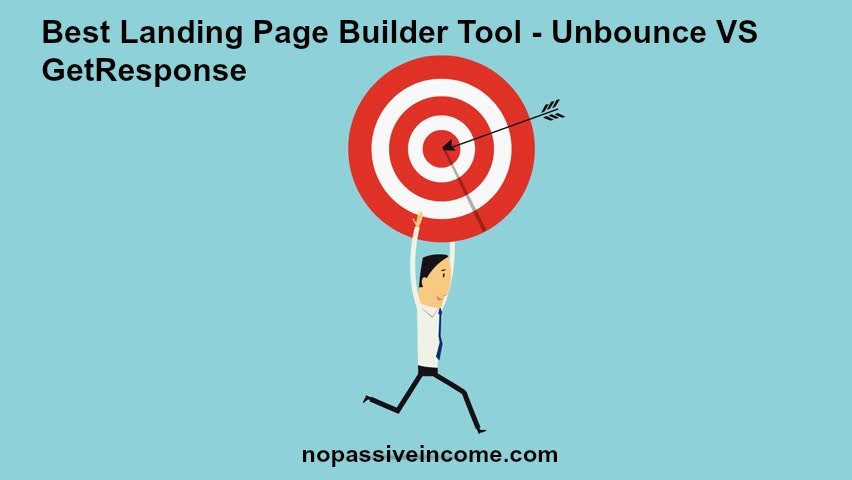 Why Landing Pages Are So Important?
Before going into the evaluation details of the above-mentioned tools, you should understand the importance of creating a landing page that converts.
Too many companies or small business owners are sending the traffic that comes from advertising, mailing list, or social media, to their website. This is a missed opportunity: if you know that a flood of traffic is coming to your site, you can increase the likelihood of conversion using a targeted landing page!
For example, imagine you have a Google AdWords campaign for one of your best keywords. Every time someone is clicking on your ad, would you send him to your site homepage? When he arrives, what should he do? Most important, you should ask yourself, what do you want him to do? Once you understand this important action, you can make it possible by sending the user to a targeted landing page, where you are going to induce him completing that specific action you want.
Now you understand the importance of creating a good landing page.
Unbounce Landing Page Builder Tool
Unbounce is a versatile tool to create landing pages, to make A/B testing or to validate product ideas and can be used by both big companies or startups and small businesses.
The editor tool allows you to quickly create a landing page by choosing from the many templates (83 available), or making one from scratch (solution slightly more challenging).
A screenshot of the Unbounce editor: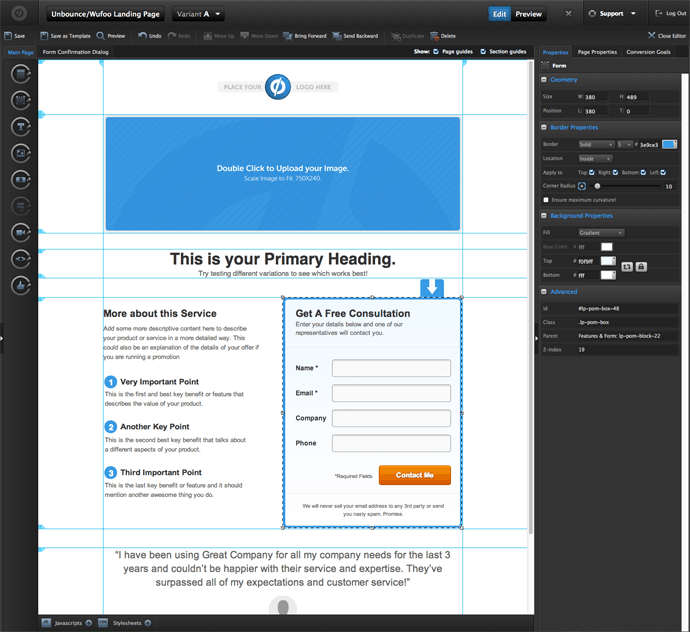 As you can see, there is a simple to understand drag & drop builder, to easily create your landing page, without having a wide IT knowledge.
What you'll get is a 100% mobile responsive landing page, plus, you can also add dynamic keywords for your PPC campaigns.
An awesome feature is that it can be integrated with third party software, like email services providers as MailChimp, AWeber and Constant Contact, CRM software as Salesforce and Hubspot Zoho, marketing automation software as Hubspot, Infusionsoft and Marketo or analytics tools as Google Analytics and KISSmetrics.
The A/B testing is something you always need to consider. In fact, after creating a landing page, here's where the fun begins, with the ability to run several tests to find out what is the configuration that performs better.
Let's see with a little example how to run an A/B testing.
First, it is essential to understand the variables that you want to test:
test your call to action
test images
test different templates
test the value proposition
test elements such as prices and offers
With a practical example, we take a landing page where there are prices and a call to action.
The answer we're looking for is if the call to action, as you can see from the image below, should be at the top or bottom.
The two options in comparison: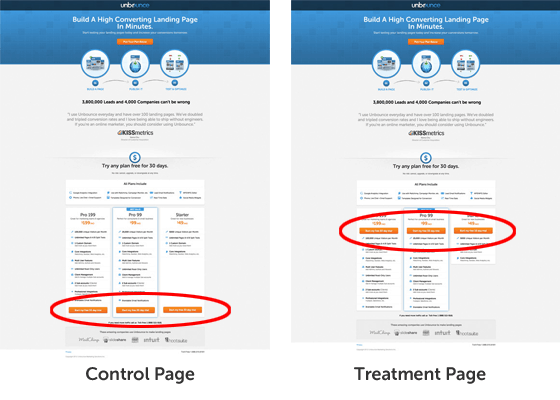 We send a fixed amount of visits on the same URL while Unbounce will rotate the landing page (for example 300 clicks on the "control page" and 300 on the "treatment page") and will track the conversions.
Finally, after a reasonable amount of time and collection of relevant statistical data, we can take a look at the results.
The landing with the highest conversion rate (4th column) is the winner. In this case, the one called "First Header Variant":

The Unbounce plans start from $49/month for new business and entrepreneurs, up to $199/mo for agencies and marketing teams: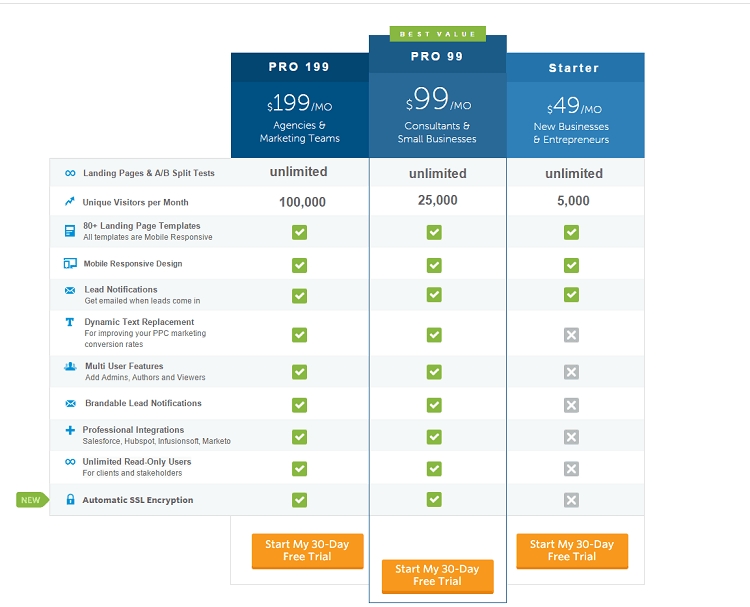 GetResponse Landing Page Builder Tool
GetResponse is a very popular email marketing tool. With more than 350,000 happy customers in 182 countries, it offers services such as email creator, autoresponder, landing page builder and even webinars.
Let's focus on building the perfect lead machine, using the landing page builder of GetResponse.
The first step is choosing the template among more than 100 professional landing page templates available, with related "Thank You" pages to help you improve conversions.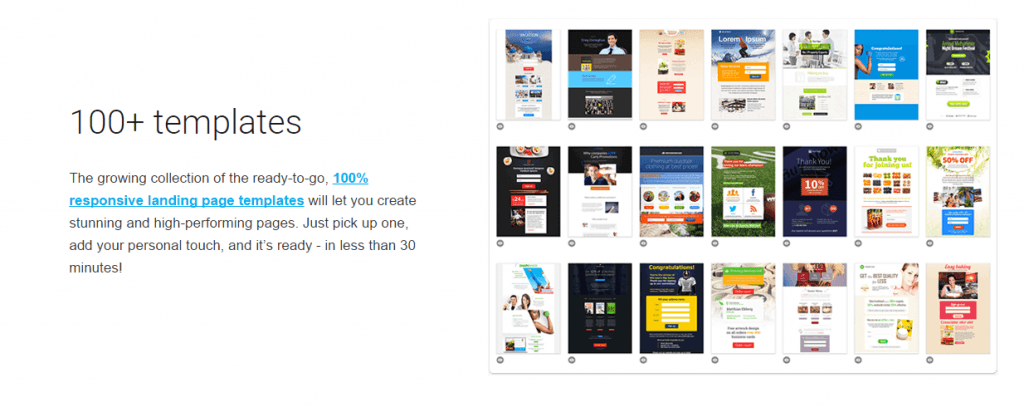 Now you need to customize your page, using the simple drag'n'drop WYSIWYG editor, with thousand of ways to edit every element of your landing page. This means you don't need any HTML coding knowledge. Just move, resize, crop and scale each item such as text boxes, images, backgrounds, input fields or buttons to create the perfect design.
A feature offered that I particularly like is the 1000+ free photos available, which is indeed a plus. If you have some experience in the online marketing field, you know that a good image is worth a thousand words and how is hard to find (for free) quality pictures. The GetResponse built-in toolkit includes filters, stickers, brushes and much more, to create catchy images that attract your audience attention.
When you're done, you can get the code to add to your website or even get a free hosting on subdomains GetResponse offers. An awesome feature is the instant publishing on your Facebook fan page!

The design of the landing page you create with GetResponse is 100% responsive, which means is mobile-friendly (the users visiting from smartphones, tablets or desktop will have the landing page automatically adjusted for the device used).
Once you're happy with the landing page design, it's time to run some A/B testing. Create different versions to then track and improve your page.
Also, you get CRM, analytics and reporting functions. GetResponse allows 100% integration with your Google Analytics account and social networks like YouTube and Facebook (included the PayPal payment system).
The plans are competitive, starting from $15/mo for marketing beginners up to $999/mo for big companies.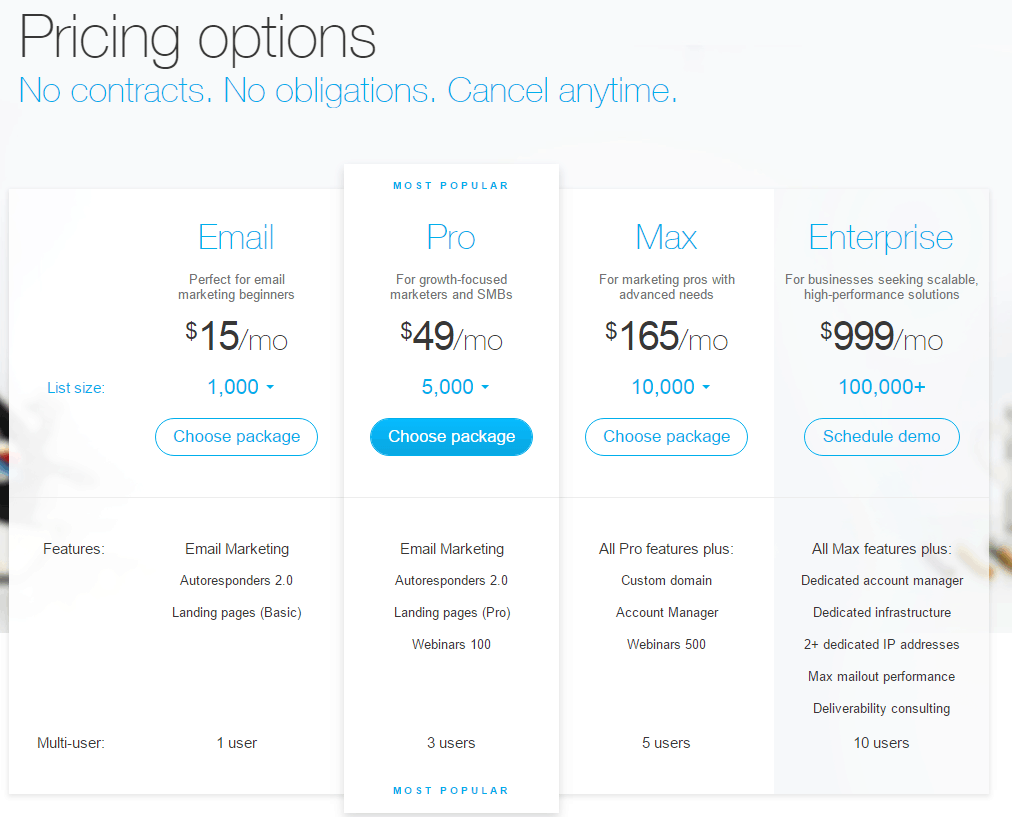 Unbounce Vs GetResponse: Which Is The Best Landing Page Builder Tool?
Unbounce may be a good solution, but I recommend GetResponse for these reasons:
there are more templates available (all mobile responsive)
I found the editing interface easier to understand, at glance
I loved the integration with Google Analytics and PayPal
the instant publishing on the Facebook fan page is awesome
aside building landing pages, you can use your GetResponse account to get much more, such as email marketing and webinar solutions.
Plus, pricing starts at $15 per month, which is indeed more competitive than Unbounce cheaper plan, which is $49/mo.
If you are convinced to give GetResponse a try, sign up for the one-month free trial here.
What do you think?
Have you ever used Unbounce or GetResponse?
Which is the best one, in your opinion?
Please share your views in the comments below, thanks!