Building niche sites that make money in autopilot has been always one of my plans.
Since beginning of this year, I learned to use LongTailPRO (read my 3300 words guide here) and I created a niche site, monetized with Amazon affiliate program and Adsense. It ranked within the top 10 in search results for its keyword, generating a decent traffic and revenue, since then.
In this post I want to share the strategies I used to build links for my niche site, ranking high for my keywords.
Introduction to Link Building
Even after all the algorithm updates (Panda, Penguin, etc), Google still likes links.
The question is: should you "build" links or "attract" them in a "natural" way?
The answer is simple.
For authority sites, you should not build links; instead, focus on writing content with added value and marketing your posts and your online reputation.
For niche sites, created from scratch, link building is still very effective.
For example, I have "built" a very few links for NoPassiveIncome.com; but if I check, I notice that I have much more links pointing to my blog (yes, Chris, the previous owner of this site, did an amazing job in terms of SEO, but since I own it, my online reputation has come to a certain level, I receive a good amount of backlinks every month – see my interviews, for example).
So for niche sites, after you find profitable keywords, the link building is the second most important part of the work to create a property that make money over time.
How to Build Links
With my niche site project, I focused on creating links considering the velocity and the diversity.
Link velocity is the rate at which you are building links. In other terms, you should create links proportionally to the content you produce and to the age of your domain.
Don't create 2-3 posts, then go to a cheap marketplace site to buy "A Thousand links for just 5$", because the only thing you are going to achieve is just another penalized and unsuccessful site.
I found an awesome image to let you understand at glance what works (thanks to GoBloggingTips for the image):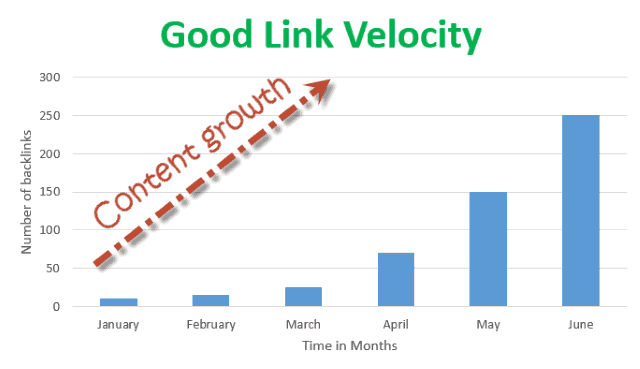 The concept of link profile diversity is quite complicated. This term refers to the overall view of your backlinks and considers a big number of factors like the linking page types, content types, domain names, IP address, anchor usage, PR, degree of relevancy, follow/nofollow, and more.
A "normal link profile" should have different kind of links and it is this diversity that helps to make your link profile looks "natural" and let Google loving your site (check more at QuickSprout: What Is a "Good Link Profile" and How Do You Get One?).
So your plan should be diversify the sources and the types of the links you gain, so to create a natural link profile.
Here's a list of different links you can get:
RSS Feeds
Quality online directories
Social bookmarking
File sharing
Testimonials
Forum posting
Q&A Sites
Web 2.0 sites
Article directories
This is just a list of ideas for creating links for your sites, but there are many more, of course.
Let's dig more into a few of them.
Blog Commenting
Blog commenting is an effective way to get links and to receive fresh traffic to your site.
Also, you can create new connections with the blog owners, where you post your comments.
Don't worry about getting dofollow links, just look for relevant content in your niche and leave meaningful comments, with your real name and the link back to your site.
This is important to gain relevancy pointing to your niche site.
A practical tip: go to Google and search for: "your keyword" + "leave a comment" to find blogs allowing comments, with reference to your main keywords.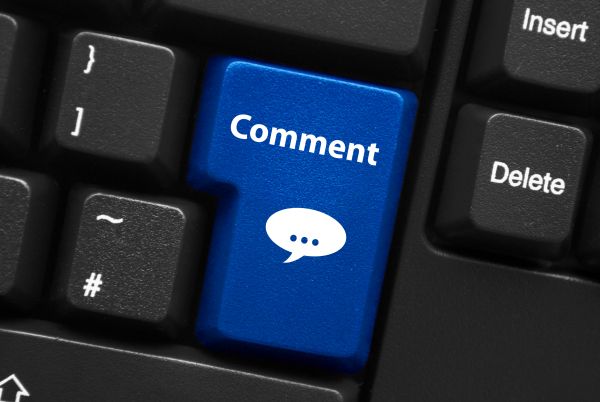 Web 2.0 Sites
This is a great way to gain dofollow links.
Just create a free account at these places and add unique and relevant content.
Look for platforms like:
Squidoo
WordPress.com
Blogger.com
LiveJournal.com
Xing.com
Weebly.com
Slashdot.org
Diversify the Anchor Text
Ok, so you are going to build a few links every 1-3 days, while paying attention to getting them from different sources.
Now, another point to take care of is diversifying the anchor text.
The formula should look something like this:
10% Exact Match  – example: "garden swing chairs"

20% Partial Match – example: "best swing chairs"

10% URL Match – example: "Mygardenswingchairs.com"

10% Brand Match – example: "My Garden Swing Chairs" (if your site is mygardenswingchairs.com)

20% Related keyword match – example: "garden swing pod" or "garden swing hammock"

30% No match – example: "click here", "read more" or "visit our website"
Of course this is just a guideline you should consider, but it worked really well for my niche site project.
Second Tier Links
This is the last point of the link building strategy that worked for me.
Second Tier Links are basically links to your links.
The main goal is to let Google know of your recently built links.
I basically used just social media shares and bookmarks, but you may want to use other strategies, like blog commenting too, for example.
More Link Building Ideas
Check the following posts for more link building ideas:
10 Link Building Tactics to Generate Free Traffic from Google
In Conclusion
I want to point up that I shared the strategy that worked for me.
You may want to experiment first, or to add these methods to yours.
It took me around three months to rank my site within the top 10 of Google for my keywords. I created it the end of February, and today it ranks at position #4 for U.S. market for Google (3rd Yahoo and 22th at Bing).
I created links for just two months (some more powerful, some less), 1-3 links every two or three days. Now it has officially around 40 unique referring domains and 1000 total backlinks, with 1000 total referring pages.
I think you should aim to gain up to 100 base links, for niche sites.
But it really depends on your keywords and its competitiveness.
Do you want to know how I discovered the keywords to build my successful niche site? Check
this post
.
Have you ever built a niche site?
What was the result?
Do you have some secrets to share?
Please add your comment below, thanks!