Competition to rank top on search engines is fierce. SEO algorithms keep changing such that what put you on top last year might not work this year.
It is therefore important to remain updated on tactics that will help you maintain top position and thus be more visible online.
Top ranking also increases traffic to your website and thus raises the chance of converting visitors into clients. This is especially important for online stores and businesses.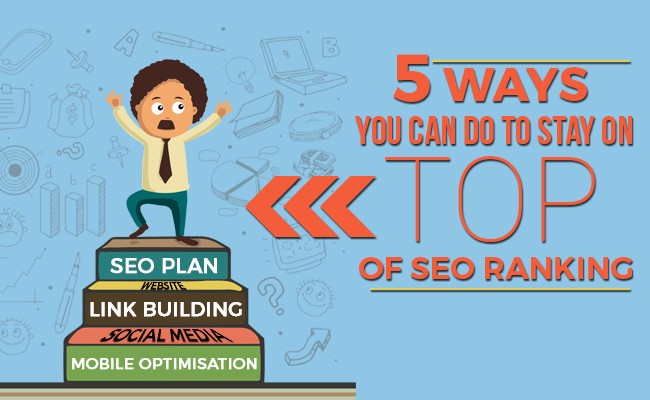 1. Develop An SEO Plan
 To stay on top of your SEO ranking, you should have the right marketing strategy like any other.
It must have efforts, outcomes and metrics to measure the returns. A plan gives you focus and sets targets that have to be achieved over a particular time and the expected return on investment.
The plan you develop should provide answers to the following questions:
What is your area of specialization? What are you an expert in?
What differentiates you from the others in the market?
What are you the service provider or the site of choice?
Who are your target visitors? Define their age, location, interests, etc.
Which is the best way to connect with them?
What are your competitors doing?
What is needed to rank you higher?
These are basic marketing questions. However, an SEO plan bears resemblance to any other marketing plan.
You have to beat competition from other sites. This calls for research, segmentation of audience, setting of realistic goals and putting in place a mechanism to track these results. A reliable SEO agency like Digital Search in Australia will help you evaluate your intentions and develop a plan of action.
2. Work On Your Website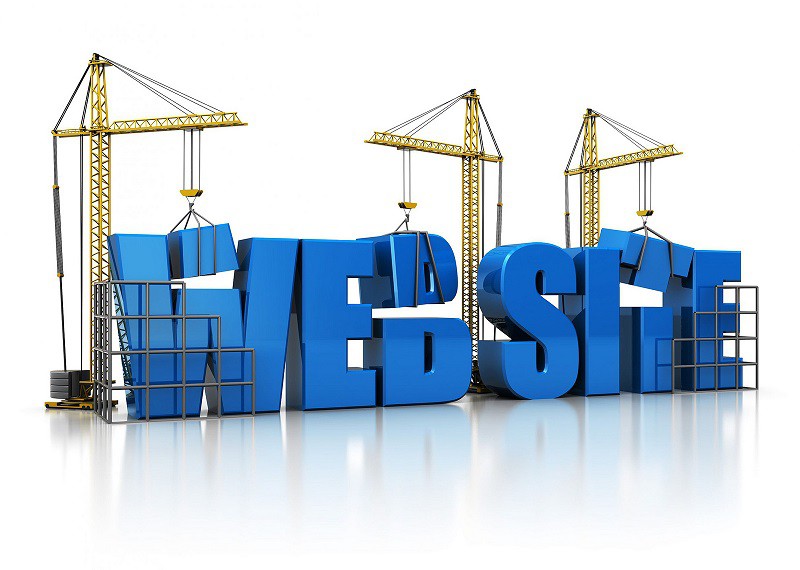 Websites that rank top are those that offer excellent customer experience through ease in navigation, topical content and are organised. The website should have all the hallmarks of intention. This means deliberate choice of topics that are relevant and those that reveal your expertise.
Your content must be distinct and identifiable with you. Do not attempt to be an expert in everything. This will cause your audience to lack faith in you. You will lack the authority that comes with specialisation. Such specialisation allows you to dominate a niche other than offer everything to everyone like a store.
The website must be updated on a regular basis. Such update must be made of quality and fresh content. One article may take you to the top, but as days go by, it becomes redundant. Stale content also makes visitors to your site to lose faith in you. They expect a new experience with every click.
The speed at which the site loads will also affect its attractiveness and consequent rank. Speed should especially be improved when loading a site on the mobile platform. Most searches are taking place over the phone (read here What You Need to Make Your Blog Mobile-Friendly).
Slow loading will cause the visitors to find alternatives. On average, a site should load in a second. It might not be possible to achieve this instantly, but every second saved reduces the chances of abandonment.
Speed can be improved in three simple ways:
Engaging a faster and more reliable host
Enabling all your images to be compressed
Having content delivery network or CDN which makes downloads faster
3. Build Links Internally And Externally
Links are used to maximise on a single visit or click. While a large number of links is good, it is their quality of links that will add value to your ranking efforts. Whenever you top because of one keyword, avoid linking to it too much. This will be detected by search engines leading to black listing.
Over-linking gets you flagged because the engines would prefer fresh and relevant content. Inbound links should be expanded to other pages and articles.
Outbound links are also as important as the internal ones. It gives you the recognition you need to make your site authoritative. The links are sent to authoritative sites in your area.
The site you link with should be regarded as authoritative by offering insightful content to your visitors. Balancing internal and external links gives you an edge. Working with professionals will ensure the delivery of quality services especially on white hat link building. Always remember that overdoing it will get you flagged as unprofessional or spam.
4. Enlist The Help Of Social Media
Social media platforms like Facebook, Twitter, LinkedIn, etc. are considered to be among the authoritative sites that are used in ranking. To begin with, they are ranked high by all search engines because they are a source of telling traffic.
Traffic from these sites to your page tells a search engine that your page is relevant. Allowing people to share content, comment, like, etc. makes it more visible on the web. This is an excellent advantage since you will get free marketing and have an opportunity to build back-links. This helps to both boost and sustain the already high ranking.
To maximize the use of social media, use the following tricks:
Be explicit in your call for action. Do not hesitate to tell a visitor "If you liked this article, please share it by clicking here" or "Tell use your views about the article by leaving a comment here". Such actions are engaging to the reader and will keep him on the page longer. They also bring generate attention around your website which makes it more relevant.
Add a social media button on your article or page. It makes it easier to share, comment or like by just clicking on it. Your reader or visitor does not have to copy the entire URL to engage others on social media. This is part of a reader friendly experience.
Make social media interaction profitable to your visitors. Some of the options include an offer for more content or lower price for the items sold. Social tags are also important to use. They help you track the use a word over the platform and thus integrate it better on your articles.
5. Mobile Devices Optimisation 
Most internet users are no longer on computers and desktops. They have switched to mobile devices and are making searching on the go. They are using all manner of devices such as phone-watches, smart-phones, laptops, tablets, etc.
To rank top, you must provide the best experience to mobile users. In fact, this platform is poised to dominate searches and traffic over the next few years. If this is not enough, consider the following statistics:
4 in 5 online shoppers are using the phone
70% of mobile searches have resulted in action up to an hour later
The number of people accessing the internet over mobile phones has topped 1.2 billion
15% of global internet traffic is controlled by mobile phones and devices
95% of all smart phone searches are for localised products and services.
The statistics above only highlight the growing need to have sites that are mobile optimised. Another growing trend over use of mobile phones is the integration of the app.
Up to 89% of people on mobile phone are using apps to access services and engage brands. Apps provide quick and customised access to your services. You will be surprised at the advantages enjoyed by brands that are available on apps.
Conclusion
All optimization efforts must appear and work naturally. Be professional when designing your website, developing content, linking the content and all other SEO efforts.
Any unprofessional or overdone act will lead to flagging and eventual banning from the search engine. Top ranking is not an overnight success story. It might take you weeks or months to master the tricks.
Furthermore, algorithms change and you must keep up with this change. This means generating and offering fresh content to your visitors.