When it comes to social media, one of the hot topics that is always coming up is whether or not buying friends/likes/followers is a good idea.
In other words, is there a shortcut to social media success?
The short answer is no.
If you really want something, the hard work and effort is always worth it in the long run and while buying large numbers of friends on social media may well give you the appearance of success – in the long run it could be highly damaging to your reputation.
Is Buying Social Signals Worth it?
A large part of social media is engagement.
The more your fans interact with your social media content, the better your accounts will perform.
If you have purchased 5,000 Facebook likes, it is very likely that they are fake or inactive accounts.
It might look like you are popular when glancing at the likes total, but in terms of engagement your account is going to fall flat.
If you have 5,000 fake fans and 500 real ones even if all of the real ones engage with your posts (which is unlikely) that is only 9% of your fan base.
Those 5000 additional like mean nothing because they are just sitting their uninterested in your content!
The following video titled 'Should You Buy Your Way to Social Media Fame?' (source) gives an interesting look at buying social media followers and how it can impact your social media strategy.
Check it out and decide for yourself if it is really worth spending money on.
Who's Faking It?
Comedians, politicians, actors, musicians : a large amount of people within these categories are buying fans on Facebook or followers on Twitter.
But also startups, new bloggers or job seekers are purchasing social signals.
According to John Greathouse, the averages for the top 15 Twitter personalities are:
– inactive : 40,9%;
– fake : 30,4%;
– real : 28,7%.
Is this really possible?
According to the Fake Follower Check Tool, from StatusPeople (note that they state the results can be inexact), top personalities like Lady Gaga, President Obama, Shakira or Oprah have something between 70% to 80% of fake followers on Twitter.
In 2012, Mitt Romney was accused of having fake followers, having gained 80% of his +800,000 (now 1,500,000) in just 3 months.
His following saw a 17% spike in one day : July 21th, 2012.
I have checked my profile via the "Fake Follower Check Tool", and the results are above..
Now, I have +22k followers on my Twitter profile.
Not bad, if these numbers were real!
Both YouTube and Twitter have outsized fake followings of 30% and 37% respectively.
Some businesses have been accused of paying for reviews on sites like Yelp and Google+, sometimes finding reviewers on Craigslist.
What's the Price of a Large Following?
Suprisingly inexpensive.
The average price is 0,01$ per Follower ($10 for 1k Followers).
There are so many sites where you can purchase views on YouTube, followers for your Twitter account or fans for your Facebook page.
I've even seen pre-built sites listed on Flippa, ready to sell social signals (of course money wasted).
The true is that also the "established" sites selling this kind of services use bots or inactive social media accounts.
You can find the same offers also on popular places like Fiverr, or Freelancer.
Why Fake Followers Damage Your Business
Fake followers won't add any substantive engagement to your social networking.
According to Klout, they're likely to detract from metrics like your Klout score, used to measure your online influence.
You can also use tools like the previously mentioned "Fake Follower Check Tool" to weed out the imposters on Twitter.
On others online tools, like TwitterCounter.com, there is an option to enter a name and receive a 3 months view of the follower count. If there are irregular significant jumps, then all signs point to fake.
On Yelp, if a company has too many suspicious reviews, they are going to mark it with a note stating the company was found trying to manipulate their system with fake reviews.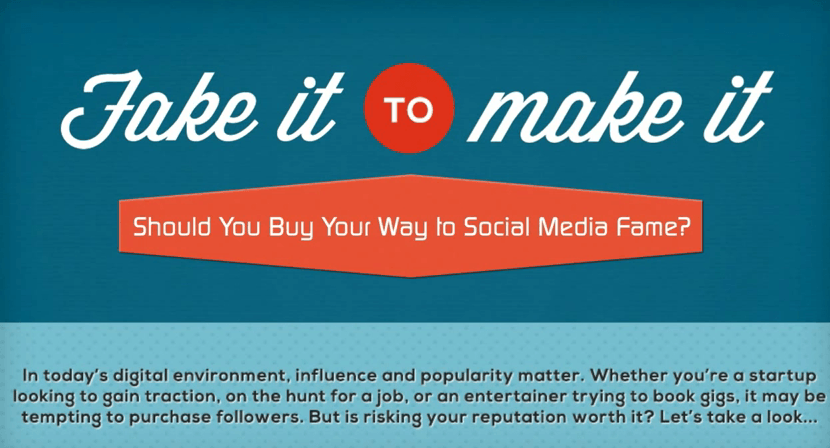 Do you know that fakers risk getting caught and banned from social sites?
Facebook's headquarters reported approximately 83 million fake accounts that they are cleaning up.
In this regard, I remember to have accepted a link placement on my very first blog (now inactive and near to closing it) in exchange of 1000 Facebook fans to the page of that site.
The count of the fans actually arrived at that number, but then after a few months has been drastically reduced since the cleaning of Facebook fake accounts.
How to Spot a Fake Account
There are a number of signals which are going to help you spot a fake account.
For example, on Twitter:
– the average age of a fake account is about 5 months;
– they have multiple followers without a profile photo;
– they keep sending promotional tweets;
– they don't seem to talk to anyone, and no one seems to talk to them.
Obviously the "egg" as a profile picture is the first characteristic of a fake profile.
Also, you can note that content posting is inconsistent and it's low quality, with the same message over and over again.
Conclusion
Based on experience, buying or getting fake social signals are definitely not worth it.
There is actually an alternative, and it's the "social exchange" (see AddMeFast.com, for instance).
Surely, the best way to go is being natural, as it is the only one that pays in the long run.
If you are online with the intention to build a business, or a strong reputation, then do not worry about getting fake followers fast, sooner or later you are going to build your own solid audience of fans.
What do you think?
What is your experience with this topic?
Please share your views in the comments below, thanks!