Are you using social media to market your website or to create relationships within your niche?
In this post, you are going to discover seven new social networks, that you can use to promote yourself and build new connections.
Some of them are brand new while some others are a little more known.
Aside from Facebook, Twitter, Google Plus, Pinterest, Instagram, YouTube or LinkedIn, be sure to take a look at these social platforms and hurry to register your name or brand.
You don't want to lose the chance to jump on the next social media trend!
Here are the 7 new websites to consider.
1. Ello
Simplicity, beauty, transparency and a "virtual place" where whatever it is published is not drawn for online advertising.
This is, in a nutshell, the manifesto of Ello, a social network similar to Facebook (but perhaps even more to Google Plus), and very minimal.
At first glance, I think it's hard to understand how to orient and interact in a fun way with other users.
The "noise" section offers a caldron of random posts (Pinterest syle), which makes Ello, at this time, a mix of things already seen.
Pros: start from scratch with a new "Facebook".
Cons: how will they keep the platform ads-free and prosper?
Ello is invitation-only. Hit me if you need an invite code.
2. This
"This" looks minimal like Ello.
It claims to be the best place to find entertainment, art and journalism news on the web.
Still in beta, you need an invitation to join.
Ask friends if they are already into it, or add your email to database to receive an invitation when the public beta will be launched.
I'm still waiting for an invite to register.
3. Shots
"A fun place to meet people", that's Shots motto.
It's a social platform (mobile only) you can use to meet other people through the selfie!
In fact, the structure is in all respects similar to Instagram, but focused on selfies though.
The app is super usable and intuitive and it would be an excellent social media for those fashion bloggers, for example, who want to pierce the internet with their image.
You can just upload live images from the front camera of your smartphone and it's aimed at a "teenager" target.
About 1 million downloads, at this time, with 75% of female users under 24 and used by several celebrities.
Pros: excellent user experience and a well-defined target.
Cons: what will happen when selfie won't be popular anymore?
4. Pheed
"A place to express yourself."
Pheed is mobile app that allows you to upload text, photos, video and live broadcasts.
A novelty compared to other social media is the fact that on Pheed you can earn money online.
Well, yes: you can request a fee ranging from $1.99 to $34.99 to allow users to access your content.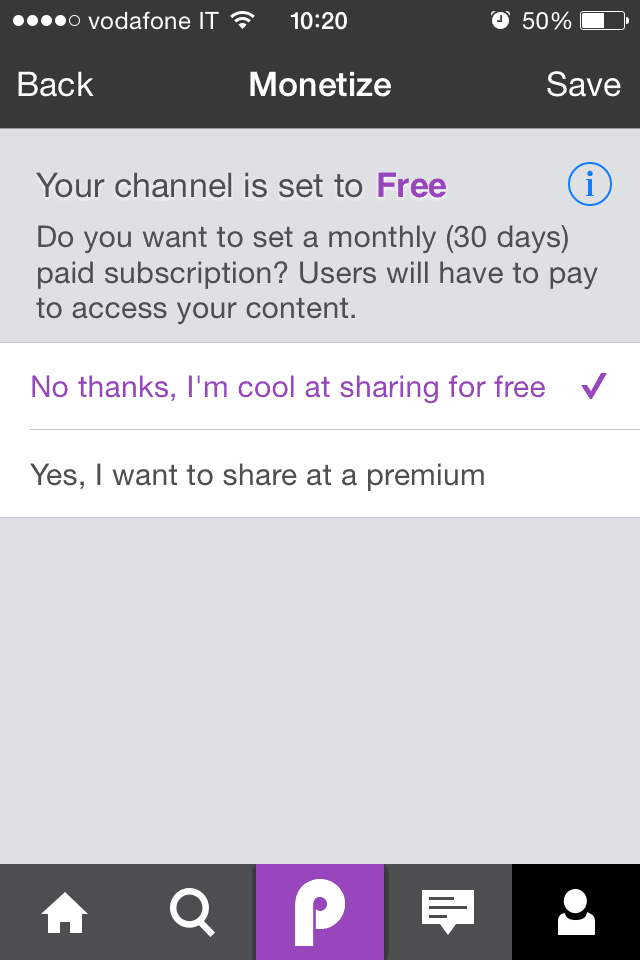 It's an interesting social where combination of potential quality content and monetization meet.
Pros: if you will truly find "excellent" content, it could be an interesting place to enjoy quality information in any field.
Cons: will it become popular?
5. Medium
Of all the social media listed, Medium is perhaps the best known.
It offers a list of recommended content (top stories and staff picks) in a minimal graphic, very light and airy.
It collects content from very influential authors, because at first it was addressed (by invitation only) to popular writers and "thinkers".
Since one year, it opened the doors to everyone and is, in effect, a particularly trendy alternative to Tumblr and WordPress.
Pros: it ranks "higher" as quality content than Tumblr, for example.
Cons: it risks to being a "mere instrument", used especially by writers or professional journalists.
6. Chirp
Chirp focuses solely on the sounds.
I find it very original!
Basically, you can register your "chirp" : a phrase, a special offer if you have a shop or a photo, accompanied by an audio caption.
Your "chirp" will be collected from users who are nearby, as long as they chirp activated.
Pros: great tool for local marketing, implemented in real time.
Cons: not so popular. Will it ever spread?
7. Tsu
Born this fall, Tsu got 1 million users through word of mouth in a little over a month.
Tsu focuses on the generation of valuable content from members, encouraging them through a very strong message: 90% of advertising revenue is distributed among its users!
To join Tsu right now you need an invitation: just visit my profile to register.
The goal of Tsu is to generate a solid network of users, rewarding people for being "social" and influential in terms of relationships.
Be sure to take advantage of this "social wealth" when joining Tsu.
Pros: users are strongly encouraged to publish their best content. You can make money by just using Tsu.
Cons: it slips into the vast sea of the social platforms used just for publishing content.
Important note: TSU was taken down on August 2016.
Conclusion
Hope these resources will help you increase your connections online, while marketing you and your content.
And you, are you already on these social networks?
Please connect with me and leave your thoughts in the comments below, thanks!