Executing a lucrative marketing strategy is an essential component to expand your business. To build a business, amidst the high competition, implementing a good marketing strategy can be possible using the best marketing tools available online.
This blog pens down the 8 most impressive online marketing tools that you can use to plan a successful marketing strategy for your business.
Before we begin, let's understand what marketing tools are.
What are Digital Marketing Tools?
The word "tools" here implies strategies and techniques. Digital Marketing Tools are the tools that companies make use of to promote their product and services and develop their business.
Digital Marketing tools help businesses to achieve primary goals and objectives. Companies use several marketing tools focused on increasing sales and gathering customer information. These tools are used to communicate company information, spark customer interest and motivate action. 
Let's now look at the 7 effective digital marketing tools that you can use for your business in detail.
7 Effective Digital Marketing Tools in 2023
1. Google Analytics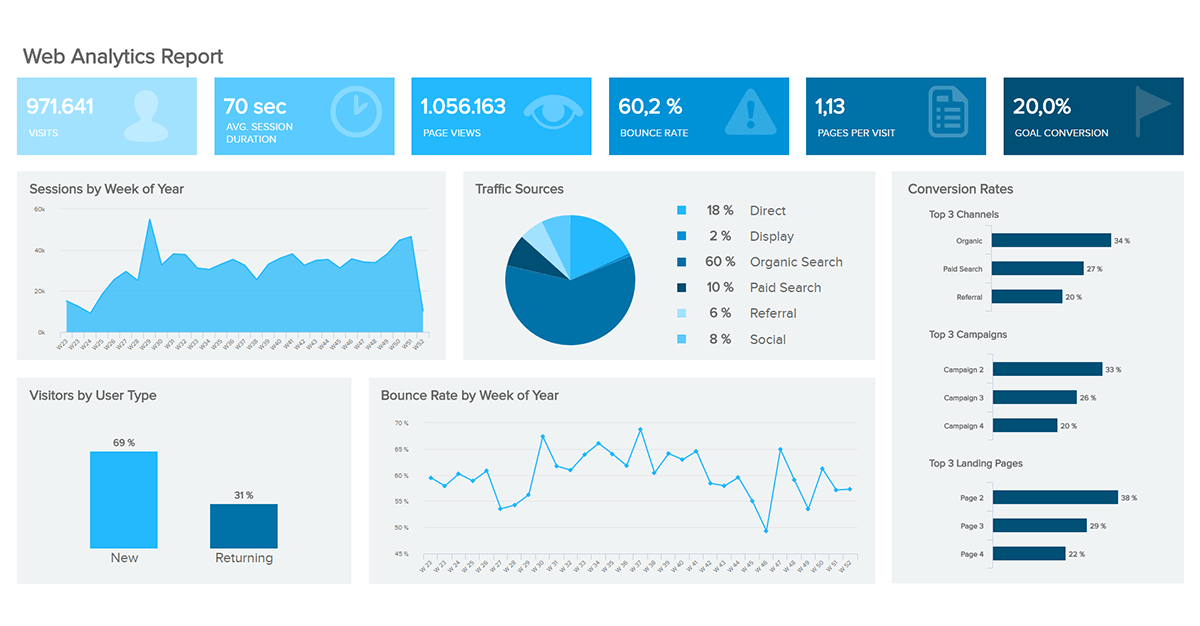 Google Analytics is one of the most powerful marketing tools on the web. It is the tool that should be there on any marketer's list. 
Google Analytics is a free tool offered by Google. It is used by more than 60% of website owners.
It provides valuable insights enabling you to track every action taken by the visitor on your website. A few actions that Google Analytics enables you to track are:
The number of visitors on your website, by day, month or any other time period.

The keywords used by people to search for your site on Google

The demographics of the users

Where the visitors are from – outreach websites, ads, searches, direct.

The amount of time spent by each user on your website. 
Setting up the analytics tools takes just a couple of minutes, but can have a great impact on your business. Learning Google Analytics can help you to build future strategies and can prove to be extremely valuable. 
2. Google Search Console
Google Search Console is another free tool offered by Google. It enables you to improve your website's overall performance, optimize traffic and rank higher on Google. 
Google Search Console shows you the top 1000 backlinks and 1000 organic keywords, enabling you to notice and cover the content that you lack. It also notifies you of alerts and errors and fixes technical issues if any, on your website.
A few more Search Engine Optimization data that you can analyze on your website using Google Search Console are:
The number of clicks your website received

Impression: How often people saw your link on the web 

Average Position: The ranking of your site on google relative to other sites

Click-Through Rate (Organic CTR): It is the number of clicks divided by the Impressions
Source: https://kimscotland.com/google-search-console-dashboard/ 
3. Google PageSpeed Insights
Google PageSpeed Insights is a tool that enables you to easily test the speed of your web page. It is an important factor to consider to enhance user experience. Longer loading times tend to have higher bounce-off rates and lower average time on your page. Hence, this negatively impacts your conversions. 
Google PageSpeed Insights measures the performance of a page for both mobile and desktop devices and gives you a detailed report on what factor is slowing your site's loading time.
Google Page Insights prepares a detailed report on what is slowing your web page based on 2 parameters.
Time to above-the-fold load

– It refers to the time taken by the page to fully load the first sight that the visitor encounter on your website. 

Time to full-page load

– It refers to the time taken for the page to fully load. 
The PageSpeed Insight score ranges from 0 to 100. A score above 85 indicates that your website is performing well.
Red and Yellow points on the report indicate that your site has obtrusive loading issues. Whereas, Green points are indicative of no significant issues.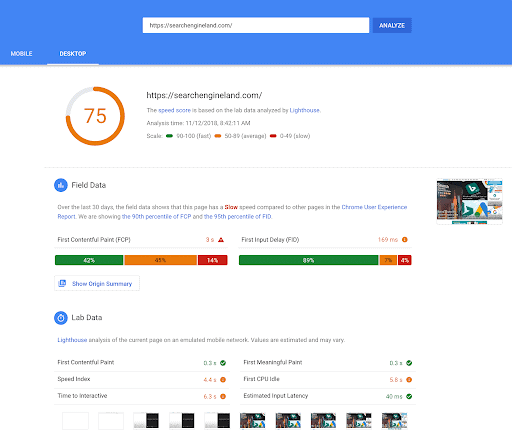 4. Hootsuite
Social Media Marketing plays an essential part in the expansion of any business. Hootsuite is a central management platform that helps you schedule your social media posts for each platform in advance, saving loads of time. 
The tool enables you to schedule and manages your social media profiles for more than 30 platforms. It allows you to schedule posts on a 24/7 cycle, helping you expand your reach to international audiences.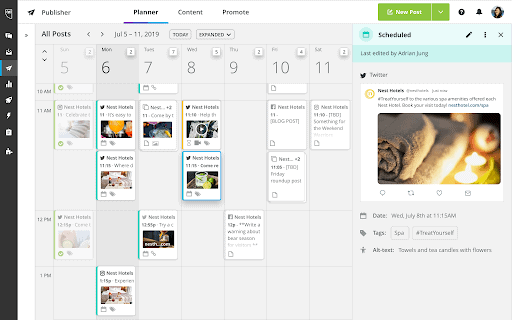 Source: https://www.g2.com/articles/content-curation 
A few features offered by Hootsuite to grow your business are:
Track which social media campaigns are working most effectively

Calculate your Return on Investment based on the above data

Track mentions of your brand

 Enables you to reply to comments and mentions through the dashboard

Schedule posts for active hours to receive more engagement
Hootsuite has a free version available. You can also use the paid version which starts at $49 per month.
5. Canva
Canva is a graphic design tool offering a wide range of design options. The platform enables you to design images, posts, make videos, create PDFs, logos, certificates, brochures, invitations and more.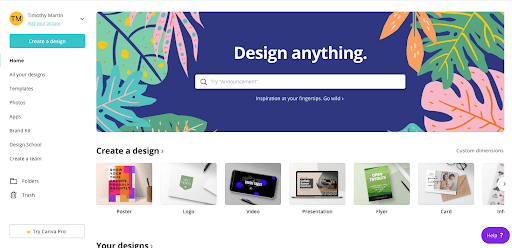 It also allows you to customize your creations using a variety of color palettes, font options and effects. You need not have any prior knowledge of graphic design. Canva's easy drag and drop function will help you create original and visually appealing content in just a few minutes!
Canva offers a free, pro and enterprise membership. The free templates offered by Canva are highly attractive too! However, the pro and enterprise memberships are suitable for bigger organizations as they offer more than 4 lakh templates to the users.
6. Ubersuggest
Ubersugguest is a useful tool for keyword research. It offers you keyword ideas and suggestions relevant to your niche and helps you develop your content marketing plan. 
Ubersuggest offers you up to 3 free searches per day and you can upgrade it to a paid software as well.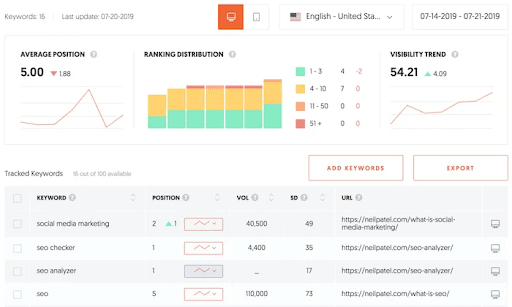 Source: https://neilpatel.com/blog/ubersuggest-guide/ 
The tool offers you useful keyword information such as total search volume, paid difficulty, cost per click, the trend of the keywords and other historical data. 
Ubersuggest is a tool simple to understand and is worth using as a digital marketing tool. 
7. Grammarly  
Grammarly is a Google Chrome extension that helps you eliminate writing errors by pointing them out to you and finding the perfect words to express yourself. 
It is a free tool offered by Google to its users. You can also use the premium version to meet the highest standards of writing.
A few features that Grammarly offers to its users are:
Detects grammatical, punctuation and spelling errors

Revises sentences that are grammatically correct but unclear

Detects tone of your writing

Helps multilingual users to express themselves properly in English

Can be used on all platforms like Gmail, Google Docs, Linkedin, Twitter and more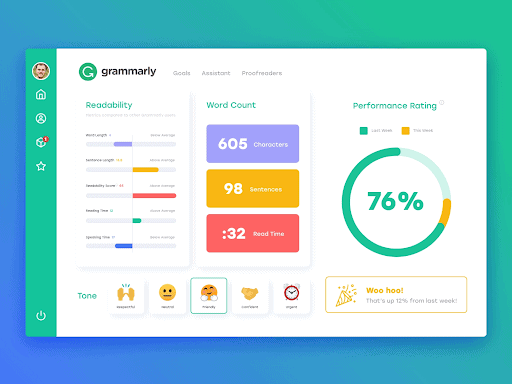 8. LeadRebel 
Converting leads into customers is the most important task for any business.
LeadRebel is a tool that helps you progress in this direction by converting your website traffic into leads and eventually customers.
It lets you capture leads from online platforms like Google, Facebook, Twitter, LinkedIn, and more. It also helps you to create and manage lead nurturing campaigns that are tailored to your specific needs.
The platform tracks the behavior of visitors on your website, and it provides insights into what they are interested in so that you can tailor content to their interests. LeadRebel also has features like lead scoring, automated emails, and segmentation so that you can deliver customized messaging to each lead.
LeadRebel is a great tool for any business looking to increase its leads, customers, and revenue. It will help you better understand your customers and create automated campaigns that nurture them through the sales funnel. Plus, it's easy to use and integrates with many popular web-based platforms like Google Ads, WordPress, and more. Try LeadRebel today and see how it can help you grow your business!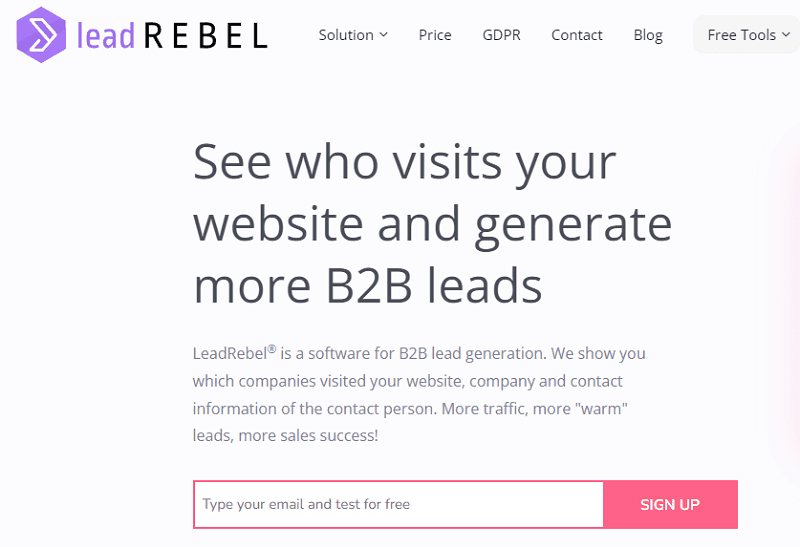 Conclusion
These were the 8 most effective digital marketing tools that you can use to expand your business in 2023. To know about a bunch of other digital marketing tools, here's a guide to the top 34 digital marketing tools that you can use for your business.
Creating an impactful marketing strategy and ensuring that your business succeeds requires powerful digital marketing tools. One needs to be social-media savvy and persistent when it comes to marketing. 
Learning digital marketing tools in depth can prove to be highly efficient and save cost and time. Digital marketing training can be extremely beneficial and can help you master several digital marketing techniques and tools in depth.
We hope you enjoyed reading the blog! Will you be using any of the digital marketing tools? Please leave your views in the comments section below.