Marketers today face many challenges when trying to rank their sites.
The ever-changing Google search algorithm means that you constantly need to tweak your SEO strategies to rank higher on the search engine results pages (SERPs).
With over 200 ranking factors to consider, it can get tough to keep up. What makes it even trickier is that not doing so can cause your website to get downranked. 
But are there some ranking factors that matter more than others?
Yes.
In this post, we examine the factors that you should pay more attention to if you want to improve your website's rankings on Google.
Let's dive in.
Important Google Ranking Factors
Here are the most important ranking factors for Google that you should know.
1. Page Experience
In 2020, Google announced that page experience signals would affect rankings come 2021.
But what are page experience signals?
They perceive a user's experience as they interact with web pages. This means optimizing for the user experience factors across devices and browsers and meeting user expectations.
But which factors does this include?
Core Web Vitals:

These quantify vital aspects of a visitor's experience which include website load time, interactivity, and content stability during loading.

Mobile-friendliness:

How easily can users use your site on any mobile device?

Safe browsing:

Your page has no malicious content.

HTTPS:

Visitors can safely visit and use your site.

Non-intrusive interstitials:

Your site has no pop-ups that prevent the user from accessing the main content.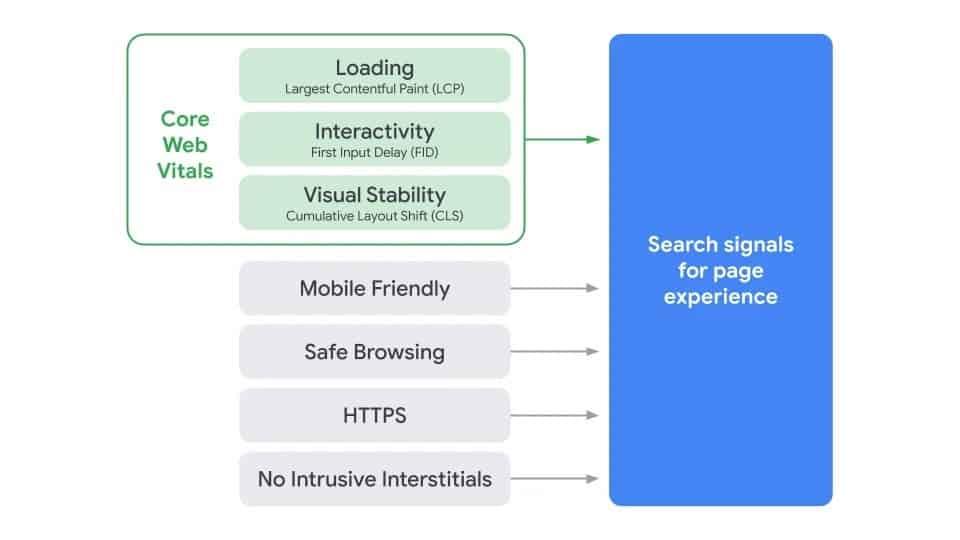 Image via Google
So how do you optimize for this ranking factor?
If you're still in the beginning stages of creating your website, ensure that it adheres to all the page experience factors before launching.
If you already have a website, conduct an audit, adapt to the new changes, and double down on your optimization efforts.
2. Quality Content
Content on your website should help users, increase the time they spend on your pages, and lower bounce rates. It should also meet their needs, help them solve pain points, and appear on platforms they frequent.
Sounds tough to achieve, right?
It's not.
With carefully considered and strategic content plans, you can inform, engage, delight, and support your audiences. Having such a plan also allows you to create every piece of content with the following factors in mind:
Search intent:

What is the purpose behind the search?

Keyword research:

What phrases do they use during a search?

Voice search:

How do they speak when they search using voice assistants?

Rich snippets:

Can people easily access your information, and does it offer practical solutions?

Visuals:

Do you have visuals that can make it easy to understand or consume your content?

Length:

Does your content give an in-depth look at topics your audiences need answers to?
3. Backlinks
Backlinks, in a way, give your website a vote of confidence. They send signals to Google that your content is trustworthy and authoritative. That's why getting backlinks from high-quality sites can boost your rankings.
However, not every link to your site can help you boost rankings. Your backlinks should only be from relevant and high authority sites.
But how can you get quality backlinks?
Start by auditing your backlinks using either Google Search Console or other analytics tools and root out any spammy links that may be affecting your link profile. 
You can then look for high-authority websites in your niche and approach them for guest posting opportunities. Alternatively, you could also look for broken links on such websites and create relevant content so that you can pitch the webmaster and ask them to replace that link with yours.
Some of your readers might be happy to link to your resource if they find it useful too.
4. Google My Business
To rank for local searches, it's critical to optimize your GMB (Google My Business) listing.
But how?
Well, here is a refresher on how to optimize your GMB page:
First, confirm if you have a page or create one. Then add basic details to the profile and verify your ownership.
Once verified, head over to your GMB dashboard and complete your profile by adding all the information a customer may need when searching for your business on Google. This includes your business description, hours of operation, images, product categories, business address, phone number, etc.
But why go through all this?
Having a GMB page increases your visibility. It makes it easy for your target audience to find you on Google Maps and through Knowledge Graph, and also when they conduct "near me" searches.
What's more?
It's also an excellent place to engage with your audience. You can stay in touch with them by replying to their questions and reviews.
5. Page Speed
With mobile-first indexing is set to officially kick off in March 2021, speed, especially on mobile devices, becomes crucial. 
So, if your website is heavy or loads slowly on mobiles, it's likely that your website will be on the receiving end of this update.
So, what's the best way to optimize the loading speed?
The following are tactics you can use to ensure your site loads fast:
Choose a website hosting platform optimized for speed.

Enable GZIP compression.

Enable browser caching.

Have your JavaScript and CSS files minified.

Upload media files only after optimizing them.
Ready to Rock Your SEO This Year?
Getting your website to rank may seem like a challenging undertaking. However, taking care of the issues mentioned above can have a significant impact on your rankings.
Offer users exceptional experiences, create content that offers solutions, and prove to Google that you are an authority on the topic. Also, make sure that you work on your page speed and create and optimize your GMB listing for the best results.
Do you have additional questions about any of the ranking factors mentioned above? Get in touch. We can offer customized solutions that can help you boost your rankings.