To startups and small businesses, SEO might seem daunting. 
Why so?
They lack the requisite budget and technical skills. Owing to these constraints, SEO is often an afterthought for startups. They are often so involved in coping with competition and establishing their brands that they forget to reap SEO benefits.
Topping the SERPs (search engine results pages) is arguably one of the best ways to drive web traffic and build brand authority. After all, 75.1% of all clicks for a Google query go to the top three search results. The click-through rate (CTR) increases by 30.8% if you move up one spot on the SERPs.
If your startup is languishing at the bottom of the SERPs, you can't hope to stand out among the big players in your niche. Only 0.78% of searchers move past page one on Google.
Don't get me wrong. I understand that startups can't invest much in SEO. The SEO strategies that work for bigger businesses are not a viable option for you. That's why you need to stick to the SEO fundamentals. 
This means understanding what matters most for search engines (key ranking factors) and focusing on those. 
Sound good?
Then, here are some low-cost, quick-return SEO tips that every startup owner needs to know.
4 SEO Tips that Every Startup Needs to Leverage
Yo get the best results, SEO should be tackled during the foundational stages of brand building. But this does not mean your SEO strategy can't be refined during later stages. 
But how?
Just master these four startup friendly SEO hacks.
1. Invest in a Fast Hosting Provider 
After Google's Penguin update, ranks are governed mainly by the user experiences (UX) of website visitors. Page speed is one of the top factors that determine your site's UX. 
Nothing frustrates click-happy users more than sluggish websites. Slow-to-load websites give a poor first impression and have high bounce rates.
Need evidence?
A Portent study found that with each additional second of load time, the website conversion rate falls by 4.42%. According to the research, websites that load between 0-4seconds have the highest transaction rates.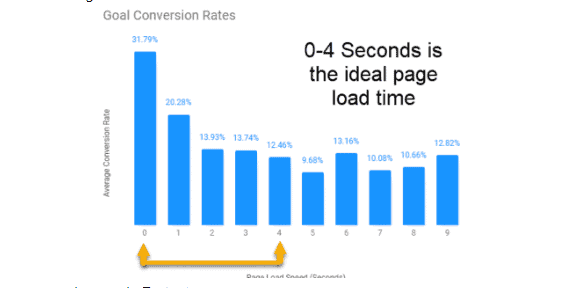 Image via Portent 
If your website achieves the ideal load time, it can retain visitors longer and prevent them from going to competitors. You deliver value at a glance, which means instant gratification for visitors. 
Couple that with valuable content, and your website's dwell time skyrockets. To Google, all this indicates that your website is providing a great UX and deserves a better rank.
Page weight or the total Kilobytes transferred (images and everything else) is not a drag on page load anymore. Most developers have learned to "minify" their code using GZIP compression. 
Then what?
Invest in quality hosting providers like Hostinger and Bluehost that leverage cutting-edge technology to compress your site content. Using clever tricks like asynchronous Javascript loading and image resizing, they minimize your load delay. 
If you prefer a more hands-on approach, use Google PageSpeed Insights to audit your site. The tool identifies lazy-loading elements and offers improvement suggestions.
2. Start a Blog and Create Quality Content
Content is at the very core of SEO. Quality content that satisfies user intent gets a lot of traction and elevates your rank organically. If your content gets tons of engagement, your small business can edge into the SERPs. 
Of course, apart from creating stellar content, you also need to publish it on the right channels and promote it aggressively.
There are many SEO benefits of content marketing. 
Like what?
Linking your content to high-DA (domain authority) websites in your niche indicates topical authority and builds your backlink profile. This is a good sign for both Google and consumers. 
If your content is share-worthy , your brand can make a mark on social media. Your startup can enter the big leagues if your posts impress influential social media users. 
If big-time influencers and industry leaders engage with your content, you earn a competitive edge. This again improves your standings on the SERPs.
Last but not least, you can repurpose successful content without too much additional expenditure. This way, you can cater to varied audiences and rank on different platforms. 
In short, with a one-time investment in crafting content, you keep drawing organic traffic.
Blogs, in particular, have proven SEO benefits.
Don't believe me?
"Successful" bloggers (those earning > $50K yearly) tend to prioritize SEO. While crafting content, they are 4.3x more likely to research keywords than their less-affluent peers.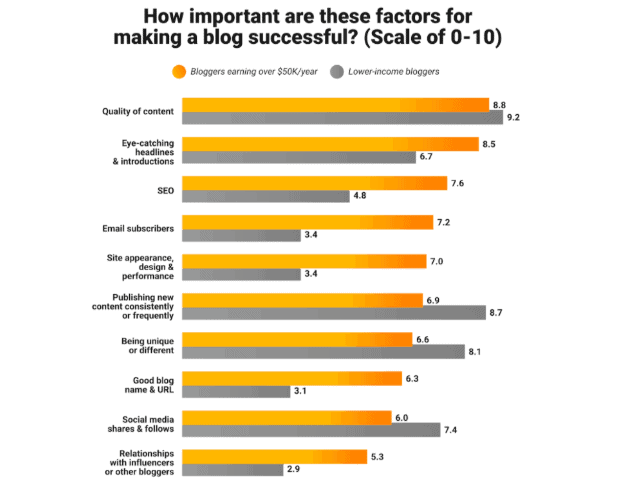 Image via GrowthBadger
So, jump on the blog bandwagon if you haven't already. To maximize your blogging returns, follow these best practices:
Prepare a content strategy with well-defined goals and metrics. If SEO is a priority, track target keywords and SERP positioning.

Write with your audience in mind. Dig into your CRM system, subscriber list, and follower profiles to understand your audience better. Create detailed buyer personas.

Once your content is ready, distribute it adequately. If your website draws little traffic, leverage the reach of syndication websites like Mention.

Publish regularly if you want to build steady readership. 
3. Choose the Right Keywords and Optimize for Them
While selecting keywords to target, opt for long-tail keywords that contain three or more words. 
For example, if you are writing about weight loss tips, target keywords like "best tips for weight loss" or "how to lose weight quickly." These are easier to rank for than shorter keywords like "weight loss" and "weight loss tips."
Why so?
Three reasons:
Fewer people target long-tail keywords, which means lower competition and more opportunities to rank.

They closely match the actual search queries people type or speak into Google. They attract high-intent, qualified traffic.

They are cheaper to bid for in pay-per-click (PPC) campaigns. By targeting them, you can stretch your advertising budget.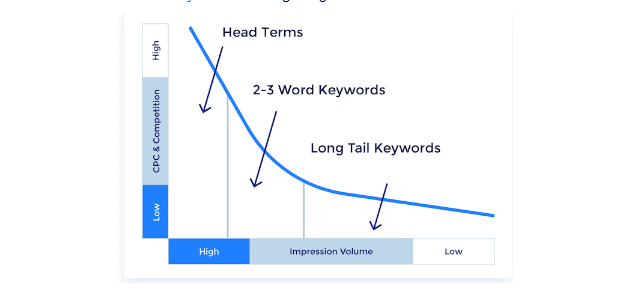 Image via Instapage
In a nutshell, you can justify your SEO investment by leveraging longer keywords.
To dig into the exact language your audience is using in search queries, you can use search-listening tools like AskThePublic.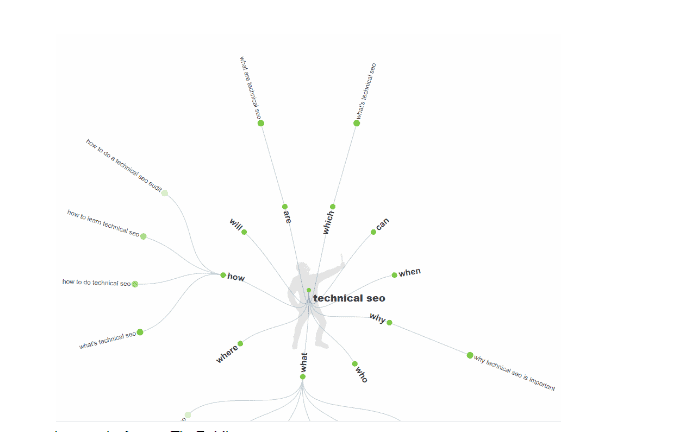 Image via AnswerThePublic
Include the keywords in your page copy, URLs, meta descriptions, headlines, and image file names. But don't force them in if they don't fit naturally in the content flow. 
Long keywords fit best in long-form content. So, don't restrict yourself to short, snappy posts, especially if you want to draw Google traffic.
4. Leverage Local SEO Techniques
If your startup caters to local audiences, you need to nail local SEO.
Confused?
Let me explain with an example.
A searcher looking for "movie theater in Seattle" will likely see three search results in a separate box, above the organic results. This is called the "Google snack pack."  
Results in the snack pack are Google My Business (GMB) listings. If you create a great GMB listing for your startup, you can figure in the Google snack pack and improve your CTR. 
Local searchers have high conversion potential. This means local SEO can boost your conversions as well. That's why ecommerce startups should pay special attention to optimizing their GMB listings.
Want a pro tip?
To tie your SEO efforts with conversions, integrate SEO with omni-channel marketing. 
When all your touch-points – emails, websites, post-sales messaging, and push notifications – are optimized, you can improve your organic ranking and sales. You can use tools to streamline your marketing efforts end-to-end.
Ready to Do SEO like a Pro?
SEO tools and tactics for startups should be light on the pocket and easy to implement. That perfectly describes the tips and tools mentioned in this post. As your revenue and budget expand, you can try more advanced SEO methods like paid guest posting on prominent websites.
Do you need more help with your SEO? Leave your requests in the comments below. I'll get back to you soon.