Are you looking for a way to launch your website, at zero cost?
If the answer is yes, then you landed on the right page.
In this post, I'm going to introduce you 000WebHost, which provides free website hosting with PHP, MySQL, Cpanel and no ads!
000WebHost Free Account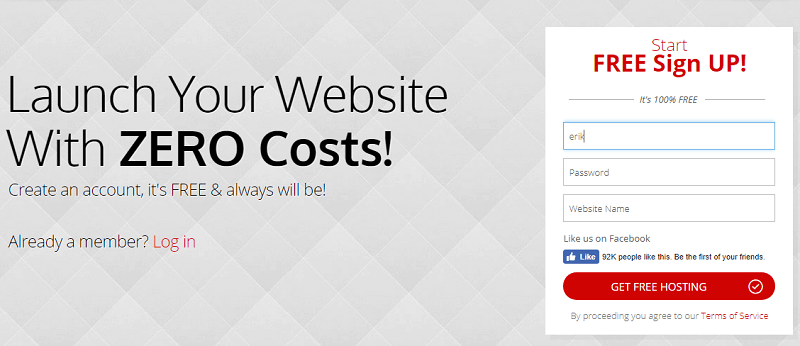 Once you register, a message will inform that in order to suffice all the users with equally high-quality services, your website will not be available for 1 hour every day.
Why?
000WebHost is owned by Hostinger. They are investing part of their revenue to grow this project. And supporting, developing, scaling one of the biggest free web hosting platforms of the web surely costs a lot. Just think about their latest improvements:
They completely redesigned the control panel, to help users being focused on learning and creating.
They updated the infrastructure, by scaling the databases following the same strategy of big names such as Facebook, Google and LinkedIn.
They invested in more than 50 new servers, located in Netherlands, Brazil and Singapore.
They created a partnership with BitDegree, a revolutionary education platform.
Of course, costs growth corresponds to increased maintenance efforts. To keep 000webhost free and alive, they implemented one simple limitation: every website hosted on a free account gets 1 hour of sleep every day. Your website won't be reachable to the public, but the goods news is that you will be able to set the sleep time yourself.
Important note: if you want to avoid the one hour offline, you can always decide to upgrade to any Hostinger cheap plans – migration is processed automatically within few hours.
Starting at $2.15/month, you can get a professional web hosting. To help you choose, keep in mind that:
WordPress sites hosted on Hostinger are 5x faster;
You will get SEO Optimization for WordPress – you will rank higher on Google search;
You will receive daily backups, so your data will always be safe;
A fast and dedicated support is ready to help you;
The migration of your current WordPress sites to Hostinger is totally free.
Creating Your Website With 000WebHost at Zero Cost
Now, after you confirm your email, you can start building your website.
You can choose between the 000WebHost easy website builder, installing WordPress CMS or uploading your own prebuilt website or files with the interactive web file manager.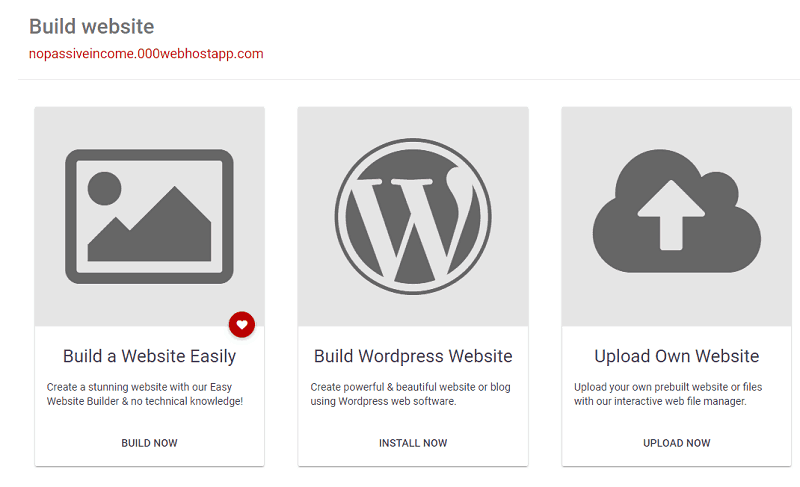 Of course, I went for the second choice, as I'm a bit familiar with WordPress.
After you choose the admin username, the password and your desired URL, you are ready to click "Install".
It takes around 60 seconds to get WordPress installed. After this, you are ready to visit your WP dashboard for configuration and settings. Here you can personalize your site with anything you want, from themes to plugins.
Here's my free site at 000WebHost: Nopassiveincome.000webhostapp.com
Remember, with a free account, you get:
10 GB (10,000 MB) of bandwidth
Almost endless 1000 MB disk space
Free domain name hosting
Free Cpanel admin panel
Easy to use Free Website Builder
Auto Installer (WordPress, Joomla)
Full PHP & MySQL database support
Instant account activation, with no fees
99% uptime guarantee
000WebHost Easy Website Builder
Other than WordPress, you can opt for the simple website builder of 000WebHost, to create your new site.
It's powered by Zyro and it's 100% free, with hundreds of free templates included. You simply need to choose your template, drag & drop your text or other web elements and press "Publish".
And you're done!
There's no need for any technical, design or coding knowledge, just have fun with the intuitive drag & drop system.
Here are some of the main features of the 000WebHost Easy Website Builder:
Mobile-friendly. Get your site converted into mobile-friendly with just a single mouse click;
Easy and fast. The click, drag & drop system is really everything you need to know! You don't need to code, design or learn any programming or markup languages. Just select one of the beautiful website templates, add your text and make your website live.
SEO friendly. Get your site listed in Google search, Yahoo, Bing and other search engines, using the SEO oriented metas like page titles, descriptions, keywords and more.
Be social. Just add any social button to your website, to get your content shared on Facebook, Google Plus, Twitter, Pinterest and more social networks.
000WebHost Premium & Business Plans
If you feel that the features of the free account as mentioned above are just not enough, you can always decide to upgrade to the premium or business plan.
You'll get 24/7/365 dedicated live support and many powerful features, including unlimited hardware resources, free domain, SSL & SSH.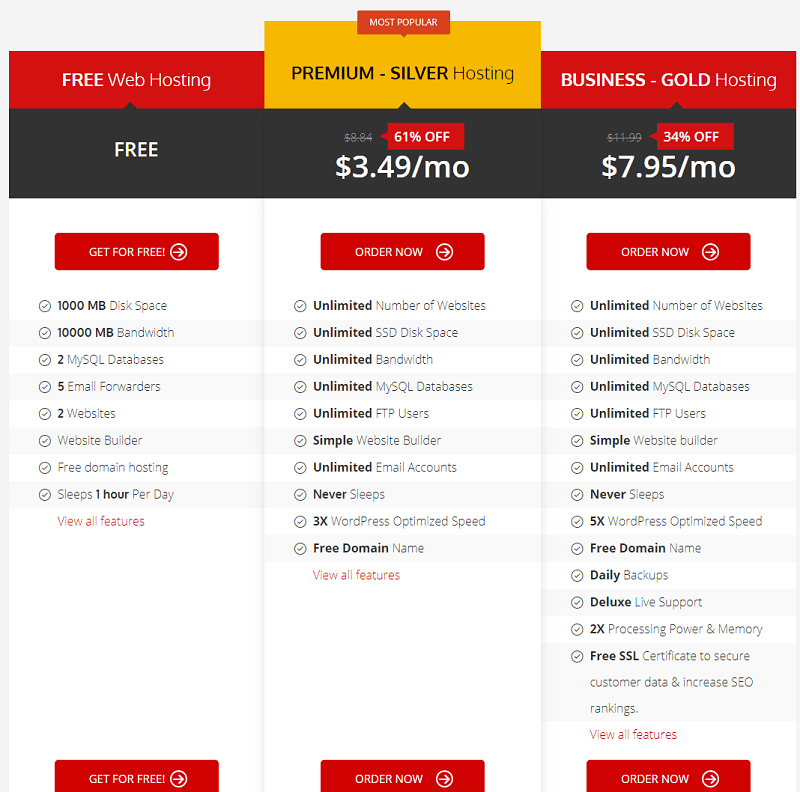 The most popular plan is the Premium – Silver hosting, starting at $3,49/mo. The main features are the following ones:
Unlimited Number of Websites
Unlimited SSD Disk Space
Unlimited Bandwidth
Unlimited MySQL Databases
Unlimited FTP Users
Simple Website Builder
Unlimited Email Accounts
Never Sleeps
3X WordPress Optimized Speed
Free Domain Name
And more.
There are no restrictions and the extremely low pricing is really competitive. If your website is growing-up fast, or you are simply looking for more, this is the best choice.
And there's a 30-day money back policy, if you are not fully satisfied!
Final Words
If you are looking for a free web hosting, you normally need to accept ads on your site. However, with 000webhost, you can get a website at zero cost with no ads added by the host. Of course, there are some limits to accept, but this is still a viable method to build an online presence for personal purposes, or even for a small business. And remember, you can also include your own ads!
000WebHost has been providing free hosting business since 2007. Having more than 16 million websites hosted from all around the world, it looks like they are here to stay.
Now, it's over to you.
Have you ever heard of 000WebHost?
Do you use a paid or free hosting service?
Which one?
Please share your experience and feedback in the comments below, thanks!