Nowadays, starting a blog is no longer a hobby, but a job opportunity for many professionals and a key requirement for companies who want to get more visibility on the web.
How many of you would like to become famous bloggers, achieving authority and economic success through working online? Surely many, but to accomplish your dream you have to follow the right strategies.
In this post, you can read 12 steps needed to create a successful blog.
1. How to Find a Niche for Your Blog
The first step ever to creating a successful blog is to find the topic you will cover. In other words, you have to decide what to talk about on your blog.
From vegan recipes to tourist destinations, from sports to online trading: you should identify a niche not yet inflated, in which you can grow and achieve success.
When searching for it, keep in mind these four basic rules:
It must be a niche you're passionate about, for which you have a genuine interest.
Choose a field in which you can consider yourself an expert, and you've developed enough experience to add value to your blog.
Each website serves a target audience, then select a topic that is useful to a large number of people.
If you want to create a successful blog, you must think about different monetization strategies.
Let's start with selecting five possible niches.
2. Content Search
Now you have 5 candidates for the topic of your blog, but how can you choose one?
First, putting the niches under the microscope. Which means, you have to analyze each niche and understand what is the hidden potential.
Search for related content and analyze the existing competition. This is the best way to get an idea of what content you may publish and if there is enough room for you, with a margin for improvement through which you can beat your competitors.
BuzzSumo is a great tool to analyze what content performs best for any topic or competitor.
3. Searching for Keywords
Choosing the right keywords means to get visibility on search engines. In other words, an essential aspect for your blog.
Use Google AdWords and Google Trends to seek the most important keywords for each of your niches.
While doing so, also check for those used by competing sites (those that appear at the top in a SERP).

4. Choose the Topic of Your Blog
You're finally there: it's time to crown the winner. What is the niche that has passed with flying colors the tests?
On the highest step of the podium, there's must be the topic that is more rich in content and ideas, more versatile and more inclined to be monetized, the adequate audience.
Choose carefully, because around this niche it will turn all your activity.
5. Choose the Name for Your Blog
Have you already thought about how to call your blog? Now is the time to do it.
The name is a very important business card, which works as a catalyst for users interested in your topic. For this, make sure it is as short as possible, easy to remember, read and pronounce, and appealing to your target.
Try to be smart with your choice and opt for a name that is able to make people understand who you are without being cryptic, but at the same time arouse interest and curiosity.
In short, a clear name but with personality.
I use GoDaddy for searching and choosing my domain names.
6. Get a Hosting Plan
There are several good hosting services available out there. Be sure to choose one that has a good reputation with excellent support.
Once decided, you can log into your CPanel and install WordPress. It's very easy,  just use the site software service:
7. How to Choose and Install the Right Theme
One of the most important features of WordPress is precisely the choice of themes. They come in all types, free or paid.
Once installed, you will get the WordPress default theme (depending on the CMS version), but you can easily change it to make your blog even more special.
Choose a simple and intuitive theme, with an immediate and minimalist design (less is more). Also, make sure it is compatible with the latest version of WordPress.
I suggest Genesis Framework, it's versatile and easy to personalize, with a professional design.
8. Find Images for Your Blog
While creating content for your blog, you will need to embed images. There are several places where you can download pictures for your website.
These are the best paid sites:
istockphoto
dreamstime
bigstockphoto.com
shutterstock
fotolia
gettyimages
While these are the most popular free ones:
flickr
pixabay
wikipedia commons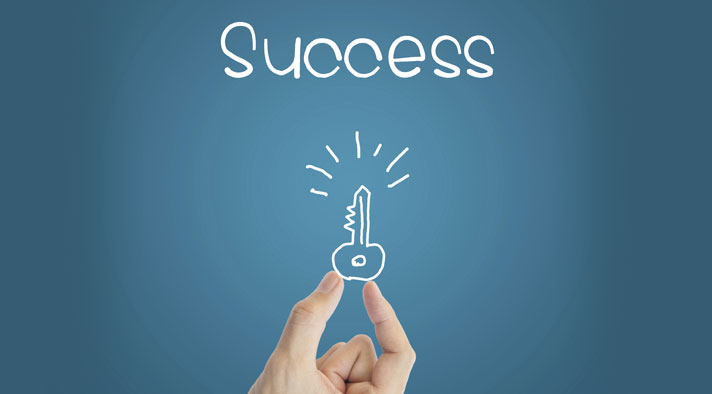 9. Work on SEO
To create a blog and take it to the success it is crucial to spend time on SEO (Search Engine Optimization).
On-page SEO means apply some tricks that will make your blog more visible to search engines and therefore will scale the results of the SERP (search results pages).
Start using the right keywords in the right way. This means placing primary keywords:
in the URL,
in the title and subtitle,
in the opening sentence of an article,
within the content in a certain percentage,
in the alternative text of images.
Also, try to use even variations of the primary keyword.
These are just some suggestions, visit this page to get a complete guide on on-page SEO.
10. How to Write Good Posts
Every article you are going to publish must have something useful and concrete to say, a specific goal that makes him worthy of reading.
As for the structure of your articles, make sure that they have:
A title and subtitle.
A clear body of the text, with the proper use of keywords.
Optimized and significant images.
Some links to your other articles.
Some links to relevant and good content outside your blog.
11. Content Promotion
Once you have published new content, it's time to promote it.
There are several ways to market your site and get new visitors. To name a few: guest blogging, blog commenting and social media marketing.
You may want to read these posts:
12. How to Make Money with Your Blog
I'm sure you've been waiting for this part with trepidation. And how to blame you? I myself have founded several blogs with the aim of turning them into a profitable business, like NoPassiveIncome, for example.
You have 4 main options (at least from my point of view). You can choose one, although it is normal to combine more strategies together.
Online Advertising
This is the most popular and obvious choice. There are lots of networks that allow you to place their ads on your site and get paid (normally by the number of clicks you receive on advertising, but also based on different models, like CPM or CPA). Among these, the most widely used is Google Adsense.
Other online advertising solutions include networks like BuySellAds, and alternatives like AdClerks. You need to register and submit your website. Once you have been approved, you will be placed on their marketplace, where you can create new ad spaces to be sold for a certain fixed monthly price or by impressions.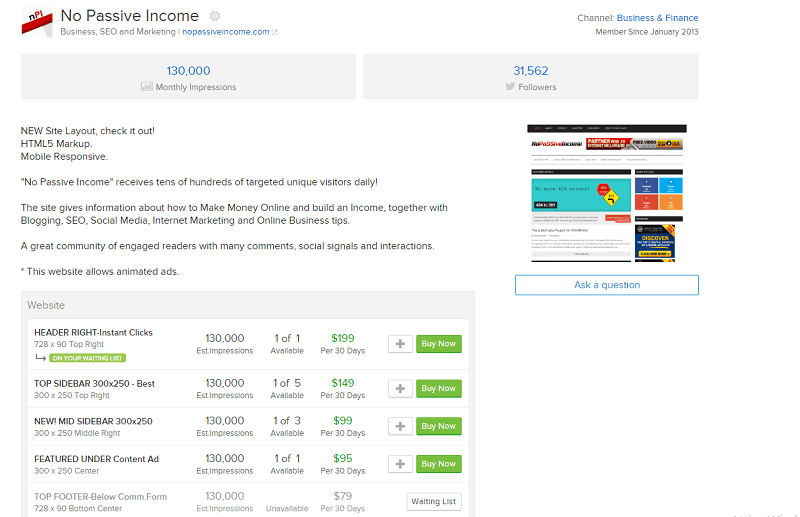 Affiliate Marketing
Earning with affiliate marketing means placing links in your blog that address to the sales page of a product or service. When your visitors click that link, arrive on the page and make a purchase, you earn a commission on the sale.
You want to use a plugin called "Pretty Link" to make those affiliate links look nice, like this one:
https://nopassiveincome.com/hootsuite
Popular affiliate networks to join are:
Sell Your Own Products or Services
This option may lead to gains with several zeros, but without creating a personal brand, it's better to opt for other routes.
The advantage of this type of monetization is that you can focus on creating digital products, such as video courses or eBooks.
These are relatively easy to be produced, even from home, and they can be distributed without sophisticated tools.
Moreover, unlike a physical product, you create a digital product only once and then potentially your sales continue endlessly without any effort (the sale is automatic and you do not "make" new products).
You can begin with a simple PDF eBook. You can offer it for free to your visitors, in exchange for their email address. Or, you can sell it for a small price, via Amazon Kindle (becoming an author), for example.
Deciding to sell your services may be a good idea too.
You must find something that you are really good at, and then sell your skill for a certain rate.
I sell freelance writing and social media marketing services via my personal website.
Sponsorships
Sponsored posts are a common way to monetize a website. Once you have created your blog and gained reputation, you can get paid to publish a post that sponsors a product or service.
You can have sponsorships for different things: a post, a podcast, a video, etc.
To start, you can register to these networks that are going to help you find sponsorships opportunities:
Final Words
Here we are, at the end of this post, but at the beginning of your path to success.
You graduated: now it's time to become a professional blogger!
Put into practice all these suggestions and try to build a profitable business.
If you have any other tips, please share them by adding a comment below.
Thanks and don't forget to share the post, if you liked it!