Are you looking for a place to find paid writing opportunities?
Or maybe, you run an online business and you need content writers?
Then HireWriters can be your solution.
How HireWriters Works
HireWriters is an online marketplace, connecting freelance writers and bloggers with clients.
The website offers two registration solutions: one for writers and one for clients.

Let's see in details how to get the most out of HireWriters under both points of view.
Make Money with HireWriters
If you are a freelance writer and you are looking for paid opportunities, then you want to sign up as a writer.
Proceed with registration. After you enter your details, you will receive a confirmation email with a link for activating your account. Simply click the link and enter your HireWriters dashboard.
Now, you want to click on "Edit My Account" on the top right of the menu, to complete your writer profile.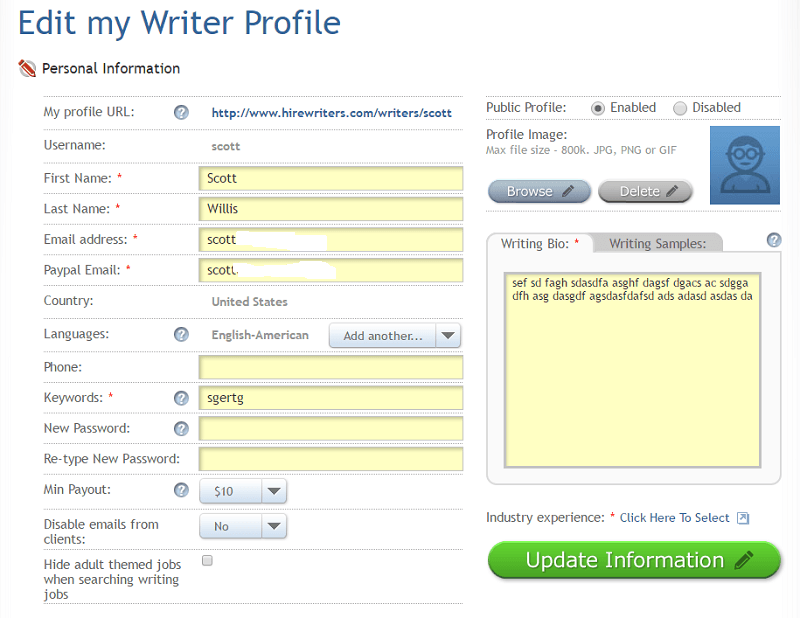 Enter your first and last name with your PayPal address. Add the keywords related to your skills of expertise (when clients will search for those keywords, your profile will show up in the results). Upload your profile image and your bio. Also, even if you are not required to, you want to submit a writing sample (this will be useful for clients to see what they are searching for writers).
Now, you are ready to search for job opportunities.
You need to know that at HireWriters, there's a rating system where the are different ranks for the writer accounts. Once you complete more writing jobs, you will advance and you will be able to earn more money per article.
Everyone starts as "beginner" level, then you can advance to "general", "skilled" and finally "expert".
If you are wondering how you can earn those, you need to know it depends on the number of reviews you receive from the clients and the jobs completed (also, you want to be on-time with your assignments).
Here is what you need to earn those ranks:
General: at least 3 completed jobs, with an average rating of 4 stars and at least on-time 70% of the time;
Skilled: at least 7 completed jobs, with an average rating of 4.1 stars and at least on-time 77% of the time;
Expert: at least 14 completed jobs, with an average rating of 4.6 stars and at least on-time 88% of the time.
For example, if you are just starting out (as "beginner" level), you can earn $2.25 with a 300-500 word article (very short). As an expert writer, you could earn $10.66. Of course, if you are a talented writer, you can take several assignments per day and earn a nice sum of money.
To find paid opportunities, click on "find writing jobs" (top menu) and filter the search, depending on what you want to look for:
Job type is divided by:
new article;
rewrite article;
fan page posts;
data entry jobs;
transcription;
poetry;
eBook.
Also, you can filter by word count, rank level or category.
Here's an example of job opportunity that you can find at HireWriters marketplace:

Payments are in U.S. dollars and are done automatically every Friday, as long as you have more than $10 in your account (be sure to enter a valid PayPal address).
Important note: currently HireWriters are accepting freelancers from the United States of America, Australia, Canada, United Kingdom, Singapore and New Zealand.
Register as a Client and Get Written Content
Register as a client. You'll receive a confirmation email with a link that you need to click on, in order to activate your account.
Now you can log in to your HireWriters dashboard.
According to your goals, you want to deposit a certain amount of money (currently, the minimum is $10).
To give you an idea about the prices of written content, here's a table of rates:

You can get articles as cheap as $1.50 for 150-300 words.
To make your order, click on "order content" on the top menu, selecting the job type (new article, rewrite article, fan page posts, data entry jobs, transcription, poetry, eBook).
Let's suppose you need standard articles, here's what you will see: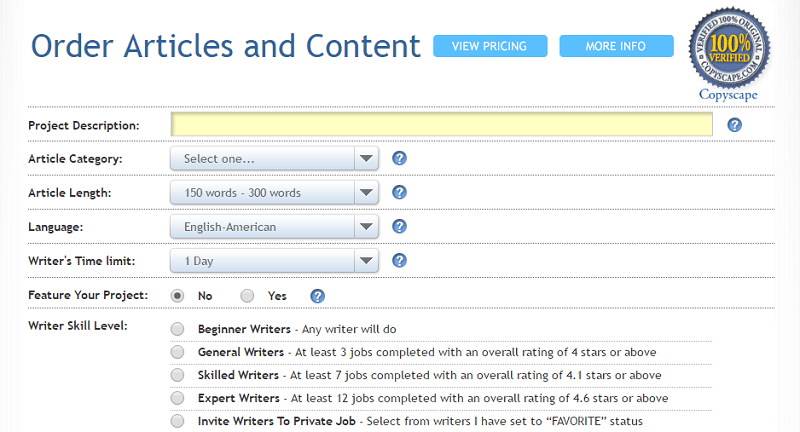 Give a name to your project and select the category, choosing from:
animals;
arts and crafts;
business and investing;
computers and electronics;
education;
entertainment;
hobbies;
internet businesses;
travel and vacations;
and many more topics.
Now select the article length you need, based on the number of words and the time you want to give writers to allow creating the content and complete the assignment.
Note that as soon as a writer accepts your assignment, he has normally 1 day to complete it. If you need it faster, there's an option to have it completed within 6 hours (paying a little extra).
Also, you want to choose the writer skill level, based on your needs.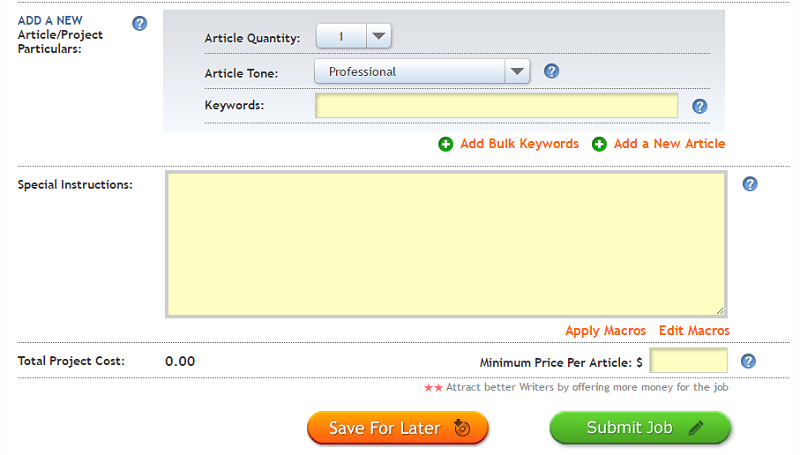 Select the quantity of articles you want to order, together with the writing tone, choosing from:
professional;
friendly;
funny;
review style;
other.
Enter the keywords, based on which you want your content created.
In the special instructions section, describe exactly what you want the writer to do with your article (the purpose of the content, or what you are looking for).
Finally, decide the minimum price for each article completed by writers.
Now you're ready to submit your job to HireWriters marketplace.
You can follow how your order is going by visiting the "my projects" section of the menu.
After a writer completes your job, you can review it and make sure you are completely satisfied. If you want, you can request some changes.
Once you are happy, you can accept the job done and download the content created by visiting the "download content" tab of the menu.
If you want to check your account balance history, there's a special section of the menu:

The content you get will be 100% original, as HireWriters uses the Copyscape API to automatically check what is submitted by writers and ensure it is unique (the check is run before you even see the content).
As a final option in the menu, you can search writers and pick your favorite one for your projects. Run your research, based on different things, like the industry background, the experience level and the number of jobs the writer has completed in past.
There's a message system, through which you can communicate with writers. Be sure to check your messages regularly when you order content, as writers may need to ask you questions.
Final Words
Whether you are a freelance writer looking for paid opportunities or an online business owner needing content, HireWriters can be your solution.
I hope this post has helped you understand how their marketplace works and if you need further information, there's a ticket system you can use.
And you?
Have you ever heard about HireWriters?
Any experience with it?
Please share your views in the comments below, thanks!