In the last 5 years, since when I started my first website, I've seen many friends quitting their blogs.
The main reason is always the same : they do not receive enough monetary compensation in order to live just with blogging.
The classic case is when someone is dazzled by the false glitter of the internet with the great opportunities of gaining large sums of money just sitting in front of their computer without making any effort.
So they start a blog, perhaps leaving their jobs, and investing time in creating content and an appealing design for their site, even spending money in buying guides which promise to unravel the secret of making money online.
The truth is that there is no secret.
You just need to have passion, dedication and hard work : you will discover that making money online is a real opportunity.
Of course you need to find the right articles that gives you the correct information about resources to use in order to monetize your site.
And in this post I am going to introduce you teliad.
What is teliad?
teliad is a service provider that helps advertisers and publishers connect each other in order to make great deals for both parts.
Bloggers can monetize their sites with several kinds of products and advertisers may use the platform to improve their visibility on the internet.
The company was created back in 2005 in Stuttgart, Germany, when they were only offering Text Links.
They soon expanded into other countries, including France, Spain, Italy and the UK / US and added many new products and features during the time.
At the moment, Teliad is available in 5 different languages : English, German, French, Italian and Spanish (teliad.com, .de, .fr, .it and .es) : they are very international!
It is right now the largest platform in Europe and has offers from 30+ languages.
They count more than 8000+ independent bloggers and 30000 webmasters who are using their products to monetize their sites.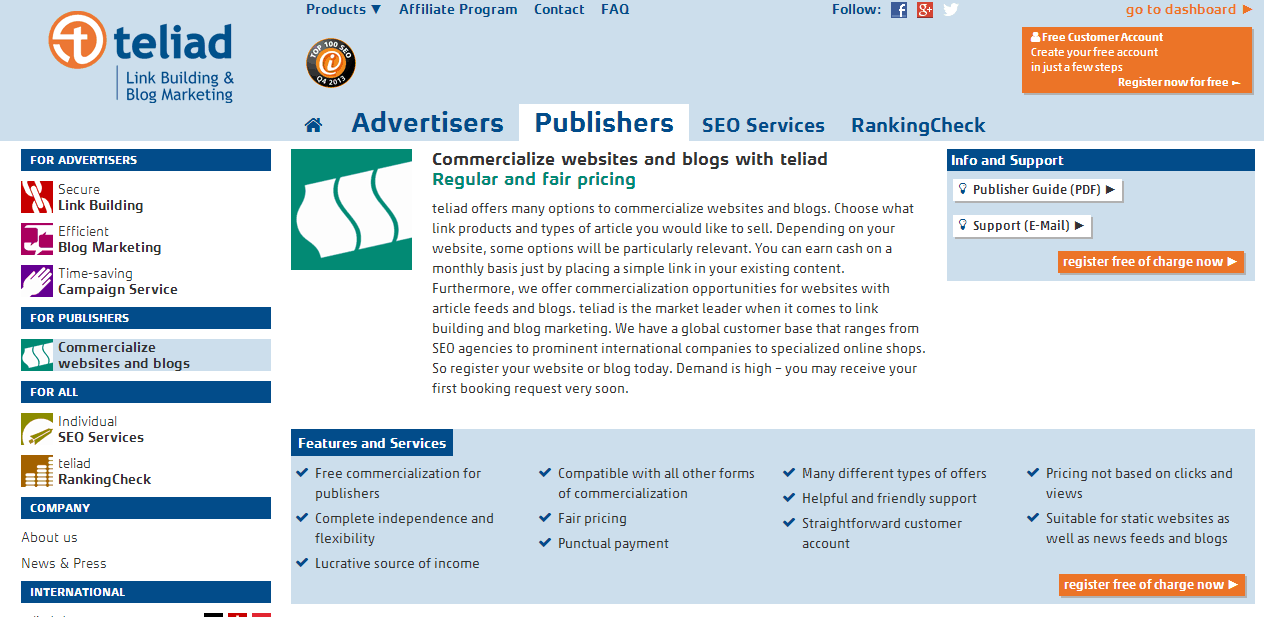 How You Can Make Money with teliad
Bloggers are always browsing the web for new opportunities to make money online.
With teliad you can become a publisher and earn with your blogs, by using different products.
You just need to register here, and submit your offer.
Every site you want to monetize with teliad gets manually reviewed before being accepted (this tells you a lot about the quality of the platform).
teliad wants to offer to their advertisers just the best of the web.
In order to get approved, be sure to keep your blog updated on a regular basis.
If you have good search engines rankings and important social media influence, you are more likely to be accepted.
The content quality also has a very high priority.
You can make money on a monthly basis or one-off, depending on the offers you create.
Also, you may want to use their tools to determine the RankingCheck or RankingScore of your site.
In addition, their Price Check Calculator will estimate in advance how much you will be able to earn depending on your blog ranking.
Once you submit your offer, there is a price range you can choose from.
The price range is set depending on different factors such as domain popularity, number of external links or social media reach.
Visibility on search engines is also important, so be sure to check your rankings using the mentioned tools (RankingCheck or RankingScore).
The Different Ways to Earn with teliad
Over the years, they have increased the number of ways that bloggers can use to monetize their sites.
There are 8 different methods, which can be divided into two different categories: classic and new products.
teliad Classic Products
The classic products are:
– Text Links : standard links placed on your blog pages. You can choose between different options, as content area, left or right column, header or footer area, and miscellaneous;
– Post Links : links you may create in an already published post;
– Presell Pages : new pages you can add in your blog with unique content provided by the publisher.
teliad Content Products
The Content products include :
– Blog Posts : quality articles about specific topics you can create on behalf of the advertiser. They are marked as published by the blogger;
– Advertorials : the content is provided by the advertiser and published by the blogger. They are marked as sponsored posts. Advertorials also provide the option of including an author name with a link to the Google+ profile;
– Infographics : they are catchy images with interesting information for your readers. Advertisers normally ask you to write a little about the graphic and the topics covered;
– Video Marketing : videos are a direct way to communicate with your audience. Advertisers provide the multimedia file and they normally ask the blogger to write a little piece of content about what is covered in the video;
– Press Releases : these are news published by the companies, which include usually one image file (as for instance, the company logo). The content is provided by the advertiser.
Are You Google Safe for Using teliad?
I am sure this is an important question for you, as a blogger who wants to monetize your site, but doesn't want to be penalized by Google.
You do not need to consider teliad as a link network.
They have an anonymous portfolio. No publisher URL is shown until the advertiser bid seriously.
As mentioned before, each published site is manually reviewed before being accepted. So they accept just high quality blogs.
There is a "NoFollow" or "DoFollow" links choice. And I think this is great, so you can sleep soundly.
You can also reject any bookings, if you think it can't match properly on your site. You have plenty of control on that.
There is a natural integration, with normal HTML code, which means there is no need to add extra unnecessary code.
So you understand teliad is not used just for SEO, but for real content marketing.
This is not only a platform for buying and selling links, but Teliad offers real value through content with their publishers : the bloggers!
Conclusion
I have been using teliad for a couple of years and I am pretty satisfied with the results.
I am sure you can give this platform a try in order to add another monetization form to your blog.
What I like more of teliad is that they have the "German" attitude (that I love), which means they are really professional and honest.
You will be paid each month without any delay, and if your site increases its rankings, the price of your offers will be adjusted automatically.
I have received past emails from teliad which communicated an increase of the monetary compensation for my offers, specifying the new and the old price and rankings.
This is great, also because your site progress is constantly monitored and you will be updated accordingly.
So what are you waiting for?
I suggest you to register at Teliad and add a great new form of monetization to your blog!
So what do you think of teliad?
Have you ever used it?
Please share your experience leaving a comment in the section below, thanks!
Teliad is today SeedingUp. Check this post for more information: