If you take blogging seriously, then I am sure you are managing multiple social media profiles, together with Google AdSense or AdWords accounts, WordPress blogs, a mailing list with GetResponse or another service provider, your PayPal account, Google Webmasters and Analytics profiles, or any other tool you are using.
You are probably spending a lot of hours during your day/week monitoring all these accounts…but if there was a way to save all this time?
The solution is Cyfe.
Cyfe is a multifunctional dashboard, that you can use to monitor several social media accounts, traffic analysis and different other metrics from analytics or rankings checks, under the same place.
How Does it Work?
You just need to register at Cyfe and confirm your email (you can sign up for a free account and eventually decide to upgrade later).
Once you've done this, you can login and your dashboard will appear.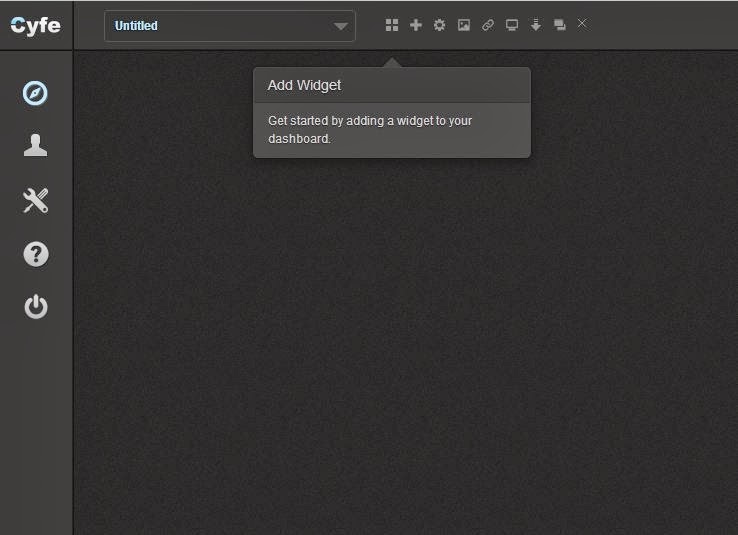 Now you want to assign a name to your dashboard and start adding some metrics and accounts to monitor.
Basically, you can choose among several widgets, under these categories:
advertising
blogging
custom
email
monitoring
other
sales & finance
SEO
social media
support
web analytics
See a screenshot: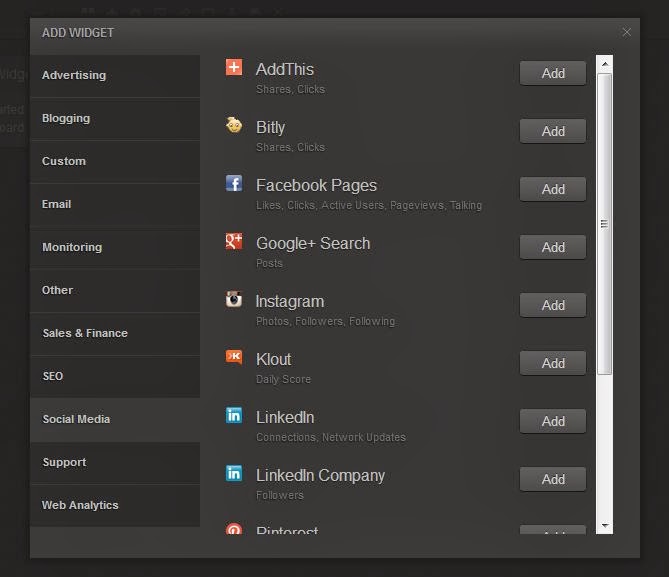 For each widget that you add, you need to make a proper configuration.
This is really easy, don't worry.
For example, if you add a social media widget (let's say Twitter), with a single click you can give authorization to Cyfe for accessing your profile.
Now you can choose what you want to display on this widget, like tweets, followers, listed, mentions, influencers or more, like a Twitter search, hashtags, etc.
Or you can decide to select another social media, as Instagram.
The settings will appear and you want to add your account and username.
See: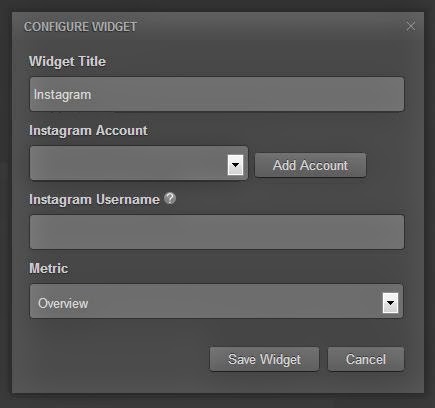 Do the same process for all the widgets you want to include in your dashboard.
How Many Services Can You Integrate With Cyfe?
Cyfe works with many services and providers.
I mention in this list just some of them:
WordPress
Google Spreadsheets
Campaign Monitor
GMail
GetResponse
Google Adsense
Google Doubleclick for Publishers
Google Adwords
Marchex
Google Alerts
Google Analytics
Google Trends
Pingdom
AWS CloudWatch
Google Calendar
Paypal
Basecamp Classic
Google Webmaster Tools
SEOMoz
SERPs
Compete
BitLy
Facebook Pages
Google+ Search
Instagram
Klout
LinkedIn
Pinterest
Twitter
Youtube
Mixpanel
Quantcast
But there are many others!
Some Premium Features at Cyfe
Once you reach a certain number of widgets in your dashboard with your free account, you will be asked to upgrade, in order to add more or to access to several premium customizations.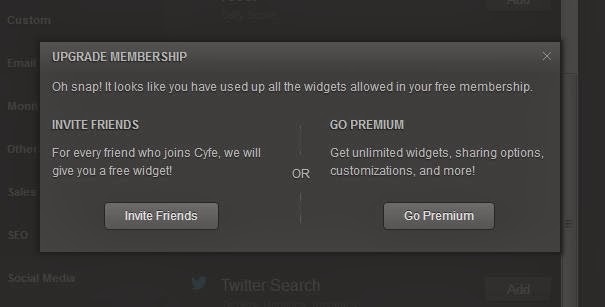 Some of these features are the following.
Reports
You can ask Cyfe to export to PDF reports that include all your widgets.
You may also decide to add your logo, giving a juicy branding.
Multiple Users
That's a nice feature, if you work with other people.
You may give access to your teammates, so to keep the work flowing.
Cyfe Pricing
The free version itself gives you up to 5 dashboards/widgets.
Upgrading to the paid version will cost you $19 each month (or $14 per month if you buy the annual plan).
Conclusion
Is it worth it?
As mentioned before, you can sign up for a free account, take a tour, add some widgets and eventually decide to upgrade to premium in future.
Everything is easy to set up, via the widgets.
It's useful to get so many metrics under the same dashboard, without losing time checking every single provider website.
You know, time is money!
Well then, give it a try and tell me what you think!
I appreciate you sharing your views in the comments below, thanks!