If you are running an eCommerce or simply a blog, you know how quality traffic means conversions and sales.
Analyzing website visitors is not always easy, and Google Analytics may seem the most popular choice. However, setting up and customizing the GA code is tricky and will require constant knowledge, evaluation and a lot of time to get results.
In this post, I'm going to introduce you a better option to Google Analytics, called Finteza. Let's see how it works and how you can use this tool to boost your site conversions, analyzing quality traffic.
How to Set Up Finteza
First of all, you need to register.
Enter the website you want to track, your email and password. Click on the link you receive by email and you are good to go.
Now, you want to add the Finteza HTML code into all pages of your website, in order to launch analytics: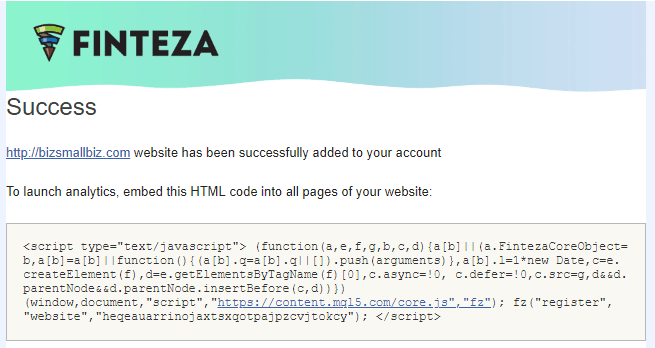 You may customize the code with some additional tracking features, like:
tracking hash in the browser address bar;
tracking clicks on external links;
the exact time on the site;
proxying the script and requests.
Proxy scripts through your website to get clear and secure data. See how to do that in this user guide.
Additional customization includes:
events;
retargeting;
goals;
ad zones.
If you have troubles with setting up the code in your website, or you are simply not familiar with the technical side of blogging, you can get the official plugin for integrating Finteza web analytics with WordPress websites. Here's the download link.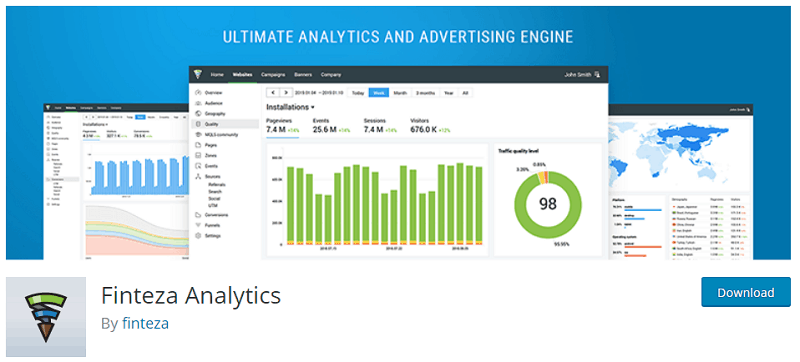 Other CMS plugins are available, like for Drupal, or Joomla, or even PrestaShop.
And there are guides for installing Finteza analytics code, if you are running a website on platforms such as Blogger, or Tumblr.
Traffic Analytics
Finteza offers full-cycle data management, like collecting, processing and creating data mapping in the form of real-time reports and charts.
You can customize the analytical report, with 15 basic parameters:
visit sources;
events;
UTM parameters;
page addresses;
countries
and 10 others.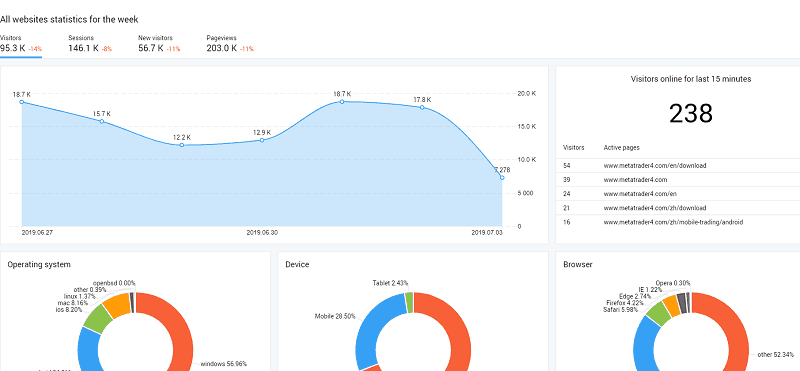 Measuring Quality Traffic
One of the Finteza interesting features is measuring the quality of your site traffic.
You can find out up to 12 types of low-quality traffic from each channel, in real-time.

For example, if you want to detect fake conversions, you just need to click on the "Funnels" section to view all the bot details.
The different reports offered lets you analyze the audience from several perspectives.
Using Finteza to Increase Conversions
You know how important is a conversion funnel to increase sales.
Even more important is measuring this funnel to find out weak points.
Can you spot when or where users leave your website?
With Finteza, you can create funnels on all pages, exploring user behavior from different sources and spot the zones that need your attention and more work. You can build reports using several criteria for studying your target audience.
For example, you can create a funnel for iOS users coming from the U.S., who were attracted by an ad on Twitter.
Also, this tool can help you track conversions not only by channels but also by separate ads and keywords.
For example, if your traffic is coming from Twitter, Instagram, and Pinterest, you may want to reduce costs while keeping the number of requests. This can be achieved following these 3 points:
set traffic with UTM parameters;
checking and analyzing conversion rates of each channel;
cancel inefficient ad units, campaigns and keywords.
You may also want to test different funnels, by canceling or changing the number of steps. Finteza will help you compare values using different criteria, and, at the same time, it will calculate conversion rates and gives suggestions for each stage.
Data is available in real time, so you can follow up the funnel performance immediately after activating the code.
Finteza Pricing
Finteza offers two services: an analytical tool and an advertising engine.
The price for the analytical tool is related to the number of unique users, regardless of the viewed pages, performed actions and browsing session duration.
For example, 200,000 users visited your site and viewed 400,000 web pages the previous month. This month, you are lucky to publish some viral content. While the number of visitors has not changed, the number of viewed pages has increased to 800,000. Prices for the two months will be the same, since the number of unique users has not changed.
The service provides a 1-month free trial period, followed by a minimum fee of $12.5 per 50,000 unique users. The advertising engine offers a large number of webmaster tools, while the price is only bound to the number of impressions. The first 100,000 impressions are free.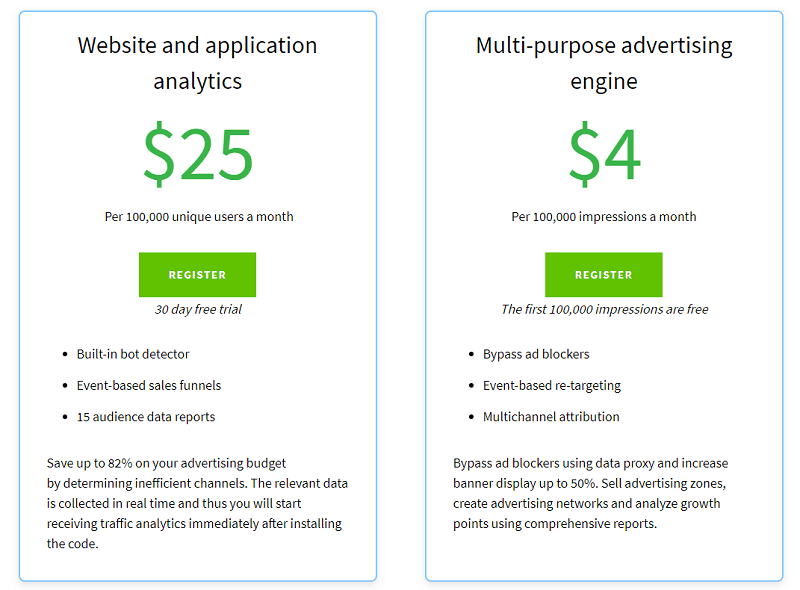 Final Words
With Finteza, you can get real-time web analytics, to track the number of visitors, page views or events in your website. It's important to analyze the incoming traffic quality, to examine the audience behavior and get more conversions.
Finteza offers also a wide range of tools to increase conversions by optimizing your sales funnel, or to create, manage and improve marketing campaigns.
There's a 30 days free trial, after you register. I suggest you to give it a go and don't forget to share here your experience and thoughts.