Are you using the right tools in your journey online?
I want to share with you something I recently discovered: Xovi.com. It's an all-in-one marketing suite which I decided to test, as an alternative to SEMRush.
In this post I'm going to show you my findings.
How Xovi Works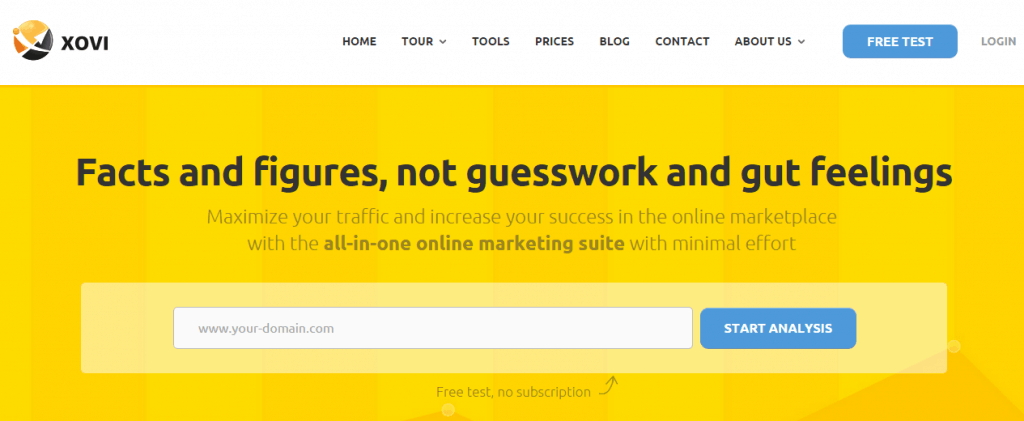 I made a test with my niche site TOKYOezine.com.
What you see in the screenshot below (click on it to enlarge) is the main dashboard I found when I entered my Xovi's account.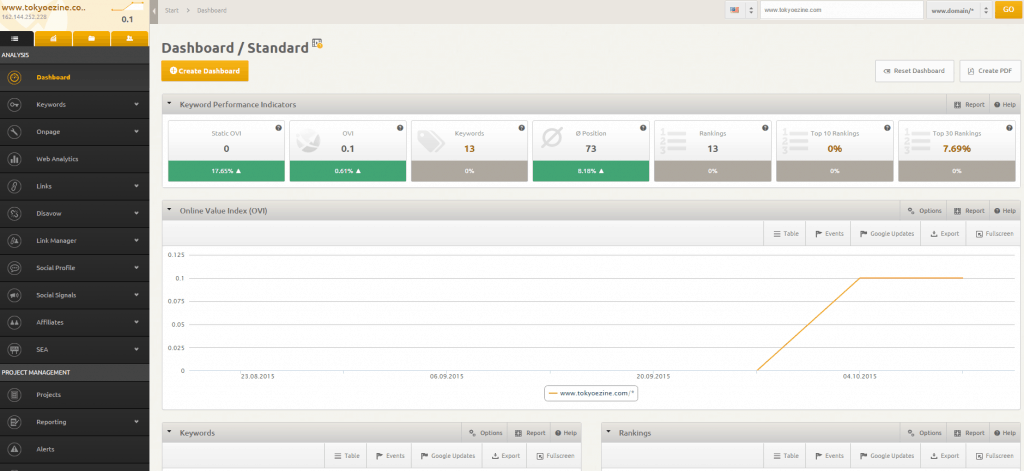 There was a menu on the left, where I could choose among several options, like:
keywords
on-page
web analytics
links
disavow
link manager
social profile
social signals
affiliates
SEA
When clicked on each of the above-mentioned features, I could access to another list of in-depth options.
I found Xovi particularly interesting as a backlink and keyword tool.
Let's see some of its main features into detail.
Keywords Feature
I got a detailed breakdown of the SEO rankings of my niche site and discovered the best and worst performing keywords.
I think that using this tool, I can find new valuable keywords, so to work on them and effectively boost my traffic and position in SERPs.
For example, when making a keywords overview, I discovered "martial arts japan" as an interesting long-tail keyword for my niche site. It's already ranking really well, see:

I also made a complete list of all the ranked keywords for my niche site.
For each of them, I received the details of the blog post of reference, position, search volume, CPC and competitor.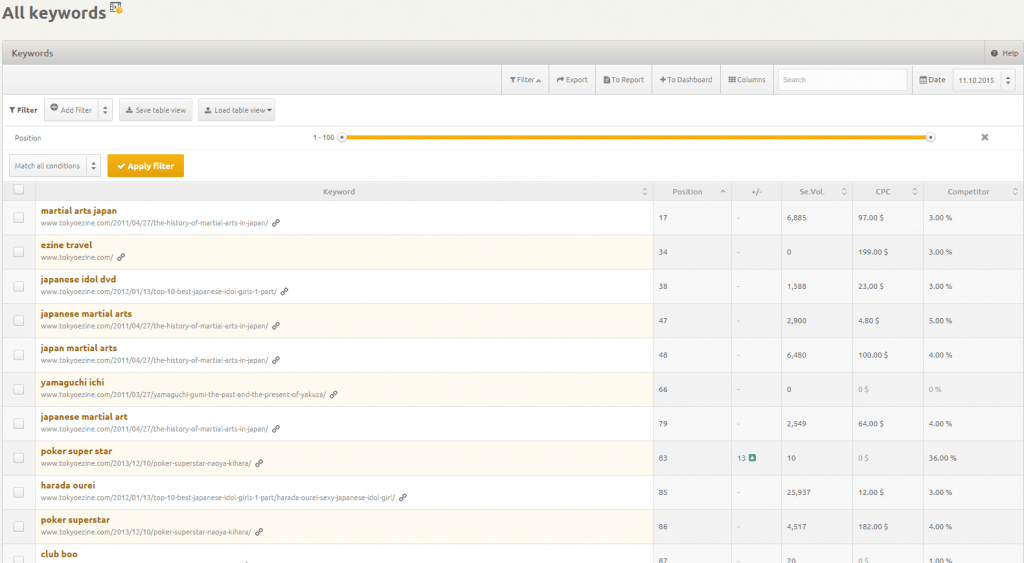 I also found many other interesting features available (that I have not tested), within the keyword menu:
keyword analysis
monitoring
directories
hot keywords
winners and losers
gained and lost
ranking spread
keyword phrases
competition
ranking value
ranking comparison
international markets
research
live rankings
On-Page
I used this option to check for any errors on my webpages. It's important that you fix any of these issues on your websites in order to avoid any negative impact on visibility in search engines.
I'm talking about duplicate content, defective links, too many H1 headings, SEO tips and much more.
Links Feature
This is another section I tested.
Here, I checked all my site backlinks. I had new ideas for new campaigns for building new link partnerships, to boost my SEO (in this section, data is updated weekly).
In the following overview, I got many interesting details, see: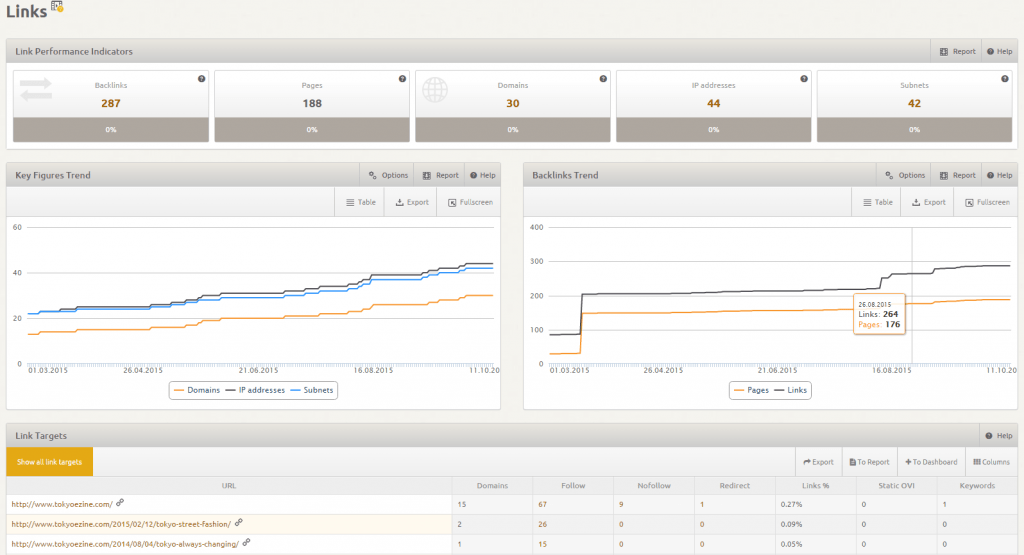 Among the interesting things, I particularly liked the graphics of my key figures and backlinks trends, with the specifics of each link target.
Here I checked the top referring TLDs, the link type attribution and the rel attribute, as well as the geographical distribution of my site links.
Also, the top anchor texts and terms by domain and page.
The links analysis gave me an overview of the top level domains, with useful statistics: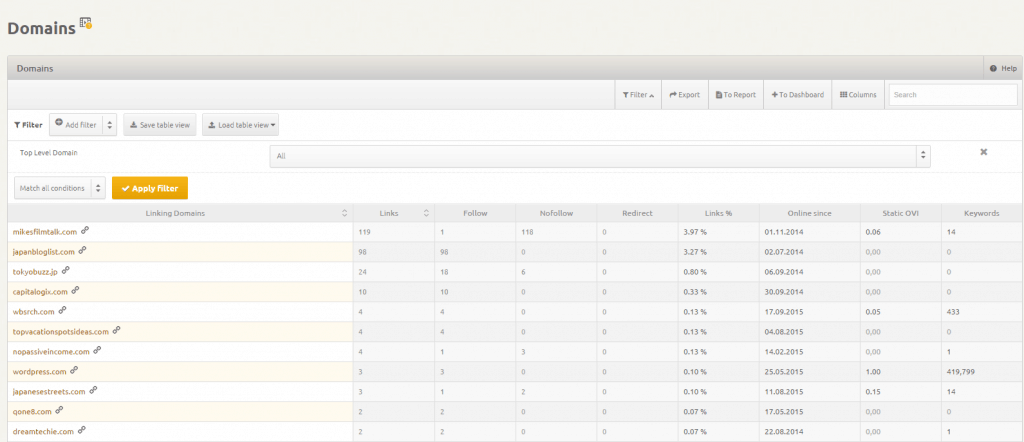 Social Profile
This option let me monitor and track all my social activities, and gave me useful recommendations.
I found out I could use this feature to manage my social media presence in the major networks and analyze my competitors, so to work on the optimization of my online marketing strategy.

Affiliate
This option let me analyze my publishers and competitors in detail.
It gave me several ideas for affiliate campaigns to work on, as my goal is winning against my competitors.
The detailed analysis of affiliates will definitely help me in sealing new partnerships to beat the rivals of my niche site.
Conclusion
I found the reporting feature really useful, when I created personalized reports for my website (customizing colors, content and logos).
The dashboard was intuitive and features were simply accessible.
Xovi offers many interesting options, which makes it a great all-in-one marketing tool.
I think it's a valid SEMRush alternative.
You can choose the free trial, what do you think?
Have you ever heard of Xovi?
Are you going to test it?
Please let me have your thoughts in the comments below, thanks!