Are you a marketer, sales person or startup founder who need to make email outreach or outbound research?
Then, you landed on the right page.
In this post, I'm going to introduce you Snovio, a great lead generating tool for many types of professionals.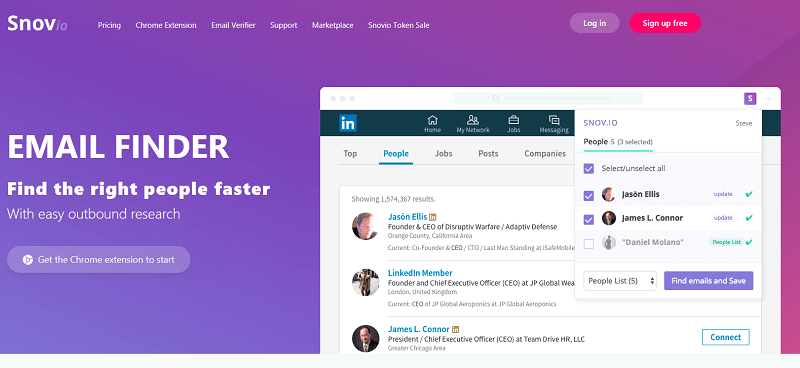 How Snovio Works
Signing up is FREE and easy.
Go on email finder and enter your email, with desired username and password.
You will receive a message from Snovio. After you confirm it, you will be able to enter your dashboard.
First thing, there's a notification that will suggest to install Snovio Chrome extension. It's recommended you do it right away, as you will need it to collect emails from websites and LinkedIn.

Once you have installed it, you can start validating emails with email verifier and send message with the Email Sender feature.
Snovio works as email finder and it has its own email verifier which checks each email it gives you. It also works as a standalone email verifier making your email list bounce free.
Here's a nice introductory video you may want to watch:
Snovio offers a variety of services.
Let's see some of the features in details.
Domain Search
Simply enter a domain name to find email addresses connected to it.
For example, type Snov.io to run a query: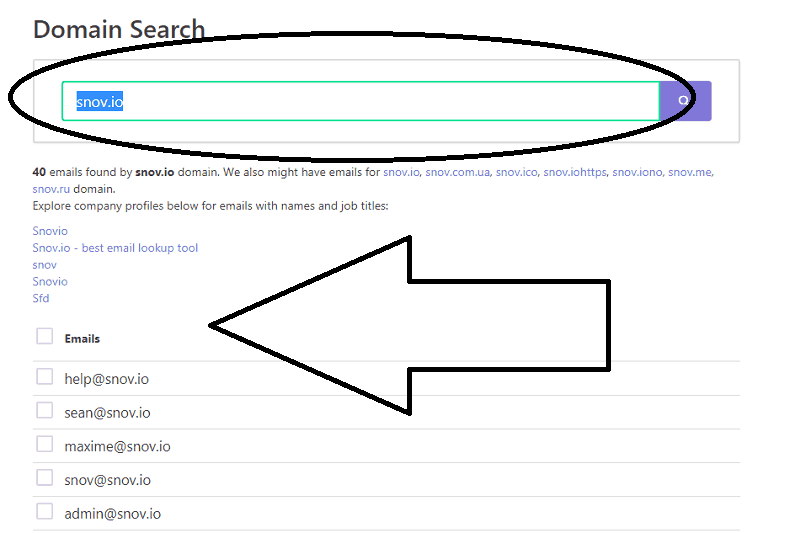 You will find all the emails of this domain.
To save the addresses, simply select the ones of your interest and add them to your desired list: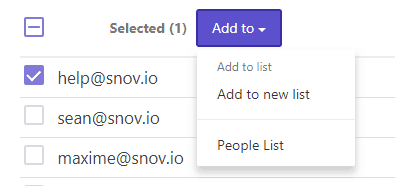 Also, if you click on the company name (in this case, Snovio), you will get a series of information, including website, social profiles and technologies used.
Email Verifier
With this feature, you can verify all the emails that you save in your lists.
Simply click on the addresses you want to verify and click "Verify Selected" button:

The system will verify as many emails on the list as your credit balance allows (the free account gives you 100 credits per month, that resets every 30 days):
No credits will be taken for "catchall" or invalid emails found by Snovio
Сredits will be deducted for verification of the emails with valid or invalid status if you import from CSV.
Snovio will email you when all the email addresses you selected are verified:

You can also upload your mailing lists (Excel, CSV or TXT formats) and get them back clean from bounced, abandoned or invalid emails.
LinkedIn Email Search
This is a feature I particularly like.
Once you have installed the Snovio Chrome extension, you can extract email addresses from LinkedIn pages.
Let's say, you want to find people with a particular skill. For example, social media.
With LinkedIn, you can apply tons of filters (connections of, locations, current companies, past companies, etc).
Once you processed the search, click on Snovio Chrome extension to find all emails addresses and save them to your desired lists: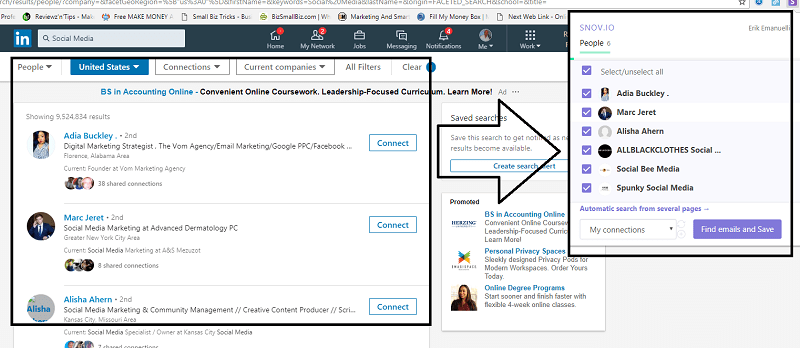 Once you saved those emails, you can find them on your list.
See a screenshot to give you an idea: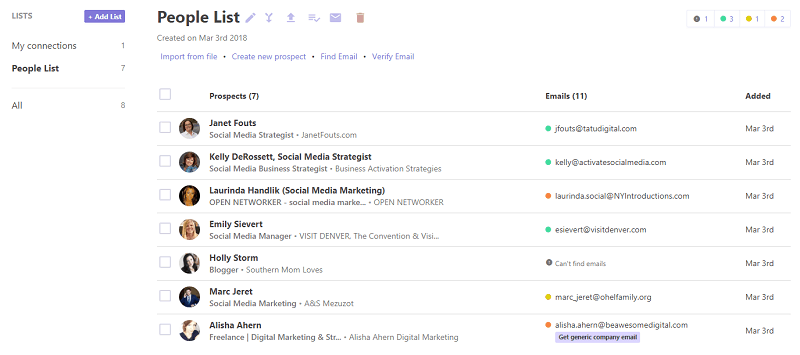 Prospect Search
With this feature, you can explore Snovio database and find prospects in no time.
For example, type the desired skills and location area to find the people you need.
In the following case, "Business Account Manager", in "London":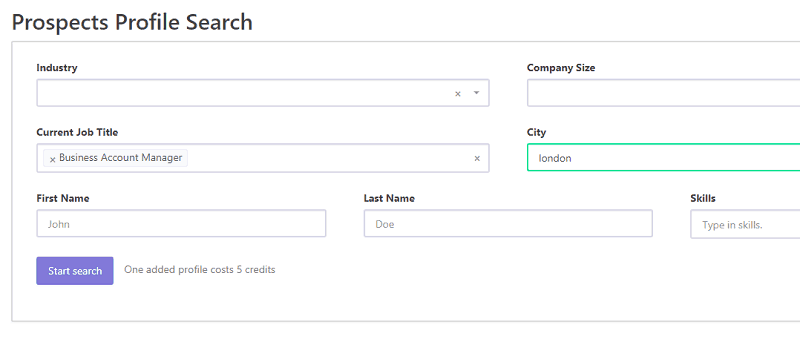 Once you find people, you can add profiles to your lists, at 5 credits cost:

Company Search
You can run a company search, by filtering per country, industry, city, company size and year of founding.
Once you enter your desired filters and you find companies, you can simply save them, by adding to your list:

Linker (Boolean Search)
With this feature, you can find prospects using Snovio Linker feature.
For example, you are looking for a "Project Manager". Simply type that in the search filters.
For a better search, you may decide to exclude some jobs, like for instance "Sales Manager". Then you simply need to type that in the proper field, like below: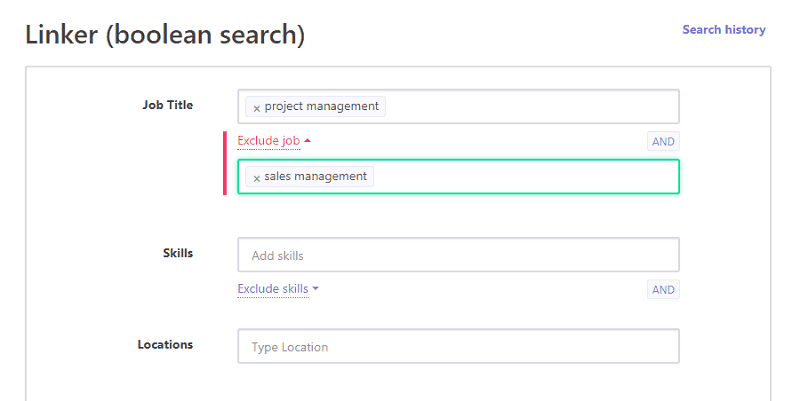 You can also add/exclude skills, and choose the location for searching.
Click on one of the links found, once the research is completed:

You will be redirected to the desired page, where you can find and save email addresses with the Snovio Chrome extension.
Other Features
There are more features at Snovio (and more will be added, in future).
For example:
Bulk Domain Search
Find Emails from Names
Technology Checker
Social URL Search
Snovio Plans
With the free registration, you will get the "XS" plan, which gives you the following
100 verified LinkedIn emails
100 domain searches
50 bulk domain searches
Unlimited domain emails
Free technology finder
Free email sending
Upload & verify 200 own emails
Chrome Extension
CSV export
Visit the Plans page, to check for premium plans. Each order gives you a 3% cashback in SNOV tokens: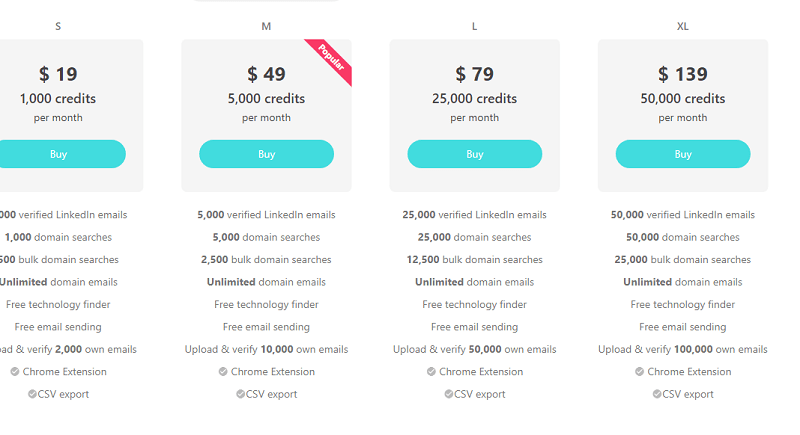 For example, "M", the most popular plan, will give you:
5,000 verified LinkedIn emails
5,000 domain searches
2,500 bulk domain searches
Unlimited domain emails
Free technology finder
Free email sending
Upload & verify 10,000 own emails
Chrome Extension
CSV export
Spend your SNOV tokens on Snovio service like you would normally do with your credit card or Paypal payment. Same service plan rules would apply and you get the same level of service.
Special note: all plans come with 30% off if you buy with SNOV tokens (discount is already included).
Final Words
I found Snovio an excellent solution for different professionals who needs email outreach or outbound research.
It will allow to cut down the time it takes to find and collect leads or candidates. Finding the people you need has never been easier!
The completely free account already gives you 100 credits to perform different actions and searches, which is indeed really good.
I suggest you give Snovio a go and please, let me know what you think!