From focusing on conversational content to knowing your audience, here are the 13 answers to the question,
"What are the best strategies for optimizing content for voice search? "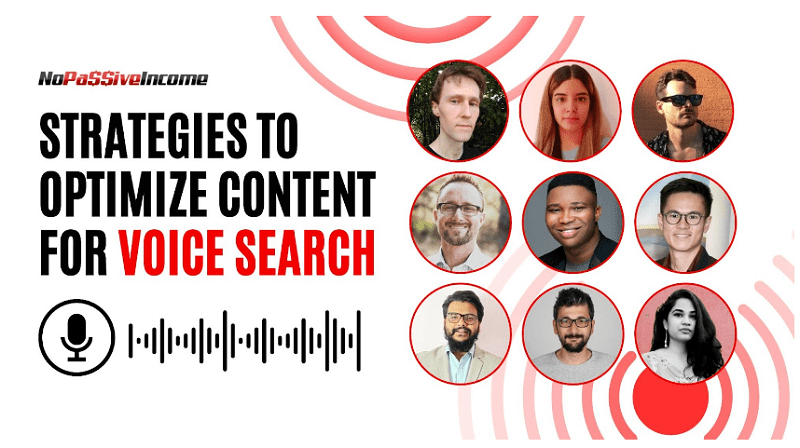 Focus on Conversational Content and Use Natural Phrases 
The best strategy for optimizing content for voice search is to focus on conversational and question keywords. It's not that you shouldn't use short-tail keywords, but they make your content far less relevant in the case of voice searches.
Your content should contain natural phrases. This is because people tend to ask entire questions when using voice search devices rather than putting in short-tail keywords. Thus, you should add conversational keywords to your content for voice search optimization.
Jay Bats, Co-Founder, ContentBASE
Think locally 
We are moving toward a world where people and gadgets are both mobile. As a result, it's crucial to keep in mind that mobile and local are intertwined, particularly in voice search. Users of mobile devices can do local searches while on the move. Users can then ask local inquiries via voice search.
Make sure your website's XML sitemaps and directions to physical places are viewable by both visitors and search engines. Create various user experiences for desktop and mobile users as well. For instance, it's important to tailor "near me" content for mobile searches.
Muskan Rai, Content Writer, HostingRevelations
Optimize Your Content for Featured Snippets
Featured snippets are the boxes that appear at the top of SERP results when people search on Google. They provide a summary of information about a particular topic and include a link to a page that provides more detailed information.
When optimizing your content for voice search, your goal should be to get one of these featured snippets so that your website is the first thing people see when they perform a search. To achieve this, you need to create quality content that provides concise answers to questions related to the topic you are writing about. This way, Google will be able to recognize the quality of your work and feature it in its featured snippets.
Todd Saunders, General Manager, BIG Safety
Cultivate a Consumer-Focused Approach
It's essential to always keep your consumer at the forefront of your focus when optimizing any kind of content. The only way to effectively target your approach is by gaining a deep understanding of your intended consumer.
It's vital to understand how your specific audience engages with voice search and voice-enabled devices, in order to deliver an experience that is tailored to their needs. It's also essential to consider their journey and to provide compelling content which meets their needs in a consistent and satisfactory manner.
Consider the common questions being asked by your particular consumers, and make the search process as smooth, simple, and streamlined as possible. Ensure that results are clear, concise, and cohesive, in order to promote maximum consumer satisfaction.
By maintaining a focus on delivering the best possible service to your specific clientele, you will increase your chances of success.
Alex Mastin, CEO and Founder, Home Grounds
Optimize For the Mobile Experience
The success of your website in terms of SEO and voice search optimization depends heavily on the mobile experience. Google revealed how the mobile experience directly affects your website's ranking. The considerable rise in mobile users has made it so that we should focus on these users over those who use a desktop computer.

Voice-search on mobile requires more thought than for other platforms, as you need to consider that users will have to navigate smaller screens, so all of your text and image elements need to be easily readable. Because of this, your webpage also needs to be responsive and information needs to be concise yet informative.

Having a voice search feature on your website can be a great way to help with navigation. For us, we have a lot of different types of content, so allowing customers to speak can save them a lot of time."
Aiden Higgins, Senior Editor and Writer, The Broke Backpacker
Don't Use Homonyms as Keywords
Avoid homonyms as keywords. When you're trying to optimize for voice search, it's important to foresee and avoid the predictable issues that can come up with similar-sounding words.
Voice search has come a long way, but it's still easy for the tech to misunderstand which variant of a word you're using if it sounds very comparable — or even identical — to the one you want. To minimize the likelihood of this problem impacting you, optimize your content by avoiding easy-to-confuse words.
Brian Munce, Managing Director, Gestalt Brand Lab
Equip Your Site With Schema Markups
Equipping your site with schema markups is one of the quickest ways to win the steaming voice search contest.

Search engines like Google love Schema because of how simple it presents your site content, giving them a larger context to the pile of information housed on your site, particularly educating search engines on the content intent and the audience you target.

You may say search engines have gotten exponentially intelligent and intuitive in detecting intent. But they would still appreciate some help from you, the website owner.

The HTML add-on (thanks to Schema) makes it easier for Google to segment the information and rank it accordingly for voice-related queries.

So instead of having to rigorously crawl your web pages for voice queries, Google can more rapidly (and accurately) lift the information from your Schema markup.
Lotus Felix, CEO, Lotusbrains Studio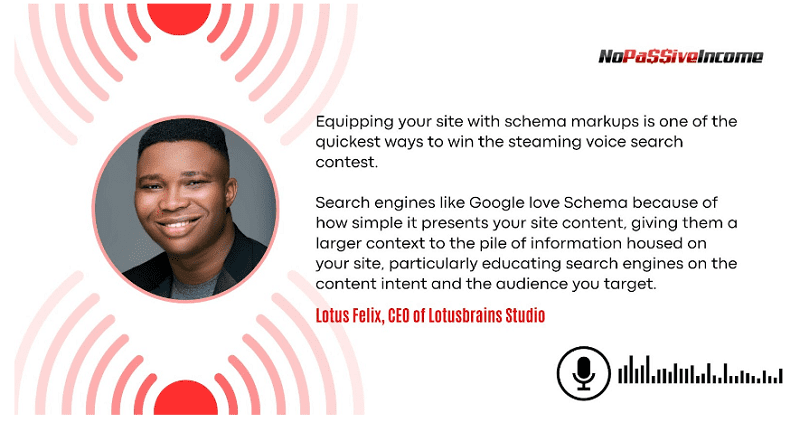 Adopt Multiple Voice Search Languages
Make your content available in other voice search languages besides English to cater to your international audiences.
Voice search technology often requires people to speak a specific language clearly, which can be challenging for those with accents. If they are conversing in English and are not fluent enough, the voice assistant won't understand them, or it will process what they said but provide a different answer.

This situation can be frustrating for many who wish to save time searching online but can't get exactly the information they need. However, when you make the content available in Spanish, Mandarin, French, Hindi, etc., there's a high chance of expanding your market. This, in turn, allows you to optimize your content and go above your conversion target.
Sam Tabak, Board Member, RMBH Charities
Use Structured Data
One of the best things you can do to optimize your content for voice search is to use structured data. This code helps search engines understand the context of your content and makes it easier for them to generate rich results. As a result, your content is more likely to be featured in voice search results, which can help you attract more traffic.
In addition, using structured data can also help you improve your click-through rate, as users are more likely to click on results that are relevant to their query. So if you're looking to optimize your content for voice search, using structured data is a best practice that you should definitely follow.
Ludovic Chung-Sao, Lead Engineer & Founder, Zen Soundproof
Target Questions Having Long-tail Keywords
As more and more people adopt voice search, it's important for businesses to optimize their content for this new way of searching. One key strategy for doing so is to focus on natural language keywords (aka questions having long-tail keywords).

People tend to speak in full sentences or questions when using voice search, so including long-tail keywords that reflect this type of speech will help your content to be more easily found.

In addition, it's important to ensure that your content is easy to read aloud; remember that users are likely to be skimming rather than reading word for word. Breaking up your text into shorter paragraphs and using clear headings can help make your content more voice search-friendly.
Ram Thakur, Founder, Solution Suggest
Check Flesch–Kincaid Readability Score
Voice search queries are typically short and casual. People expect to get a fast answer, so if your content is wordy and difficult to read, it may not be optimized for voice search.
Check the Flesch–Kincaid readability score to ensure your content is readable enough. The Flesch–Kincaid score measures the readability of a text, with higher scores representing passages that are easier to understand. By keeping your content reader-friendly, you can ensure that your content is better suited for voice search.
Burak Özdemir, Founder, Online Alarm Kur
Use Voice Search Yourself to Understand How It Works
One of the best ways to optimize your content for voice search is to just use voice search yourself. Think about what people might ask your company by voice search. Then, answer those questions in your content. If you don't have a website, you can use Google My Business or Bing Local to get started.

For example, if you're a bakery, some potential search queries might be "What are the best desserts in town?" or "Where can I get cheesecake?" You could then use these questions as inspiration for your content.

When writing, always remember that when people use voice commands on their phones or other devices, they want to get quick answers and helpful information—so avoid long-winded paragraphs or flowery language.
Vishakha Somani, Assistant Marketing Manager, WFX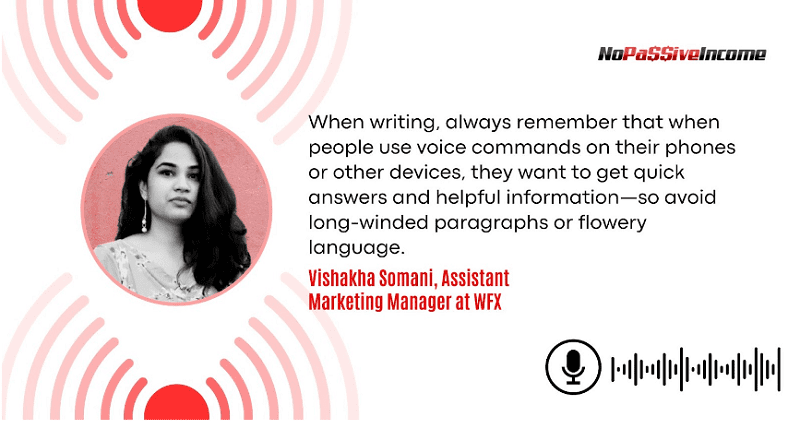 Know Your Audience
Voice search has become increasingly popular and prevalent over the past few years. This is due, in part, to the surge in digital assistants, such as Siri and Alexa. Studies suggest that the majority of consumers now prefer to verbally ask a question, instead of typing it, so it's essential to optimize your offerings to accommodate this.
To succeed, you must know your audience. Different people will have different voice search requirements, depending on the device, context, and purpose. Understanding who your consumer is, and how they engage with content on each particular device, will help you to tailor your approach accordingly. Smartphones may be used for more basic queries, for instance, whereas smart speakers are often used for more in-depth questions.
Do thorough research. Once you have the right data, you can use it to segment your audience, and further enhance their user experience. This will enable you to optimize your voice search content to meet their specific consumer needs.
Ana Codallo, CTO, Key Opinion Leaders