After writing an outstanding article, every blogger wants to receive many visits, comments and share.
You desire also the appreciation from your readers or some mentions from popular people in your niche.
In a few words, you want to get over yourself and write the most popular article of your blog.
But sometimes achieving this mission is not just so easy.
In this post, I introduce you ViralContentBee, a great website you can use as an effective tool to get more traffic to your website, while increasing your authority online.
How Viral Content Bee Works
The first and most important thing : ViralContentBee is free.
So be sure to create an account, by using your email, your Twitter or your Facebook credentials.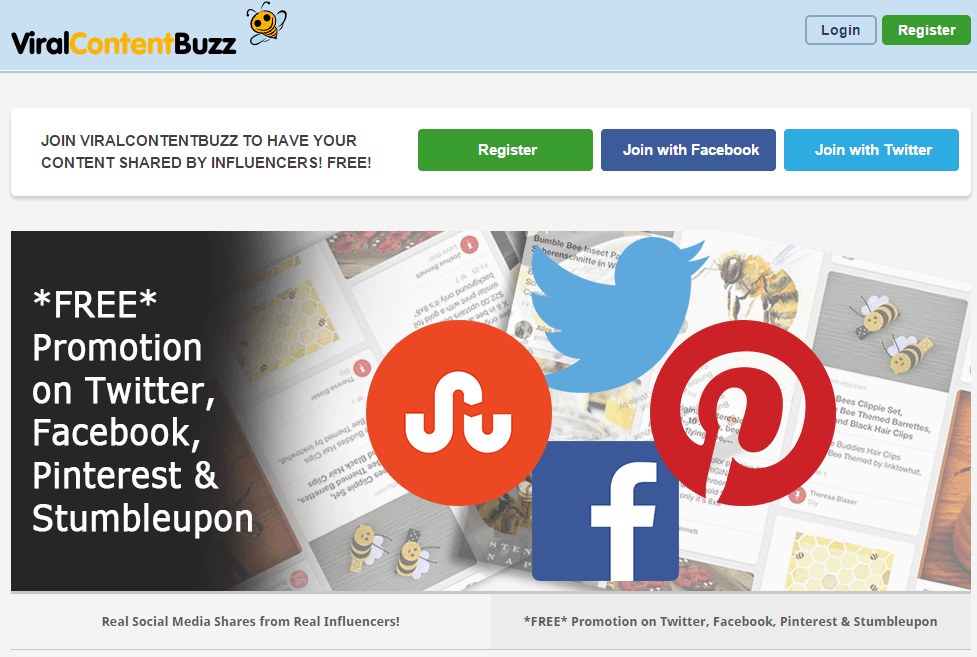 Complete your profile, adding your first and last name, and your email.
Select the groups of interest, by choosing among different categories (in this way, you will get just projects to share belonging to your interests in your dashboard).
I've chosen affiliate marketing, copywriting, blogging tips, SEO and social.
Then set your Twitter, Facebook and StumbleUpon details.
Before creating your first project, you need some credits.
You can earn them, by sharing other users content.
Your Dashboard
In your dashboard, you will see all the projects available to share.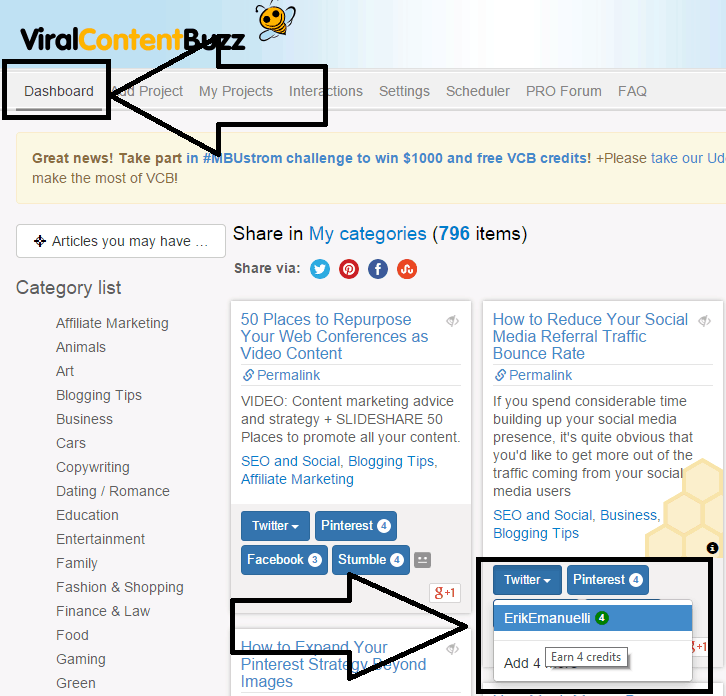 You may want to visit the links of the stories and start sharing the ones you like.
You will receive a specific amount of credits, depending on your social media account "popularity".
For example with Twitter profile, I earn 4 credits each time I share a new project (I've around 25k followers).
You will get a specific amount of credits, depending on the number of your followers:
TWITTER
100-999 = 1
1000-4999 = 2
5000-9999 = 3
10000-49999 = 4
50000+ = 5
Don't worry about the quality of the content available for sharing, it's manually reviewed by ViralContentBee staff.
The same should be considered before submitting your posts.
How to Add a Project
After having collected a good amount of credits, you can create your first project (be sure to submit just your best articles – you may want to check the site quality guidelines here).
In your profile menu, select "Add Project":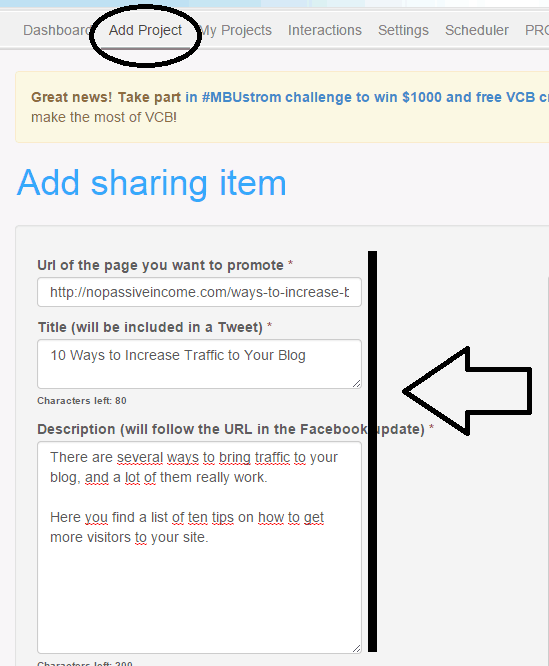 You want to include the URL of your article, adding its title and a little description.
Select the most appropriate category, and then assign a budget to your project (this will be the amount of credits you will use for promoting your post).
Finally, choose which social media network you want your content to be shared on : Facebook, Twitter, Pinterest and StumbleUpon.
And you want to be sure people will mention you via Twitter, by ticking the "Retweet Me" option.
You are now ready to click the "submit" button, to get your project placed in moderation queue.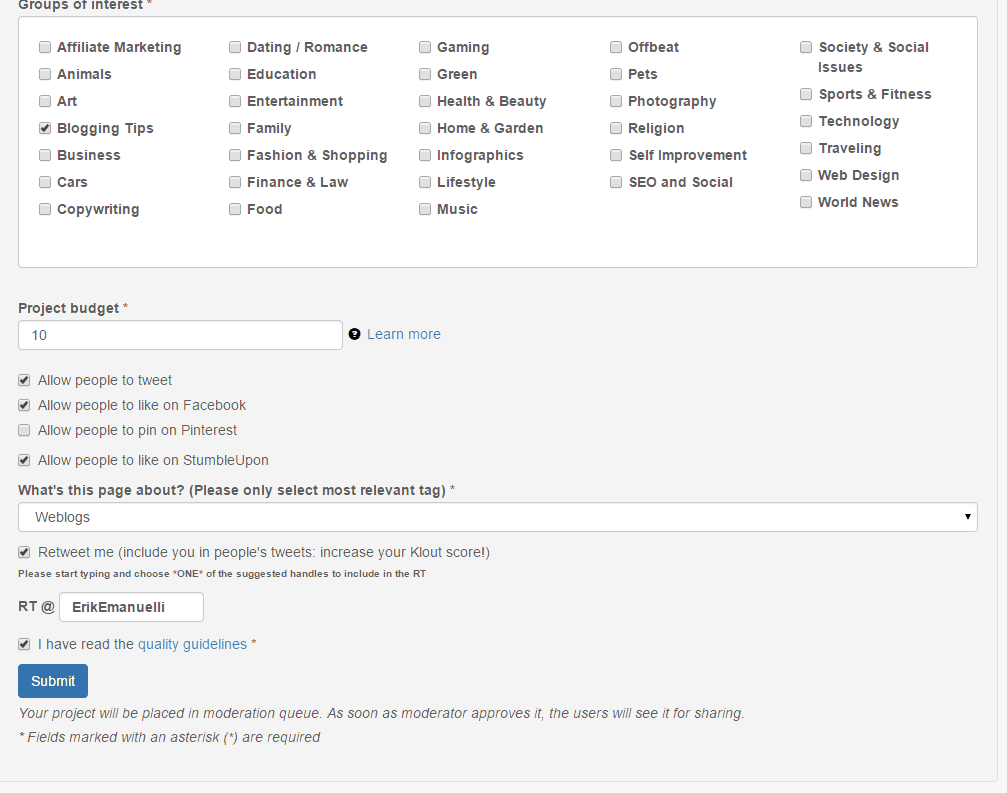 After a ViralContentBee moderator will approve it, other users will see your article for sharing.
How to Manage Your Projects
You can check your stories by visiting "My Projects" in your menu.
You can manage all your items here.
If you have enough credits, you can revive old projects.

The menu you see in the image above, lets you edit your project, add more credits, stop or delete it, export to CSV, move to a folder or check the sharing statistics.
Interactions
An interesting feature of ViralContentBee is the "interactions".
Basically the system tracks each share of your project and lets you visit the corresponding URL.
You can follow the promoter of your content on the social media network used, and you can thank him publicly on Twitter, for example.
In this way, you can grow your network, interacting with people who shared your content (many of them are influential people).
You can achieve this, by visiting the link as showed below (click to enlarge):

How to Become a PRO user
PRO users will get access to the PRO forum.
And more juicy privileges, such as:
– a specific amount of credits renewed monthly automatically;
– +1 Google button on each project;
– priority in project renew queue;
– better analytics;
– the option to submit projects by RSS.

You can become a PRO by subscribing at this page.
Still Not Clear?
You may want to take a look at the ViralContentBee official video.
Are You Ready to Watch Your Posts Go Viral?
After having understood how ViralContentBee works and submitted your projects, you can enjoy the results.
As per different case studies, your traffic will increase up to 200%, by having your articles shared by social media influencers.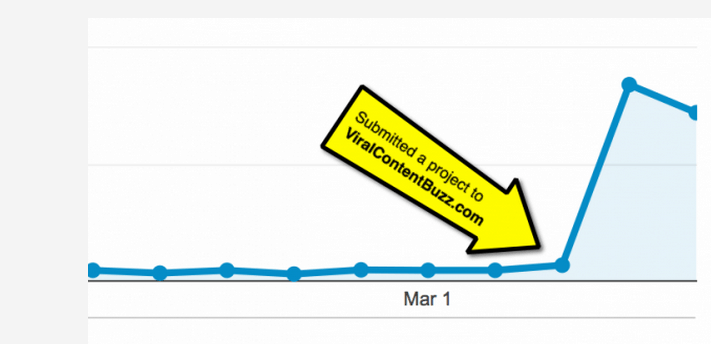 Your social media authority will improve, due to mentions and shares by people within your niche.
In this way, you can also build more following!
Finally, it's an easy way to always get fresh and good content to give to your audience.
Conclusion
I hope this article will guide trough ViralContentBee and lets you get the most out of it.
I use it for sharing my most important articles, and I ensure you it really works.
What do you think?
Have you ever used ViralContentBee?
Please share your experience in the comments below, thanks!