Have you ever heard about Twitter Cards?
No?
Then you are missing a great opportunity to increase the effectiveness of your social media marketing.
If you follow the steps mentioned in this post, you will be able to have Twitter Cards integrated in your WordPress blog in less than 5 minutes.
What are the Benefits of Twitter Cards?
Twitter Cards may help you increase the visibility of your content on Twitter.
You need to implement some meta tags in your blog, and your articles will definitely look more sexy on Twitter.
Not to mention, you should also be able to enhance your brand and attract more followers.
Talking about the mobile market, your tweets will look better also on mobile users.
All these features will make your content stand out!
Here below you see an image of one of my latest posts, after the integration of Twitter Cards.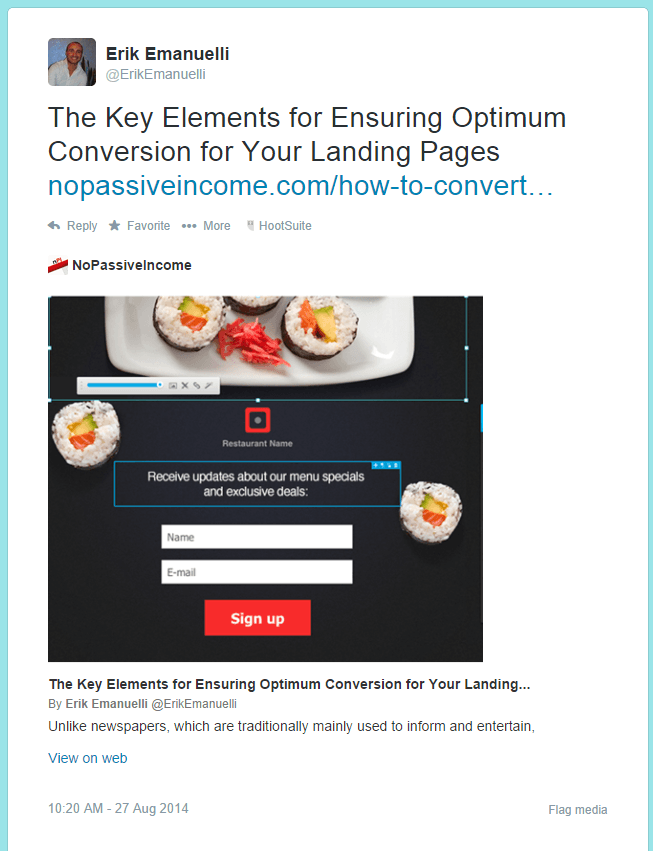 How to Integrate Twitter Cards in Your WordPress Blog
First of all you need to decide which Twitter Cards type you want to implement:
summary;
summary below large image;
photo;
application.
You want to choose one, depending on your website type.
I have choosen "summary below large image" and the image above shows that kind of Twitter Cards (see more information directly on official site).
So how can you implement Twitter Cards in your WordPress blog?
The answer is using a great plugin, called "JM Twitter Cards".
Now you want to login to your blog dashboard and select "plugins", "add new".
Then search "JM Twitter cards" plugin and install it (this is the link to directly download it).
Finally you want to enable it.
It should appear a menu in the left side of your dashboard, showing the name of the plugin.
Go for it and click on "general".
This is what it the page will look like: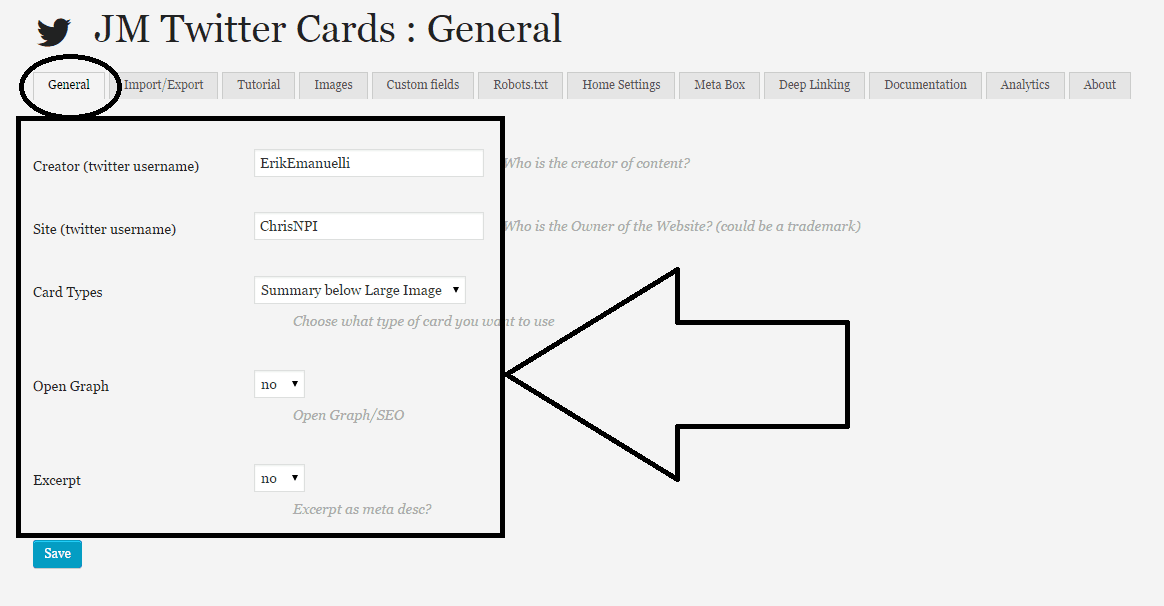 You need to enter your personal and website Twitter username.
Select your card type.
Now go on the "images" menu, and select a picture that will be taken as default if no featured image is added in any of your blog posts.
Under "Robots.txt" menu, select "yes".
Finally clicking on "home settings", you may want to personalize the message of home meta description.
Now you need to validate your Twitter card here.
Go to validate and apply, insert your blog URL (which need to contains cards meta tags) and follow the easy procedure to apply.
A message with approval will be sent to your email within few minutes (in my case) or up to few hours.
All this process won't take you more than 5 minutes.
For a more detailed guide, please refer to the video made by the creator of this plugin, Julien Maury :
Conclusion
I find Twitter Cards a powerful way to improve your visibility and increase your social media power.
What about you?
Have you already implemented Twitter Cards on your site?
I hope you found this tutorial easy to follow and let me know in the comments if you have any questions.
Thanks for reading!