Do you need help with losing data on your WordPress website?
It's been a major problem for website owners. I have been nurturing websites for many years. The most common thing I faced with a website was getting crashed without any notice. It's very frustrating and pathetic at the same time. This also makes a huge data loss.
Don't be afraid. In this blog, I will share some of the best free WordPress backup plugins. Also, how you can use those plugins on your website and take backup.
Before going into the details, let's discuss why the WordPress backup plugins is necessary for your WordPress websites.
Why Backup is Essential for a Website
Backup is the most important thing for a live website. If you're running an e-commerce, a personal blog, or a corporate platform, these can be affected by malware, server crashes, and Hackers. There are almost 800 million websites available on the WordPress platform. There is a study that shows 390,000 websites are affected per month.
Sometimes installed plugins are also responsible for your website crash. To get relief from this pain, you have to keep a backup of your website. A reliable backup ensures that you can restore your website within a short time. It will save your website from huge data loss and downtime.
Backup also helps keep your user experience up-to-date. If your site visitors find your website is crashed, they never going to purchase anything from your website. This indicates that backup is essential for user experience and conversion too.
At the end of the blog, I will share some of the best tips to keep your website secure and make your user experience better.
What is a backup?
A backup means making a copy of your data in a separate place. This data contains your website's plugins, videos, images, database, and other information. With this backup, you can easily restore your website if you get affected by any attacks or your site crashes.
WordPress doesn't have any built-in option to take backups of any sites. You have to do a manual backup using your Cpanel or FTP client.
List of WordPress Backup Plugins
There are some free WordPress Backup  plugins available on the internet for taking a backup of your WordPress website.  You can find many of them in the WordPress repository. Here are some of them:
All-in-one WP Migration
Updraft Plus
Duplicator
WP Staging
Let's get with each of the details of the plugin and its user guidelines.
All-in-one WP Migration is the most trusted plugin available on the WordPress repository. This plugin has a good number of users. The best part is you can use it for free. There are some amazing features available for this plugin. It allows users to export-import websites. This plugin also offers 50 different languages. The best part is you can save your files on your drive.
WordPress Backup Plugins How to Guide
To create a backup to your website you can easily use All-in-one WP Migration. To keep your website safe,  you have to follow some simple steps:
Like All-in-one WP Migration UpdraftPlus is also popular for its functionality. This plugin also has more than 3 million users. This plugin provides both free and pro versions to its users. You can take a backup, migrate the website, remote storage location, schedule backups, and more.
WordPress Backup Plugins How to Guide
UpdraftPlus is easy to manage when you're taking backups to your WordPress website. To use this plugin, you have to install the plugin on your website and activate it.
When the installation is completed you will discover a notice showing click on the Settings button. From the plugins page, click on the settings button
On the settings page, you'll discover the backup button. You have to click on the Backup button.
A popup will appear after clicking the backup button. You can select which data you want to back up from your website. When you're done with the data you want to back up, click on the Backup Now button.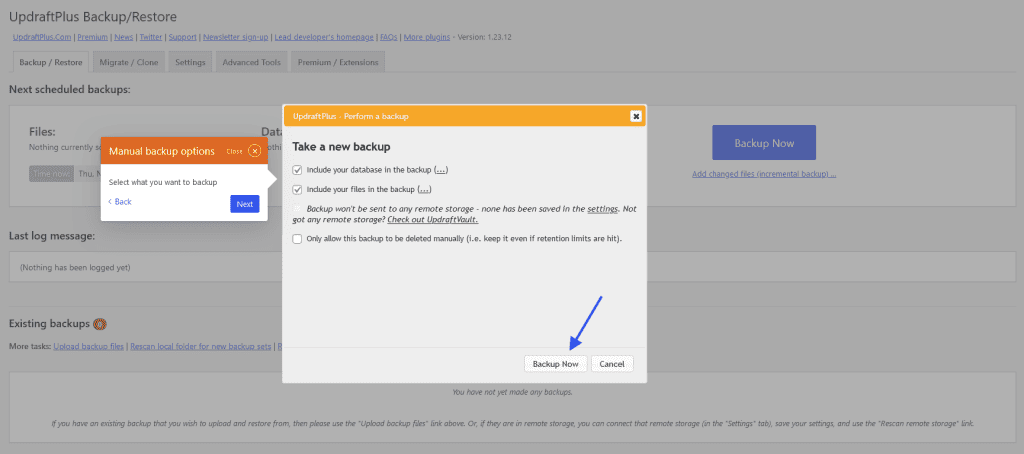 The best part of UpdraftPlus is, that you can download specific files from the backup. You can easily restore your website backup by clicking on the Restore button.
The duplicator plugin has earned popularity like other backup plugins. This plugin has some essential features for the users. Users can easily create backups to their website using Duplicator. With this plugin, you can create scheduled backups, Cloud backups, Recovery points, and some other premium features.
WordPress Backup Plugins How to Guide
This plugin is quite fast when creating any backups. It is also easy to use and you need to follow some simple steps to take backup of your website. Like other plugins, you have to install and activate it on your website. When the activation is complete please follow the below steps:
Go to the Package page. On the package page, you have to click on the Create New button. After that, you'll discover a popup where you can name your backup package. When it's complete, click on the Build button below from the popup.
After clicking on that button, it will take you to the Scan page. When the scanning is complete click on the Next button. Now your backup is ready. You have to click on the Download Both Files button.
You will find the necessary steps to install the package to restore your website.
WP Staging is another professional plugin to back up your website. This plugin comes up with features like taking backups, Creating a staging site, and daily backups. This plugin also provides premium features.
WordPress Backup Plugins How to Guide
When you have successfully installed and activated WP Staging on your website, then you're some steps away. Please follow the below steps:
Navigate to your website Backup and Migration from the WP Staging tab. On the backup and Migration page, you have to click on the Create Backup button.
After pressing on that button, You'll discover a popup. If you don't want any files in your backup, you can deselect from the popup. You need to set a name to your backup and after that click on the Start Backup.
Manual backup vs. Automated backup
You can create a backup using your hosting. There are some popular hosts that provide automatic backup to the website. Before diving into the deep let's know what is Manual backup.
Manual backup is the process of taking a backup intentionally without relying on the automated system. In this system, Individuals or system administrators take the backup of the website by themselves. This system is a safeguard against system crashes or other unexpected incidents.
Automated backups are popular nowadays. It means taking backups using plugins. You can easily operate this process with some simple clicks. You can also schedule your website backups using WordPress Backup Plugins.
Now get into the manual vs automated backup. There is farm evidence in Manual and automated backup scenarios, and automated backup wins. From user experience, manual backup is critical for several reasons. Here are some of them:
Control and flexibility,
Immediate response and
Security concerns.
Meanwhile, automated backup is-
✔️ Fast,
✔️ Secure,
✔️ Easy recovery and
✔️ Synchronized backup.
Some Tips to Improve User Experience for Website Owners
Here are some tips you always keep in mind:
Regularly update your WordPress core, themes, and plugins.
Deploy a strong password for your website login. Be aware of the hackers.
Implement a regular backup for your website.
Choose popular themes and plugins.
Make a website buying process simple with custom checkout.
Create regular content and engage with your audience.
Final Thoughts
WordPress Backup  plugins are life saviors for  site owners. It's now become very easy to take backups within minutes. At early ages, the manual backup takes a longer time. There are also security concerns associated with the manual backup. Choose the plugin you think best and start taking backup of your website. Your user experience mostly depends on your website. So, taking care of your website means you care about user experience. Above all, It's necessary to take a backup of your website for data loss and downtime. This will also help you in any sudden disruption.
About the Author
Mustakim is a Support Engineer and Business Developer. He loves to help people with WordPress, Businesses, SEO, and developments in his writings. Currently, he is developing a business for Pluggable.