A few of you know that I participate in 30 Day Challenge.  The idea in brief is to set up semi-authority niche site (what does it mean 😉 ?) and compare the achievements with others on 1st November.
The idea is great, but during short "investigation" what niche I should choose and which keywords should I pick out,  the basic question appeared: "what kind of site should I create; the authority site or niche site?"
The answer on that question is very important: I don't have a lot of time to play around with another thin niche site. On the other hand – authority site needs even more effort…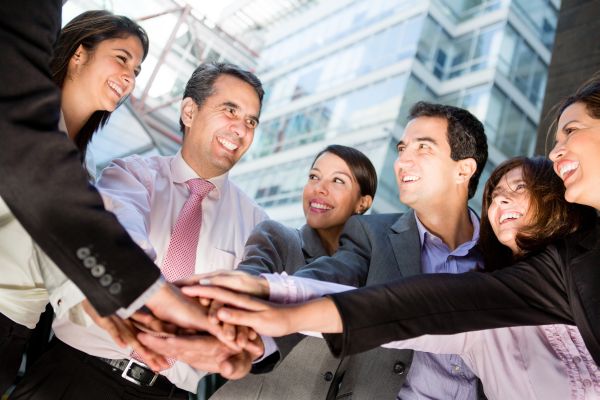 First part of this year clearly show us that we have to really think about our business model – Google Penguin overturned SERPs, Amazon closed down some affiliate programs and turned off some accounts. What's more – there was a lot of bans in the most lucrative program for niche sites – Google AdSense. And nobody knows why…
Blogosphere was boiling with anger and site owners were shuddering with fear. Do you remember that? Did you lost some traffic or maybe your AdSense account was also banned?
Okay, no more complaints and hassles – lets go to some news and facts.
Last week there was a debate on AdSense Flippers between Steve Scott and Mike Thomas about pros and cons of niche and authority sites. Both of them have their own arguments for and against, but I have the impression that nobody wins this debate…
In this post I want to share with you my point of view about niche and authority sites and my business model. At the end I will ask you about your opinion and your preferences – niche or authority sites?
Pros:
easy to set up
low money investment
low time investment
if you have experience it's almost automatic for you to earn money from it
you can outsource the whole process
faster ROI (Return on Investment) –first earnings appear after 1-2 months
Cons:
in most cases only one source of traffic: Google (you can lost it in minutes)
in most cases only one source of making money (you can lost it in minutes)
probably lower ROI
Authority Site
Pros:
easy to set up
at least few sources of traffic
your online effort (authority, brand) may be used in the real world
probably higher ROI
Cons:
long-term ROI (real money appear after 1-2 years)
you can't outsource a lot of tasks related with your authority site
huge amount of time is needed to establish your authority, social proof and brand
You may be interested in reading: Online Passive Income – 5 Money Making Ideas for Bloggers
Okay, and how about my business model?
As you know (if you don't know it, please read section about), I have some websites on Polish market – few dozen niche sites (mostly in financial market) and one vortal (also on financial market). It works very well for me at this moment, but unfortunately a lot of traffic comes from Google. And big brother G. may change some rules in the future and … (uncensored words appeared)
On English market NPI (NoPassiveIncome.com) is my first, hopefully not last website. And I plan to make some things different than I did on Polish market.
That means:
I want to create at least two authority sites (including NPI) and around them having about 5-10 related niche sites.
I want to diversify income sources as well as traffic sources also for niche sites.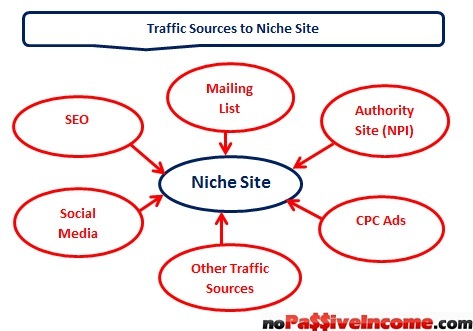 Traffic for my niche site will come from:
SEO (organic traffic)
Mailing list (from my authority site and from separate lists)
Social Media (Twitter, Facebook, other if appropriate)
CPC Ads (Google AdWords, Facebook Ads)
Authority site (posts)
The same will be with income– below you can see main sources of income for my future niche sites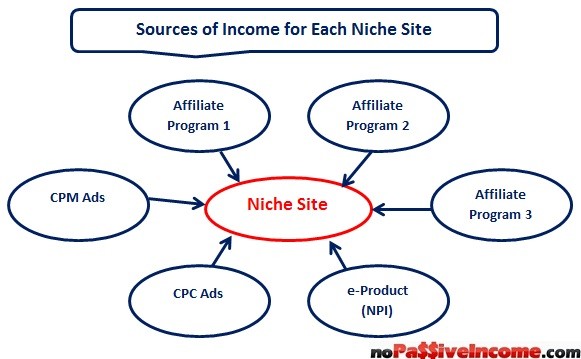 Each niche site will earn money on:
2—5 related affiliates programs
My own e-product (probably ebooks or training programs)
Ads in CPC model (Google AdSense or something similar)
Ads in CPM model (only for niche sites with more than 10k page views per month)
I know that this model is very time-consuming and may take about one or even two years to see a results. But it should work. I hope…
And what do you think about it? Please share your business models or all of your opinions about niche, authority sites or my business model in comments below.