If you are working online, chances are that you have multiple social media accounts. But managing them all could be a real pain, right?
Fortunately, there are some tools that can help you have all your social media properties under control, optimizing your time and increasing productivity.
Today, I will share my experience with SMhack, an all in one social media marketing solution I've been testing lately.
How SMhack Works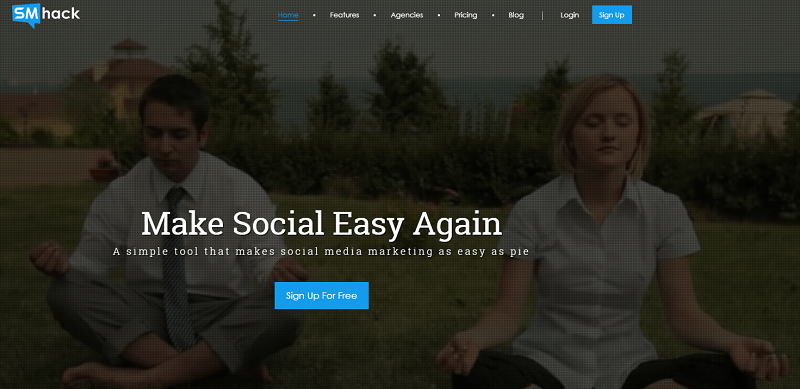 SMhack is an all in one social media managing tool for professional marketers, small businesses and digital marketing agencies, which offers several interesting features such as cross-channel posting, task management, performance analysis, activity and engagement monitoring.
It's a SaaS solution and it does not requires any additional hardware to install on your computer.
To start, simply visit this page to claim your free trial (you instantly get access to all the features in SMhack's Premium Plan for 7 days – no credit card needed) and take a look of how this tool can help you managing effectively all your social media accounts.
Once you sign up, authorize SMhack to access your social profiles, by visiting the settings section: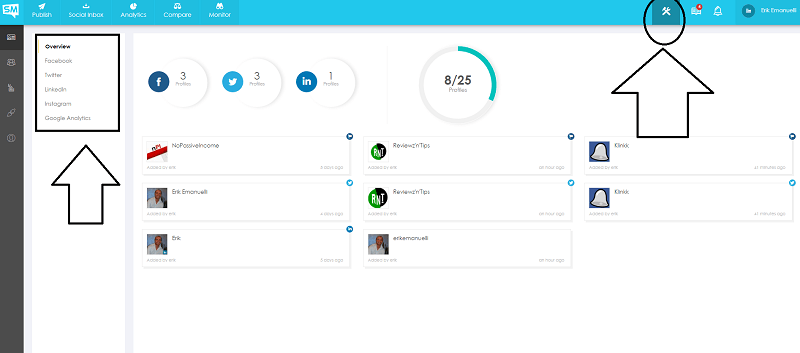 Once you added all your social media profiles (Twitter, Facebook, LinkedIn and Instagram), you want to authorize your Google Analytics too.
Now you are ready to go!
SMhack Main Features
SMhack offers many features, here are some of them:
'Social Inbox' dashboard
Task assignment
Post scheduling
Slack integration
Social media workflow
User permissions
Publishing calendar
Team performance reports
Twitter analytics
Full conversation threads
Reply posting
Comment posting
Cross-platform publishing
Post queue
Facebook insights
Client reports
Let's see the main features into details.
Social Inbox
Thanks to this feature, you can bring all your conversations from your different social media accounts under a single dashboard.
You will be able to see all your posts, direct messages and mentions in one place.
Take a look at the following image: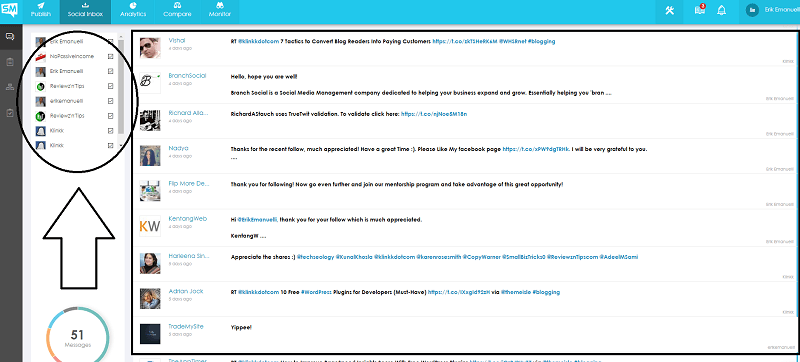 In the top left, as you can see, you have the option to filter the social inbox by selecting one or more of your social media profiles.
You can click on each of the messages, posts or mentions visualized on your social inbox to check the details and engage with the sender. For example, if it's a DM, you can answer directly. If that's a Twitter mention, you can favorite or retweet. If that a Facebook post, you can like it or comment.
A common feature is the option to assign the task to a team member. If you take a look at this picture:

There's a pin in the top right of the post and when you click on it, you can assign the task to your teammate:
You can also set permission levels to streamline the workflow.
Publish
This essential, but important feature offers a lot of interesting options.
As you can see in the image of my SMhack dashboard:

Just type your post and decide both the social media profiles where you want to post it and the time you wish to publish it.
Send it right away, push it to queue (let SMhack decide the best time to post it) or schedule it.
The following is the screenshot of my first scheduled tweet with SMhack:

Composing posts is very simple. Also, you can attach images or shorten URLs. You can then publish your posts in one or more of your social media accounts at the same time.
There's also a content publishing calendar that helps you monitor the content published. This is an effective way to get everything under control and schedule your week or the whole month of social media activities.
Take a look at the tweet I sent out with the scheduled option at SMhack: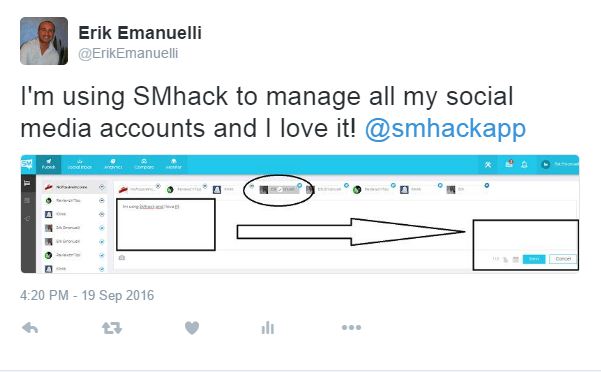 Analytics
The analysis is a very important part of social media marketing.
You want to check the engagement with your audience, the performance of your posts or the growth of your accounts. The analytics section of your SMhack dashboard offers you all these features and many more.
For each of your social media accounts, you can perform a detailed analysis.
For example with Facebook, you can check the fan growth, impressions and engagement, as well as demographics and top engaged posts: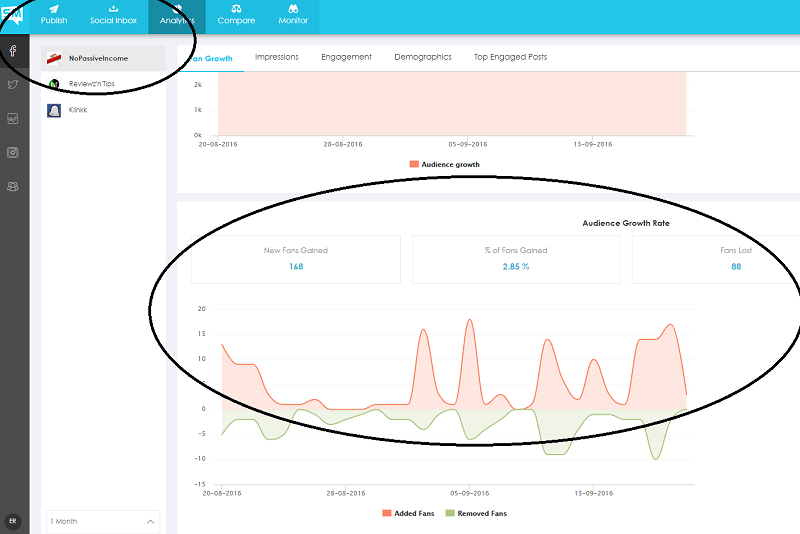 Very useful to increase reach and page likes. Also, to engage better by analyzing your previous posts.
Or with Twitter, you can check the engagement of your account at the end of the day, filter it by days of the week or even by media type. You may also want to look at your most engaged hashtags.
This is very interesting to create a strategy and send out content when you see the most engagement.
Everything is built to help you get the most out of your social accounts, so to increase the interaction with your audience, which is one of the most important factor, when talking of social media marketing.
Compare
Use this section to add the social media accounts of your competitors, to monitor, track and analyze their strategies.
Your competitor's fans are growing? Analyze patterns to learn their strategy and find out which locations are being targeted.
Your rival's posts are doing great? Get your content mix right by tracking their plans. Be sure to identify their best performing posts to check what works.
Are your competitor's fans interactive? Get the pulse of their user base by analyzing their engagement (for example, the most engaged days).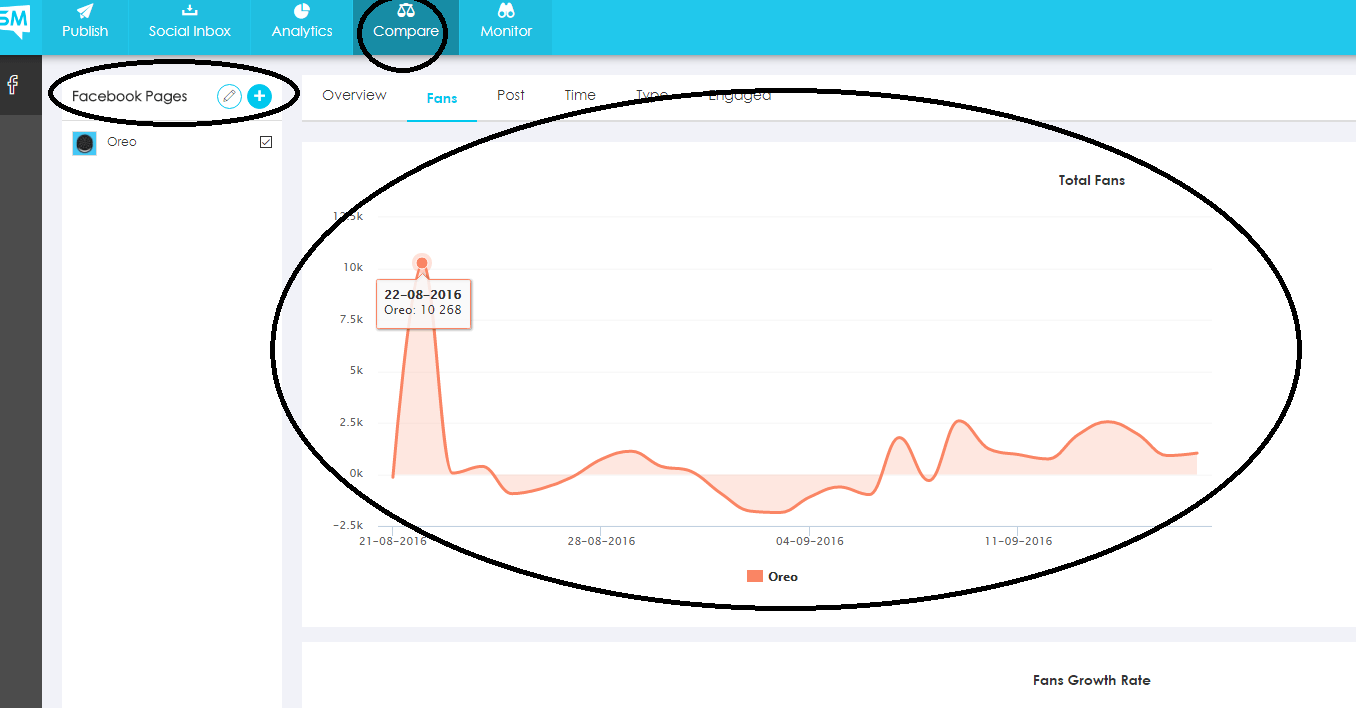 Monitor
This is another interesting option, that you are probably looking at with a different tool.
You can add multiple keywords and monitor them: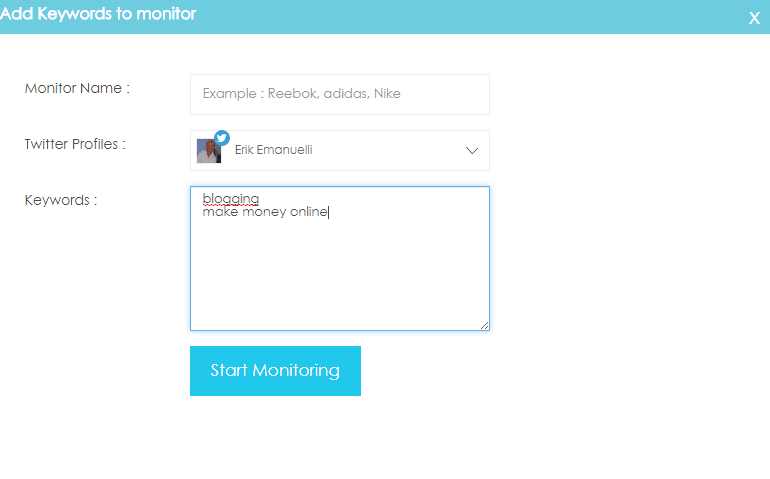 Come back after a while to check everthing was mentioned with your keywords.
Excellent for monitoring your brand!
SMhack Pricing
Pricing is based on plan level and number of social profiles.
Three plan levels are available: Standard, Premium, and Agency.
Social profiles include Facebook fan pages, Facebook profiles, Twitter handles, LinkedIn and Instagram accounts.
There's a 7-days free trial, no credit card required.
After that, you can choose the standard plan, for example, at $39/mo with up to 5 social media profiles and the following features included:
social media publishing
SMhack queue
social media analytics
publishing calendar
competitors tracking (up to one)
Priced indicated are for a monthly plan. Annual plans have a standard 20% discount.
Take a look at the following screenshot for more information on SMhack plans: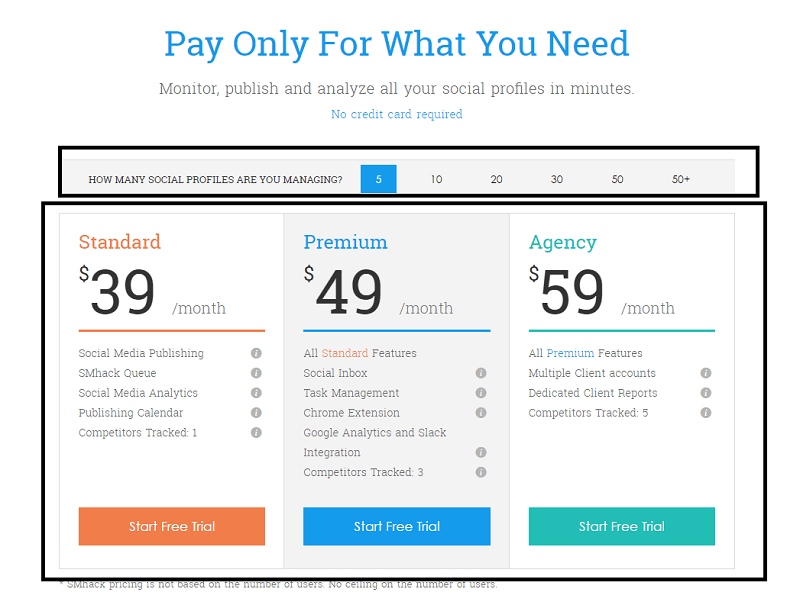 Final Words
SMhack is a powerful tool that you can use to get the most out of your social media accounts, maximizing the results with the minimal efforts.
Nowadays, there are so many platforms available and what you want is aiming to simplicity and effectiveness.
SMhack offers a very easy to use solution, simple to understand and with interesting features.
Claim your 7-days free trial today and test it with your social media accounts.
What do you think?
Are you going to run the free trial?
Please share your experience and views in the comments below, thanks!