You've probably heard the phrase artificial intelligence floating around, learn how to use it to improve your email marketing.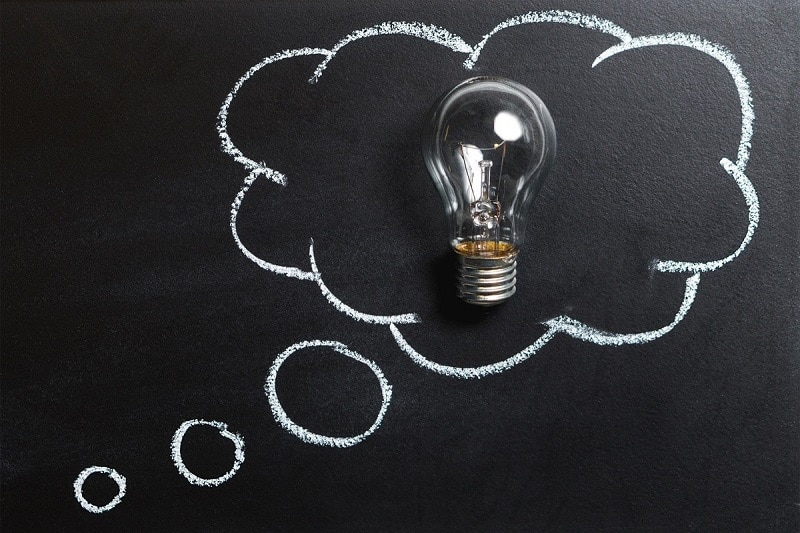 Image courtesy of Pexels. 
Artificial intelligence, also known as AI, it may just sound like a word that came out of a Syfy movie. But AI isn't something made up in a fiction story, in fact, it's something that nearly anyone can use to understand their data.
AI has become a very valuable tool for companies across all industries. It can mine data that would take humans weeks to sort through, in a matter of minutes. On top of that, AI can learn and identify patterns to better understand what customers and predict their future actions. 
And that's why it's a great solution for companies to improve marketing efforts. In this article, we'll take a closer look at what AI is and how it can take your email marketing to the next level. 
Here's a glimpse into what we'll cover: 
A quick dive into what AI is and how it can work with marketing

Look at how to optimize email send times with AI

Learn how AI can help you improve your list segmentation

Understand what content resonates with your customers 

Identify products to recommend to your customers for a more personalized experience 
Artificial Intelligence 101
Before we jump into it can help you improve your email marketing, you need to first have an understanding of what AI is. For many, AI might still sound like a futuristic technology that doesn't apply to their business — but that's actually not the case.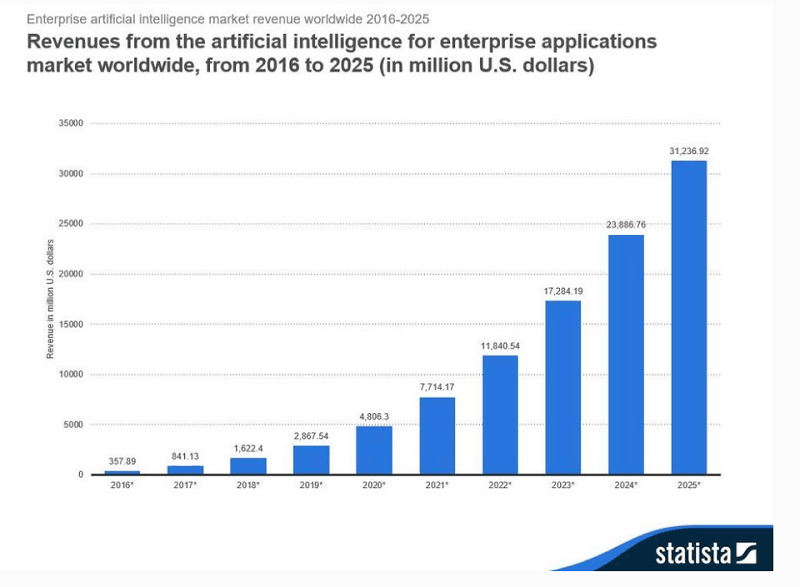 If you're looking for a new opportunity to increase revenue, AI is a great investment. In the coming year, the revenue it generates is only expected to continue to increase. Image courtesy of Forbes. 
In fact, the term artificial intelligence was actually coined all the way back in 1956. Now it wasn't the same technology that we know today, but that helps you put in perspective how long AI has been around. 
So how do we define AI? Essentially, AI is the process of developing computer systems that can perform tasks that would normally require a human to do. 
A few human tasks AI can learn to include: 
Visual perception

Speech recognition

Decision-making

Language translation
How Artificial Intelligence and Marketing Work Together
AI is a great marketing tool because it allows you to make data-driven decisions and can automatically adjust campaigns based on the interaction of your customers. Using AI will allow you to quickly respond to customers via chatbots, provide product recommendations based on browsing history, and improve your ad targeting practices.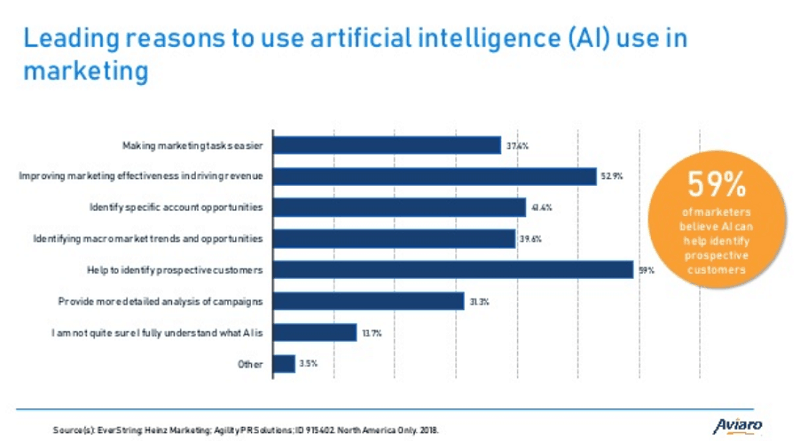 There are many reasons to use AI in the marketing field. From making tasks easier to identify prospective customers, using the two hand and hand will prove to be valuable for any company. Image courtesy of SlideShare. 
By integrating AI technology into your marketing strategy, you have the opportunity to improve the customer experience and boost your return on investment. Now that you have a basic understanding of what AI is, let's take a look at four ways you can use it to improve your email marketing. 
Here's How Artificial Intelligence Can Improve Your Email Marketing
In marketing, there are a number of ways you can leverage AI technology — and that's true for email marketing, too. Using AI technology will allow you to provide your subscribers with a more personalized experience and take the guesswork out of knowing what they want.
By investing in AI technology, you'll quickly see increased metrics from open and click-through rates to improved engagement and sales. Having the capacity to mine all of your customer data with the click of a button will open your eyes to an entirely new world. 
Let's take a look at four ways that AI technology can be used to improve your email marketing. 
Optimize Send Times to See an Increased Open Rate
Knowing when to send emails to your subscribers is always a challenge. While you can do research and find the "best time" to send emails, it really depends on when your customers are most active.
If you follow industry best practices, sending emails on Tuesdays tend to get more interaction. But what if you could pinpoint the best time and day to send to each customer individually? With AI technology you can do just that. Image courtesy of MarketingProfs. 
Using AI technology, you can begin to learn patterns around when your customers are most active and start sending emails during that time frame. Once you've identified this, you can start sending emails to customers only during the times they are most active. 
It might sound like a big undertaking, but AI technology allows you to pinpoint this information and easily send emails at the right time for each customer individually. By optimizing the send time of your emails you're not only improving personalization you'll also increase your conversion rates. 
Segmentation Your Subscriber List Easier 
Segmenting your subscriber lists has never been easier. AI technology can automate the process and take the possibility of human error or biases out of the equation. It will learn and segment your customers based on their demographic information, interests, previous purchasing behavior, and much more. 
With that information, you can begin to target your subscribers based on their specific interests and needs. The more accurate you are at providing them with relevant content, the more likely they are to open the email and click-through to your site. 
Here are a few types of campaigns you can run with the help of AI-generated list segmentation: 
Localized campaigns based on user demographics

Retention campaigns based on users inactivity

Product recommendation email campaigns based on browse or shopping behaviors

Abandoned cart campaigns to bring users back to an incomplete shopping cart

Coupon or discount codes for users who need an incentive to complete a purchase
Knowing more about your customers will help you to improve the email marketing experience. In turn, you'll see increased open and click-through rates, leading to an increase in conversions. 
Improve Personalization and Send Your Customers The Right Content
Just as AI can predict patterns around when your subscribers are opening emails, it can do the same to learn more about what content they are engaging with most. This can be a valuable tool and allow you to provide your customers with only the most relevant content to their needs.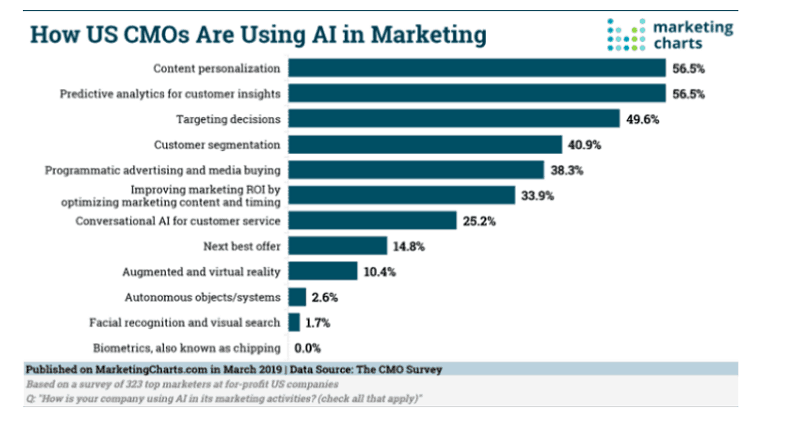 Content personalization is one of the top reasons for using AI in marketing. It will help you identify what your customers are looking for and allow you to provide a more personalized experience. Image courtesy of Smart Insights. 
Knowing what content to send and when to send it can make a big difference in your email marketing metrics. In today's day and age, your subscribers are expecting you to provide them with a personalized experience and know what they want — AI can help you achieve this. 
It would take someone weeks to mine all of your email engagement data, but AI quickly can provide you with this output. Once you have an understanding of exactly what your customers are engaging with, you can then begin to build similar content or depress them from any irrelevant content. 
Provide Product Recommendations Your Customers Actually Want
Predictive product recommendations are another way that AI technology can take your email marketing to the next level. Having the ability to track customer behavior and shopping habits, you can predict what products a customer may be interested in next. Then, you can send them an email promoting that product.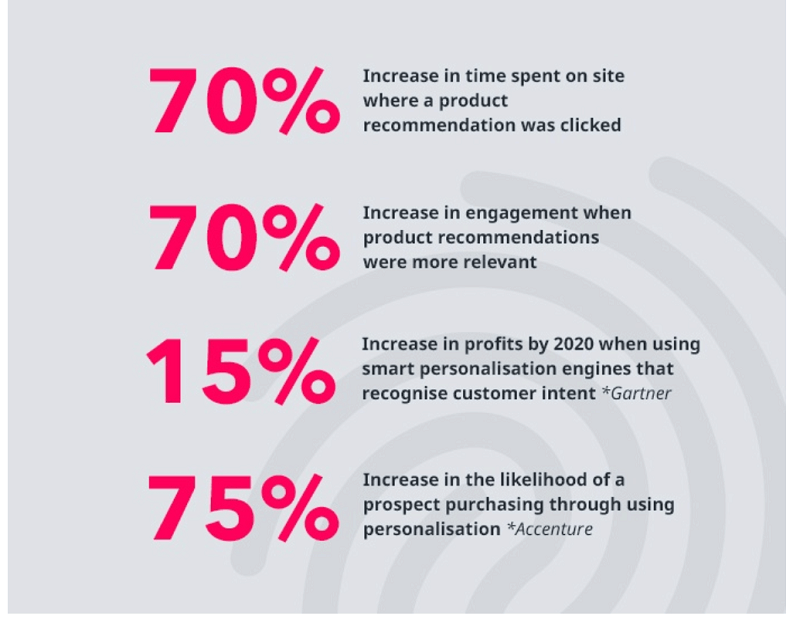 Product recommendations are a great way to improve engagement and increase purchasing. Using AI to help you learn what your customers need will improve their experience and boost your sales. Image courtesy of Ve. 
This is a great tool because it knows what customers are interested in based on their previous interactions with your company. You're not simply taking a shot in the dark by sending them products you think they may like, you actually know that they have some interest in the products you're promoting. 
Sending product recommendations straight to your customer's inbox will directly increase your sales. It's been suggested that up to 31% of eCommerce site revenue is generated by personalized product recommendations. 
With product recommendations, it's a win-win situation for everyone involved. Your customers will learn about a new product that is based on their needs and you'll see a boost in revenue from increased sales. 
Artificial Intelligence, The Future of Email Marketing
As we move into the future, expect to see AI continue as a frontrunner in the email marketing world. With the potential to improve marketing and provide data-driven decisions, it will continue to grow in popularity and transform with the world around it. 
If you haven't already considered investing in AI, now's the time to start taking advantage of all that it has to offer. You'll quickly find that the time savings and increased engagement opportunities will provide you with the return on investment you're looking for. 
So what are you waiting for? Get started with AI and start improving your email marketing today.