According to a research by Outbrain, search engines do convey 300% of traffic more than social media to content sites.
So how can you let Google know that your website exists?
The most common tactic is to focus your attention on the quality of your writing. But the content itself is not able to make you climb the "top 10" of the search results. You should seriously consider link building.
Together with link building, you should think about optimizing your blog for search engines. This could have a significant effect as regards the rise of your site in the SERPs.
But what link building means?
"It's the process of attracting and establishing direct links to your site, which will help reaching the highest peaks in the search engines and ensuring organic traffic to your site."
What are some effective techniques for building natural links, without being penalized?
Google always updates its algorithms and changes the cards on the table by launching updates as the "Panda" or "Penguin", which can penalize your site for using unnatural ways to get backlinks.
During my online experience, I learned many SEM strategies that can benefit your business.
I chose the 10 best strategies I've implemented. Each of them has been a great success. Here they are.
1. Search Websites with Broken Links
This method takes a long time and is scalable. You should have a lot of patience to find those links that give the 404 error.
It is a really expensive tactic in terms of time and efforts.
For example, there are many companies that have changed the name of their brand, so the links have been deleted. I believe that this tactic deserves to be exploited, despite the energies used to get these killer links.
How to find broken links?
You can use these search strings on Google to look for some:
"your keywords" + "recommended sites"
"your keywords" + "useful links"
"your keywords" + "resources"
"your keywords" + "useful tools"
So, when you'll check the pages, look whether all the links work well.
When you find any broken link, you can immediately contact the website owner and inform him about them.
I would recommend using the extension of Chrome Check My Links, which will help you find all the broken links (highlighted in red).
2. Replace Dead Links in Wikipedia
Have you noticed any "dead links" on the pages of Wikipedia?
They are not removed immediately. On the contrary, a note will be added in the bottom of the page with the "dead link". This will give you the opportunity to replace it with yours.
You can find them with this search string:
site: wikipedia.org + keyword + "dead link"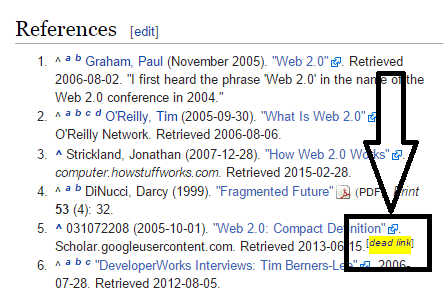 In alternative, you can use WikiGrabber to search all of these links on Wikipedia.
After finding them, you will need to create the content from scratch on your site and replace the link on Wikipedia with yours.
3. Scoop.it
It is one of my favorite methods to get some good links in 10 minutes. It's a great community of content curation where users can gather interesting content on the web and publish it in a magazine format.
Many of the pages on Scoop.it have a high authority. This type of publications attracts attention through the use of social networks.
How can you do it?
Choose the category of the post you want to share, search the Scoop.it page more related to it and recommend your content.
In my experience, 50% of users will accept it, which means that in 10 minutes of your work, you've got quite a lot of quality backlinks.
4. Monitor the Backlinks of Competitors
It might seem disturbing to monitor the backlinks of your "competitors", but I can assure you that you will get great ideas on how to increase the quality of your links.
Prior to monitoring them, you will need to discover your most formidable competitors in the SERPs.
I use RankTrackr. It's a paid tool, but you can start with a free trial. In alternative, use this extension of Chrome.
As soon you'll recognize their keywords and ranking, you can use Ahrefs to get a list of backlinks related to those sites.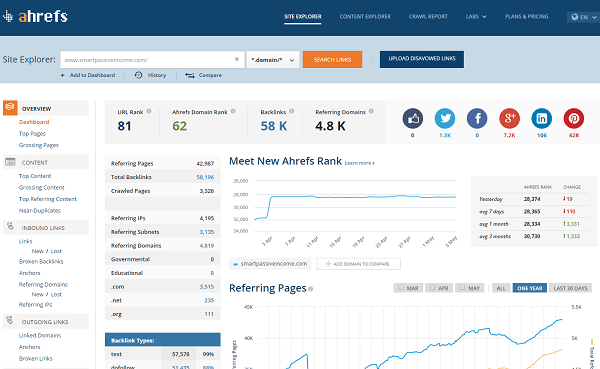 Checks made weekly or monthly will help you stand at attention to see what SEO tactics your competitors are using to gain more links and devise a plan on how to reproduce them as much as possible.
5. Make the Most Out of Infographics
Creating and publishing infographics is one of the most powerful and effective link building strategies in the modern SEO, falling into that niche called "Trend Marketing". Visual.ly is a leader in this field.
Many people stay away from this method, as creating a professional infographic may cost a fortune.
But you can achieve it easily with the following resources:
I personally use the first one, as it's simple to use and has various themes (included free ones).
You may also want to look for freelancers on oDesk who can do the job at an affordable price.
There are some points you need to keep in mind:
only include data from real sources
add the link of your site in the generated code (probably someone will use it on his site and you can take advantage of excellent backlinks)
use an attractive design
be brief and do not confuse the facts in the text
limit the infographic size to 1500 pixels high
use statistics to make it more interesting
share it via social networks
To get a real return of backlinks and visibility of your brand, you will need to give the opportunity to other sites and blogs to post and share your infographic.
6. Inverted Guest Blogging
The idea is to look for guest bloggers who can write significant content for your website.
This works in a completely innovative way. You don't have just to look for bloggers who have time to write a post. The main idea is to build good relationships with the most influential bloggers. Ask them to contribute at your place.
What are the benefits of "reversed" guest blogging?
It is an effective mechanism to build relationships
The post can be shared by influential blogger on their social media channels
It's a great way to earn links by the shares of the invited authors
You have plenty of control on content
You should find out the goals of this strategy, defining the subject of the articles to be written and how long you want the invited guest to contribute to your blog.
It's easy to make a list of the influential people within your niche to work with.
Just make the proper research, begin to invite them and talk about this opportunity.
7. Online Discussions
The online business not only requires building quality links, but also valuable relationships with customers.
Be sure to monitor the activity of your potential customers and control what they do online.
They would normally gather in groups to discuss specific topics on forums and blogs. Try to monitor all their moves. You can use Yahoo answers, forums, Facebook groups, etc.
You can also use Google Alerts and add your keywords to track down any reference to your brand or your industry in general.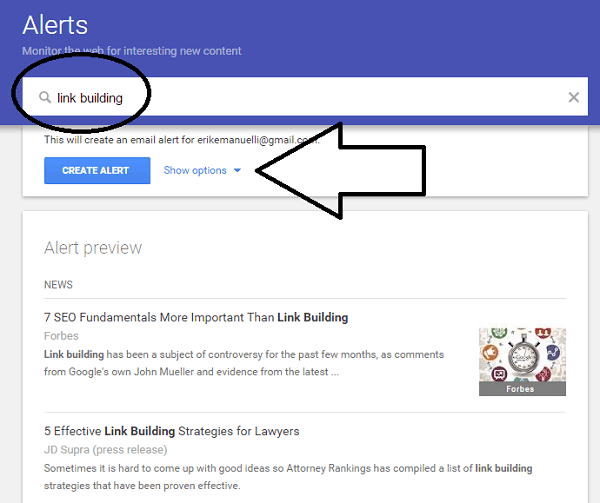 Remember: try to be helpful and friendly, not pushy. It may take time, but you will be rewarded.
You have the opportunity to earn a great authority on the web. Users will be able to know you and follow you.
8. Reviews of Bloggers
The reviews on products, software and services are one of the best ways to get good backlinks on a large scale, especially for ecommerce sites.
But how do you capture the attention of bloggers?
You can start by offering something for free so they can do a review on their sites, or think about a budget to set for this purpose.
It is a fairly intensive process that takes time: you need to find bloggers, contact them, send the products, wait for the review and eventually send a reminder email.
Try to find webmasters in your niche or industry. If you sell a specific product or information that help people to learn something like, for example, "ways of making money online", you should use the strings as "how to make money online," "earn money at home", etc.
You'll get a list of bloggers who can be filtered depending the authority of their sites.
Now you have to reach them by using their contact form or simply by email, and, with a couple of compliments, make the fateful proposal.
Be sure of what you're writing. Check spelling and grammar errors. Do not be too pushy.
I remind you not to not ask them to just post your link and review. Simply put them in a position to decide on your product.
9. Give Feedbacks
It is a simple mechanism to obtain a backlink.
When you are using products related to yours or taking advantage of services related to your market, you can offer a feedback to be published on their sites (in their "testimonials" page, for example).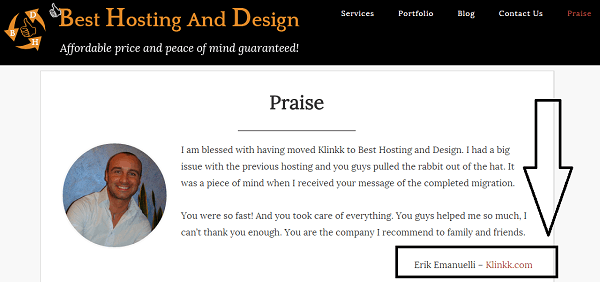 You would do something that is beneficial to both sides: you get an important backlink and they earn a feedback on their product.
10. Quality Links from Citations
Monitoring your brand is important, as you know, but there are often times when people talk about you and your brand without entering any link.
It's natural (in the end, people are lazy).
But you could contact them asking about placing a link to your site within the discussion that has begun. In the end, it does not cost anything and people will do it gladly if you are nice and polite.
Follow this tactic and you'll get many quality backlinks.
Summary
Here I mentioned my favorite tactics to get backlinks.
Take some time to digest them and see how they work.
If you know any other tactic, I will be more than happy to listen to your suggestions within the comments.