If you are somebody who is creative and likes sharing ideas, TrendBrew is the site for you.
You can become an influencer, link products to blogs and videos, and earn a commission when shoppers buy what you suggest.
Let's see how Trendbrew works and how you can sign up and make money.
How Trendbrew Works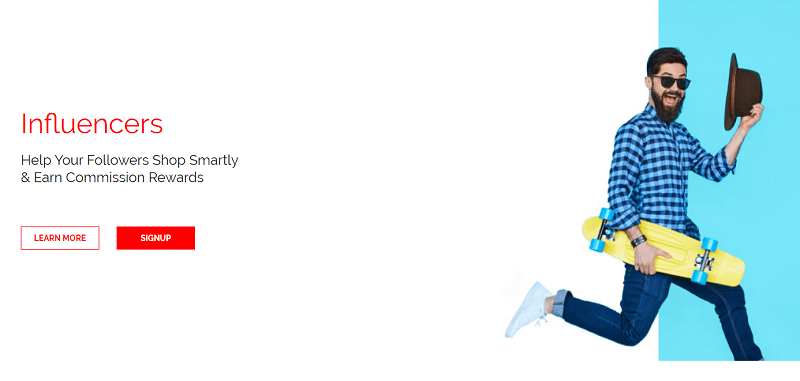 Trendbrew is a new social commerce network where users can shop products from 7000+ retailers.
Users can check out multiple offers for different products, wish and get personalized offers from retailers and earn points for every purchase, while influencers can create their free digital stores, aggregate and build a follower community and earn purchase commissions.
On the other hand, retailers can publish trending products, give personalized offers and increase online and offline sales.
Here are some concepts you can grasp to better understand how Trendbrew works:
Shoppers can earn Universal Reward Points from 7000+ retailers
Influencers can earn Influence Commission for influencing purchases
Create free Trend Stores with products, blog, videos and pictures
Brew trends on products you like from different e-commerce sites with a simple click of a button
Invite friends and family to your store
They are different from other e-commerce and deal sites
These sites give deals based on Retailer's criteria, which may not match with consumer needs and preferences
TrendBrew gives power to consumer to drive the offers (My price and My timeline)
Retailers can provide a personalized offer to a group of consumers through TrendBrew
How to Get Started with Trendbrew
Signing up is very easy. It can be done either via email or your Facebook account.
I've chosen the second one, as it's quicker. Once you connect your profile, this is the welcome page: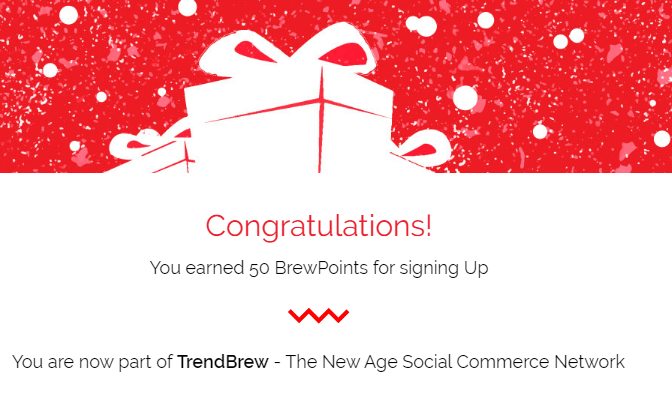 Now, you want to personalize your social shopping feed.
Choose 3 or more channels, by simply clicking on the selected icons:

The same principle on the next page, follow 5 or more retailers/brands:

Now, you want to name your first trend store.
Simply choose a few words for it and enter them in the filed, as you can see in the below example:

All set!
You can start curating products. The following short video will explain you how:
To start curating, you can drag the 'Brew it' Button (bookmarklet) to your toolbar, to be able to:
Add products from any retailer site
Add videos from YouTube, Daily Motion and Vimeo
Add posts from blogs
Mt first curated product, for example, is an Apple iPad with WiFi, 128GB, Space Gray (2017 Model), found via Amazon.com: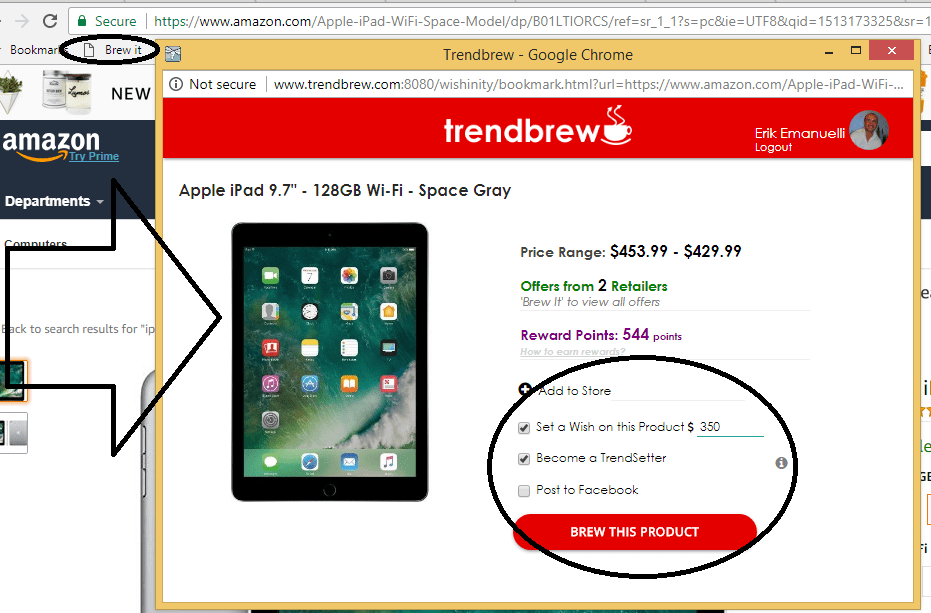 Add the item to one of your stores (you can also create new ones, at the same time you are brewing products).
Set your wish price, so TrendBrew will alert you if the price of this specific item reaches your desired price point.
Click on "become a trendsetter" and post it on Facebook, if you want.
You can check all the curated products on your feed or profile: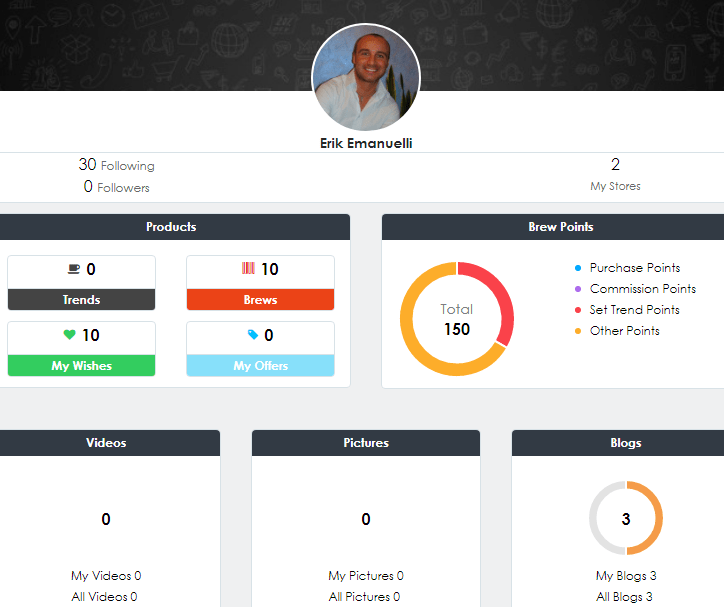 Same principle for curating blog posts.
Just visit a blog website you like, select a post and hit the "brew it" bookmarklet: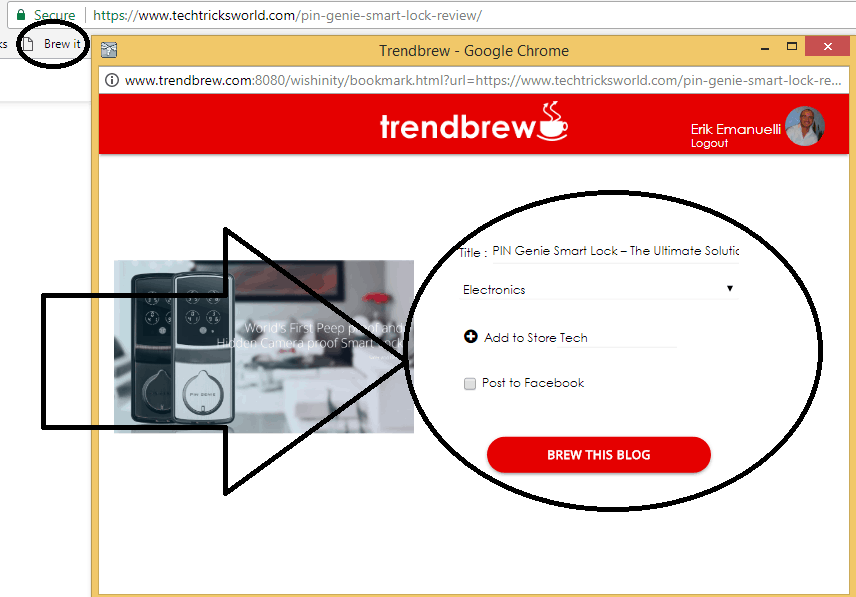 So, How Do You Make Money?
To answer this question, you need to understand why you (and your audience/following/users) should shop at Trendbrew and not directly at the store.
It's simple, actually. If you shop at the retailer directly, you'll either earn the rewards given by the retailer, which can be used only at the retailer or its affiliates (or not earn rewards at all). TrendBrew enables you to earn Universal Rewards no matter which retailer you shop at. These rewards are easily redeemable from a range of gift cards (including VISA gift cards).
Trendbrew aggregate products from 7000+ retailers. Hence, they enable you to shop all your favorite retailers on one single platform. You no longer have to download multiple retailer apps to shop.
TrendBrew's mobile app allows you to easily shop any retailer with just a click of a button. (Here's the link to the Android app and this is the one in the Apple store).
Final Words
Trendbrew is an interesting new concept, a social trending platform for e-commerce, tech, food, sports, media and entertainment.
It may be the new age of social network and you have today the chance to sign in and jump on the bandwagon.
With 7000 retailers and brands, more than 2000 products and active offers, 1700 product brews and almost 5000 rewards given, Trendbrew is definitely a platform you should try.
It's free and you have nothing to lose. Whether you are somebody that sets trends or follows them, TrendBrew is the perfect way to shop & be social while earning rewards!
And, as an influencer, you have more chance to make money.
Now, it's over to you.
Are you going to sign up to Trendbrew? What do you think?
Please share your feedback in the comments below, thanks! And don't forget to share the post, if you liked it.