Does SEO seem really hard for you?
Are you tired to look after complicated SEO tools?
If you are in this situation (but also if you want to check a simple to understand but at the same time effective tool), then Tiny Ranker is your solution.
Its user-friendly interface helps you tracking and analyzing your site's SEO metrics, including on-page SEO, website analysis, keyword research and competitor analysis.
How to Get Started with Tiny Ranker
Tiny Ranker offers a free 30-days trial, that you claim by simply registering (no credit card required or PayPal subscription to get started):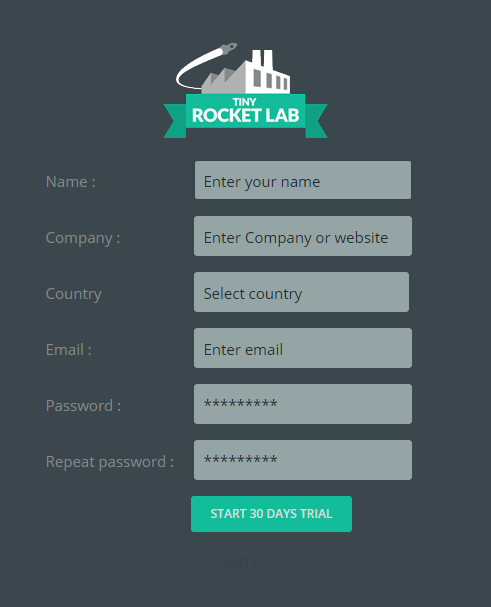 You just need to enter your name and best email address.
After clicking on the confirmation link you'll receive, you can start using Tiny Ranker right away.
The first thing you want to do when entering the dashboard is adding your site: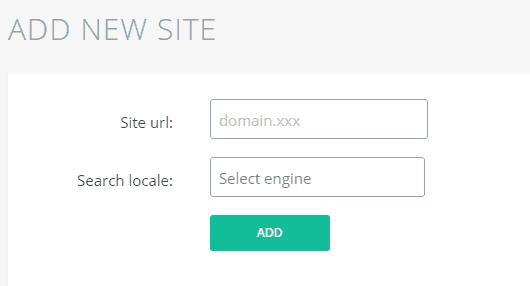 Then select the engine of the country where you wish to check your site stats.
The most popular engine is United Stated (English), but you can choose among many other popular ones (included your country of residence):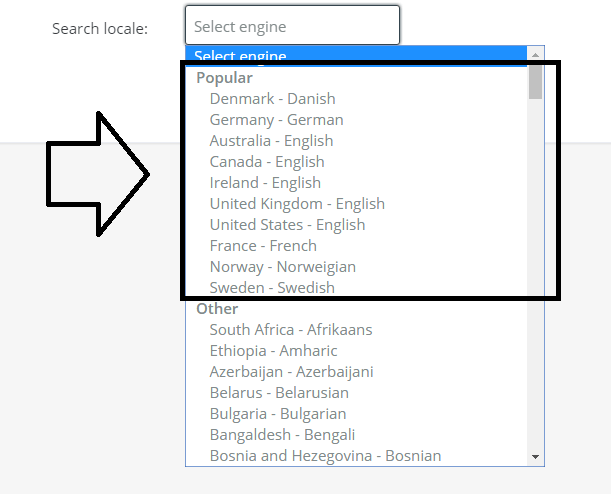 Once you have completed this first step, you will be redirected to the full dashboard, where you will see different sections.
For writing this post and better explain Tiny Ranker options, I decided to add one of my niche sites: NepetaCataria.org
Let's see the main features of this versatile tool.
Site Overview
Here you can check an overview of your site:
a graph with daily organic visitors your site has received for the engine you entered on the selected time frame;
an overview of the total of keywords, with winners and losers, change, top rankings and current visibility;
the visibility change in percentage;
 the biggest winners and losers.
This is what I see when entering my Tiny Ranker dashboard for my niche site (click to enlarge the image):

Keywords
Now you need to add the list of keywords you want to monitor:
Just add one keyword per line and confirm by hitting the "add keywords" button.
Now you will be able to check the on-page details, the rankings and its change and the searches for the keywords.
Note: if your keyword is new (which means, just added), you need to wait for Tiny Ranker to gather enough data to analyze it.
Let's see how it's ranking my niche site for the nine keywords I added a few days ago (click to enlarge the following image):

As you can see, the site is ranking number 2 on U.S. Google searches for the main keywords (nepeta cataria), just after Wikipedia.org.
And it's ranking number 1 for secondary keywords, like "cookies for cats", for example.
It's also ranking within top ten positions for many other secondary keywords.
The last tab of this section gives you the monthly searches, while the first one (onpage) offers in details (when clicked) the on-page optimization analysis for the specific keyword.
For example, let's check the main keyword of nepetacataria.org: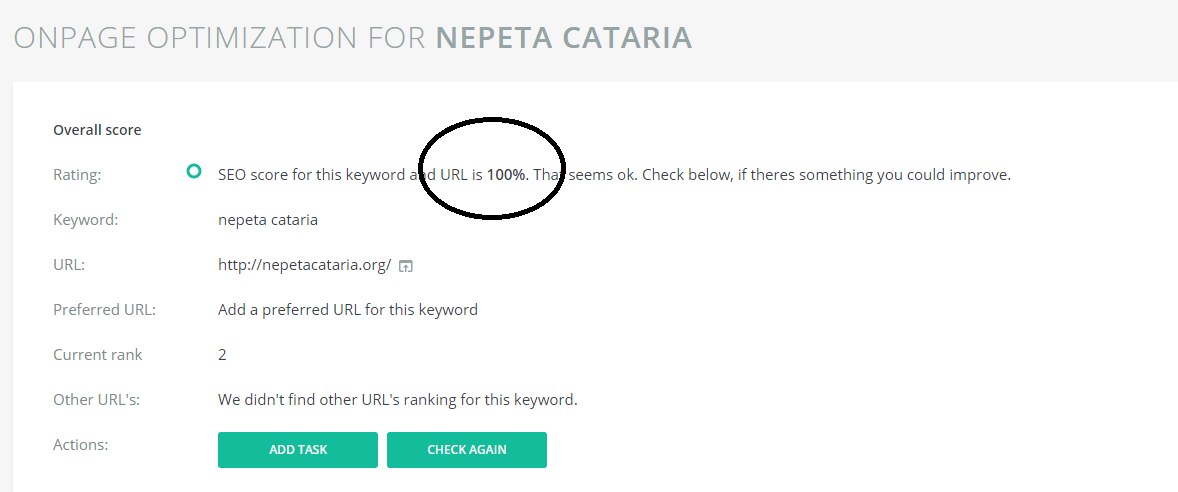 You can see an outstanding overall score of 100%. Great job!
Keep scrolling down and you will read some useful suggestions about optimizing your page, for better ranking your keywords, included:
keywords usage;
length of title tag;
description;
word count;
keyword density.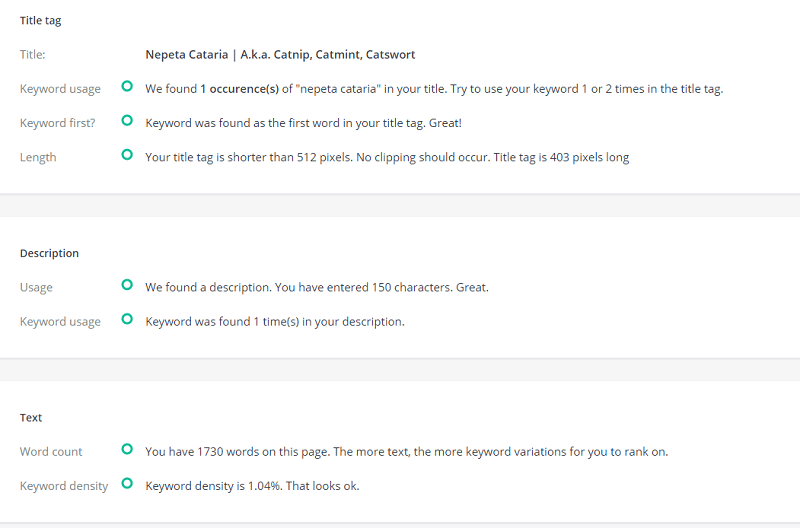 In this page, you can also add tasks to further improve your site rankings, like link building, meta description, new content, etc. (this is excellent if you are managing a team).
Looking at the left menu of your dashboard, you can see "keywords list". Use this feature to create lists for your keywords to better categorize and monitor them.
URLs
In this section, you can check all the URLs of your site that have rankings on one or more of your keyword list.
The following is the pages found with Tiny Ranker for my niche site and the keywords entered:

Google Analytics
With this option, you can connect Tiny Ranker to your Google Analytics account, to exchange the statistics and other analytics for your site.
Simply click the 'Grant Access' button to grant the permission and both the tools will be integrated.
Competitors
This is a particularly interesting section.
You can check how the competitors of your keywords are ranking and what you can do to beat them.
For example, the "competitor score" gives you how many of your keywords the specific competitor rank in the top 20 of the engine of reference.
You can click on the "compare" link to check how your competitor is doing versus your site rankings.
Also, the "find" feature will list all the keywords your competitor is ranking for, that you still have not added to your site.

Reports
You can use this useful feature to send customized reports directly to an email address or to simply download it in PDF format for any purpose.
Enter the data range, the keywords and other filters you want to change to get the personalized report of your site performance.
The information in the report include:
Website rank
SERP rank
SERP tracking
Keyword position
Rank tracker
Google SERP rank
Prices and Plans
After the 30-days trial expires, you can choose any of the following plans: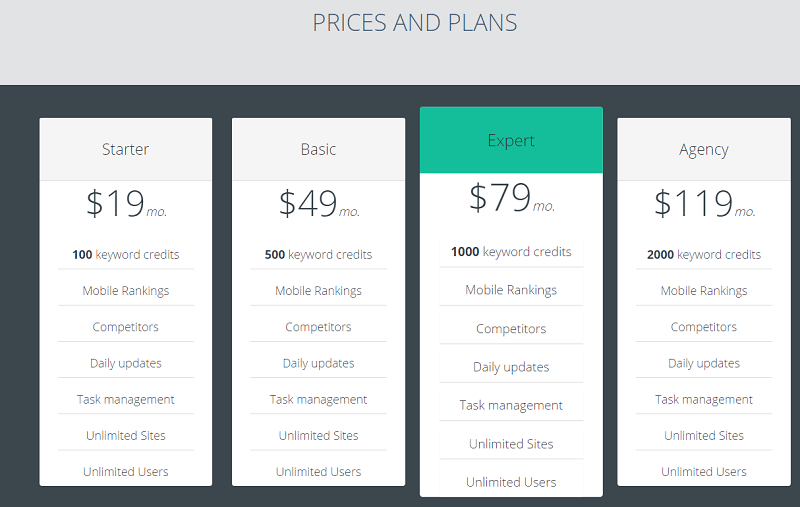 Every plan offers mobile rankings, competitors, daily updates, task management, unlimited sites and users.
What you need to decide is the amount of keywords credits. The basic plan (starter) offers 100 keywords credits for just $19/mo, while the most advanced plan (agency) offers 2000 keywords credits at $119/mo.
Important note: after the purchase,  you can get your money back within 14 days if you are not satisfied with your experience.
Final Words
As you have seen from this review, Tiny Ranker is really an easy to use tool.
The simple interface allows to understand SEO even to the less experienced users.
Check your site rankings and on-page SEO, do keyword research and monitor your competitors with a single tool.
More than 3,000 users are happily customers of Tiny Ranker.
And you?
Are you going to test it?
Please share your views in the comments below, thanks!