If you are in the blogging, internet marketing or SEO field for some time already, then you surely know that using the right tools will make the difference in being successful or not.
In this post, I'm going to introduce you Spotibo, a new on-page SEO and analysis tool (there's a free, forever plan, I'm sure you want to grab).
How to Get Started With Spotibo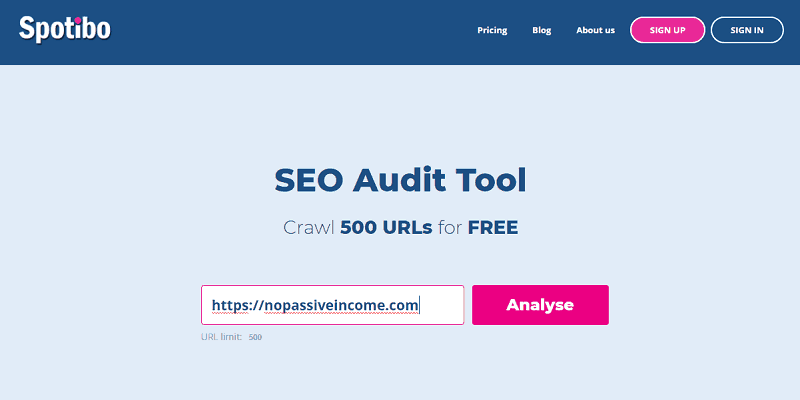 You can sign up using your Google account (Spotibo will only get access to basic account information, like your username and email).
Registration is free, with no credit card required.
Once you signed up, you will get access to dashboard with all the features.
From the top left menu, you can add a new project. Just enter the desired URL you want to analyze and leave the other fields pre-compiled: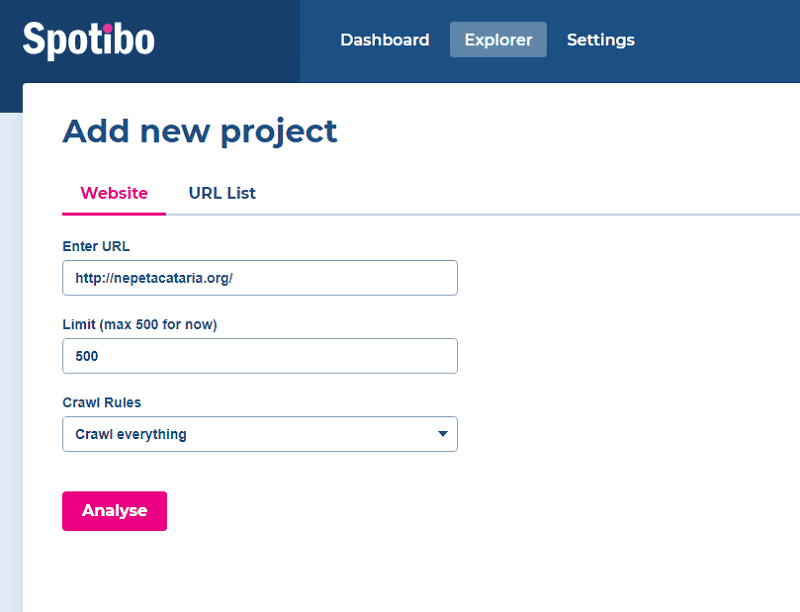 I decided to analyse nepetacataria.org, my niche site (monetized with Amazon and Adsense).
I want to see what I can do to improve the on-page SEO of this site.
So, after you add the URL, just click the Analyse button and give Spotibo a few seconds to complete the crawling and evaluate your web pages.
Once the analysis is done, click on Report to check the results.
As you can see from the overview:

Spotibo found on my site:
75 errors
120 urgent warnings
15 warnings
45 information
That's quite a lot to check! Let's dive into it.
Site Analysis with Spotibo
For every section of your site on-page SEO, Spotibo will tell you the issues and how to solve them.
Pretty neat!
Plus, you will have access to Explorer, which lets you control everything that needs to be fixed, filtering per content, links or tecnical aspects of the site.
Site Titles

Coming back to nepetacaria.org analysis, Spotibo found out that some of the title tags are too short, which means their length is less than 200px (it might be a case in which you are not using the full potential of the title tag, and where you don't have relevant keywords and information included).
The solution offered by Spotibo is the following:
Check to see if you are using relevant keywords in your title and if it describes what your page is about. If you decide to rewrite it, make sure it is no longer than 600px. You can write your new title with our SERP preview tool and see immediately if it will work for all search engines.
Headings

The SEO tool checked my site and found out that headings in h1 tag are not set or might be empty. H1 is the important part of your content, and together with the title, it tells search engines what your page is about.
H1 is also essential for web accessibility, and its absence makes it more complicated for the handicapped to understand the content. Therefore, it shouldn't be empty, and it should be written relevantly to your page and consist of your targeted keywords.
The solution proposed is the following:
Use your main heading in <h1> tag and make sure it is descriptive and consists of relevant keywords. We recommend using only one <h1> tag for each page, in most cases.
Also, Spotibo found other headings issues (that I can check in details in the Explorer section).
Meta Descriptions

The SEO tool found issues in the meta descriptions of my site too.
It told me that some of the meta descriptions are not set or might be empty. The meta description is an important part of SERP's snippet, which influences users to click through to a page. Therefore, you should write a description for every important landing page.
The solution offered by Spotibo is the following:
If you consider such pages as important landing pages, fill out meta descriptions and make sure they are descriptive, consist of relevant keywords and that they are not longer than 1,750px. You can check its length in our SERP preview tool. If they are not important for organic traffic, you don't need to make any changes, but the search engine will generate a description from the page's content.
Redirections

Several issues were found by Spotibo in this section.
For example, there are pages with more than one redirect on my niche site. This means that if there are more redirections, the search engine has to visit more URLs. This takes too much time, and your crawl budget might be used up because of that. But you don't have to deal with this issue unless there is a significant number of occurrences.
The solution offered by the SEO tool is the following:
Fix these redirections. Redirect all URLs to one final URL and remove all excessive redirections in between.
Indexation and Crawling

Several important issues were found in this section.
For example, some of my site pages are blocked by robots.txt
There are pages disallowed in robots.txt (e.g. Disallow: /category/1234), indicating to search engine crawlers that these URLs shouldn't be crawled. Use "Disallow" only when you don't want search engine robots to crawl unimportant or similar pages and to waste a crawl budget.
Note: You should not use robots.txt to hide your web pages from search results, because your page could get into search results anyway. If you want to block the page from search results, use noindex tags.
The solution offered by Spotibo is the following:
If you consider such pages as being important, you need to allow web crawlers access to your pages by deleting or editing the "Disallow" directive in robots.txt.
Not Found/Server Errors

Spotibo informed me that I have pages with 4xx on your website. The most common case with client error 4xx is probably 404 error, which means a page was not found. This is mostly a burden for your users, who click on the link that leads to the non-existing page.
Also, search engines are constantly trying to crawl these error pages on your website, which might use up your crawl budget and slow down the crawling of your pages. At the end, the search engine might even de-index pages after a few unsuccessful attempts to crawl it.
The solution offered by Spotibo is the following:
You can either recover the lost content on the page or you can redirect the page through 301 redirect to another relevant page. If none of these options work for you, you can find the links referring to the error page and remove them.
Explorer Section
In this section of Spotibo, you can check all your site issues, filtering by:
URL
Title
Meta Description
Headings
Different kind of links
Search Engines Access
Canonical
File size
Charset
Time of last crawl
Also, by visiting the left menu, you can directly check the following:
Web pages
Images
Another content
Redirects
Client errors (4xx)
Server errors (5xx)
External Pages
Spotibo Pricing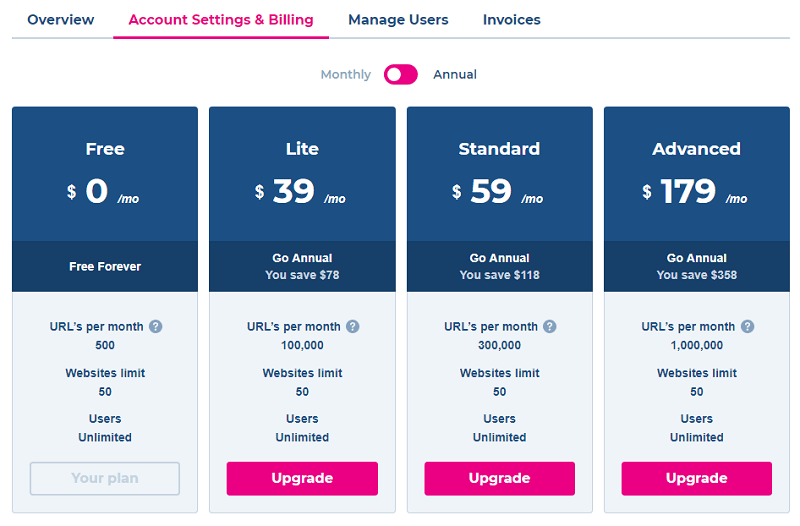 With the registration, you have a free, forever plan, which includes:
500 URL's per month
50 Websites limit
Unlimited Users
If you need more than that, you can upgrade to Lite, Standard, or Advanced plans.
For example, with the Standard plan, at $59/mo, you will get:
300,000 URL's per month
50 Websites limit
Unlimited Users
Final Words
Spotibo has made the on-page SEO really simple. I found the tool easy to use and user-friendly.
The analysis of my site was fast (just around one minute), lots of issues were found and for each of them, I received a particular solution to fix the problem. I really liked it!
With the free, forever plan, you will get enough power to check your site, every month (or different sites, periodically).
So I definitely recommend to register at Spotibo and start improving the on-page SEO of your site today (check also Spotibo blog here).
Now, over to you.
What do you think?
Are you going to test Spotibo?
Have you ever heard of it?
Please share your thoughts in the comments below, thanks!