SendinBlue is a marketing service provider with many great features that you can use to boost your business.
Other than automating and managing your email marketing campaign, it gives you also SMS messages, which is really an interesting plus.
The easy to use platform is really intuitive and lets you start right away after registration (without paying).
Yes, there is a completely free plan, until 9,000 emails per month!
With so many overpriced email marketing platforms out there, SendinBlue is the perfect alternative to MailChimp.
Let's see how to sign up with a free plan, how to build your first campaign, the SendinBlue features and prices, with many comparisons to MailChimp.
Start with the Free Plan at SendinBlue
Registration is so easy, that lets you start working on your marketing campaign right away.

Once you have signed up, you will get access to your dashboard with complete functionality to all the features.
As mentioned, the free plan (yes, it's really free, without any contract or hidden fees), allows you to start working on your mailing list, without paying and with unlimited use (until 9,000 emails/monthly).
You'll have 300 available emails per day and 100 SMS credits.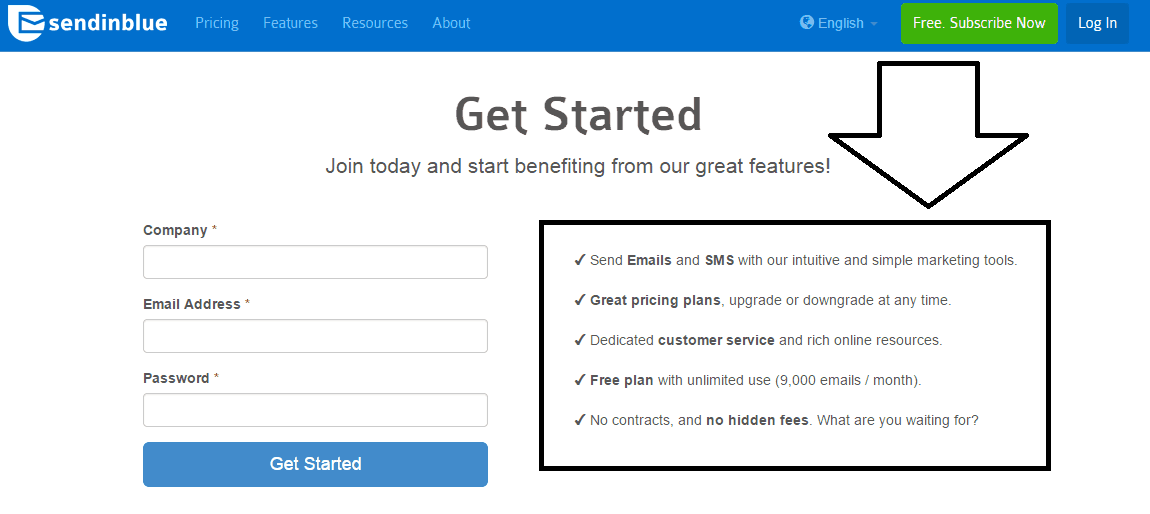 With MailChimp, the free plan gives you just 2000 contacts and they charges you $50 per month for 5000 email sent (without giving you the autoresponder service), while SendinBlue makes a big difference with 9000 free mails per month and the autoresponder tool.
This is great for beginners who need to work on growing their business without investing a lot of money.
Check the SendinBlue prices compared to MailChimp here :

Begin to Work with Your SendinBlue Account
After signing in, you want to import your subscribers via CSV file or by adding them manually.
When you have done that and updated your information, you can start your first email campaign.
Just click on "Create a Campaign" at your SendinBlue dashboard and fill the settings.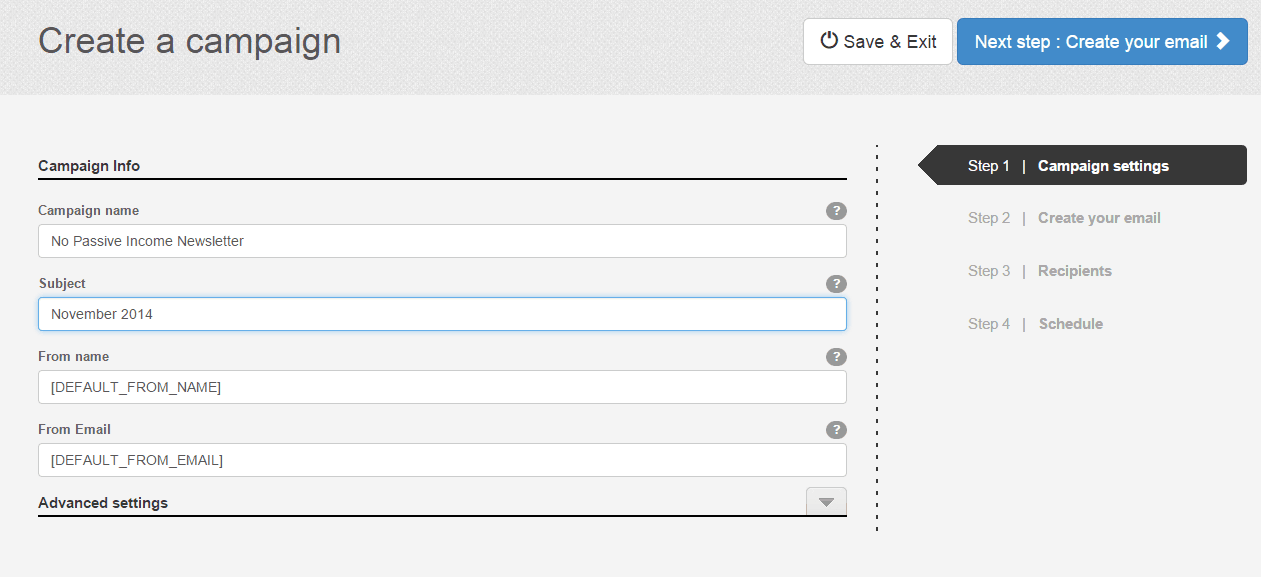 The next step is decide which to use among the 4 editors, in order to create your email campaign.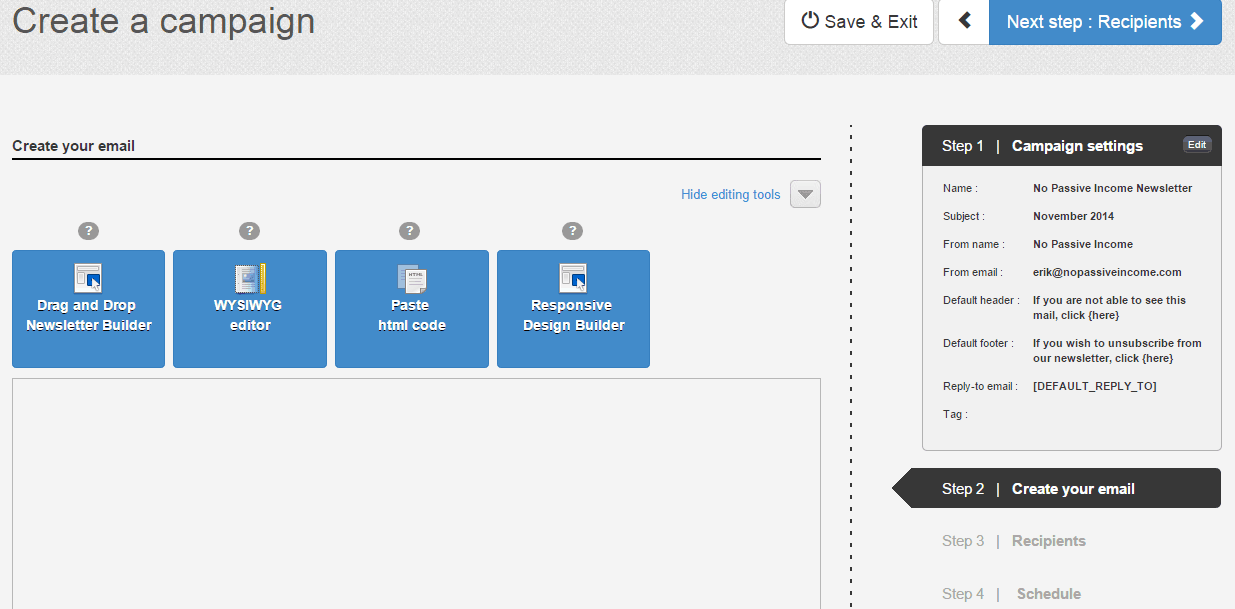 I love the drag and drop newsletter builder, it's so intuitive and easy to use.
Just select sections to add images or texts, and you will be able to build your newsletter in a matter of minutes!
There are buttons available, dividers and even an easy social media section that you can add and personalize.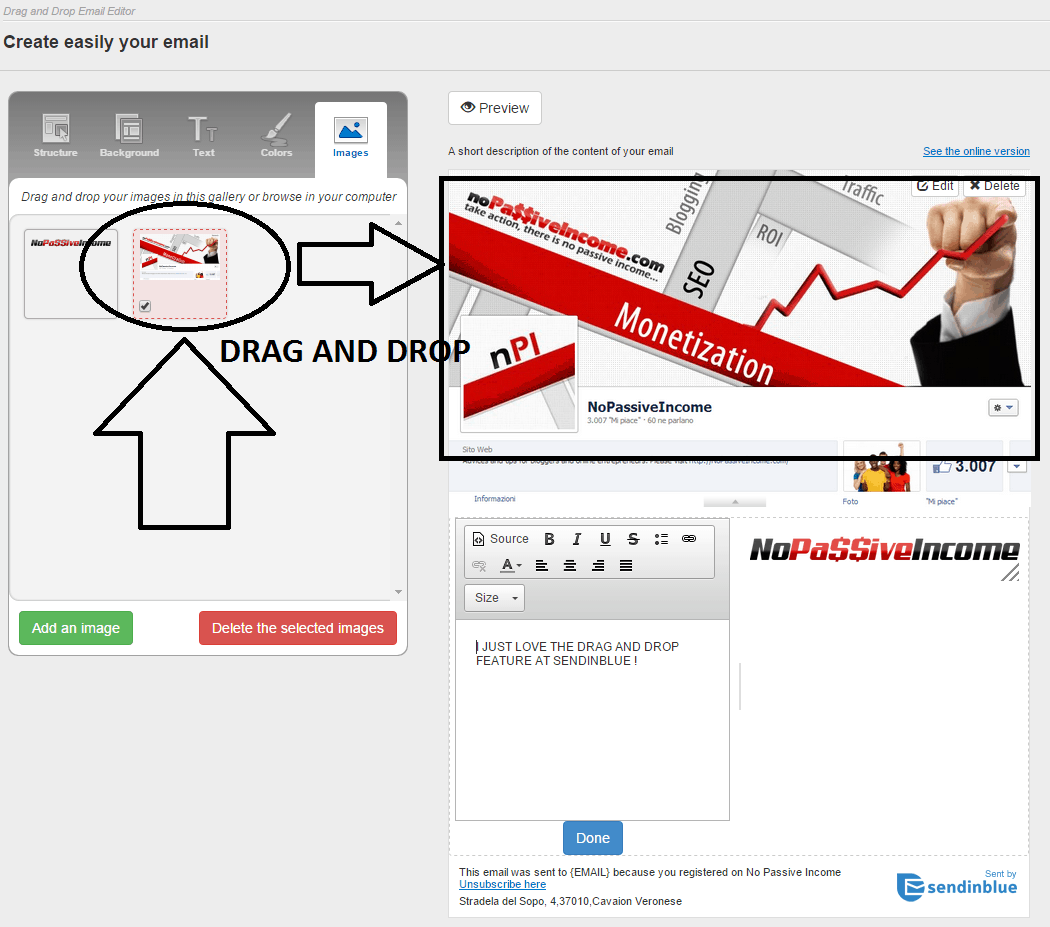 After you finished to write your newsletter, you can send a test to your email or even check how it will look on different browsers or several devices, like iPad for example.
See a screenshot below.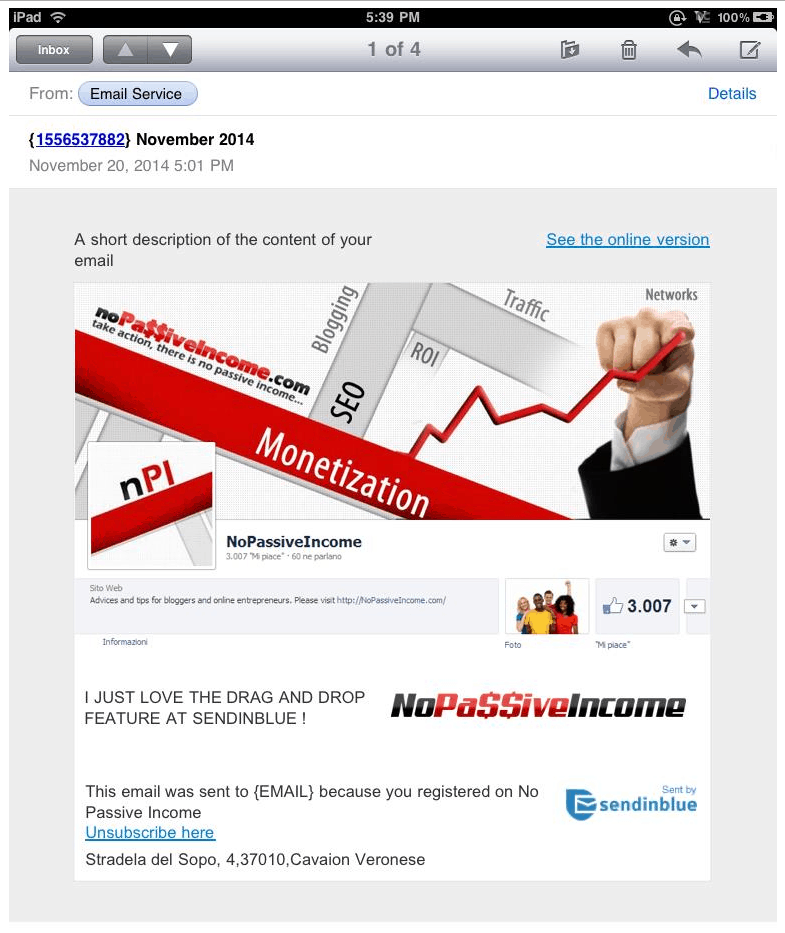 Last step is including your recipients and schedule your campaign.
And you're done!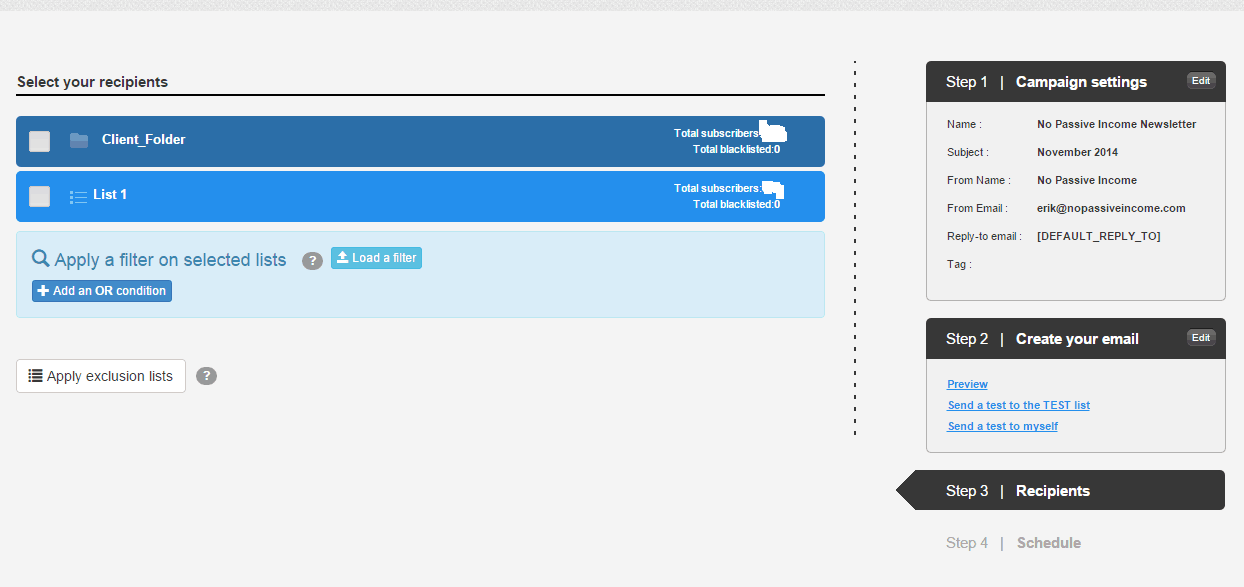 SendinBlue Features
We've seen how to create your first campaign with the easy to use drag and drop builder.
But there are many others features at SendinBlue.
SMS Campaigns
I am sure you own a smart phone, a tablet or many other mobile devices.
After gathering the numbers of your subscribers, you will be able with SendinBlue to send messages to your list, with no distinction of destinations or mobile carriers in all around the world.
This is really a plus, that MailChimp does not offer you.
WP Plugin
With shared server you can send just a limited number of emails each hour.
This is due to technical reasons, as your hosting service does want you to use all the server resources.
But with SendinBlue this problem is solved.
They will connect your WordPress blog to their strong SMTP server, enabling you to send unlimited emails from your website.
Some other SendinBlue's fetures are :
– segmentation of contacts;
– real time reports & statistics;
– spam check;
– dedicated IP address;
– unlimited contacts for your list;
– unlimited attributes for each contact;
– white label solution;
– trigger marketing;
– your campaigns in Google Analytics;
– tracking real-time;
– heat map consult for checking the most clicked parts on your newsletter.
And the unlimited support from SendinBlue staff by phone, email or ticket.
SendinBlue Pricing Compared to MailChimp
First of all, let's see SendinBlue features, compared to MailChimp in this image :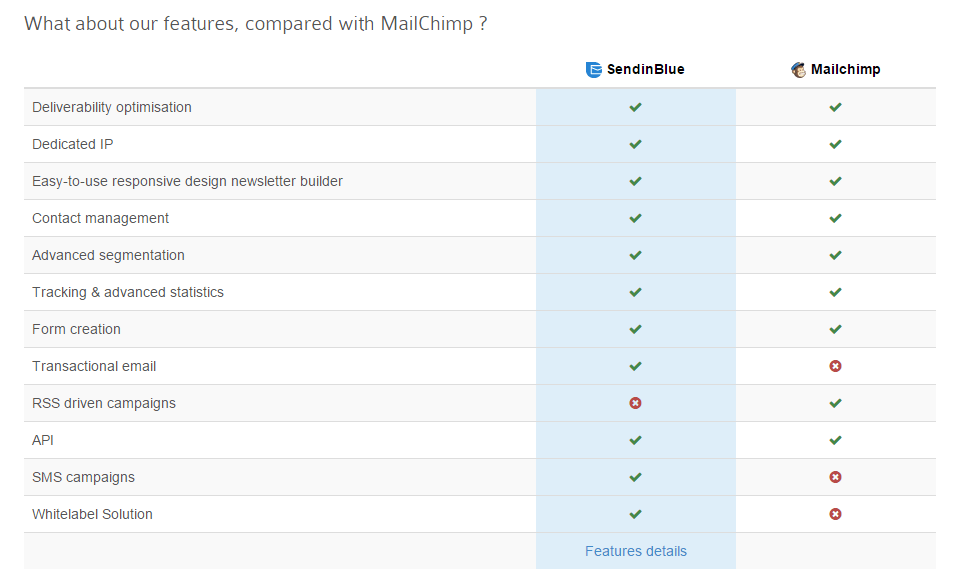 While SendinBlue still offers many important features like MailChimp (plus some unique ones, if you check the image above), there is a big difference in prices.
MailChimp is much expensive than SendinBlue.
As mentioned, SendinBlue's free account allows you to manage up to 9,000 emails each month with unlimited subscribers.
For example, the "Bronze" package will cost you just $29,00 per month, giving you up to 60,000 emails.
You may want to send an 1 email to 60,000 subscribers, or 2 emails to 30,000 subscribers per month.

I've checked the correspondent MailChimp package.
It's an exorbitant $350 per month!!!
That's more than 12 times of what you would spend with SendinBlue.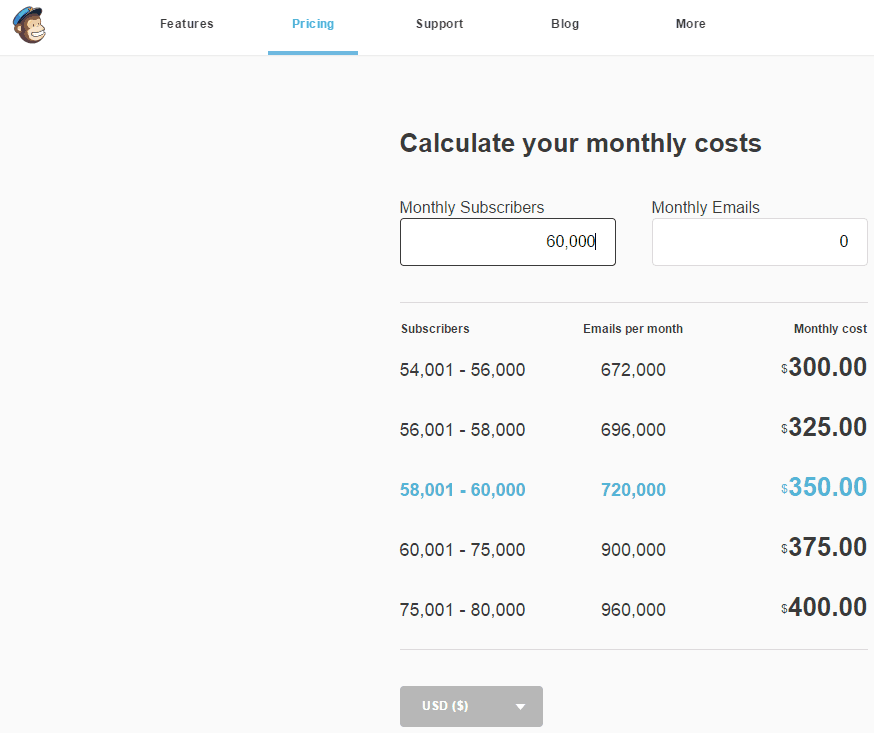 It's a big difference of cost, right?
Conclusion
It's really possible to increase dramatically your ROI with a corret email marketing campaign and the proper service provider.
I loved to test SendinBlue and I'll consider it as my next email marketing service provider.
And it's good to see BMW, among the many SendinBlue clients!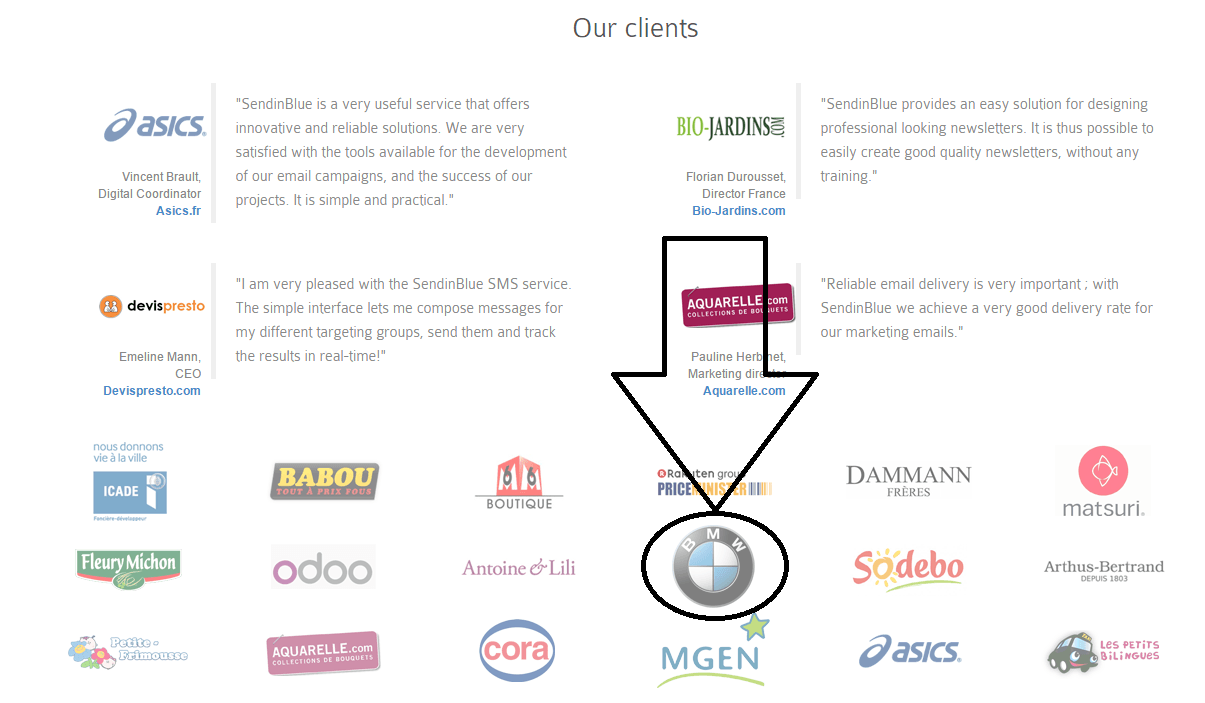 SendinBlue gives you so many features, and I particularly liked the drag and drop feature.
It's really intuitive and simple to understand, even for new marketers and bloggers.
Also, SendinBlue plans are really interesting, with advantageous prices.
You should really consider trying Sendinblue, most of all if you are already using other service providers, like the much expensive MailChimp.
You can sign up here for free, without deposit, contract or credit card required.
And you can cancel your subscription at any time.
Are you managing a newsletter?
Are you creating your mailing list?
Do you use MailChimp or other email marketing providers?
Please let me have your views in the comments below, thanks!