Creating a blog is an important step.
If you are going to take it seriously, then this could be a unique experience.
And if you are very good and steady, this experience might even change your life.
In fact, even if there are very few bloggers who earn enough to live with a blog out there, you could be the next.
As in the real world, also in the internet money does not grow on trees.
Do not believe to anyone who tells you that they have a surefire recipe on how to make money online.
Earning a passive income with internet is difficult and most of the bloggers or webmasters do not make more than few dollars per month.
But what is the reason?
Because in order to become a professional, you need to learn the technical aspect of blogging, with in-depth knowledge of the particular means of communication, make experience in online marketing and having the real motivation to reach success.
Creating a blog is only the first step in a process that is long and, in theory, never ends!
But don't worry. There are some things you can do already with your next blog post and that will help you improve yourself.
You want more traffic to your content and increase your authority with your audience.
So be sure to read and follow the tips as explained below.
1. Respect Your Editorial Deadline
The success of a blog depends by the quality of its content, but also by a constant update.
It is essential that you respect the editorial deadline that you've decided when you put online your web project.
Have you intended to post once a week , creating a content of at least 1,000 words each time?
Or have you decided to create three posts a week, each of which had to be at least 500 words long?
Well, whatever your frequency of publication, respect it .
The blogosphere is in fact packed with bloggers who are parties with the best of intentions, but then left to itself the management of their blogs.
As a result, visitors have abandoned them, in order to go and follow the blogs of more professional authors.
 If you disappoint your audience, your blog will fail inexorably.
Tenacity, perseverance and consistency are three prerequisites for achieving success in the field of blogging.
Do not ever forget it!
Personal note :
since few weeks, I feel guilty on this matter. I am very busy offline with the launch of my company, and I also started several new online projects in the past months, as for instance Klinkk. But I feel satisfied when I am able to write a blog post on NPI site once every week.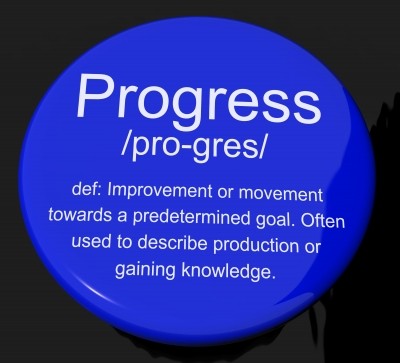 2. Use SEO
Panda, Penguin, Hummingbird, what other animal in the future?
The most important method of not worrying about SEO anymore is writing interesting and useful content so that your visitors will link to you site from their blogs.
Each inbound link that your blog receives is considered by Google as a sign of esteem on the part of those who link to you. This process is called link baiting.
It is quite clear therefore that more and more inbound links you receive, the more your authority in the eyes of the search engines will increase.
The principle is that this process must be natural.
A good way you can use SEO is to dedicate yourself to the so-called on-page optimization.
In principle, your attention needs to be focused on optimizing the title tag, the H1, H2, H3 tag, the description tag, and the URL of your post, together with the images alt attribute inserted in your pages.
Moreover, while creating the content of your blog, remember that there are techniques of SEO copywriting.
3. Write in Proper Language
It may seem trivial. And perhaps it is too, but the quality of your content also goes by the quality of your language.
A direct question : would you trust a blog content with many grammatical mistakes? Clearly not.
So pay attention while creating your articles, and before publishing your posts, be sure to proofread and check it again and again.
No misspellings or grammatical errors. Your writing must be clear, simple, rigorous.
This is directly related to your authority in your niche and, therefore, your online reputation!
Quick tip :
I use Paperrater.com, a free online grammar and spelling check.
4. Choose a Functional Theme
A good blogger should choose a net graphic and a functional design for his blog – ie you should take the role of your visitor and ask yourself : how can I improve as much as possible the navigation and the usability?
Here, at this point, the design choices should be directed towards those templates that, while adding a touch of personality to the blog by following the tastes of the author, respects however the simple navigation between the pages in a very fast way.
In addition to what said above, it is strongly suggested a mobile responsive design. 
5. Promote Your Content on Social Networks
It is now obvious: the search engines are no longer the only source of web traffic.
A good part of the visitors come to your blog through social networks.
This is why you should start as soon as possible a Facebook page or a Twitter account in the name of your blog.
Also, you should create a profile on these social networks that are used by the audience of your niche.
Which means that you must evaluate other social platforms, such as Google Plus, LinkedIn,  Pinterest or Instagram.
But why is it so useful to open an account on a social network? The reasons are several.
First, you can post the content of your blog, by promoting it.
If this is a really good quality content, it is likely that other online users share them in turn, starting a buzz on the web, which, in the most favorable case, could result in viral marketing.
In addition, you can also use social networks to make friends with other bloggers in your niche.
This might lead you to tighten real partnerships in which each of the parts can learn something new and receive many benefits.
6. Join Blogging Communities
This seems to be pretty viral at the moment.
You should join sites like BlogEngage, Blokube, DoSplash, Kingged and BizSugar.
Not also you can share your favorite content there (included your blog posts), but you can also meet new people, engage with other bloggers of your niche and read the most popular articles of the week.
What do you think?
These 6 tips may seem obvious, but sometimes easier is better.
Please share your thought in the comments below, thanks! 🙂