If you run your own website or blog, then I'm sure that you will be interested to learn more about SEO. It is, after all, one of the best ways to drive traffic to a site.
Now if you search online, there is a lot of conflicting advice on the subject – some of it good and some of it bad.
The only tips that you should be following are the ethical SEO tips that actively help your site, without abusing the system.
SEO Has A Bad Name
For some people, SEO has a pretty poor reputation online. It can be seen as a way to somehow "cheat" the system or gain an unfair advantage over rivals.
This isn't helped by the fact that there are some people (a small minority) that do try to abuse the system to further their own cause.
This has led to some to even suggest that search engine optimization be called something different.

It Can Actually Be Good, When Used Right
The simple fact is that SEO can actually be used ethically when done right. Search engine optimization is simply a way of getting your content to the most people possible.
Search engines are the number one method of driving traffic to a site, so it makes sense to make the most of them.
People have given a bad name to SEO by using negative techniques (or Black-Hat SEO) that abuse search engine rules, such as; keyword stuffing, invisible text, doorway pages, etc.
They do this to try to boost their rankings quickly, but the joke is on them as these methods only tend to work for the very short term, if at all!
Thankfully, Google and others are cracking down on websites that abuse these rules, which is great for the rest of us that pride ourselves for following the rules.
You have to remember that search engine optimization is a long term strategy for your site. There is no "quick" way or "short cut" to success, so you are better off optimizing your site for long term results.
So What Is Ethical SEO
Ethical search engine optimization is a term to describe all the good techniques and tips that you can use that are not in breach of search engine rules (or White-Hat SEO).
There is nothing wrong with optimizing your posts and pages to rank higher, as long as you do it right.
All search engines want to do is provide the best quality content to their users, as this is how they make money. To do this, they need to look at sites (by crawling them) and establish what a post/page is about.
Optimizing your pages helps search engines to identify what your content is about, therefore enabling them to show it to the right people who are searching for it.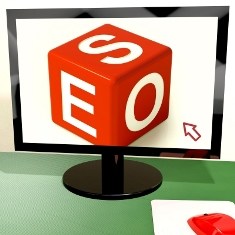 Ethical SEO Tactics
So now we know that ethical SEO is the right way to go, how do you go about optimizing your posts?
One of the key aspects of SEO is keyword placement.
Placing keywords and keyphrases in certain places of your site helps search engines to identify what your post is about. This is called 'on-page SEO' and can refer to things like;
Page Titles
Meta Descriptions
Subtitles (H1, H2, H3 Tags)
URL Address
Image Alt Tags
Internal & External Link Anchor Text (and the links themselves)
Whilst these are all good places to include your keywords/keyphrases, it is VITALLY important that you don't overdo it. Don't place too many keywords in these places, as you risk keyword stuffing, which is bad!
A good rule of thumb is that keywords should not exceed about 3% of your overall article. Think of your keywords as simple sign posts that help tell people what your post is about.
That way, you don't need to go overboard with using them.
A great WordPress plugin that you can use to help you monitor your keyword density and other on-page SEO is the 'WordPress SEO by Yoast' plugin.
Now SEO is not all about keyword placement. Search engines also look at things like post frequency, social media interaction, and PageRank.
But for the purpose of this post, this is what I will be focusing on.
It's All About Being Relevant
Another good ethical rule to remember is that things should always be relevant to your content. Whatever keywords, keyphrases, internal links, external links, videos, images, etc. that you include in your posts, they should be relevant to what you have just written.
For example, if I were to write an article about a certain actor, let's say Matt Damon, then linking to reviews of movies that he has been in would be totally relevant, therefore justifiable.
If on the other hand I started including links to some car selling site, that wouldn't be very relevant.
Search engines look at the terms, phrases and links that you use in a post to see if they are all connected in some way.
If they aren't (as in the example that we just looked as) then they may suspect some dodgy behaviour going on on your site.
If you think about it logically though, you only want to be providing the best quality content to your visitors anyway, so why would you use/link to unrelated things.
Summary
Ethical search engine optimization isn't too hard to get your head around. Just remember to follow search engine guidelines and not abuse the system.
It can actually be more beneficial to concentrate solely on writing for your readers, as ultimately it is them that will determine whether your site is a success or not.
Plan out a long-term SEO strategy for your site and work at optimizing your site ethically. It is much better to work with Google rather than against them!
What other ethical SEO tips do you use that I haven't mentioned here? Do you even do SEO on your site and if not, why?
Do you have a positive or negative view of SEO? Please let us know your views by leaving a comment below!