Working online is just awesome.
You meet a lot of people and you never stop learning from them.
Also, the more time passes, the more you realize that you need to keep studying, reading and searching for new resources to use in your online journey.
In this post I present you three tools you should take a look as a blogger or internet marketer : Oktopost, TrenDemon and MyBlogU.
Oktopost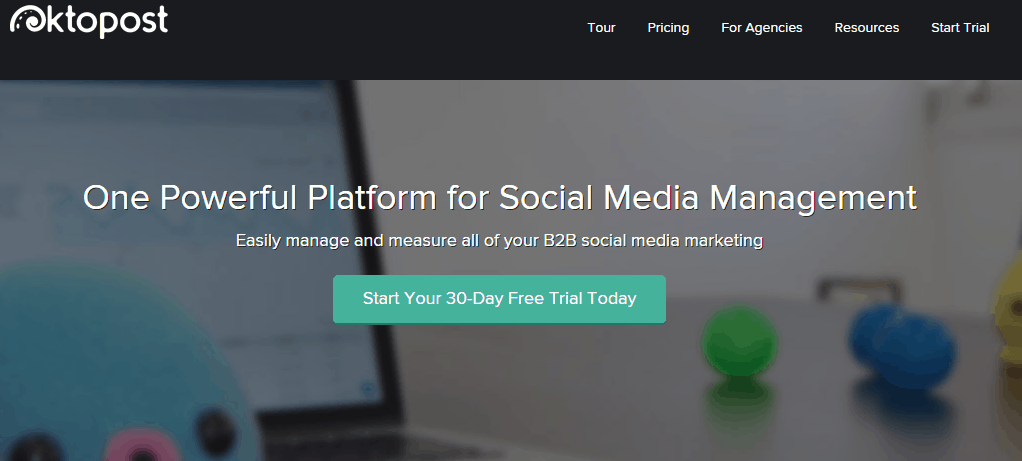 Oktopost is a powerful social media management platform, created especially for B2B marketers and with particular attention to LinkedIn.
Before you purchase any plans, you can do a completely 30-days free trial.
After you sign up (no credit card required for registration), you can begin using all the features available.
You may want to start your first campaign, scheduling posts via your social media profiles and then measuring the results.
A nice feature is the "calendar tab", which allows you to control all the scheduled posts with your different social media accounts. Just select one to erase or modify the item with a drag and drop functionality.
There is a "content curation" section, which presents you suggested articles around the web, that you can share to your audience with just a click.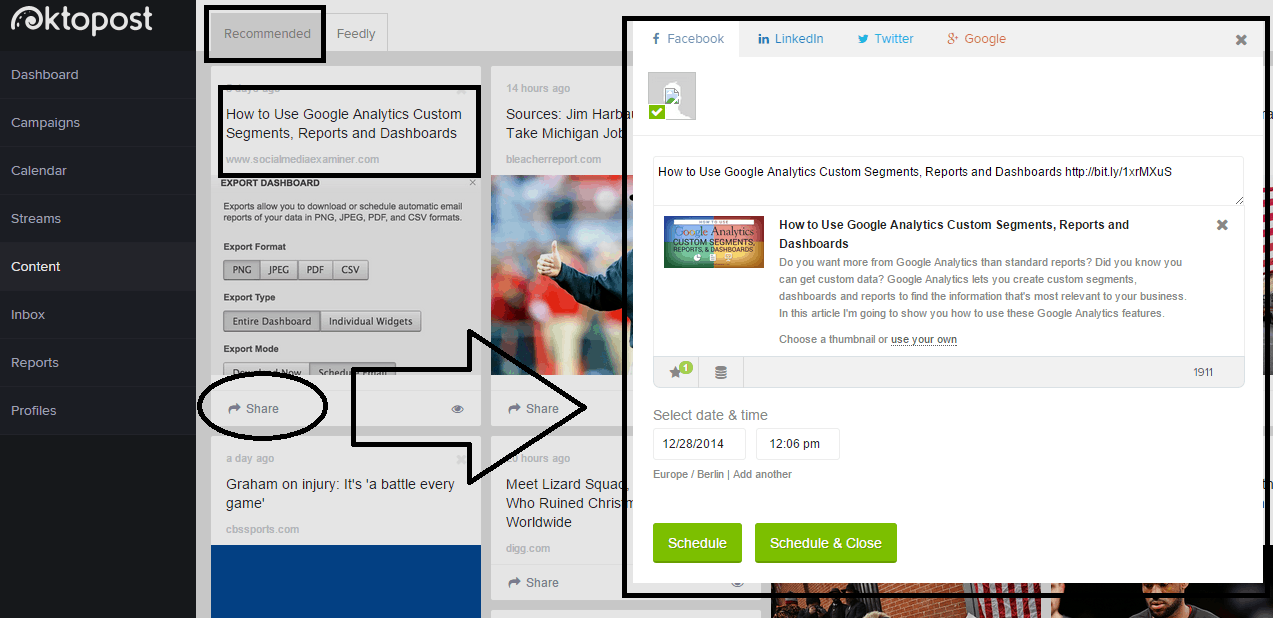 The "reports section" gives you analytics tools and it will be available once you being generating clicks on your posts links.
The "conversion tracking tab" lets you not just measures visits, social signals or comments, but also checking the conversions coming from your social media posts.
As mentioned before, Oktopost has particular functionalities for LinkedIn, the popular professional network. In an easy way, you can publish and share your content on multiple LinkedIn Groups at once. You can choose which profiles to post to and verify what is the most noticed content.
I like a lot the feature to auto-post on LinkedIn Groups. I believe this functionality makes Oktopost stand out from competitors.
Here's an exhaustive video by "Internet Marketing Hustle":
Also, if you need help understanding any section of Oktopost, you may want to take a look at the "Knowledge Base" and research the answers by topic or keyword.
Additional information can be found at community forums, or you may request help directly to Oktopost staff via email.
Prices are similar to Buffer, but Oktopost's basic plan gives you unlimited posts, while Buffer offers you just up to 200 scheduled posts.
The "autoposter" feature comes with the "starter" plan, at $49 per month.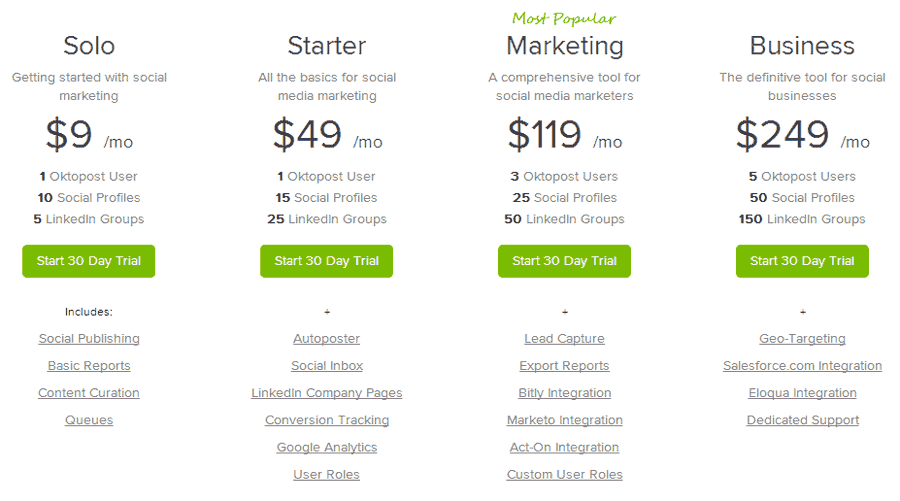 Oktopost can be a great solution for your social media marketing, most of all if you are a professional.
The auto-posting and advanced message scheduling features are great.
I also particularly liked the analytics and interface, which is simple to use also for new marketers.
TrenDemon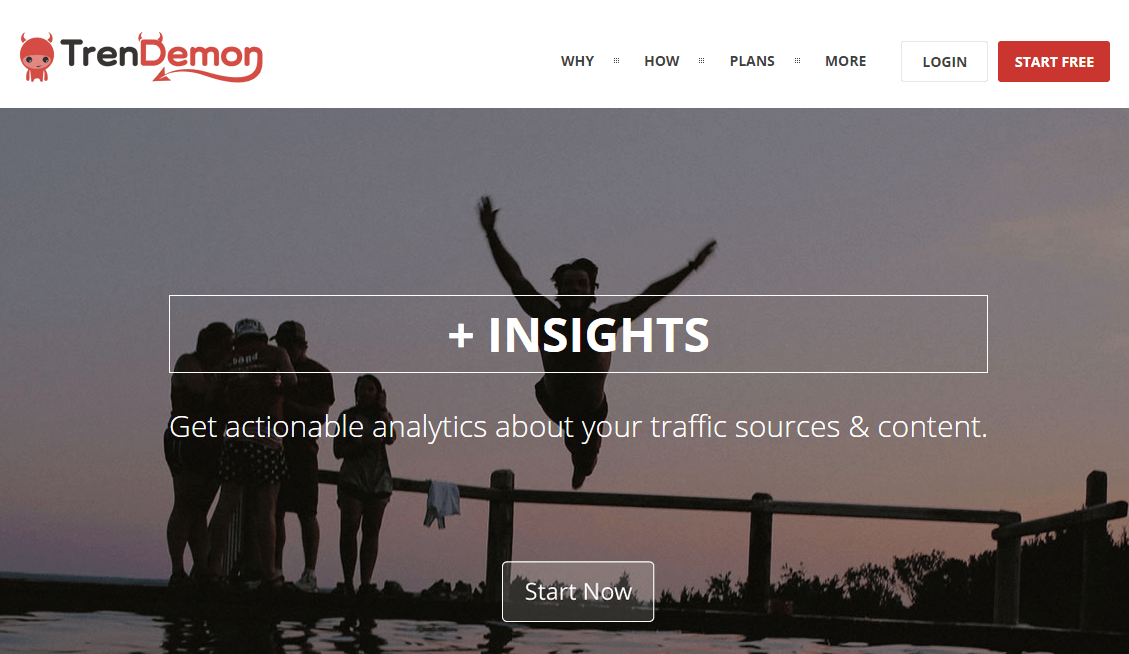 TrenDemon is a new tool to create more revenue and conversions from your content and traffic, automatically using personalized content recommendation and call to actions.
After you sign up (free), you just need to place the script code given in every page of your website, or simply grab the WordPress plugin.
After installation, TrenDemon will analyze your site and start showing content recommendations to your audience. The longer Trendemon will stay in your website, the better recommendations it will be able to produce (the script is loaded asynchronously and won't slow down your site).
After a couple of hours from installation, TrenDemon will find which articles have the highest impact on your site. Then using the "autopopulated content" feature, you will be able to generate more traffic to those posts or pages automatically.
You can choose between two principal units:
1 – LIFT – for increasing traffic on your website with personalized content recommendations. Good to improve page views and decrease bounce rate.
2 – PLAY – for boosting social signals and traffic via the gamification principle.
You may personalize behavior, color, icons, texts and layout of TrenDemon's units to match your website theme or simply your likes.
TrenDemon is not just a simple "Related Posts" plugin, as its complex algorithms finds the most active pages on your site, and helps you make the most out of every visits. You may want also to set up Call to Actions to improve conversions.
This is an interesting new tool I want to keep testing on my niche site.
Also, eligible publishers will be able to monetize their blogs on TrenDemon Media Exchange from sponsored content.
Take a look to the user guide here.
MyBlogU
I've been using MyBlogU since few months already with pretty nice results.
I've also recently written a complete review of this platform, sharing my experience.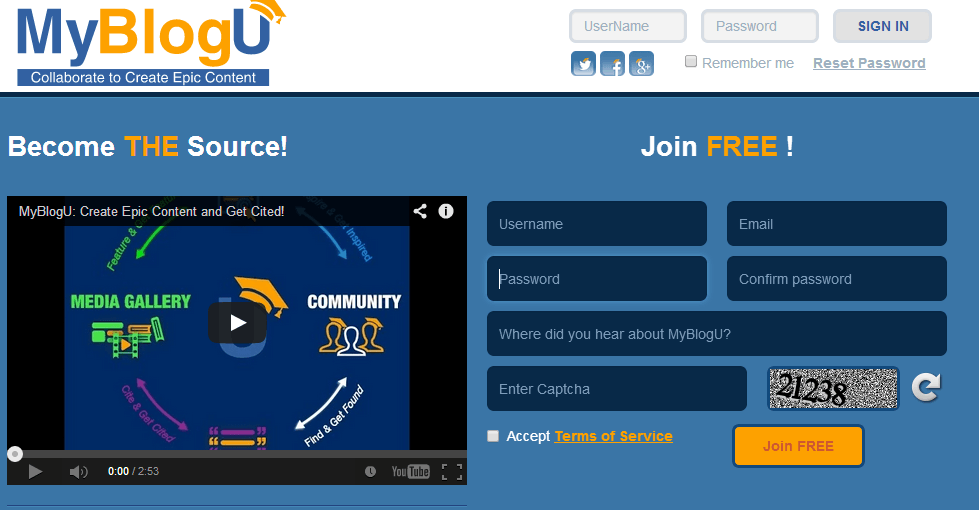 In a few words, after you sign up, you can choose among the three main tabs available : "Brainstorms", "Interviews", and "Media".
I can tell you I've just experience with the interviews section.
I participated to the projects of six MyBlogU different users and I've been accepted from all of them.
This means I've been published in 6 diverse websites, with a link back to my blog.
Just browse among the topics available, select the ones you are expert about and then simply share your knowledge by leaving your answers to the users project questions.
In this post you can check an example of how MyBlogU interview works:
4 Bloggers Share Their Best Ways to Make Money Online
Recently, MyblogU introduced a nice new section where you can be featured as a writer. Interesting to reach more audience!
Check in the following image how my author box looks like:
Conclusion
I hope this post will help you to decide if these tools could be useful for your online activities.
I am sure that not all of you already know these three resources.
Sometimes you just need to use the right tools to save time and improve your productivity.
What do you think?
Have you ever used some of the resources mentioned in this post?
Please share your views in the comments below, thanks!
Image courtesy of vectorolie at FreeDigitalPhotos.net