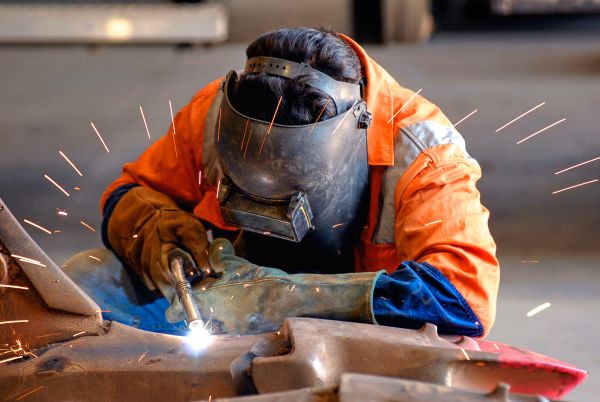 You are a Blogger (or site owner, marketing specialist or SEO specialist) and you need traffic on your site. But how you can do it? Are there any tips and tricks? Can you use enterprise SEO services to boost your organic rankings and improve your business? Or maybe you should use tools, SEO tools, for getting tons of traffic?
Below I'll describe you five SEO tools, which I use. Some of them are totally free, and some of them are really expensive. You must choose, what is best for you.
1. Alexa
Alexa is an online tool for basic website analytics. It's based on huge database with relevant information and statistics about webpages.
Thanks to Alexa, you can very fast find out general traffic stats, what is an audience of the website (male/female, age, education, etc.), major sites, which are linking to your site.
The interesting thing is here a short overview, on top queries from search engines.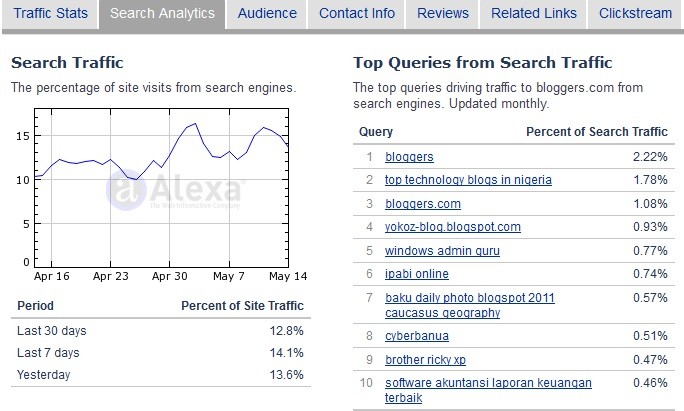 For example for Bloggers.com, most important three keywords are:
Bloggers
Top technology blogs in Nigeria
Bloggers.com
Beside this, Alexa will show you Top 500 sites (worldwide, grouped by country or grouped by category).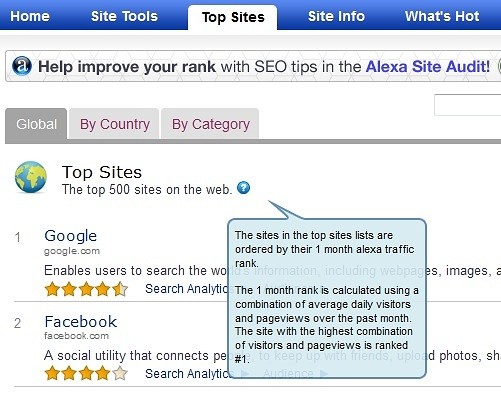 Last interesting feature from Alexa is Alexa Toolbar, which can help you learn some statistics, related links and other things about browsed pages. It's a plugin for your browser.

2. Google Keyword Tool
Google Keyword Tool is a totally free tool for finding keywords prepared by Google.
You can find keywords based on one or more words (or phrases). Important thing is to mark tick on Exact match, to find only specific keyword. Google Keyword tool doesn't have a lot of options, but is simple – so I like it 🙂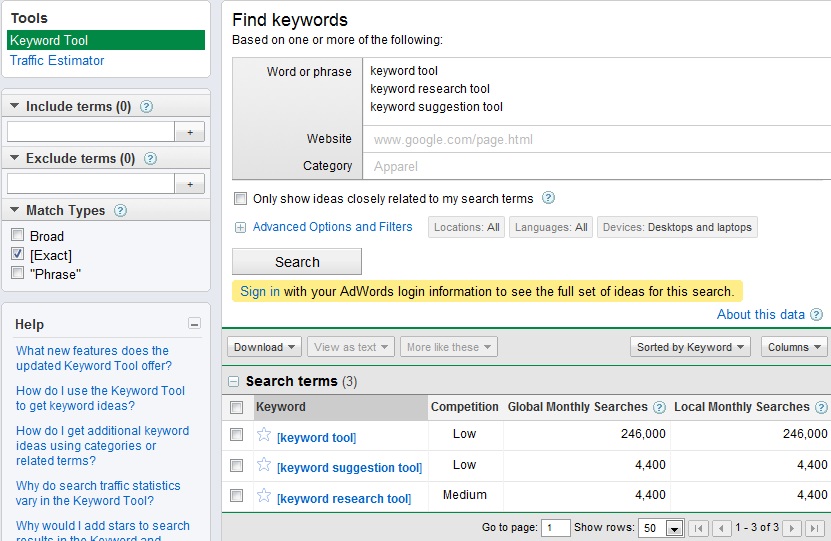 Here you can read my article How to find best keywords for your blog or website using Google Keyword Tool or Market Samurai (the next tool, I'll describe for you)
3. Market Samurai
Market Samurai is another tool, for finding best keywords for your site and analyze your competition
It let you:
Find best keywords for your sites
Analyze your competition on specific keywords (it analyzes most important factors for pages, which are in top #10 in SERPs, of course for your keyword(s))
Find proper domain name for you
Find content among Wikipedia, Ezine Articles, Google News, etc
Help you find affiliates programs for you (Amazon, ClickBank, Commision Junction)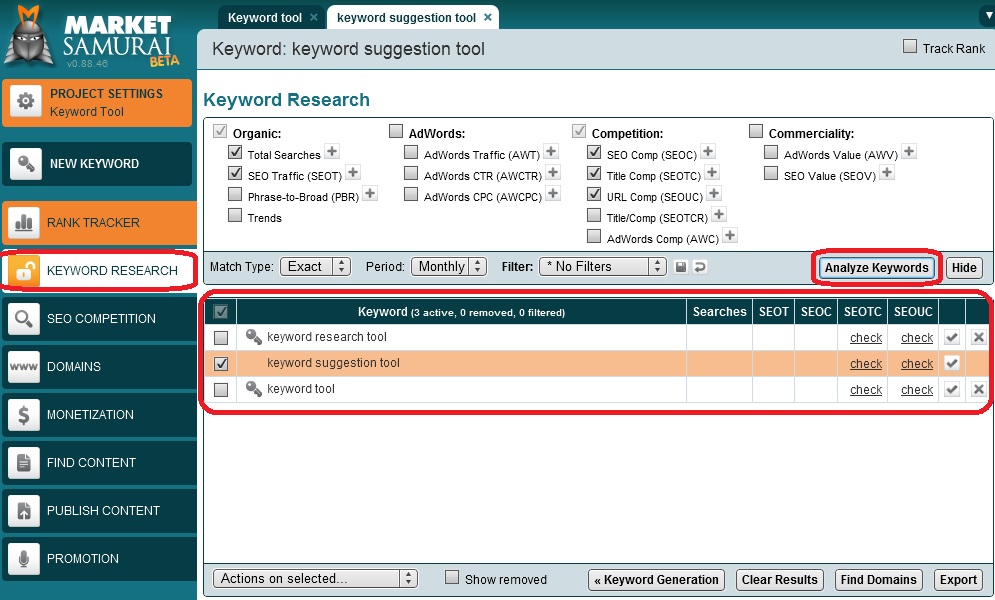 There is a lot more functions of this great tool, but personally I use it mainly for analyzing my competition, research keywords for me, and find appropriate domains (for example I find my domain nopassiveincome.com thanks to Market Samurai 🙂 ).

Market Samurai isn't free tool. Paid version cost normally 149$ (it's not cheap), but it is worth each cent I spent on it.
Here you can download free trial (12 days trial with some limitation). If you buy it during five days since downloading, you will get your Market Samurai only for 97$
4. SEMRush
SEMRush is a tool for analyzing organic keywords, competitors in organic search, AdWords keywords and a lot more. You can check it for ten Google databases (for instance for US, UK, DE, IT) and for Bing
For example, using free report for the website bloggers.com, we can get following results: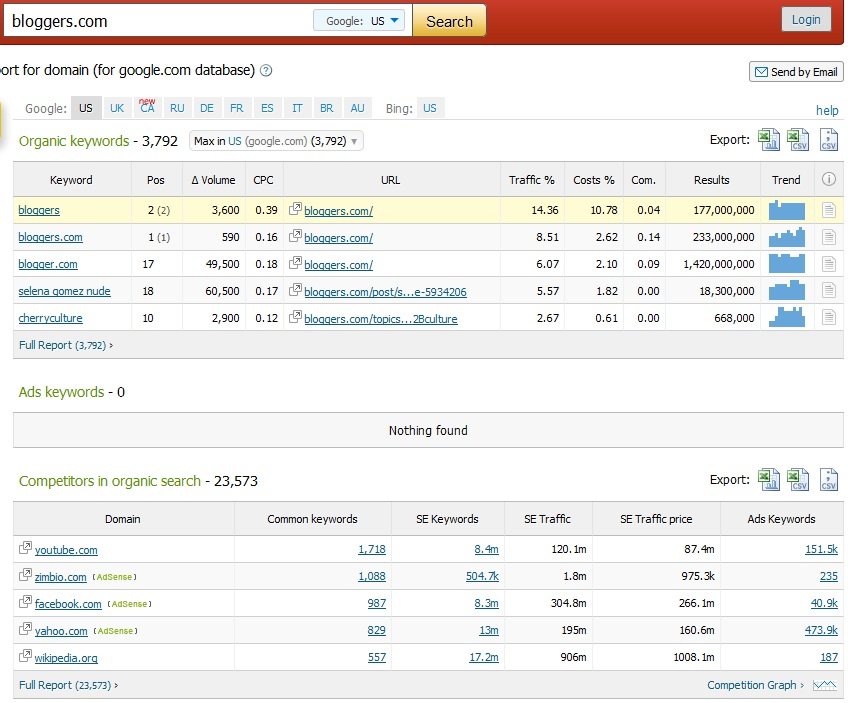 You can read (from the first table and first line), that most important keyword for organic search is bloggers. Bloggers.com is on 2nd position in SEPRs and this keyword generate 14,36% of organic traffic.
From second table (ads keywords) we find out, that bloggers.com doesn't pay for ads.
And the last table (on the screen) show us, that major competitors for Bloggers.com are (in organic search):
Youtube.com (1718 common keywords)
Zimbio.com (1088 common keywords) and
Facebook.com (987 common keywords)

Of course SEMRush offers a lot of others helpful reports – information about potential ads/traffic buyers or sellers, estimated traffic to specified site or backlinks report.
Using free version, you can generate only five reports a day, what's much to less, even for bloggers 😉
Paid version of SEMRush cost monthly from 69.95$ (Pro recurring version) to 499$ (Enterprise version)
5. Majestic SEO
Majestic SEO is a last tool, I want to describe today.
It's a tool mainly for analyzing your (and your competitor) backlinks, top pages, etc.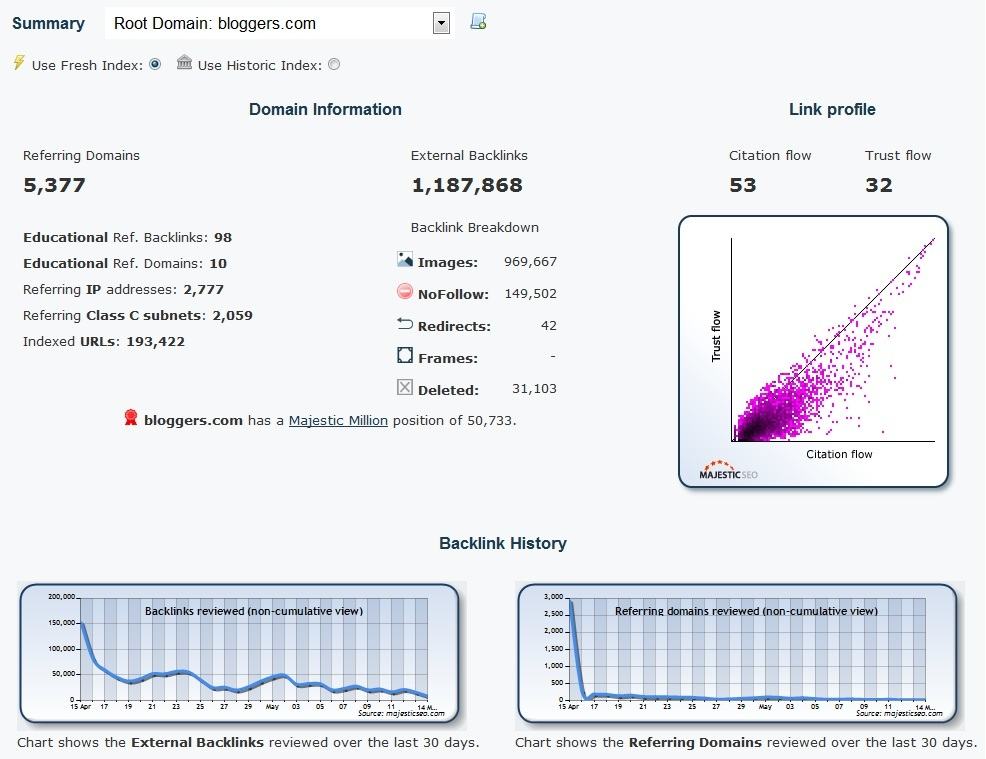 With this tool, you can also check backlink history and neighbourhood of your domain.
Three days ago Majestic SEO launched two new metrics related with link profile – trust flow and citation flow. I plan to test it in the future, but now I couldn't tell you anything more about these features.
For getting some details about your site, you must login in to the website (so firstly you must sign up to it.
It's free of charge, if you don't need in-depth analysis and you need it only for your site. For professionals there are three paid plans: Silver, Gold and Platinum (49.99$, 149,99$ and 399,99$)
And how about you – do you use some SEO tools for making your life easier? Or maybe there are some other tools, which are valuable for mention?
Disclosure – please note, that some of the links above are affiliate links and I earn a commission, when you buy something via them.