When it comes to blogging, semplicity is the key.
Your main goal should be user experience and deliver high-quality content.
For this to happen, you need a good-looking theme that is easy to set up and, very important, mobile responsive.
Today, I'm going to introduce you Solopreneur, an amazing theme for bloggers and internet marketers.
Solopreneur, From Fancy Themes
Solopreneur is a responsive theme with two high-converting landing pages that helps highlight your services or products.
Once you made the purchase: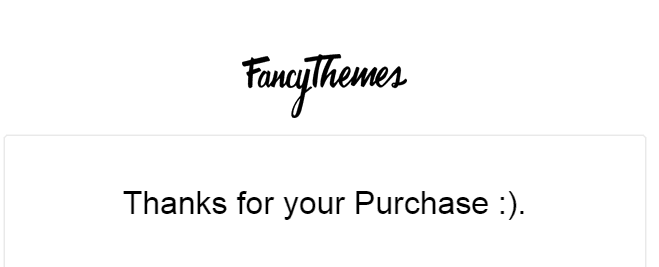 You can visit your FancyThemes dashboard area to download Solopreneur (or any of the other themes).
To install it on your blog, follow the standard procedure by simply visiting the "Appearance" tab of your WordPress dashboard, selecting "Themes" and then "Add New", "Upload Theme":

Now, you can activate the theme or checking the live preview.
Solopreneur Features
If you could mention your main goal as a blogger or a marketer, what would it be?
I bet you would say building a loyal readership and a great number of fans.
One of the ways to achieve that is by converting the traffic into subscribers of your mailing list, building a well optimized landing page.
And Solopreneur may help you in this matter.
Custom Landing Pages
Using one of the landing page templates available you can create the perfect call to action according to your goals.
A good example will be something like this: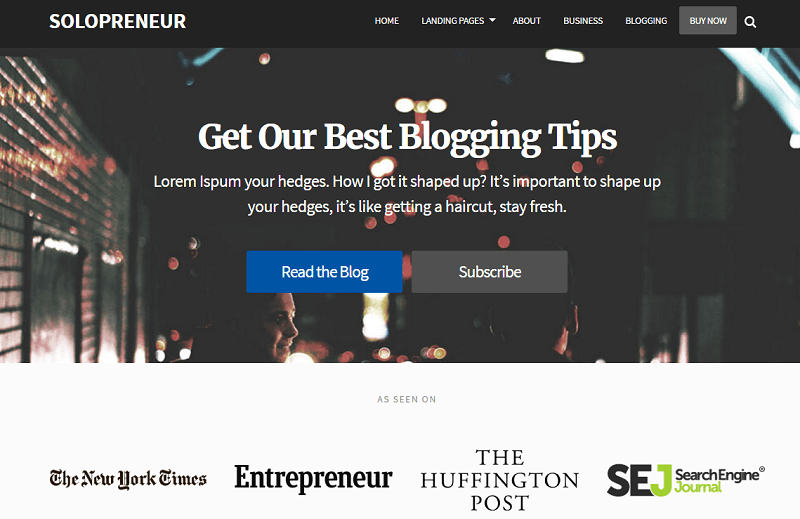 or like this: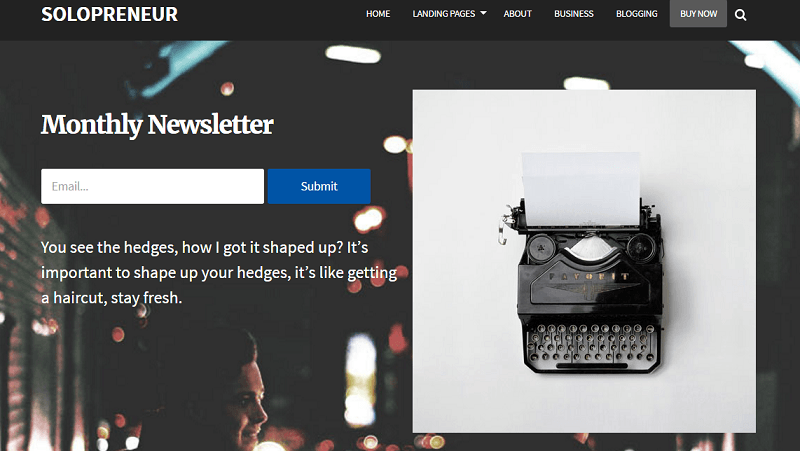 You don't need to have HTML knowledge to create a perfect landing page, just use this Solopreneur feature!
Custom Design
Another important factor of creating a well-oiled online business is building your brand.
The first step implies not only the creation of a catchy logo, but also the favicon of your site and even the headers and photo profiles of your social media accounts.
These are things you can easily achieve with Solopreneur.
The second step is creating great content for your audience, building credibility among your customers or readers, establishing your site as a resource in your niche.
Only by working hard and taking control of your online reputation, you will be able to gain leads and enhance your online presence.
High Performing
Another important point to consider when deciding which theme you should use for your site is the performance and user experience.
The loading speed of your web pages is one of the 200 Google ranking factors.
The average internet user will wait no more than a few seconds for your website to load, before leaving it and searching for his query elsewhere.
Solopreneur is built to maximize user experience and encourage site visitors to return again and again.
Browser Support
This is something you want to check when you install a new theme.
Use free online tools like BrowserStack to rapidly test your website for compatibility across 1000+ browsers.
With Solopreneur you are sure it will render as intended every single time on the major browsers available.
Mobile Friendly
We live in an era where smartphones, tablets and mobile devices are an integral part of our lives.
Today, there are more internet users landing from mobile gadgets than from a desktop computer.
So if you haven't done it yet, you need to create a mobile version of your site.
A quick solution, if you are using WordPress, is installing a responsive site.
This means the theme will adapt itself, according to the device used by your site visitor.
With Solopreneur, your blog will look crisp and clean, no matter the shape or screen size used by your readers.
Widgetized Sidebar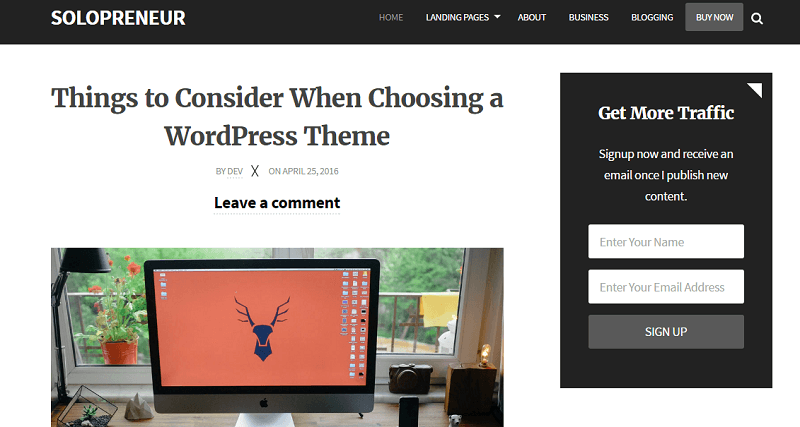 The sidebar is the ideal place to place a call to action, or the most popular articles of your site.
With this theme, you can drag & drop the information you want you readers to see: it may be a search bar, the recent posts, or a commenting section.
But remember, less converts more.
Here are 7 things your blog's sidebar can't live without, by HubSpot blog.
SEO Optimized
From an SEO point of view, there are two aspects any blogger should work on:
While off-page implies attracting links from other websites pointing to your content, on-page is basically the things you should do on your site to optimize it for search engines.
With Solopreneur, SEO best practices are built in so you can rank higher and boost your site's traffic.
Localization
English is probably the most used language on the internet, but according to your goals and audience, you may want to use your local one, or create a second version of your site.
This theme lets you translate it into any language using .po and .mo translation files to extend your global reach.
Regular Updates
This is another factor to consider when purchasing a theme for your blog.
WordPress was created on May 27th, 2003 and since then, there were several changes, with new improvements each time.
With FancyThemes, each new version is sent you directly and your theme will always be up-to-date with the latest version of WordPress.
Amazing Support
During the life of your site, it happens that you may want additional help for the personalization of the theme, or may be, a particular question.
With FancyThemes, you will receive top notch support on hand to help you building your perfect website.
Final Words
If you want a good-looking and responsive theme for your site that helps you convert more, then Solopreneur may be the solution.
Here's you can check the demo, so you will see, at glance, design and functionalities.
And you?
Which theme are you using on your site?
Will you consider trying Solopreneur or any other FancyThemes?
Please share your point of view in the comments below, thanks!