If you are into blogging since some time already, then I'm sure you already learned how to set up your gravatar.
But there are always new users who still need to set up their own; hence, leaving comments without any image to identify their identity.
In this article I'll explain what is a gravatar and how you can get your own.
Plus, I'll give an advice on how to personalize blog commenters without a custom avatar, so you can either display your site logo.
What Is a Gravatar?
Gravatar stands for "Globally Recognized Avatar".
It's an image that follows you around the internet, appearing each time you comment on a site and it's bounded to a specific email.
To differentiate from the avatar, a graphical representation with which a user wants to be identified as an image, a photo or a personal icon. In fact, the purpose of the avatar is just to allow users to be recognized every time they interact within any discussion forums, blogs and more.
Generally to get an avatar you need to register to the website on which you decide to participate to the conversation.
But blogging is evolving. Most of the sites, in fact, do not require the registration for commenting, with the aim to facilitate and speed up the engagement, opinions and interactions.
To avoid commenting virtually as anonymous, you need to set up your gravatar.
It's really easy.
Just visit: http://en.gravatar.com/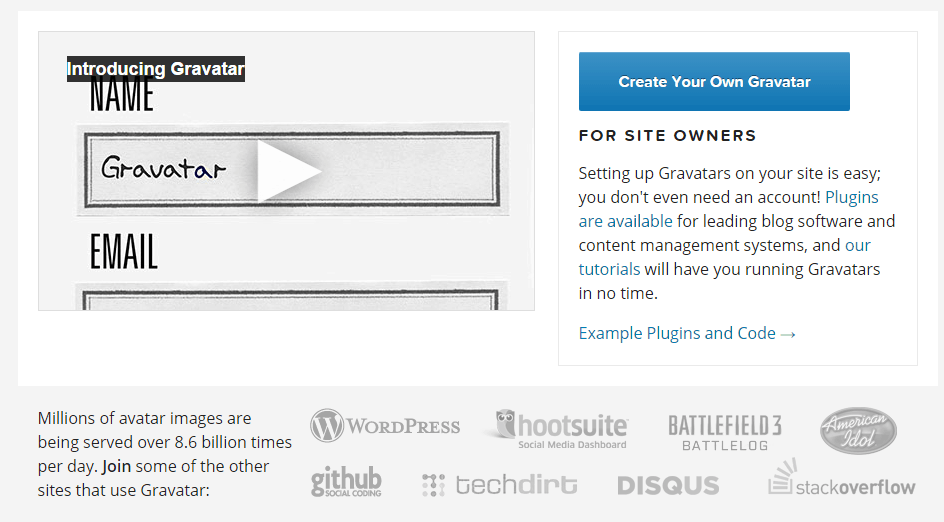 You can create a new account with your WordPress details or simply adding your email.
Once you signed up, you want to add your favorite image (it's good to add a picture with your face, if you want to be recognized around blogosphere):
You can upload it via your computer, from a URL, from past uploads or by taking a picture with your webcam.
Now, aside managing your gravatars: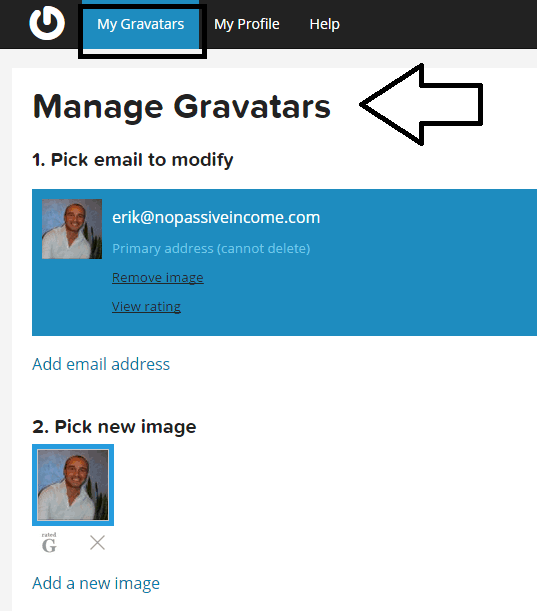 You can add your personal details within your profile, your contact information, but most of all, you may want to add your websites and earn a new backlink:
It's set up!
Now, everytime you comment around the internet with the email you registered to Gravatar, your favorite image will show up!
What Are the Advantages of Having a Gravatar?
If you need to be identified immediately, then I recommend you to create a gravatar right now!
Especially if you have a small business, you are building a brand or you are a professional blogger, you should start thinking of creating one right away.
With time, people will remember you (your gravatar) and intrigued by your comment activities around the internet, with all probabilities will come to visit your site.
It's a great opportunity to be recognized and be heard!
Don't repeat the mistake I made at beginning of my blogging journey. I was "afraid" of showing my face and I hid myself for 3 months behind my site logo.
Results?
I lost opportunities to build connections and create relationships online, which is one of the most important things you need to do, if you are a marketer, a blogger or an internet professional.
"Add New Default Avatar" WordPress Plugin
Within your WordPress dashboard, under "Settings", click on "Discussion".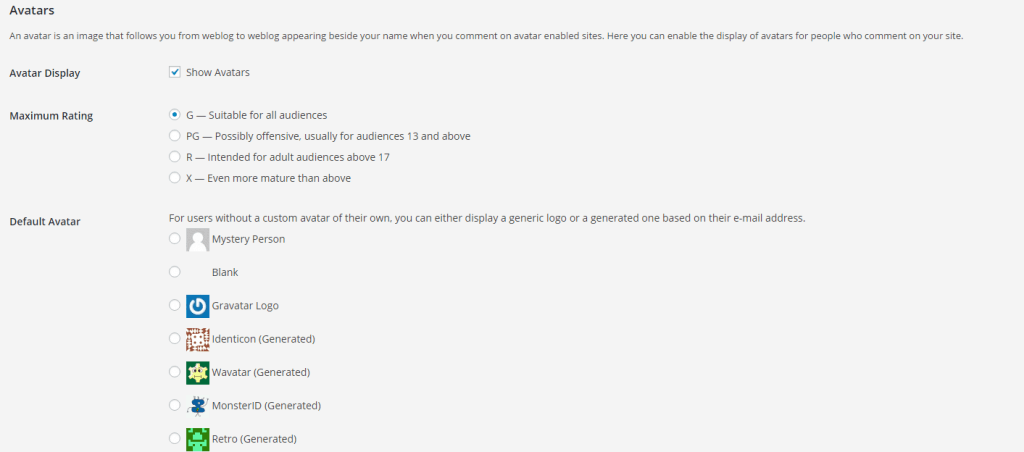 Here, among the other settings, you can choose which "default avatar" you want to display for those commenters who do not have a gravatar.
You can choose between:
Mystery Person
Blank
Gravatar Logo
Identicon (Generated)
Wavatar (Generated)
MonsterID (Generated)
Retro (Generated)
But each of these "default gravatars" looks really ugly to my eyes. Plus, you will be like everyone else!
What if there would be a way to personalize that "default gravatar" with, for example, your site logo?
Wouldn't it be awesome?
With "Add New Default Avatar" plugin (free), you can easily achieve this.
Just click on the link or simply make a search via your WordPress dashboard, within plugins: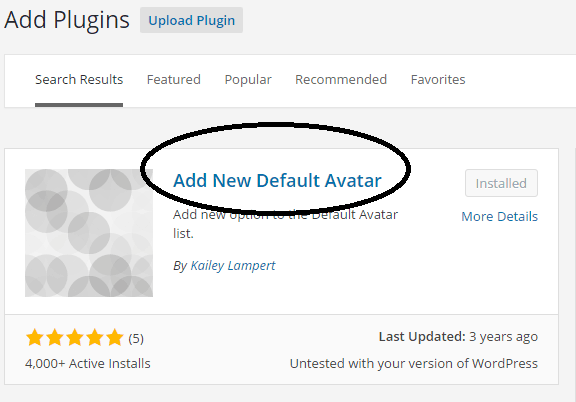 Once you installed and activated it, you can return to your WordPress blog "Settings", under "Discussion", to discover a new menu: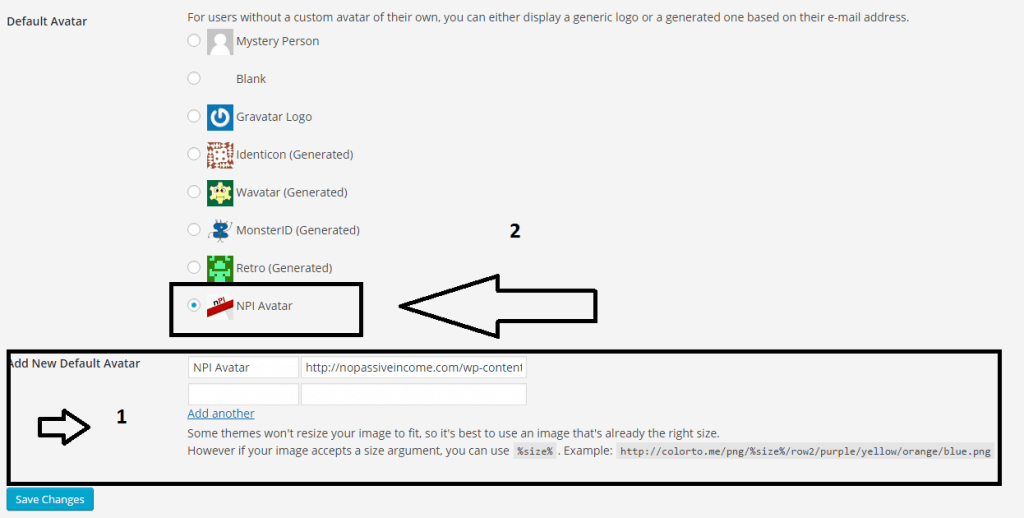 First, you need to add a new avatar (50×50 pixels), by indicating the path (I added this one).
Then click on save changes, to get that new avatar under the "default" options, as indicated in the image above.
It's done!
Now you can get your logo displayed each time a commenter without a gravatar leaves his views on one of your blog posts.
Something like this:
Conclusion
In this article, I showed you a strategy to achieve greater visibility online and increase your reputation.
I also suggested a way to personalize the anonymous commenters at your blog, by adding your favorite logo to the people who are not using any gravatar.
If you have any suggestions, questions or you simply want to show your gravatar, just leave a comment below.
Thanks! 🙂