There are different ways you can monetize your website, as selling ad spots or offering your products or services.
One of the most lucrative ways to make money with your blog is definitely sponsored posts.
In this post I am going to give you some tips to generate income with sponsored reviews and suggest you three interesting resources I use with success.
What is a Sponsored Post?
Sponsored posts (or sponsored reviews) are articles commissioned by third parties (typically advertisers, or agencies), where you write about specific products or services.
Normally you get in touch with the potential advertisers asking to write the review or you are contacted directly by them.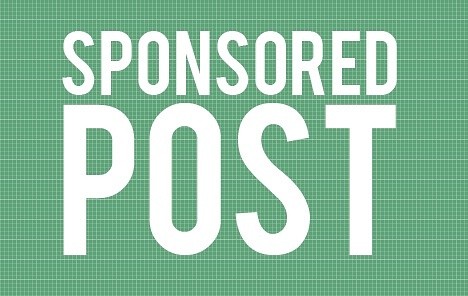 There are pros and cons of sponsored posts, but if you put yourself in the shoes of your readers, you will end up having just advantages.
Like everything in life, just use a little of common sense.
Tips to Make Money with Sponsored Posts
First, you want to have a nice layout and professional design (I use Genesis Framework personalized theme here).
Make sure to have an original and unique logo and your blog sidebar filled with important things like subscription box or social accounts.
After this, you want to set up an advertising page, where you explain to potential advertisers your blog statistics. You want to showcase the best of your website, so be sure to write your strong points, like for example monthly impressions and visits, social numbers or the number of your newsletter subscribers.
Now, there are different networks you can use to create a profile and be found by advertisers (and I am going to suggest you three websites I use to make money with sponsored posts).
But if you want to try finding advertisers yourself, you may want to read an articles I've written recently:
How to Find Advertisers for Your Blog – 7 Tips to Make Money Online
But how much should you charge for a sponsored post?
Recently I've read an interesting article written by Sue Anne, at SuccessfulBlogging.com. She has created a nice graphic I share with you here:

As you can see, the metrics used are unique visits per month and PageRank.
John Mueller recently explained in a Google Webmaster Help thread that Google "have no plans to do further updates" around PageRank. He also suggested to webmasters to stop using "PageRank" as a metric around their web sites.
Now, advertisers should pay more attention to other metrics like domain and blogger authority, for example.
But still, the graphic created by Sue Anne may help you decide the price you are going to ask for your sponsored posts.
Also, you want to set a maximum number per month, as you don't want to upset your readers with too many sponsored reviews.
When you get new offers, always ask yourself :
Will this sponsored post help my audience?
Will this product or service be useful for my blog readers?
If the answer is yes, then go ahead.
Finally, be sure to add the "nofollow" tag to the advertiser links in your posts, as suggested by Google.
Matt Cutts said:
"Not all paid links violate our guidelines. Buying and selling links is a normal part of the economy of the web when done for advertising purposes, and not for manipulation of search results. Links purchased for advertising should be designated as such. This can be done in several ways, such as:

Adding a rel="nofollow" attribute to the <a> tag
Redirecting the links to an intermediate page that is blocked from search engines with a robots.txt file"
As promised, here below I share 3 sites I use to make money with sponsored posts on my blog.
SponsoredReviews.com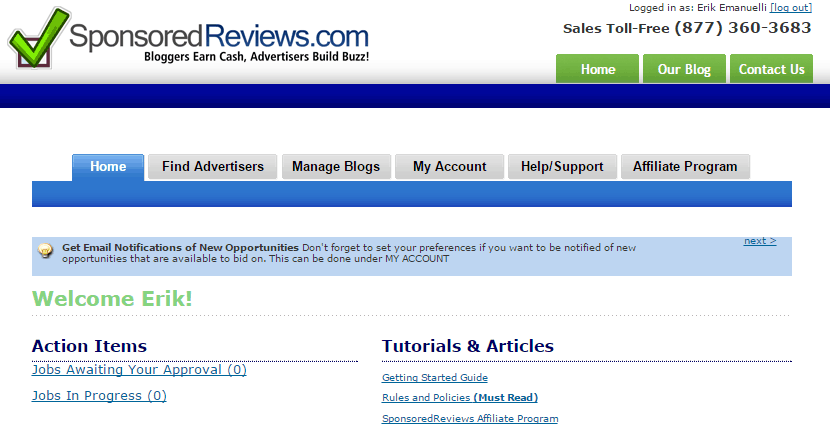 I'm sure many of you already know or use this site to find advertisers for sponsored posts.
I find out that opportunities offered in their marketplace are normally low, with fees going from $9 to $15 per post.
I've used this site once, with a direct booking from an advertiser, for 150$.

SponsoredReviews takes 50% from the total paid from advertiser.
Yes, that's pretty a high percentage.
But still, a good place to find work.
You can browse among opportunities in their marketplace or just add your blogs, and wait for direct bookings.
If you haven't done it yet, sign up to SponsoredReviews here.
LinkVehicle.com (Now ValuedVoice.com)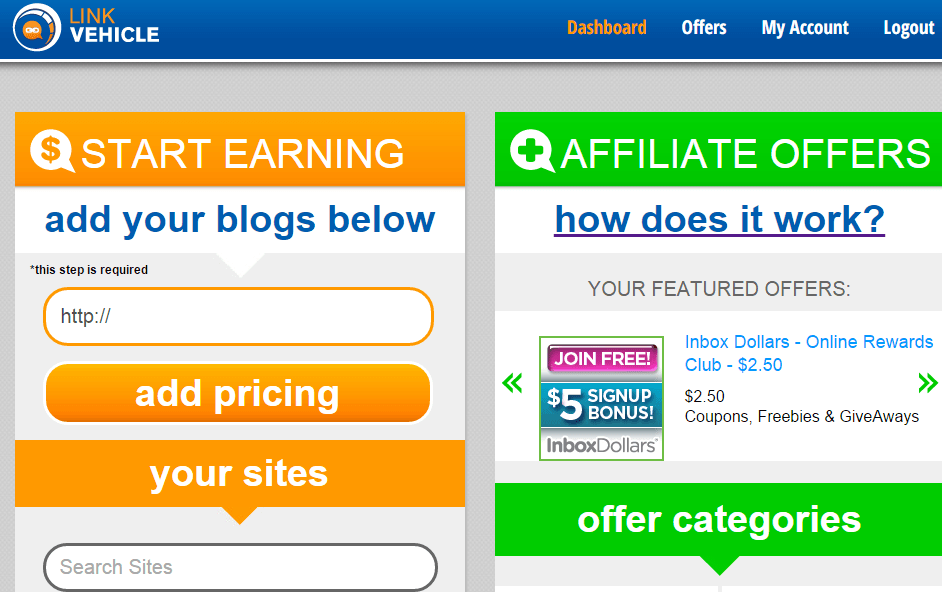 That's another popular website used for getting affiliate marketing opportunities or sponsored posts.
There are many affiliate offers you can use, if relevant to your blog niche. You will get paid per actions taken from your readers.
Or, you can add your sites in their marketplace, and wait for sponsored post opportunities.
I used this platform once in one of my niche blogs.
Same as SponsoredReviews, also LinkVehicle cuts 50% off your earnings.
If you want to sign up, you can do it here (it was rebranded to ValuedVoice, recently).
/syndicate.net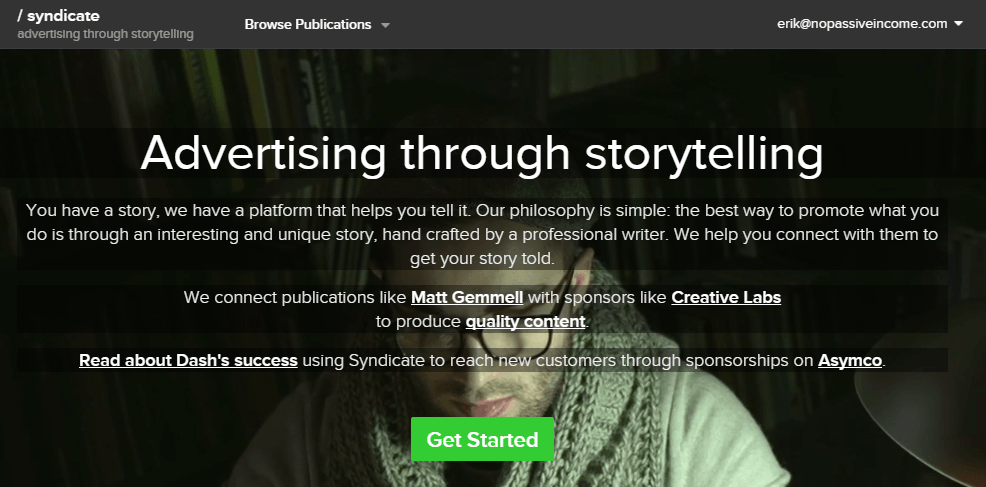 No, it's not a typing mistake.
That's the title of the site.
A couple of months ago, BuySellAds announced the creation of their new platform : /syndicate.net
You can use it to monetize your newsletter or to find opportunities for sponsored posts.
Here's my profile there:

If you want to be part of this awesome new project, you can apply here.
I have already worked with /syndicate and it has been a great pleasure.
The process is straightforward and you will be assigned a personal assistant which is going to guide through the completion of the sponsored post.
Plus, the rate you get is really honest (they just take 30%).
Conclusion
I'm sure you are already making money with sponsored posts at your blog.
If not, I hope this small guide will help you start with this monetization method.
Just be sure to consider your readers as the priority and do not oversell your blog.
Good luck!
What do you think?
Do you have some other resources to add?
Please share your knowledge and experience in the comments below, thanks!