Ok, you decided. Almost all of your friends are on Twitter. What's more – even your boss is tweeting from time to time, even with your grandma 😉 So – you must be in.
But how to start with it? You are not computer freak, and social media are for you "black magic".
This short tutorial for beginners will help you to familiarize with Twitter
How to use Twitter – tutorial for beginners
Twitter configuration
If you don't have Twitter account yet, you must firstly sign up into Twitter. It's very easy – you should fill in only your name, login and password: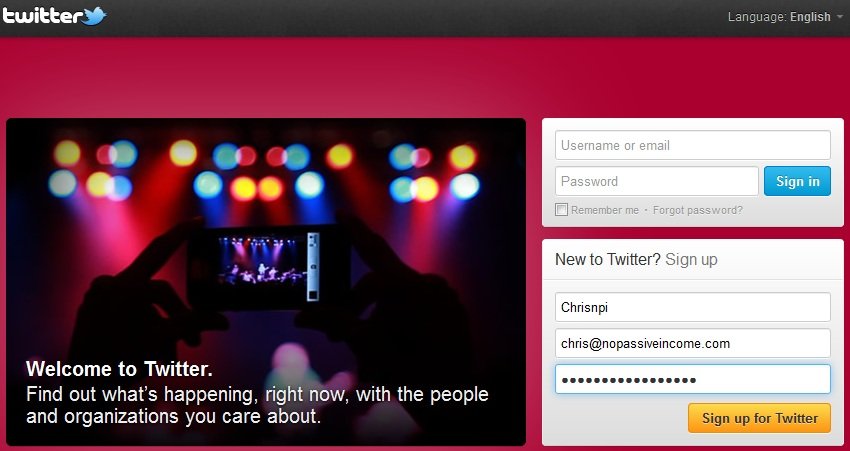 If some of your data will be incorrect (especially Username and your email), Twitter will inform you of it and will give you some suggestions.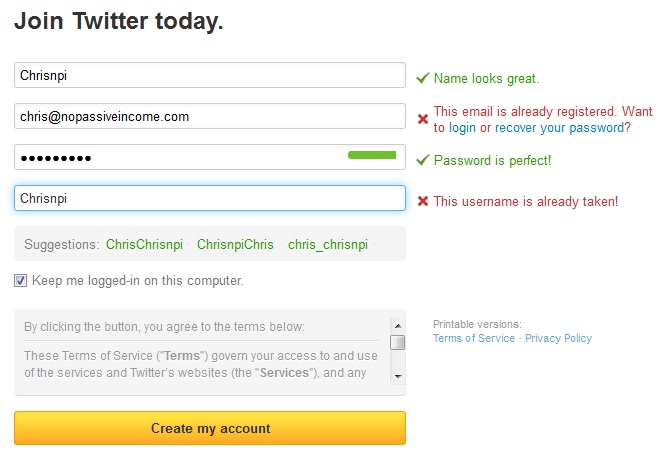 After creating an account, Twitter will show you some tips about tweeting, including some suggestions, who can you follow: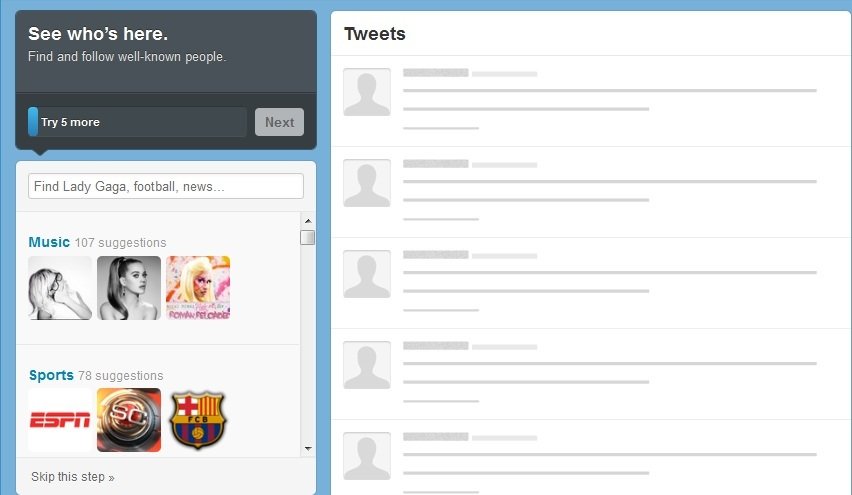 Of course you can find your friends, colleagues and other people by name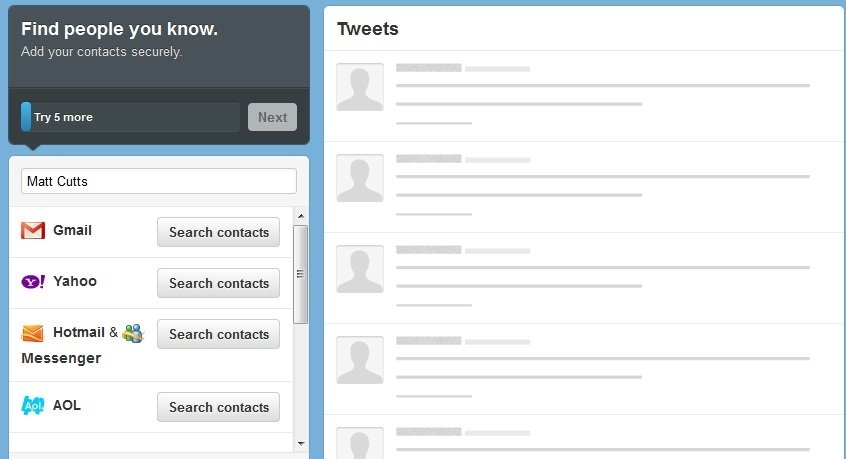 At the end of your configuration tour, you are able to upload your photo, and describe yourself in some words. You can skip each of these steps at each moment.
After confirming your email, it's strongly recommended to update your profile.
There are a lot of settings, you can change here – password, design, notifications scheme, and even Apps, which have access to your Twitter account.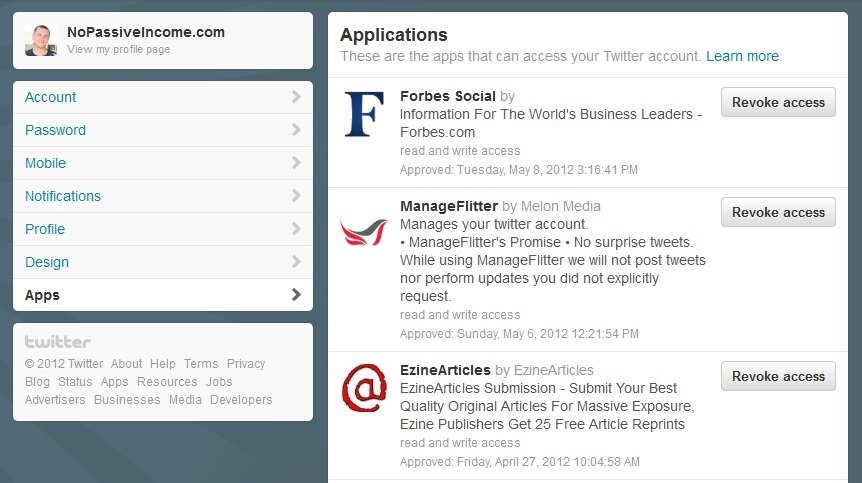 But there are some settings, you shouldn't forget about. Please add proper information about you, use your real photo as an icon of your profile – it really helps to buid your credibility.
If you have website or blog – you can put proper address into your URL field.
And don't forget to fill your location, especially if you plan to tweet to followers from another time zone.
If you want, you can update your background image. It's not very important, but it can be helpful to distinguish yourself from the crowd.
How to get followers
Finally, your account is created and information about you is completed.
But who will read your tweets – you don't have followers!
At the beginning of your adventure with Twitter, you should be proactive.
Add at least some people, you want to follow. It may be your friends, colleagues, mentors. You should try to find people in your niche and follow them.
If you have an account in Yahoo, Gmail, Hotmail or AOL you can search people to follow in your contacts directly in Twitter.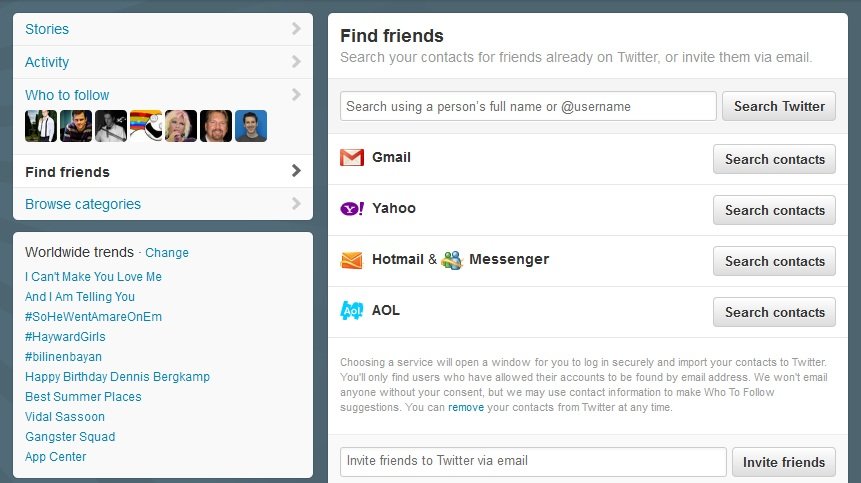 Finally, you can send information about your Twitter account to your friends, colleagues and family. If you want, you can place you twitter icon on your blog or website.
What should I tweet about?
Ok, my configuration is finished and I have some followers. What's next?
Next step is start tweeting of course:)
You can tweet about almost everything – some people tweets about hot topics, some share links from their blog or websites, in order to grow their online businesses. Some people, from time to time, tweet citations of famous people – and it also works for them!
There are also people, who love tweeting about everything – interesting sites, articles, ideas, private life, etc.
But before starting tweeting, you must remember 2 things:
-your messages should be no longer than 140 characters
-if something is interesting for you, probably it will be interesting for your followers

5 more tips about Twitting
Getting more followers
1)      Each day (or almost each day) you should make at least 3-5 tweets. If you aren't tweeting, why your followers should follow you?
2)      From time to time you should retweet someone's great tweets – it will pay off in the future. Besides, people who are looking for good candidates to "follow" are researching your tweets – they will be more interesting to follow someone who may retweet their tweets in the future 🙂
Should I follow my followers?
3)      If someone is following you – should you follow him/her?
It depends – I check the follower and if his/her tweets are interesting, I click "follow" button.
But some people aren't doing research – they "autofollow" everybody, who follow them. You must experiment, what's better for you 🙂
How to don't lost your followers?
4)      If someone is following you – you can send to him or her direct message – please use it carefully, without spamming their accounts with your affiliate links
5)      Please don't tweet only about yourself and your business. It may be not interesting and boring for your followers, to read 50 tweets a day about you 🙂
Summarizing this tutorial – it's only clipping of bunch of tips, how to use Twitter
And I know that there are other great articles about Twitter and tweeting – so below you can find some of them.
10 Twitter Tips To Drive Traffic To Your Site – post by Matt Smith about using Twitter to promote and driving traffic to your site
Avoid Being Unfollowed on Twitter – 15 Tips – great tips, via Kristina Weis, how to avoid being unfollowed
How to make money online Tweeting with Twitter – article via Erik Emanuelli about making money via tweeting
10 Easy Steps for Twitter Beginners – another tutorial for beginning Twitter users via Aira Bongco
10 Proven Ways to Make Your Tweets More Trustworthy – it's a study by Gregory Ciotti about increasing trustworthiness of your tweets
And here you can watch a video Tutorial, prepared by Howcast.com, How to Use Twitter

 
If you like this tutorial, you can follow me on Twitter – I tweet about business, management, SEO, internet and affiliate marketing and making money online.