One of the hardest things about Facebook is to increase the number of fans and likes, in a natural way and without breaking the rules.
Creating a page, promoting a company, a community, a product, a cause, or simply sharing your thoughts, images and links is a fun activity, but when you you realize how difficult is to increase your audience, it may become less entertaining.
Many of you are wondering how to reach numbers like 100.000 fans, when it seems already difficult to get just the sum of one hundred fans.
In this article I write about tips and guide to manage and increase the fans and like to a page, but I do not explain tricks that violate the rules and guidelines of Facebook.
Some pages have inserted such a welcome tab on their "like" buttons linking to other pages: in this way they require the user to have to click "like" to show the contents of the tab. This practice goes against the rules of Facebook.
Facebook adopts different mechanisms to understand the origin of your fans : if they realize that few people have visited your page in comparison with users who clicked like, your page will be banned and your account warned.
Pages which have made tens of thousands of fans in a few days were readily blocked by Facebook … Do you want to be like them?
I do not think so!
Increasing the number of fans and like without any special tricks is possible, just follow these suggestions.
1. Suggest Your Page to Friends
The first thing to do after creating a new page is to share it and suggest it to your friends. It may seem an obvious tip, but I am sure many of you still have to invite all your connections to your Facebook page (like NPI Fan Page).
From the administration panel of the page (accessible to administrators clicking on the "Admin Panel" at the top right by visiting the page), click on the menu "Expand public" and choose "Invite your friends".
This will allow you to select which friends to send a notification, asking them to become a fan of your page.
From that menu you can also share the page on your personal wall or on one of your friends. Of course be aware to not overdo, in order to not be labeled as spammer.
Also, before you want to advertise your page, make sure to have a solid fan base and content.
2. Create a Unique URL for Your Page
On both Facebook pages and profiles, you can get a unique username. This username identifies the page (or profile) of Facebook and offers a number of advantages.
For pages is very useful and important to get a customized URL, because it allows your fans to reach you remembering your URL and to communicate with the address of your page by any means (for example, for companies on a business card), but it is especially important because it attracts new users from Google.
Pages with a custom URL are best positioned on the search engines and thus attract new fans as well as common Google searches.
To choose your custom URL go here : http://www.facebook.com/username/
3. Publish Your Interesting Content
Whether your page is created as joke or as a company or as business page it is essential to always produce and publish interesting content, that will appeal to other people and worth to be shared.
Interesting content varies from page to page.
You will understand the taste of your fans over time, selecting which news to share and knowing what affects users and what not (TIP : use Facebook Page Insights Tool).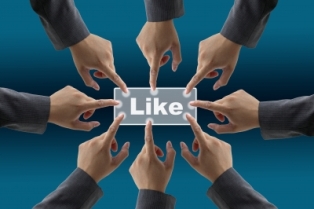 4. Interact With Your Fans
Another important issue is to establish a relationship with your users.
You should then enable the message function and allow your fans to write to you and post photos, videos and links on your Facebook page wall.
Always respond to questions, requests, and clean up your page wall by people who post SPAM links or simply you do not like.
This will not take much of your time and you will be able to start interacting with your real fans.
5. Organize Games, Contest and Creates Discussions
A great way to increase the visibility of your Facebook page and get more "like" is to organize games, contests and open discussions on your status updates.
In this way it is likely to get more people clicking on your content and receive new fans.
Even a simple status update as "Click like if you think Facebook is great" can generate a great response from your fans.
6. Use Many Media
Photos and videos are the kind of content that receive more feedback and more shares from users.
You know that the more your content is shared, the greater your exposure and potential fans reached.
So be sure to create different albums, but pay attention to add original images and videos, do not copy from other Facebook pages.
7. Like Box Social Plugin
Social Plugins are a great way to increase the visibility of your page. If you have a website, you should add a Facebook like box to help new users to find and click like on your page.
You can also add a box for comments, which allows new visitors to comment on (and to publish your comment on Facebook) using their profile, or a box with the most read stories.
Each of these tools can bring new users to your page.
8. Invite Your Customers
If you created a page to promote your company on Facebook (business page), you can send it to a number of email addresses (for example, your customers) by clicking on the menu "Expand the public" and "Invite contacts from email".
Each email address that you entered will receive an email, inviting the receiver to become a fan or like your page on Facebook.
9. Contact Admins of Groups and Pages on Your Same Topic
Whether your Facebook page is created for fun or to support a cause, it is useful to contact other administrators of pages and groups like yours, to let them know about your page and to share with them some of your interesting content.
If your content is worth to be shared on other pages, this will increase your fan and like audience.
Contacting administrators pages is now much easier thanks to the messages. If this feature is disabled write on the wall or comment on a post, asking for a contact with the administrator of the page.
Of course : do not ask directly on the page about your desire to advertise, even worse publishing directly your link, as you may be reported as SPAM !
10 . Ride the Trend of the Moment
Many pages in no time get an exponential advantage of Facebook trends.
For example, the current trend is to publish animated GIFs, images that are shared much more than static images and bring more users to your page.
Tricks like animated images usually last not so much on Facebook (the time that they discover the deception and they will remedy), but managing to ride this trend, will rise considerably the number of your Fans.
11 . Write articles about "How to get More Facebook Likes"
As you probably know, the founder and previous owner of No Passive Income is Chris Madej. He managed to make this blog popular in just 8 months and he was able to write a great number of high quality posts which ranked in the first page of Google for different keywords.
See for example : How to Get Likes on Facebook – 500 and More FB Likes in 2 days!
So the suggestion here is to create articles about "How to Get More Facebook Like" or about "Reach More Facebook Fans", make it rank number one for those keywords and you will get constant and daily facebook likes on your page!
On No Passive Income Facebook page I receive a daily number of likes and fans, that vary from few up to 10-20, which is not that bad, considering it is organic traffic and natural visitors!
Another tip is of course to add more than once in your article, a link to your Facebook page. Links poiting from images from my experience work better.
Conclusion
The advice on how to increase the number of fans and like may vary from page to page on Facebook.
In general, the most important "trick" (and on the web in general) is to produce interesting content.
If your page follows just what everyone else is doing, will end up soon or will not grow that much, so try to stand out from the crowd and focus on the steps described in this article.
Do your have more suggestions to add?
What do you think? Let me know in the comments below!
And of course like our page