Maybe even now, while you are reading this post, you have multiple tabs open on the browser, some social media notifications that require your attention on your mobile phone, the TV in the background and if you think well about want you are going to eat tonight, you notice that you first have to get out right now and go to the supermarket.
In order to work the right way you need concentration and it is virtually impossible to focus on one task when you have several distractions that swirl around your brain.
You just need some tips to limit the mental input and create more attention!
1. Create Adequate Mental Space
As soon as you sit down on your desk to do some kind of work, immediately your brain is attacked by snippets of ideas, pending activities and things to do that require your immediate attention : leave them out of your mind!
Take note on paper of everything that is taking just a little bit of your concentration, such as grocery list, emails to read and answer or any other things to do.
Expel them from your head.
In this way, before you start working, you already have created the conditions to breathe your mind, allowing full concentration.
2. Be Monotasking
We are in the era of multitasking, where there are continuous stimuli and you always need to be connected to social media.
What if our brains were not designed for multitasking?
If you concentrate on several tasks at once, your brain literally begins to rewire itself in function of the multiple stimuli that receives, bringing inversely the attention span to ever lower levels.
Moral of this story?
Don't be multitasking just because it's cool to say that, rather try to say to yourself : "Now let's focus on one thing at a time"!
Even now probably your fingers are jumping from one button to another, or touching your tablet screen, ready to switch from one to another application, reading your email or checking the new photos uploaded by your friends on Facebook.
A solution? The Pomodoro Technique!
The Pomodoro Technique is a time management method invented by the italian Francesco Cirillo, which consists to set a timer for an interval of 20, 25 or 30 minutes, watching one simple rule : with this time you are going to do only one thing.
For the more daring, there is a free application to download on FocusBooster to test it by yourself.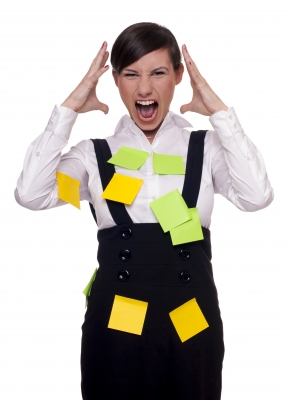 3. Break Your Barrier of Attention
You may notice different experiences, but on average it takes about 15-20 minutes to get to focus intensely on one task.
It's like starting a kind of warm-up routine, required before reaching the peak of concentration.
Sometimes it takes 20 minutes, at other times maybe more, but when you pass this barrier of attention, there is an invisible boundary beyond which nothing hangs around your brain in addition to what you are doing : it is a truly magical moment. 😀
4. Manage Digital Inputs
With all your laptops, tablets, phones and so on, it's easy to be distracted for a moment.
Checking for a second Facebook or writing just a quick Tweet are examples on how you can lose your valuable concentration.
You are basically trained to automatically respond to technological stimuli (eg. notifications), immediately checking the source.
Well, if you want to do a great work, you can not be slave of the notifications. Then follow the next point.
5. Disable Notifications
Almost every app has some kind of notification system, like a simple figure that shows you how many emails you have to read, or an audible "ding" or even a pop-up of some sort.
Each notification you receive while you are trying to focus on something is like putting someone with an accusing finger pointed constantly on your mind.
Turn off or disable the notifications as far as possible, at least for the period of time necessary to focus on a specific task : it can be really a manna from heaven for your concentration.
6. Manage Your Phone
It's also a good idea to turn off your mobile phone or switching to silent mode until you complete your task.
You do not want to be disturbed while you reach the peak of your attention!
7. Turn Off Your WiFi
Another way to address the digital distractions is tackling the problem at its source : the internet connection.
Turn off your WiFi while you are working is a simple, but effective strategy.
8. Close the Black Holes
Social media is like a black hole for your attention.
A solution?
There are applications that can give you a help in order to block access to certain web sites, email servers or other programs for a certain period of time.
Or you can simply clear your browser cookies preventing certain sites remembering your password, forcing you to re-insert it each time : a little trick that can be very effective.
9. Prevent Visual Pollution
Do you have a lot of clutter on your desk?
This kind of visual pollution has a big inhibition to your mind.
It can create a sense of ​​comfort, looking really busy to your boss eyes, but let's face it , in reality it is only a distraction.
Just try to have at hand only the strictly necessary to the realization of your current job (most of the time a folder, a laptop and your ideas).
10. Beware of Human Interruptions
In general, it can take up to 20 minutes to regain concentration after being interrupted.
Sometimes it may be necessary even a sign on the door of your office, something that indicates "do not disturb" to your colleagues or to your family, if you work at home! 😉
It's not being anti-social : you just need to claim a short period of time in which you can concentrate without being distracted by external stimuli.
Therefore it is necessary to enjoy the gift of space, time and peace of mind needed to make a meaningful work.
I hope this article has given you some concrete ideas on how to improve your productivity.
Please let me know what you think in the comments below, thanks!