Email marketing is a fantastic internet marketing tool for creating new leads and improving your business.
By collecting the email address of your readers, you're potentially increasing your sales and, most of all, your base of fans.
Choosing the right tools will affect the success of your email marketing campaign.
Let's see in this post a comparison between two of the most popular ESP on the internet: GetResponse (abbreviated with "GR") Vs ConstantContact (abbreviated with "CC").
Mobile Responsive Technology
GetResponse has, among its features, a mobile responsive technology.
We live in a time where gadgets like smartphones and tablets are integral part of our lives.
According to this study by eMarketer, there will be 2 billion of users coming from mobile by 2015.
Other than setting up your site to be mobile-friendly, if you are running a newsletter, then you need to use a responsive design, so to enhance the experience of those subscribers who read your newsletter from a mobile gadget.
GetResponse makes all your emails look beautiful on every device.

You don't need to be able to code. Just choose among +500 email templates, which are all responsive.
Plus, once you finished your newsletter with email creator, you can get a mobile preview, to check how it looks on different devices.
Just consider that 82% of people use mobile phones to check their emails!
Landing Page Creator
GetResponse has a landing page creator, and the ability to create multiple landing pages for businesses.
When you are thinking about a good landing page, the first aspect to consider is conversion.
What if you have at your disposal a tool to let you create landing pages that convert in three easy steps?

Select a template among more than 100 professional ones, with awesome "Thank you" pages to reach your goals.
Customize yout page, using a simple drag and drop editor, with many ways to edit your content.
Then publish the landing pages on your blog or website, or even on free hosting offered from GetResponse.
Remember to always run A/B testing!
Easily Import Contacts
GetResponse allows you to import contacts directly into particular campaigns and insert them into an autoresponder sequence.
This way the process is more streamlined.
Site Loading Speed
ConstantContact website is slow to load (and often gives a blank page).
GetResponse's website feels and operates better, whereas CC can feel sometimes like an extension of a WordPress site which is functional but not engaging.
Sign up Process
The sign up form for the free trial is much easier at CC, than GR. There is no phone code or captcha.
See the image of ConstantContact.com homepage: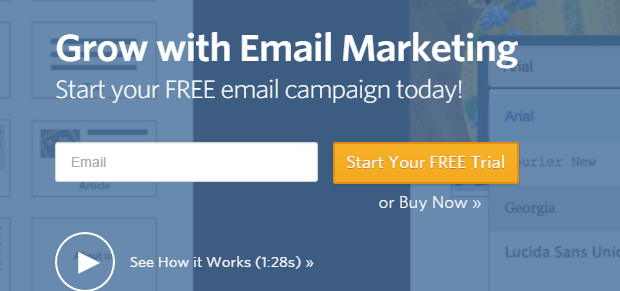 Trackable Coupons
Constant Contact offers 'trackable coupons' as an add-on which can show users exactly how much return they are getting on investment.
This is really good to track results.
Contact Storage
Storage of contacts in CC is very sleek and efficient.
All are stored almost like a cell phone address book, which means it could be easy to use on mobile device also.
Free Trial
Constant Contact has a 60 day free trial which can allow new users to get more involved with campaigns.
With GR, 30 days can be quite short if a business owner is distracted for a week or so at once, it can be hard to get stuck back in.

Money-Back Guarantee
ConstantContact also offers a 100% money-back guarantee which can put some minds at ease.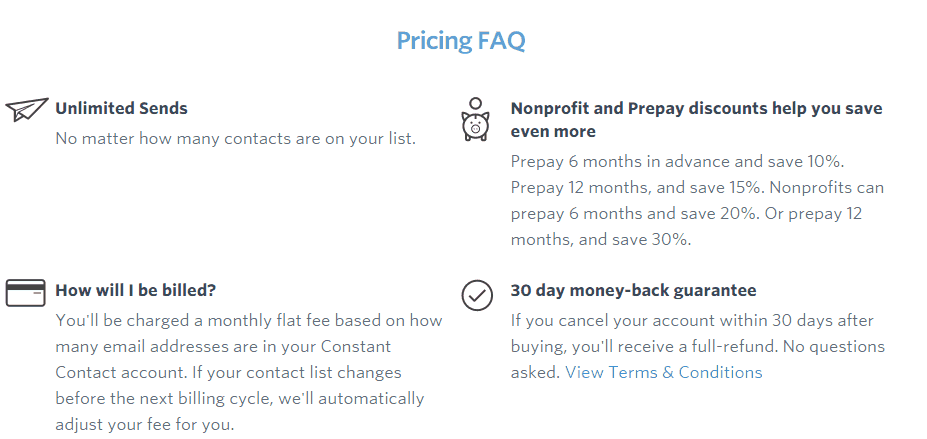 Overall Considerations
GR wins out easily against ConstantContact in not much more than ease of use and layout of the main website.
CC's website is stiff!
Moreover, GetResponse's pricing is much more competitive. For the prices GR charge for a month of full service, a user can only access the autoresponder segment of Constant Contact, and is not given the ability to send surveys, design webforms, or connect to social media.
To access social media plugins and cross promotions, a CC user can expect to pay upwards of $60 per month for 500 subscribers.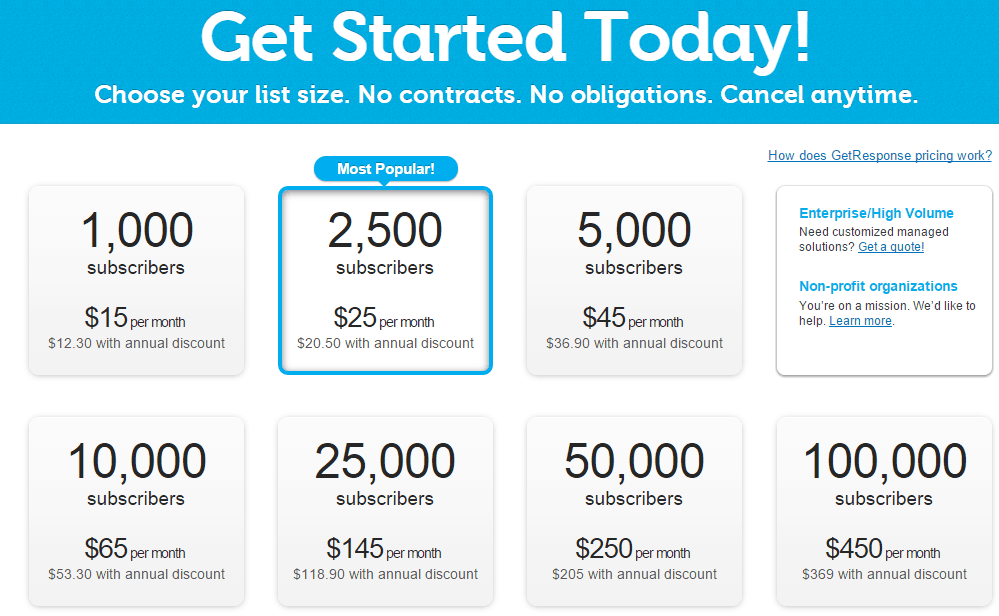 Conclusion
I'm sure you are checking emails on your mobile phone or sitting on your sofa, with your tablet via WiFi (I do this).
Emails are an effective weapon to gather more customers or to simply increase your audience.
Also, you can consider your subscribers as your most loyal fans!
Email marketing is something every online business should add to its strategy.
It's easy to notice that GetResponse outruns Constant Contact in many features, such as email responsive technology or creation features.
With all taken into account, GetResponse lets you create much more targeted and customized campaigns with the possibility to track your results and improve constantly.
What about you?
Are you running a newsletter?
What email marketing provider are you using?
Please let me have your thoughts in the comments below, thanks!