Do you want to get paid to write?
One of the most lucrative ways to generate income with the internet is with freelance services.
I'm sure you have your favorite list of sites, but you may want to check the following resources.
Here are the places where you can be paid to write, divided into levels of writing skills (based on my experience).
Just click on any of the following links, to jump directly to your reference level:
Beginner Level
Here is where you should begin if you are still refining your writing skills.
1. iWriter
Anyone can register to this site and earn money right away.
Choose your favorite topics and start taking opportunities. You can earn $15 per article, as a beginner.
Sign up here.
2. OnlineWritingJobs
This website accepts freelance writers from all over the world.
Payment varies from $12 per article up to $50, depending on the quality of the content.
Check it out here.
3. dotWriter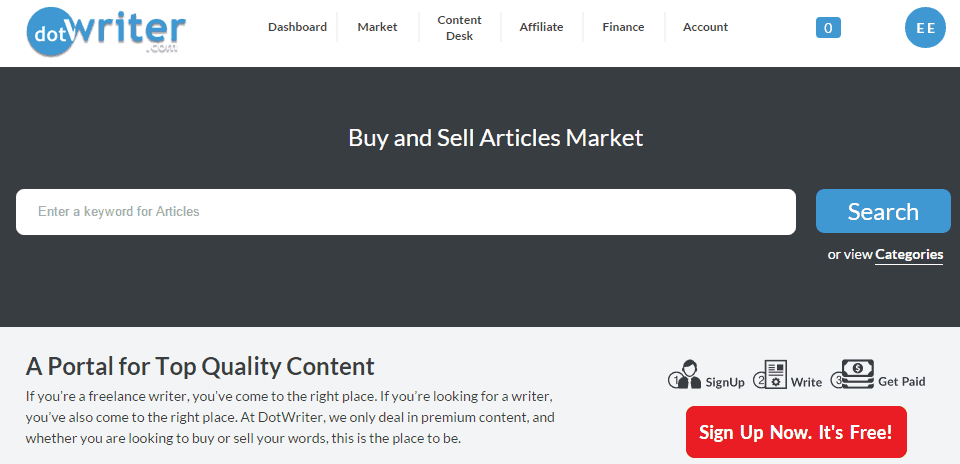 That's a pretty unique concept here.
You write your articles and then you can add them into dotWriter's marketplace.
There are different topics, so you can surely find the ones of your interest.
For example in the "Internet & Online Business" category, I see an average of $15 per 600/700 words posts.
See this screenshot: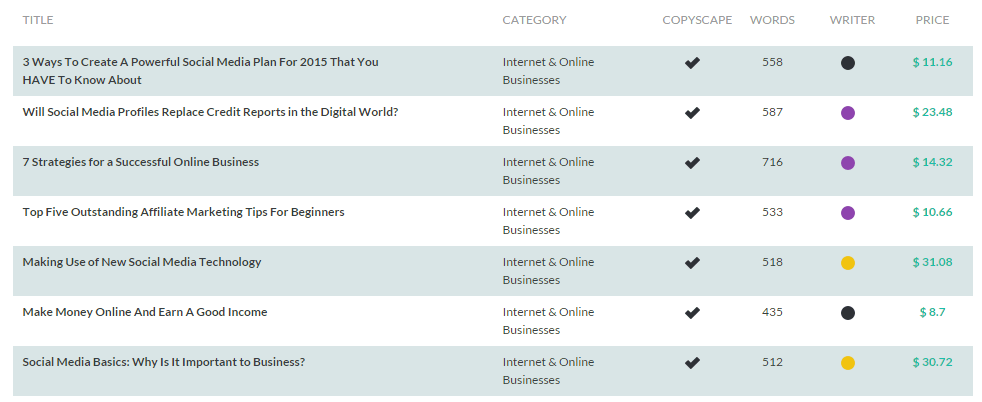 If you are able to write several articles and list them on this marketplace, there's a chance you can earn some decent money.
Here you can find the writer's page information.
4. FreelancerCareers
Good place for finding new opportunities as a beginner writer.
You can get paid for jobs related to your skills and interests.
Payments range between $7 up to $31 per page of your work.
Check here for further details.
5. Steemit
Think of a blogging platform and a social network mixed together. You can write about anything, so be sure to showcase your expertise.
You can register for an account and then you can start posting content.
They pay writers with the cryptocurrency Steem. The amount of payment depends on how many traffic your content will getting. The average is $5–$10 per post.
6. Writers.ph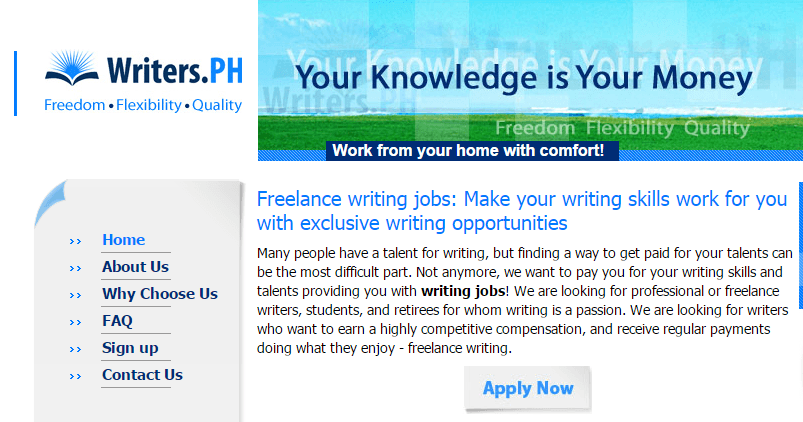 This is another website you want so sign up in order to get paid for exclusive offers and writing opportunities on a daily basis.
Payments are approved twice a month.
At the moment of this writing, the highest rate for a job is around $500.
Register here.
7. Vocal
It's similar to Medium. You can submit your articles and be paid to write here, based on the number of views your content will get. Allowed topics are almost everyone, so you can write about anything on Vocal. Aim at 750+ words minimum.
You just need to sign up. After that, you may simply submit your article for curation.Vocal media will pay you around $3 per 1000 views. If you decide to become vocal+ member for $10 per month, then you will get $6 per 1000 views.
8. HubPages
HubPages is pretty popular in the community of writers and readers, because it will pay you via Google Adsense Ads placed in your article.
Write about pretty anything, so it's a good place if you are just starting out as a freelance writer. It's a nice opportunity to build an audience pretty fast, thanks to the popularity of this platform.
If you want to give it a go, you simply need to register and sign up for monetization. Then, submit your content for publication.
If your article ranks well in search engines, you can make something between $0.1 to $1.5 per thousand views. Just do the math…if your post become popular on Google, it will generate countless impressions.
9. Constant Content
This is another website that allows you to sell your articles to different clients and get paid for your skills.
As you write more and become an expert, you will be able to enter the "Writer Pool" in order to get exclusive projects from customers.
I see a good average rate at their marketplace, something around 50$ for each article.
Remember that Constant Content will take 35% of commissions, so you'll earn the remaining 65%.
Payments via PayPal. Check it out how to register here.
Intermediate Level
Here are the sites for intermediate level writers.
10. Listverse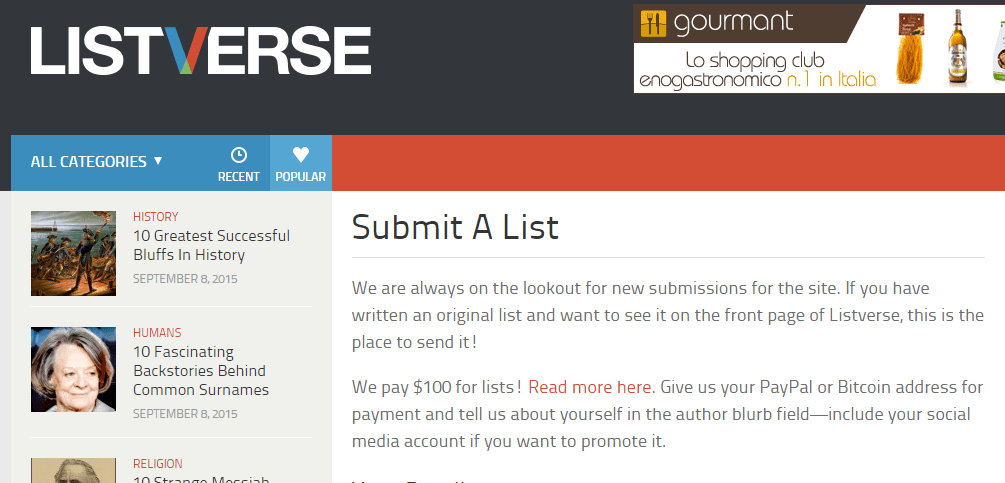 This website is awesome and has high-quality content.
Here you can submit your list posts, with really interesting facts.
Requirements are:
1,500 words
10 items minimum
focused on the most fascinating and rare gems of knowledge
You can get paid $100. Here's the link for your submission.
11. Bustle
An online magazine seeking writers about different topics, like entertainment, lifestyle, and fashion or beauty.
They pay $0.25 a word so it's a great way to get paid to write.
Here's the page you want to check.
12. WritersWeekly
These folks are looking for articles that explain to their readers how to make money money doing what they more love, writing!
Get paid $60 for 600 words or $40 for 400 words articles.
Visit this page to read more.
13. Copyhackers
They pay $300 up to $1000 for each published post.
Submit your articles about copywriting, marketing, branding, online business, and similar topics.
Check this page for more information.
14.RankPay
RankPay has a blogger program that will allows you to earn $50 for each article approved.
Submit your content about SEO, content marketing and social media.
15. Income Diary
With more than 100,000 visitors each month and created in 2009, this is an established website you want to get paid to write for.
The topics are online business, making money online, web traffic, social media and internet marketing. You should be expert in any of this field, before thinking to apply.
The rate vary from $50 to $200 per post and payment are made via PayPal.
The link for submitting your articles is here.
16. WPHub
WPHub will let you earn from $100 up to $200 for each post approved.
Submit your articles about web design trends, coding best practices, and other WordPress-related topics.
Expert Level
Here are the sites for highly skilled writers.
17. Narratively
Narratively is ready to pay you anything between $200-300 for your content.
They ask essays of 2000/2500 words on specific topics. Check their page for detailed guidelines.
18. BuzzFeed
Buzzfeed is a popular website, with millions of unique visitors every month.
They post content about a wide variety of topics to keep their visitors entertained and informed.
They usually pay writers from $.10 to $.30 per word.
19. Smithsonian
This is a very popular and established magazine.
They are accepting paid contributions from expert writers.
The average rate for each post is $0.50 – $0.60 per word
Visit this link to submit your articles to Smithsonian.
20. NY Observer
New York Observer lets you make $100 for each post published.
They want content about politics and culture for "sophisticated readership of metropolitan professionals".
Conclusion
This 2023 updated list will help you getting paid to write.
I hope you found some new resources in this page, and I'll keep it updated.
So, be sure to bookmark it!
What's your experience with the above-mentioned sites?
Do you have some new ones to add?
Please share your views in the comments below, thanks!
And don't forget to share the content, if you liked it.