How many emails do you send per day?
Are your recipients from all over the world?
Even if you are very precise and careful while writing, chances are that you make some spelling or grammatical errors.
Those mistakes could decrease your reputation or jeopardize any chance of doing business.
In this post, I'm going to introduce you eAngel, a 24/7 service to easily correct/proofread your emails.
How eAngel Works
eAngel Proofreading Service is useful for business people, bloggers and students (most recommended for dyslexic).
They correct spelling, punctuation, grammar and misused words. Keep in mind that they do not change the meaning of the text (and they don't translate texts, they only proofread them).
Please check this introductory video:
As you can understand, all the corrections are performed by humans. There's a team of expert "eAngels" who will take care of your texts.
They correct emails in English, Spanish, French, German and Hebrew, looking for spelling, grammar, punctuation and proper word usage.
It's pretty simple to use.
After you finish to write your email, you can send it to fix@eangel.me to have it back corrected within minutes or you may want to use their Gmail Proofreading Extension: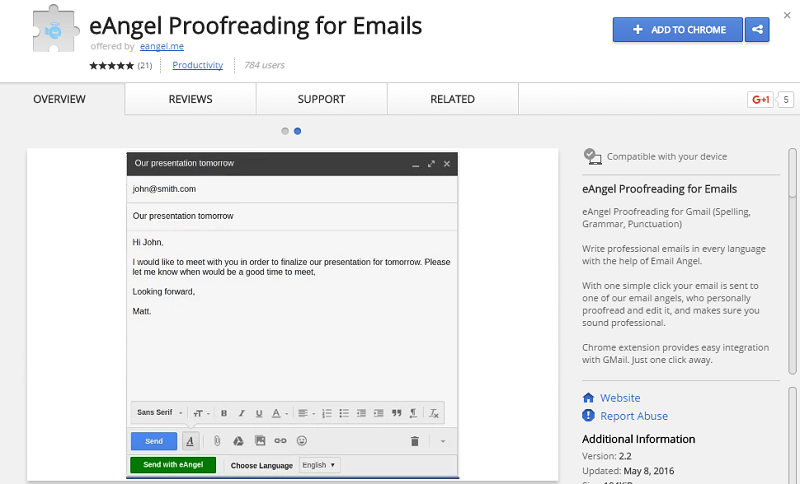 Once you have downloaded it, you simply need to the connectivity with Gmail.
Then, after writing a new email from your Gmail account, you will see another button next to the Send button:

When you want to get your email corrected, you just need to press that button labelled "Send with eAngel" instead of the normal "Send" button.
For bloggers, there's a WordPress plugin, that you can download here.
For mobile users, there are also apps available at Google play and App Store.

After they correct your email, eAngel sends it to the recipient exactly as if it were sent directly from your email address.
Once it reaches destination, you will get an email back indicating that your corrected email has been sent, together with the corrections.
aAngel is pretty useful to improve your language skills too, because you can check the differences and mistakes the service found: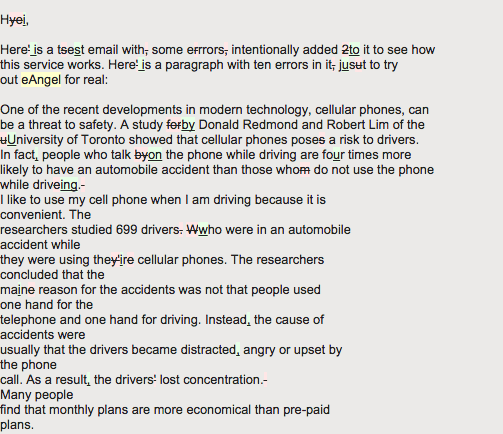 If you are concerned about privacy, just think that all the messages are completely secure at their system. Every member of the eAngel team has signed a Confidentiality Agreement.
Moreover, for additional security, they hide your details, the recipient's details, the subject and the attached files from eAngels. They basically only correct the textual content of your emails.
eAngel Prices
You can test the service on their homepage: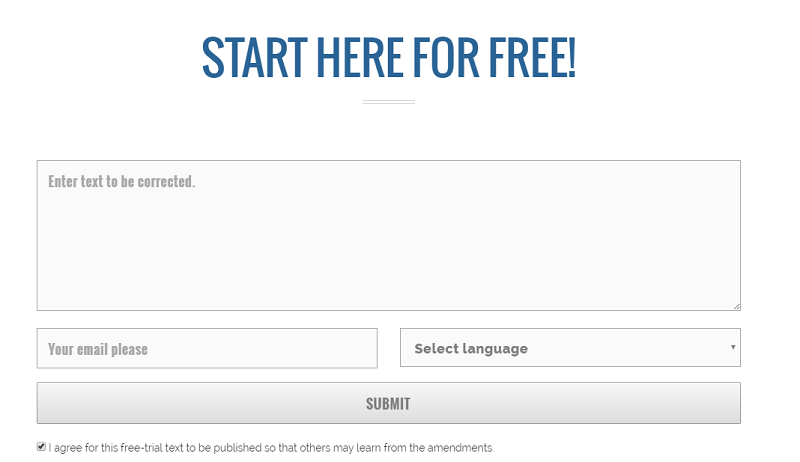 With the free trial, you can send up to 5 emails or 500 words.
When you want to upgrade, the prices are interesting.
The basic plan ($5/mo) covers 1785 angel units, which corresponds to 1785 reviewed words or 830 corrected characters.
There's an advanced and a pro plan, to increase the numbers of corrected words:

Final Words
eAngel Grammar, Spelling and Punctuation Corrector can be a valid solution for bloggers, business people or students who want to avoid any mistakes in their emails, while improving their language skills.
The price is reasonable and the free testing lets you understand the quality of the service.
What do you think?
Are you going to test eAngel?
Please share your views in the comments below, thanks!