Whether you are looking for unique articles, product descriptions and translations or to make money with your writing skills, you have come to the right place!
In this post, I'm going to introduce you BoostContent, the marketplace you want to visit to boost your content marketing or to leverage your freelance services.
Sign Up To BoostContent as Contributor
If you want to make money with your writing skills, sign up to BoostContent as a contributor.
Fill up the form: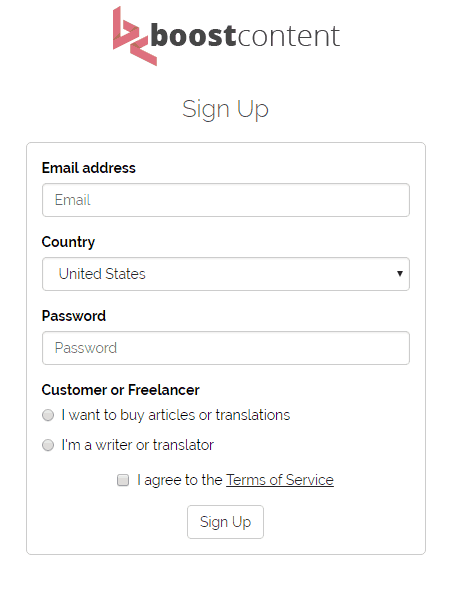 Just enter your email address, country of residence and a password. Click on "I'm a writer or translator" and "I agree to the Terms of Service", then "Sign Up".
On the following page, just fill up the required fields: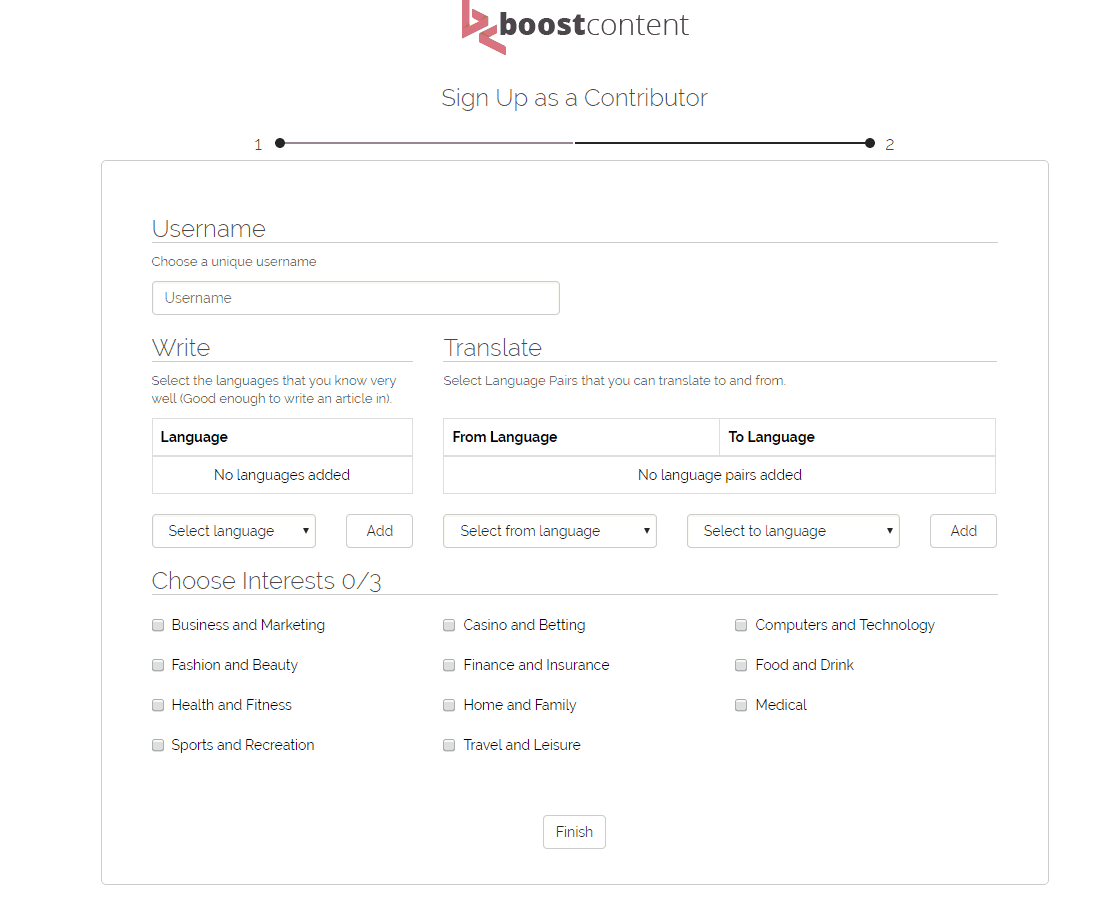 Such as:
username;
the languages that you know very well (good enough to write an article in);
the language pairs that you can translate to and from;
your topic of interest.
Once you click on finish, you are ready to go to your dashboard. Here you will see a menu:

You want to visit your Profile settings and decide if you want to make your profile public or anonymous (the advertiser will just see your I.D.).
If you don't have any specific reasons, I suggest to opt for the public profile, so that customers can order directly from you (which also helps to build your brand and online visibility). Feel free to decide an username, add a profile picture and write a description (which will be visible to clients).

You want to set how much you want to charge customers for each order (price based on 100 words). Also, decide the minimum price to see tasks and receive emails (based on 100 words).
The Tasks section of your dashboard is where you can find job opportunities. The first task you want to complete is to write an article on one of the topics below:

The purpose of this article is to show your writing skill, both for the site staff and also for potential customers. If your content is really good, it can be showcased on the blog. Additionally, the article will also be attached to your public profile on BoostContent.com. You can choose any suitable title, it does not have to be the topic specified above.
The Contributions tab will show all your completed jobs, while you may want to use the Contact tab to send a message and request any kind of information or help.
Finally, the FAQ section will give you some useful insights. Payments are made by the end of each month, via PayPal.
Important to know! You will get 70%+ percent of the advertiser money for each work (to achieve that, BoostContent has developed a streamlined system where articles move seamlessly from writers via Copyscape, proofreaders and their quality assurance team). Just think that sites like Textbroker only give 54% percent of the money to the freelancers.
Sign Up To BoostContent as Advertiser
If you want to buy content or translations, sign up to BoostContent as a customer.
Fill up the form. The dashboard will look like this:

The first thing you want to do here is to set a budget, by clicking on the "Add Funds" button.
Pay with PayPal or with a credit card and enter your billing information.
Pay attention: BoostContent is based in Sweden and if you represent a company in a non-Swedish EU country, just add the VAT number to get rid of the VAT.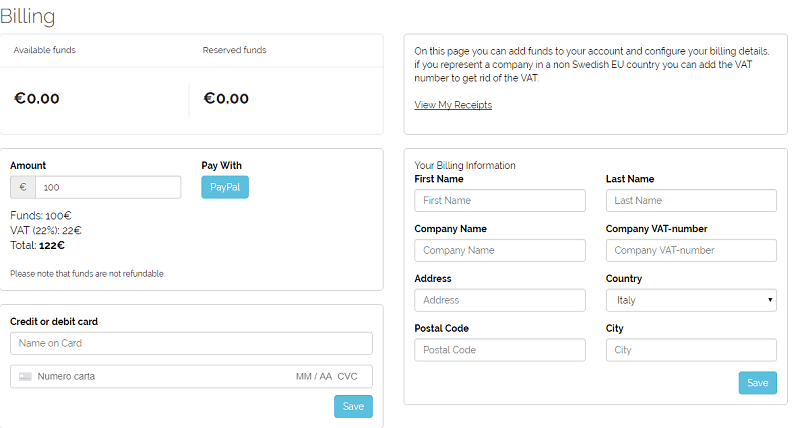 Now, you are able to make your first order!
You can decide for:
Content Writing. Order a text or product description, you can order texts in over 20 languages.
Translation. A translation is more than just translating word by word, it's an art. Using this order for you can order a translation from English to over 20 languages.
Once you have made your first order, you can visit the "Orders" tab to keep track of everything.

Translations
Making good translations seems easy, but it's not. You want to aim for the right balance between the original text and the target language, which may have a very different structure.
There are different types of translations available, such as translations of product descriptions, blog posts, general articles and much more.
Product Descriptions
To increase conversion and attract more new customers to your online store you need to have good product descriptions for your inventory! eCommerce needs the proper work to become a successful business.
With BoostContent, you can order a large amount of product descriptions, with single clicks. Simply write the general instructions once and then copy and paste your list of products from Excel.
You can also decide the assigned writers and specify things such as, title, keywords, additional fields and more.
Articles from BoostContent
Whether you want to order a single article or more than one, you have it covered with BoostContent.
For example, you may want to decide just a keyword and leave the rest to the writer (of course, you can give more specific requirements, if needed). Relevant and powerful tools are used to ensure each article will meet your goals.
The best situation if when you give to the content writers everything they need to accomplish the mission, including certain parameters to make sure that each article follows your set instructions, even if it's a big order fulfilled by many different writers.
API Keys
There's an API key feature you can use to integrate BoostContent into your custom solution.
For example, if you have a big eCommerce with several products and more coming every month, then you can use the API key feature to automatically order content when is needed. Once it's delivered, you can automatically get it and publish it within your system.
To get started, simply download the API php library.
Final Words
Whether you are looking for boosting your content marketing or making money with your language skills, give BoostContent a try.
As a customer, proofreading is always included and the site is available in more languages. You will get unique content, as the completed tasks by writers are checked for plagiarism.
I've found the freelance dashboard easy to navigate, with good opportunities to earn.
Now, it's up to you.
What do you think?
Have you ever heard about BoostContent.com?
What's your experience?
Please share your feedback in the comments below, thanks!