On the Internet there is a lot great and full of content blogs about blogging and making money online. But most of them are concerning not on the readers and their needs, but on the blogger, his or her problem(s) and affiliate links.
Below there is a list of 5 most powerful blogs about blogging (of course in my opinion). Their authors are successful bloggers, because they respect their readers and reader's time.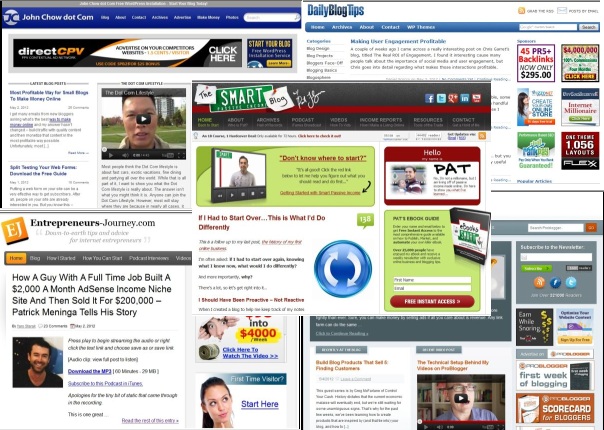 1)      The Smart Passive Income Blog –  it's blog about "blogging", passive income and making money from it.
Inside this blog there is a lot of amazing tips and tutorials – some of them are really brilliant.
Pat loves videos – on this site you can find a lot of "How to" and tutorials in video version. He also runs The Smart Passive Income Podcast.
One of the most important series for Pat's readers are his monthly reports about his incomes, in which Pat is trying to show, how he make money online, which tools he is using and "lessons learned" from previous month(s).
The last thing, which is amazing, is that, he writes almost all of his posts by himself! During 2 years I saw only some guest posts on his blog. He wrote: "less than 1% of guest post requests have been published on SPI"…No comments 🙂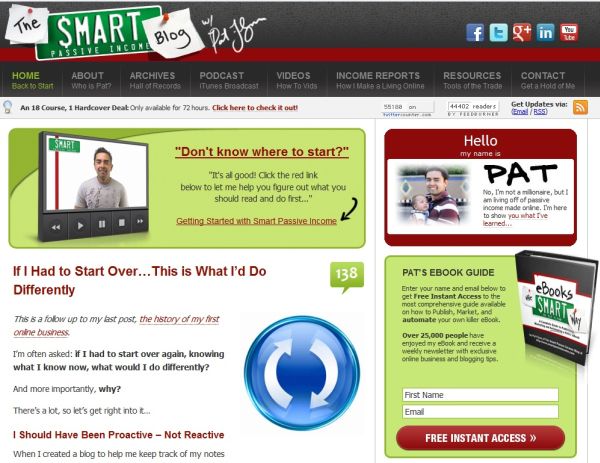 You can visit Pat Flynn's blog here: www.smartpassiveincome.com
2)      ProBlogger – it's the most famous blog about making money online. Darren Rowse, who is the owner of this blog, is a full time blogger, and owns some other blogs – TwiTip (blog about tweeting) and Digital Photography School, where he "teach" people how to properly use digital camera.
But concerning on ProBlogger – on this blog you can find thousands of helpful posts about blogging. And they are not only about making money online, but also about motivation, blog design or even Search Engine Optimization.
Darren is also an author of some books and ebooks, which you can buy via his blog.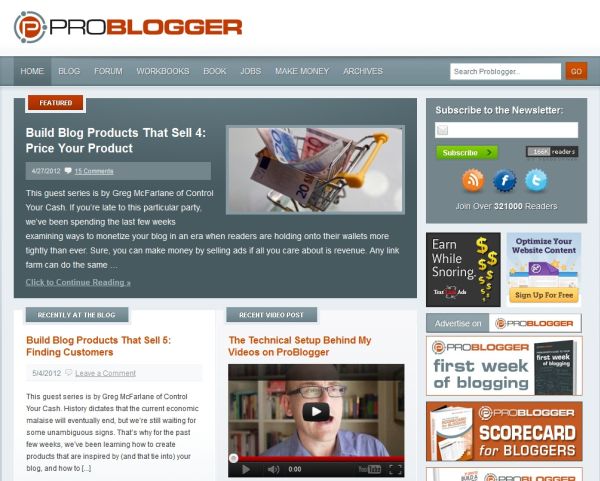 If you want to visit Darren's blog – here you are: www.problogger.net
3)      Daily Blog Tips is another great blog about blogging. Daniel Scocco, who is the holder of this blog, is also an author of the most posts on DBT.
Daniel prefers submitting only killer articles on his site. For this reason, most of them are in form of tutorials or lists, with the title beginning with: "How to…" or "XX ways to…"
Even Guest Authors are following this "tutorial way" on Daniel's blog.
If you sign up to his newsletter, you'll be able to download his great eBook "Make Money Online", which I highly recommend to you.
Address of his blog is: www.dailyblogtips.com
4)      John Chow dot Com is was also excellent blog about making money online. On this blog there are a lot of great posts about blogging and making money via blogging. Unfortunately, these days you must look for them in the archives. I don't know why – but maybe because of guest bloggers. And sometimes guest articles aren't as much valuable, as original John's articles…
In the past On his blog you can find, except a lot of valuable articles, top commentators plugin. Thanks to it, if you are one of them, you can get dofollow link from his blog to your site – and not only from one subpage, but from the whole blog. Now it's gone…
But you can still download his excellent eBook– "Ultimate Blog Profit Model" – you must only sign up to newsletter. In John's newsletter you can also find great content with tips and tricks about blogging.
One thing, which I don't like in his newsletter, recently is that:  there is (IMHO) too much advertisement and affiliate links inside. Of course some recommended products are really great and powerful for online money makers.
Summarizing – I really recommend you this blog – especially older articles and John's  eBook.
John blog is here: www.johnchow.com
5)      The last one blog, I want to recommend to you today is Entrepreneurs-Journey.com
Yaro Starak, blogger and entrepreneur from Brisbane, is an author of this site.
On this blog you can find, except lot of tips and tutorials about blogging, a lot of other topics about business, personal development and internet marketing.
Besides, Yaro placed here a lot of interviews and podcast with successful online entrepreneurs.
If you want to get "Step-By-Step Guide to Set Up A Profitable Website", "The Blog Profits Blueprint" and "The Membership Site Masterplan" – you must only sign up on his page and you will get it all for free. And these eBooks are really valuable.
Yaro's blog you can visit here: www.entrepreneurs-journey.com
And what are your favorite blogs about blogging or making money online?