Sometimes each blogger needs inspiration about blogging. It's almost impossible to concentrate and write about something for 8 hours a day and 5 days a week. What's more, sometimes you may burn out of ideas and concepts.
In that case you must look for inspiration and motivation.
And what's more inspirational and motivational than attending into conferences and exhibitions? Maybe there is something, but I don't know, what it's 😉 .
On 5th June 2012 in New York will start probably the biggest and the most famous event for bloggers in 2012 year – BlogWorld & New Media Expo 2012
There will be a lot of bloggers, social media experts and famous speakers.
You can find here for example Chris Brogan, Zac Johnson, Ali Luke, Chris Ducker, Dino Dogan, Pat Flynn and 200 other conference speakers
For three days they will discuss, among other topics, about social media and social networks, content creation, website monetization, traffic, viral marketing and blogging of course.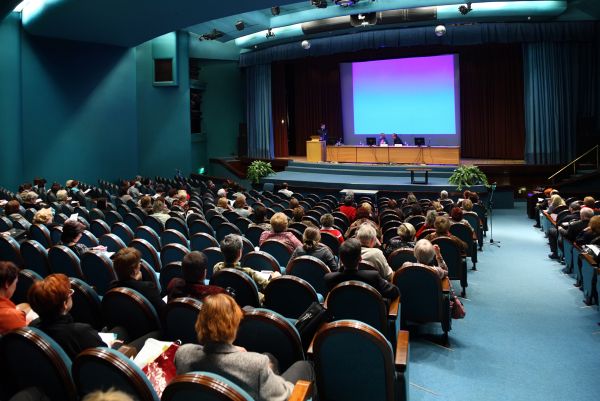 Unfortunately I can't be there this year, but from conference schedule you can dig a lot of great topics and ideas for your blog. Below, you can find these ideas:
150 Great Topics and Ideas for Bloggers
7 Deadly Social Sins

The Social Habit 2012: How Americans Really Use Social Media

Measuring Social Media Using Google Analytics

Building An Authority Brand: 10 Must-Do's For Serious Bloggers

Who is Behind the Company Logo? How to Humanize Your Brand Through Building Community

The Art and Science of Influence

Make Money With Your Blog Using Affiliate Marketing

Six Important Shifts in Social Media Strategy

The 411 on Recording and Producing a Great Interview

Video Podcasting: What You Need To Know

Finding Sponsors for My Web Series

Should I Build an App for My Web Series?

Disruptive Publishing & Book Marketing With Social Media

Building a Blogger Outreach Program

Broke, Burnt-out, and Busted: How to Find Your Sweet Spot in Blogging and Business

10 Steps to Build Your Business Through Your Content

Building Your Community Management Toolkit

Selling Social to Skeptics

Should I Self-Publish Or Get A Book Deal?

Overcoming Your Biggest Obstacle To Successful Podcasting… You!

How To Effectively Podcast To A Global Audience

Who Owns Your Social Media Account?

Creative Merchandising

Reporting for Bloggers

12 Imperative Must-Dos for the Serious Blogger

Affiliate Marketing the SMART Way: Stop Hoping and Start Earning

How To Build a Community of Fanatics

Tips and Techniques for Building a Successful Fan Podcast

From Book to Podcast & Back Again

Link Building: The Best Marketing Strategy You've Never Heard of

Writers' Workshop

Social Media for Web Series

Facebook Ads Untapped

Haters and Heroes: Managing Your Brand in a the Era of the Super Passionate Consumer

Taking The World's Stage: Women Using Social Media

Marketing to Digital Parents: Rules of Engagement for Bloggers and Brands

Four Simple Steps for Editing Your Own Writing

Blog Monetization Overview: What Are Your Options To Make Money With A Blog?

How to Humanize Your Business

Smart as a WIP: Success Secrets, Stupid Pitfalls, and Savvy Tactics of Women In Podcasting

Stand up Comedy Invades Podcasting

Move Center Stage: How to orchestrate a successful Event Marketing Program (excl CiscoLive CaseStudy)

Growing Your Web Series Audience

What's My Web Series Marketing Plan?

The History and Future of Modern Media Makers

When It Gets Real: What Happens When Your Fun Little Personal Brand Has to Grow Up

Vow to Wow – Being Helpful To Customers Online

A World Gone Mobile

Future of Content Creation: What is Next?

Crossing the Bridge: No Bullshit Guide to Mobile

How Social Media Can Save the TV Ad: Case Studies in Success

The 7 Don'ts for Online Community Managers

How to Build a 7 Figure Online Lifestyle Business (by doing the opposite of what you think)

How To Create A Podcast Network

Podcasting Your Way To Your Dream Job

Using Photography to Make Your Content More Engaging

Live Streaming on New Platforms

What Camera Should I Use?

What Businesses Can Learn about Social Engagement from Top Sports Organizations

Win Win: Partnering with Agencies for Fun and Profit

Overcoming Content Procrastination Start to Finish

What is Really Working in Mobile Marketing Today?

Blogging to Help Business SEO

How to Attract Members to Your Online Community

More Traffic, More Authority, More Customers: Why All Bloggers Should Be Podcasting

Podcasting for Creatives

From Zero to 5 Million Page Views in 3 Months Using Creative Lead Generation In WordPress

Social Media ROI

Engaging & Interacting with Your Audience

What's My Web Series Distribution Plan?

How to Grow a Local Blog Network

Blogging at Microsoft: How the Hotmail team does it

From Being Hunted by Tribes to Building One: Lessons From the Desert to Build a Tribe Online

50 Content Creation Ideas: You will Never Suffer from Bloggers Block Again!

How to Wring Results From Your Blog Using Social Triggers

Social Media Marketing To Multicultural It Girls

Creation, Curation and Collection: Getting to know Pinterest, Instagram and Tumblr

Podcasting As A Career: Learn How To From Full-Time Podcasters!

The Future of Podcast Distribution & Content Strategies

Let's Make Some Mobile Happen! (ACTIONABLE Steps to Making Your Content Mobile)

How to Create a Kickass Kickstarter Campaign

What Legal Agreements Do I Need for My Web Series?

The State of Online Conversations on the Social Web: Survey Results and Panel Discussion

Making Money… New Advertising Opportunities for Website Monetization

Small Town Rules: How Big Brands and Small Business Can Prosper in A Connected Economy

Enhanced eBooks for Web Series

The Multiple Ways To Make Money With Your Podcast

How To Build Your Audience and Marketing Your Podcast

The Challenges of Copyright in the Digital Age

Mastering LinkedIn Marketing for Blogging Success

Creating Live "In Real Life" Events for Your Web Series

Strategic Partnerships for Web Series

Smartphones, Smarter Users – The Who,When,What of the Mobile Consumer

The Evolution of the Corporate Blog

Bloggers Riding the Line: Maintaining Credibility with Your Audience while Working with Brands

Power Up Your Blog: Lessons Learned Over 11 Years of Blogging

Gaining the Attention of Top Brands: What you need to know from the 2012 State of Social Media Sponsorship Study

Optimize and Socialize for Better Content Marketing

Platform: Get Noticed in a Noisy World

One Site to Rule Them All: Why Responsive Design is Critical to Your Blog

Blog Critiques Workshop

The Art of Blogging: Mastering the List Post

Making Money from Your Favorite Niche Market

How to Build a Successful Blog and Brand While Working a Full Time Job

The Art of Writing Epic Sh*t: How to Create Content that Blows Minds and Attracts a Crowd

Bon Voyage: Travel the world with your blog or podcast

Podcasting 101 Part 1: How Podcasting Works, Choosing Your Topic, Format, etc

Social Marketology – Process in Social Media Marketing

Producing/Pitching Your Web Series

How to Get My Web Series on Connected TVs

Social Media Lessons for Bloggers

How to Avoid the Most Common Mistakes In Setting Up Your WordPress Blog

Laughing All The Way To The Bank: How To Drive Viral Traffic With Humor

Facebook Marketing: How to Create More Engagement and Monetize your Facebook Efforts

10 Critical Business Blogging and Content Mistakes That Are Killing Profits and Brand Growth Worldwide

Defuse The Time Bomb: How To Generate Income From Your Blog When Time is Running Out

What Makes Big Brands Spend Money on Your Blog

Return On Influence: The New Rules of Creating and Leveraging Power on the Social Web

How to find your social media and blogging ROI

Podcasting 101 Part 2: Equipment Options, Post Production, RSS, Web, etc

THE REAL SPHEIL: The Realistic Approach in Monetizing Your Podcast

Launching a YouTube Channel

Working with the Unions for My Web Series

Pinterest for Fun and Profit

Building your Blogs Audience and Becoming an Expert with Major Press

10 Professional Writing Secrets to Create Killer Content

15 Blog Optimization Secrets of the Top Media Companies

Learn The Art of Podcast Narration

How To Build A Thriving Community Around Your Podcast

Blogging for Business: How to turn Your Blog into a PR Marketing Machine

Music for My Web Series

How to Build Advertising Inventory for My Web Series

How Big Brands are Using Pinterest to Drive Business

Break all the rules: How to turn your passion into a multi-million dollar business

Making Your Corporate Blog a Customer Connection Hub

How Your Blog Can Change the World

8 Proven Membership Models: How To Quickly Go From Sporadic Sales To Recurring Revenue

Social Media Badger Theory: How to Find Success Through Fearlessness

Social Media Measurement that Actually Helps Decision Making

How Science Fiction Podcasting Can Create a Better Future

The State of Podcasting for 2012

Blogging for The Media: Catapult Yourself by Becoming a Blogger for Major News Organizations

How to Distribute Your Content at Scale

Working with Actors in My Web Series

When is it Time to get an Agent or Manager for My Web Series?

The Recipes to Build Your Influence

Building Community in Blogger Outreach

New Media LIVE!
All of these ideas are from topics of sessions which will take place during BlogWorld & New Media Expo 2012. But you are expecting not 148 ideas, but 148 + 2 ideas, right? Ok, below you can find two more ideas for you blog.
149.  Making Great List May Boost Traffic for Your Blog
150.  How Writing About News and Hot Topics Will Increase Your Traffic
And here is an example of interview from last year:

And what's your ideas about blogging? Or maybe you plan to be in New York during this awesome event? Please don't hesitate and share your opinion with us.