Do you need an Under Construction Page or a Coming Soon Page or a Maintenance Mode Page while you're working on your site?
Then you landed the right place.
In this post, I'm going to introduce you Under Construction, a free WordPress plugin that helps you exactly with that.
How it Works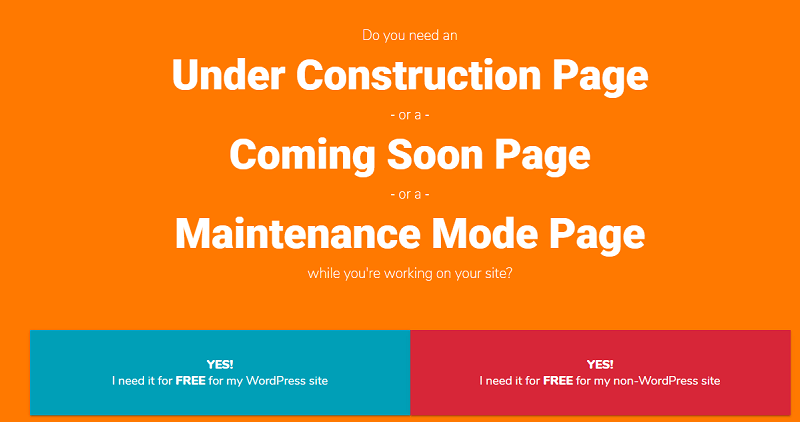 If you are serious about blogging or building an online business, then you should know that any time your site is offline, you may lose potential readers, customers or fans.
And when you work on your site, there's anything that can go wrong and potentially harm your website. For this reason, it's important you proceed to backup, before start to making any changes to your blog.
So, whether you need to update the design of your site or simply need to refine a layout, here's a simple, no-nonsense plugin for all those situations when you have to hide the site behind an Under Construction page for a while.
The following are the main options of this plugin:
Under construction mode – off / on
End date & time – automatically disable construction mode on a set date
Google Analytics Tracking ID – enable tracking via Google Analytics
Theme – a new one is added with each update, see screenshots of available themes
Custom CSS – adjust any part of the page to fit your needs
Title – page title, for SEO
Description – page description, for SEO
Headline – main headline/title
Content – anything you need to display, from styled text to images
Login Button – show a descrete link to the login form, or WP admin if you're logged in
Social icons/links – new ones are added with every update; let us know if we missed your favorite ones

Facebook
Twitter
Google+
LinkedIn
YouTube
Pinterest
Dribbble
Behance
Instagram
Email
Phone
Skype
WhatsApp
Tumblr

Whitelisted User Roles – user roles who see the site, instead of maintenance page
Whitelisted Users – users who see the site, instead of maintenance page
Here's a funny introductory video:
How to Install Under Construction WP Plugin
For the installation of this plugin, simply follow the usual routine:
Open your WordPress admin dashboard, go to Plugins, click Add New
Enter "under construction page" in search and hit Enter

Plugin will show up as the first on the list, click "Install Now"
Activate & open plugin's settings page located under the Settings menu
In alternative, you can directly download the plugin for free in the WordPress.org page.
Note: the plugin is updated twice per month and they are currently working on non-WP version as well.
Under Construction Plugin Menu
Find the plugin menu, under Settings in your WP dashboard.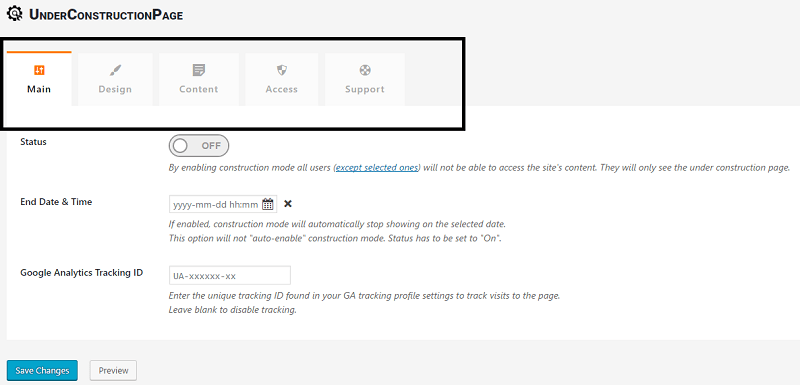 Here you can manage the functions.
In the Main tab, you can turn on/off the plugin, enabling construction mode for all users (with an option to exclude selected ones). You can set a date and time to end the construction mode. There's also a field where you can enter your unique Google Analytics Tracking ID to track visitors to your site.
The Design tab offers a series of layout you can choose to display on the coming soon page (included a field where you can add your custom own CSS code). I particularly like this design:
The Content tab is where you can enter the title, description, headline or any other content you want to be displayed in your maintenance page. You may want to add all your social profiles, which will be linked with beautiful icons. Social networks available include Facebook, Twitter, Google+, LinkedIn, YouTube, Pinterest, Skype and a few other ones. A couple of icons will help you display your email and phone number too, if needed.
The Access tab lets you whitelist user roles that will not be affected by the under construction mode and will always see the "normal" site (the default one is administrator).
In the Support tab you find the FAQ, with a link to the official support forum, where you will be able to open a new thread for any help requests.
Testimonials and Reviews
The plugin has a 4,8 out of 5 stars average rating, on the WordPress.org page.
Users love this plugin!
Here are a few testimonials:
Simple, quick and tidy
Does exactly what it's supposed to and really simply
unclehook

Excellent!
It just works! Not overly complicated like some other plug-ins. Just enough to display a choice of nice graphics & your own text.
JohnnyJoomla

Great plugin!
Working very nice. Thanks for your efforts.
shevin

Amazingly Done
If you want something straight-forward and just works, then choose this. Gets the job done just like that.
karlf

Simple & Stable
Very simple to use yet incredibly powerful. Highly recommended plugin!
seanyew39
Final Words
I find the Construction Page plugin a fantastic way to display a maintenance mode or coming soon page.
The plugin is so easy and quick to use. The design available are beautiful and professional (and there will be new ones added twice a month).
I also find the social icons a nice idea, included the ones that link to email and phone number.
Now, over to you.
Have you ever needed to create a coming soon page while you worked at your site?
If so, which solution have you used?
Please share your experience in the comments below, thanks!