Linkody started as a simple backlink checking tool and has been continually evolving, getting more and more features as it did.
And now it helps you earn backlinks from established sources, monitor these links, and analyze their metrics, among other great features.
In this article, you and I will explore together all the features of Linkody, one by one.
Oh, did I mention it has a very reasonable price?
Or that they have a free backlink checking tool to get a sort of preview of what the SEO software does?
Read on to find out more.
The First Minutes With Linkody
It takes about a minute or two to go from signing up to monitoring backlinks, thanks to its simplified on-boarding process.
Link your Google Analytics account with Linkody

Add your domain

Add your competitors' URLs

And at last, your Ahrefs account if you find it necessary
In as little as four steps, you can start monitoring everyone's backlinks.
Your Domain's Dashboard
Once you've added your domain to Linkody, it will pull up a variety of essential metrics and display them in your dashboard for your ease.
Additionally, you can also see your newly gained and lost backlinks, and those of your competitors'.
Mozrank, Domain Authority, Spam Score

Social shares

Trust and social flow

Alexa rating
You can expand most of these metrics by clicking on the view historical data link under each metric.
This shows you how well your efforts have fared with your results.

Clicking on the historical data link shows you an overview like this:
Coming back to the dashboard, you would scroll further down to see the latest statuses of your backlinks and a graphical summary.

If backlink monitoring is the cherry on top, then the dashboard is the creamy exterior. It's particularly useful for you SEO masters to be able to check up on the latest metrics of your own domain as well as that of your competitors'.
That about sums it up for the dashboard.
Link Attributes
Next to the Dashboard tab, you'll find the Links tab where you can view your backlinks. This shows a table with all the backlinks and their metrics.
You may pull down the Columns option to select/unselect the metrics shown in the table.

These are the different columns available to you.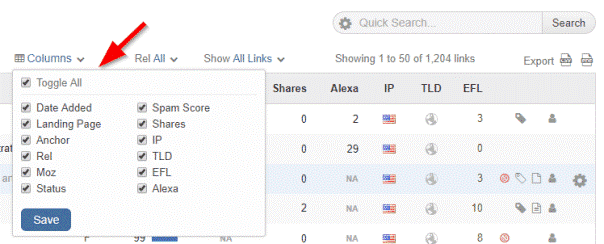 And this is what the above metrics mean to you:
Added

– the day this domain has been discovered by or added to Linkody

Status

– the status of the link when it was last checked

URL From

– the URL of the page linking to your domain

Landing Page

– the landing page on your site the link is pointing to

Anchor

– the visible, clickable text of the link

Rel

–

NF

(nofollow) or

F

(follow), where NF means that the hyperlink should not influence the ranking of the link's target in the search engine's index (

Read more.

)

Moz

– includes Mozrank, Page Authority and Domain Authority which represent a link popularity score and reflect the importance of any given web page on the Internet. Click on the mini-menu to switch between each metric.

Spam Score

– a metric from Moz that indicates how likely a website is to be penalized by Google (

Read more.

)

Shares

– the total number of social shares (hover over to see distribution by social network)

IP

– the hosting server's country

TLD

– the

T

op

L

evel

D

omain's corresponding country (.com .fr etc.)

EFL

– the

E

xternal

F

ollow

L

inks is the number of links on this page pointing to a different domain (that the domain the page is on).
As with any good tool, you can sort and filter the backlinks to better analyze your backlink quality and quantity.
Backlink Sorting
You may sort the table based on a column by clicking on its header.
You can either filter your links based on Follow/Nofollow type of links:
Or by link status:
Once you've gotten your table sorted and filtered to suit your needs, you can expand a backlink to get more details about that link. It shows it as an overlay dialog so that you can return to the page by clicking outside the box.
With Linkody, you can go to the specific section and page of your link. This is probably the most useful and handiest feature of Linkody's. This lets you easily validate the links relevance to the page and section.
Competitors' Backlinks
Next up is the Competitors section, where you can see the Linkody magic happen. This section shows you what your competitors are up to such as their top pages and their backlinks. This is invaluable, as even someone starting backlinking for a website anew can quickly lift off the ground by seeing what your competitors are doing and imitating them. All the features of this section are detailed below.
Select a competitor from the Competitors tab and view all their backlinks at once in a table. You can view the backlinks of each or all competitor'(s) backlinks, add new competitors, and monitor their metrics.
View Top Pages
Viewing top pages could be useful for a variety of reasons: to see which pages or content your competitors rank the highest for, the most and average number of backlinks a page has, which topics they've succeeded with and which ones were a downer, and topics they've omitted.
You view the top pages by opening the View Top Pages link in the competitors section after you've selected a competitor.

On a good day you can follow what they've done and do it a tad bit (three times) better to get the same kind of success.
This is the feature you should use if you're looking to creating content that will earn you backlinks. Or in other words, this is what one would call a linkbait content that's a real link magnet. This type of content is very interesting and useful to a large set of audience that people will give you backlinks (without even asking them).
View All Competitors' Links
In this quick yet detailed view, you can view all the necessary data on your competitors' backlinks. You can view all your competitors' backlinks; even 44k of them. Usually (or at least ideally) your competitors must be very similar to you in terms their niche and products/services. This is crucial so that you can be assured that you're sailing in the downwind; thus, increasing the chances of webmasters featuring you as well.
Now, just like with the Links section, you can sort, filter, and select your desired columns; experiment with the metrics Linkody offers.
Here's some things you can look for in the competitors' links page:
You can check which backlinks you have in common and from which domains you and your competitors have common links, or just check which links you share with your rivals.

You can filter the backlinks by RELs – select do-follow or no-follow backlinks.

And the cool part is you can do the search for general phrases, here's an example:

Search for "blog" – you will be able to find all your competitor mentions in different blogs. This is a wonderful way to search for guest blogging opportunities.

Search for "review" – this is how you can find all the sites that have written a review for your competitors. In this way, you can find websites who could be interested in reviewing your product or service.

Search for "list" or "tools" – this is the best option to find the Ultimate List of XYZ tools. And if you check "not shared" link you will be able to find all the lists where our tool or service is not yet available (

here

are few more tricks you might like).
As a matter of fact, your imagination is your only limit. So, you can try different combinations and perhaps even share some cool tricks you might find.
Manage Competitors
This part of the Competitors section is where you can manage and monitor your competitors' attributes and other metrics such as their page authority or social media shares. This has everything you'd usually need.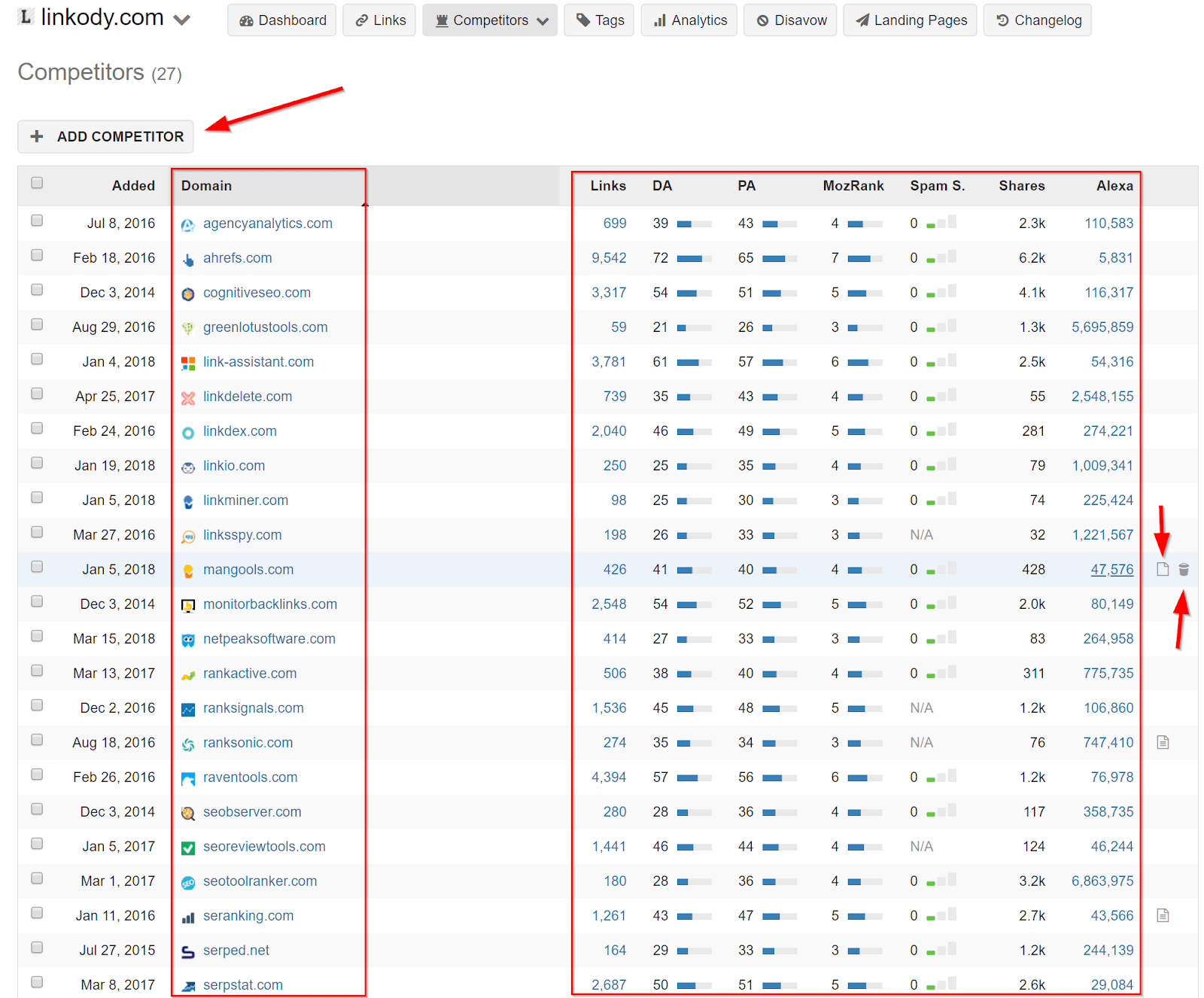 You can:
Add new competitors

Arrange and view by domains

View all their metrics:

Amount of backlinks

Moz Metrics – Domain and page authority as well as MozRank

Spam Score

Shares

And Alexa rank

Sort and filter your competitors on their metrics to see which competitor is doing the best with growing links or having the most traffic (Alexa rank).
Recently, another cool feature was added to Linkody where you can provide layered access control for different accounts. You can segregate and allow your partners' accounts to view all or only some of your competitors.
Backlink Analytics
Besides the Links and Competitors page, there's a specific section for backlink analysis. Here you can find a bunch of graphs of the metrics to get a quick (and detailed) overview of the metrics.
You can also filter the data on the graphs using the different options provided in the filter dropdown menu such as statuses of backlinks like "OK", "Errors", "Paid" etc.
In the analytics section you can see graphs on these stats:
Moz Metrics Distributions

Spam Score Distribution

Your Top TLDs

Sources of your backlinks (location such as Asia)

Your most linked landing pages

Domains with most links to your content
That's it for now.
There are few more cool things Linkody can do – but you have to unwrap that gift of a tool yourself.
Otherwise, it's no fun, right?
Take the free trial for a spin and have some SEO fun. Afterward, let us know when was the point when you thought – "oh sh*t, this is pretty cool".
Would be great to know what surprised you the most about Linkody and its backlink skills.
About the Author: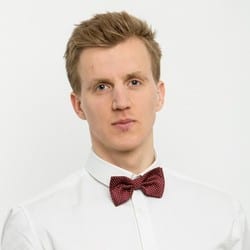 Helvis is an SEO-mastering, content-smithing marketer who spends his days at Linkody helping SEOs monitor their backlink data