We live in an era where smart phones and tablets are an integral part of our lives.
Now there are more people browsing the internet on mobile to those using a desktop computer.
There will be 2 billion of smart phone users by 2015, according to this study by eMarketer. And more than 80% of internet users will be from mobile.
If you haven't done it yet, then you need to make your website mobile-friendly today.
You don't want to lose potential readers (or customers)!
In this post I'll give you specific options and tips to create an awesome experience for mobile users visiting your business website or blog.
Is Mobile Really Rising?
The trend is clear, but I still wanted to check analytics data for one of my sites.
For example, Tokyoezine (my Japanese travel niche website) gets more than 64% of traffic from search engines.
I've set the time period from beginning of November 2014 until today.
In my Google Analytics dashboard, under the "Audience" menu, I selected "Mobile—>Overview".
This is the screenshot (click to enlarge) :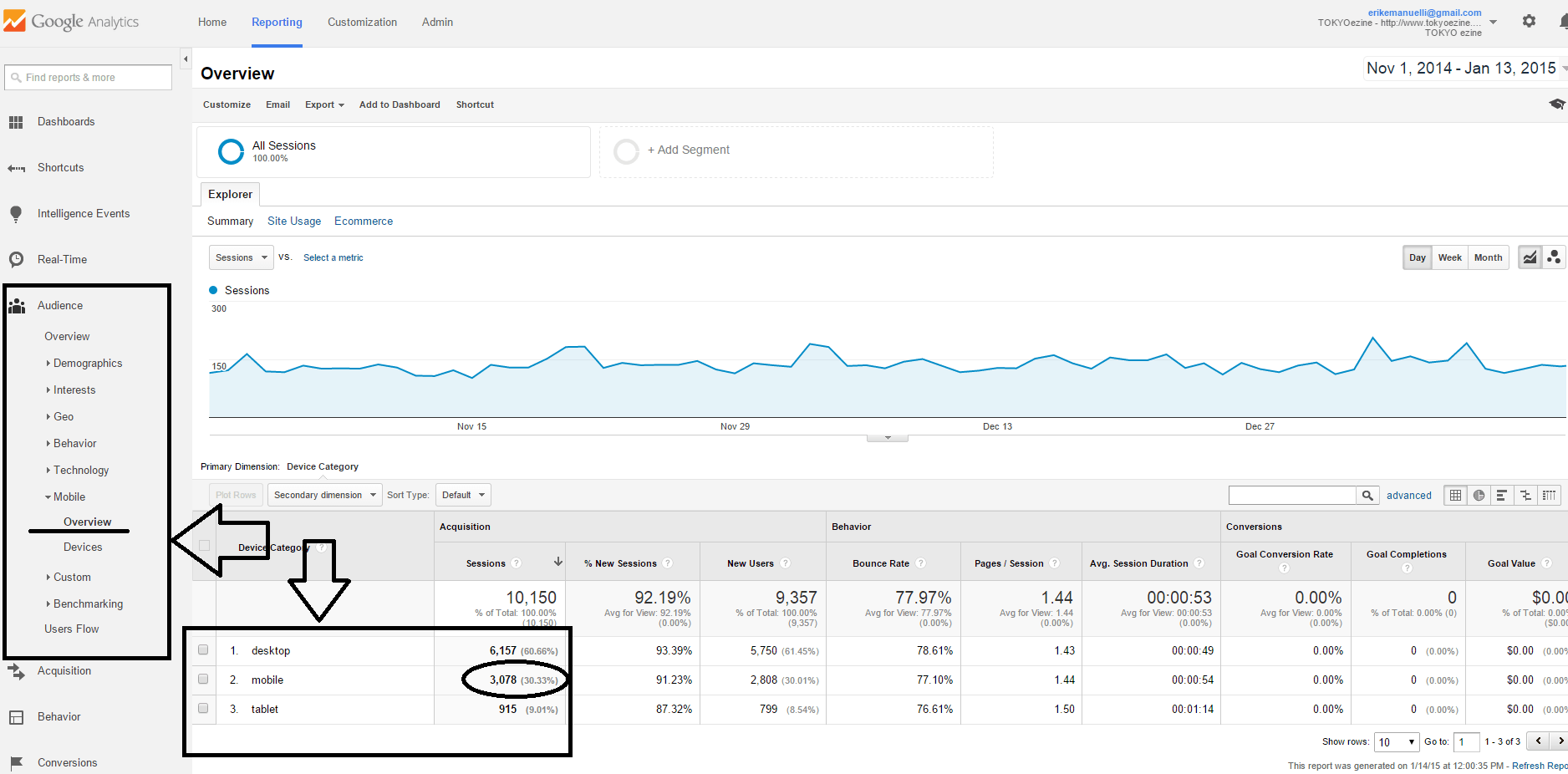 More than 30% of users are browsing my niche site from mobile.
Under "Devices" tab, I found out that more than 26% of mobile visitors are from Apple iPhone, while 17% from iPad.
The rest are from Samsung or other mobile gadgets.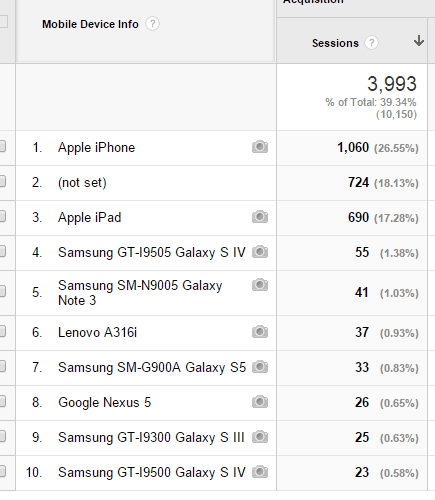 But I'm sure in future more visitors will land to my website from mobile devices.
And you, are you using a mobile optimized theme on your blog?
If you discover that more than 30% of your visitors come from mobile devices, can you ignore them?
Definitely not.
You want to put yourself in the shoes of your audience and think about how to create an awesome user experience from mobile.
Is Your Website Mobile-Friendly?
The first step you can take is searching for your website with Google. It's now showing if the URL is mobile-friendly or not.
This is the screenshot of my research using my iPhone: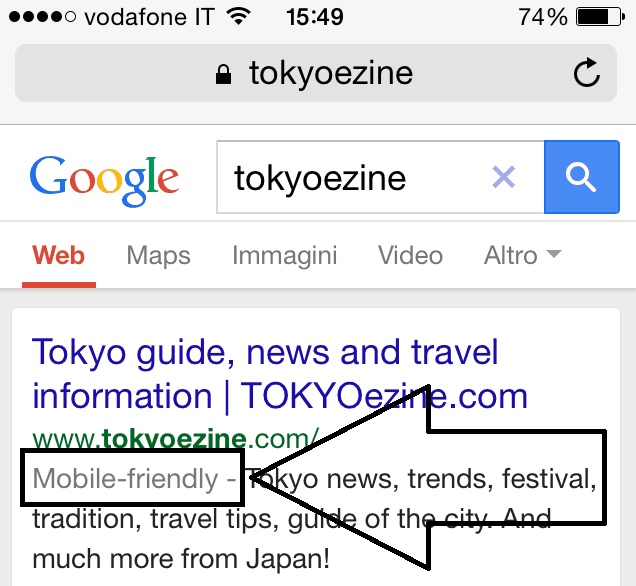 Google gives you also a free service to check if your blog is ready to give mobile users a positive experience.
Use their mobile-friendly test to rate your blog.
The result of the test with my niche site was positive.

This service will also tells you how Googlebot sees the page tested.
This is how TOKYOezine homepage looks from a visit on smart phone: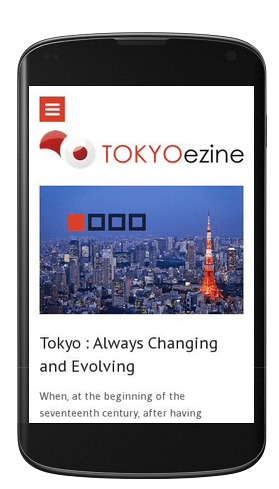 If the result of the test with your website was positive, then congratulations!
But if you still need to improve your blog to make it mobile, then you should read the following suggestions.
How to Make Your Blog Mobile-Friendly
There are different options available, most of all if you use WordPress.
1. Use a Mobile-Responsive Theme
If you have purchased a professional theme for your blog lately, it's likely you have already a mobile responsive theme.
For NoPassiveIncome, I use a personalized Genesis Framework child theme (Magazine PRO).
For TOKYOezine, the niche site I use as example in this post, runs on Spectrum, from WooThemes.
Both are mobile responsive templates, with HTML5 markup.
Aside from having a beautiful design, they are both easily customizable.
I prefer Genesis, but Spectrum from WooThemes was updated in July of last year and now it looks really professional for an online magazine, like TOKYOezine.
If you want to take blogging seriously, then I suggest you to invest some money purchasing a professional theme.
2. Use a WordPress Plugin
If you don't want to invest money in a responsive template, then you can use WP-Touch, a WordPress plugin that lets you build a mobile version of your blog.
There are different plugins available, but this one has been the most popular and used for this purpose (it has been downloaded more than 6,5 million times).
Once installed, WP-Touch will create a nice mobile optimized theme for your blog.
You won't have two different websites, but the mobile version will be shown to users landing from smart phones or tablets.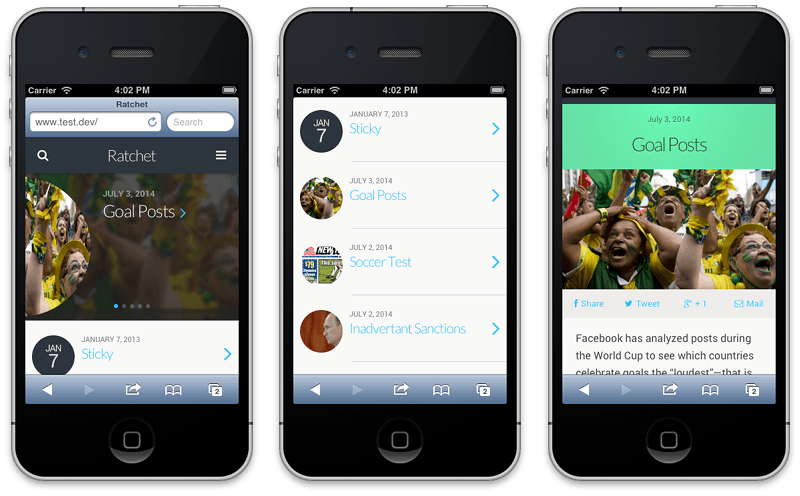 The free version gives you just one default theme, so you don't have to tweak a lot of things in the settings. Just set up the mobile menu and add the bookmark icons.
And if you want more templates to choose from, you can get the PRO version.
Aside from WP-Touch, some other options available are "WP Mobile Detector" WordPress plugin or "MobilePress".
Also Jetpack is a plugin that will give your website some features to make it mobile-friendly.
3. Build an Application
Generally building an application would be very expensive.
But there are some affordable solutions online.
Chupamobile offers you interesting features to create a fantastic App for your website. They have more than 1500 templates available among a large range of categories available (included business).
They also help with the process of creation and launch of the App in the Apple AppStore, Google Play and the Amazon Appstore, without knowing about coding or design.
It's a good solution for medium-large blogs or websites.
Conclusion
Whether you choose to use a mobile responsive theme, install a plugin or build an application, you must be sure to create an awesome experience for your users landing from mobile.
If you haven't done it until today, then I strongly suggest you to take action, as soon as possible.
As your mobile audience will definitely keep increasing in the future.
Do you have already a mobile optimized website?
What system are you using?
Please let me have your comment below, thanks!