Almost every successful, large-scale e-commerce business starts out as a small enterprise. Going from a small to big requires three fundamental things:-
the desire to be big
building a brand
a plan that sets out measurable goals to achieve along the way
Do You Even Want Your Business to Be Big?
Many e-commerce businesses are "lifestyle enterprises" – scaling up such a business would defeat the purpose of it, as it's an enterprise that affords a certain lifestyle for the owner.
They're happy to commit a certain amount of time and effort to the business – perhaps only a few hours per day, and to run the business by themselves without employing anyone else.
Scaling up a lifestyle business would sabotage the reasons why it was started in the first place
So, turning a small e-commerce business into a big one requires the strong desire to want this to happen – because you'll find yourself in the initial stages committing a lot of your time or money (or both) to hot-housing your business.
I mention all of this at the start because many business owners straddle between the "lifestyle business" and truly wanting to scale up.
They tend to scale up to a certain size, and then often shrink back to a size they can manage. This can equate to a lot of stress for the owner, as well as wasted time, effort and money.
You've Got the Desire, Now to Make it Happen
So you want to grow your small fledgling business into something big.
The desire is there, and you're ready to commit time and money to make it happen.
That's a very good start, but it's not enough.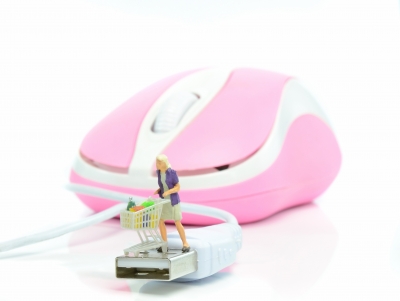 Being Big is Being a Brand
You can't be big without being a brand. Being "big" is actually nothing more than a synonym for being a brand. If you are a brand, you're big. If you're big, you're a brand.
"Brand" has become a real buzzword since Google stated that their algorithm looked for "brand signals", as such signals were often hallmarks of quality vendors.
For example:
Instead of someone looking for a generic product like basketball shoes, they're looking for a brand name that sells basketball shoes.
The quality signal is obvious – they want a particular brand of basketball shoes, not just any pair.
Being a brand is much more than pleasing Google, however good that is. Being a brand is getting your customers to market your products for you (through word of mouth).
It's about repeat business. It's about creating an aura that makes your products (and your company) something that people want to talk about, not just buy / buy from. That kind of marketing is the Holy Grail for any advertiser or marketer.
Building a Brand: It Starts With Your Offering
First and foremost, being a brand is about providing high quality products and/or services. And when I say products, I do NOT mean commodity products that thousands of other vendors sell.
These will be products that are either unique, or the supplier only has a handful of retailers selling them.
Unique / bespoke products will mean you're manufacturing it yourself, therefore have complete control over the quality and utility of such a product.
If you rely on suppliers, then you can still create a unique e-commerce website by selling on behalf of a number of suppliers – the overall site is a unique collection of products not available elsewhere.
Of course, if you offer a service that you sell, then you have complete control over the quality of the service.
Finally, do not forget that selling tangible items is also a service too.
It's about speed of delivery, customer care, after-sales support. If your customer services are exceptional, that goes a long way to building a brand.
Building a Brand: Get the Word Out There
So you've been working hard to perfect your overall offering. This makes the next step so much easier – getting the word out there.
When you have an offering you're proud of, that you know is something noteworthy, it's just so much easier to market.
Get onto social networks, start Adwords campaigns, explore all types of marketing and advertising channels.
Because you've been perfecting you're offering, let your target market know about the improvements you've recently made, about recent product reviews / testimonials you've received – that kind of thing. It's about starting a conversation.
Dealing With Scaling Up
This is the truly difficult aspect of going from small to big – handling the extra demands of your time.
You may need to:
hire new staff
find new physical premises for larger stock quantities
commit much more time and money to the business
When scaling up, there is a feeling that you are losing control of your business. All the small-scale comforts disappear, often replaced by bigger costs and bigger risks if things go wrong.
This comes back to the first point of this article – the desire to be big. You will face a lot of discomfort in the transition from small to big, but your desire will see you through if it's strong enough.
And having said that, being a big e-commerce business isn't all about perpetual growth (which is another myth that needs to be debunked).
Many big businesses are happy to maintain a certain scale and grow "sideways" (moving into new niches, starting new subsidiaries) – or simply maintain their size, happy that their brand name is keeping their sales healthy.
You just need to reach a scale that you're happy to reach – if you're not there yet, keeping growing.
Take Your Time
Finally; a note on the growth phase:
Growing pains are a lot worse when you're growing fast. Slow and steady growth is a lot easier to manage.
There's no point in doubling your sales if it means your after-sales support truly suffers. So just grow at a pace you can easily manage.
Try to grow intentionally and be aware of how your growth is affecting your business, by doing this you will prevent your growth from hurting your brand.
Image courtesy of Grant Cochrane at FreeDigitalPhotos.net