Have you ever experienced a Google penalization on one of your websites?
Well, I hope you don't. Because recovery can be quite hard, most of all after Panda and Penguin.
Following the official content guidelines will "theoretically" ensure you to avoid any penalties, but you know (most of all if you are blogging since some years) that respecting all the rules is not that easy.
Here is a list of 10 blog habits to help you being penalized by Google, so be sure to avoid them!
1. Server Downtime or Slow Response
Avoid this like a plague: the search engine spiders do not like to miss a bit in the web.
So pay attention to the response time of the server where you hosted your blog.
I use HostGator and I have a dedicated server. Yes, it may cost a bit, but my online activities have expanded to a certain level that I needed to make the upgrade.
The response time of Hostgator servers is very low: 0,1-0,2s and I'm very satisfied on uptime:

I use Pingdom to monitor in real time my sites, so I receive an email with a notification if my server goes offline.
As you can see in the image (FillMyMoneyBox is one of my niche blogs) server is up since 2 months straight.
2. Duplicate Content
Another thing that you must avoid, as it is very negative for your positioning in the SERPs.
The time that you invest in producing great content, will be repaid later with visits and traffic over time.
Copy and paste does not pay, absolutely. Now even less, given that Google severely penalizes those who do.
Be sure to use these free tools to check if your content is copied and how to protect it.
3. Low Outbound Links Quality
A high quality website does not link to sites of low quality or even worse, to spam sites.
Be sure to control not also the links included in your articles, but also the ones in the comments.
You may want to use sometimes the "rel="nofollow" tag for the outbound links in your content that you do not want the search engines will count.
I suggest you a wonderful plugin to manage the links in your articles: "Outbound Link Manager".
It is a fantastic free plugin that let you monitors outbound links in your posts and pages, easily allowing you to add or remove a nofollow tag, update anchor texts, or remove links altogether (in a bulk).
Also on all your archived posts, that is pretty amazing (and save you a lot of time from doing it by yourself).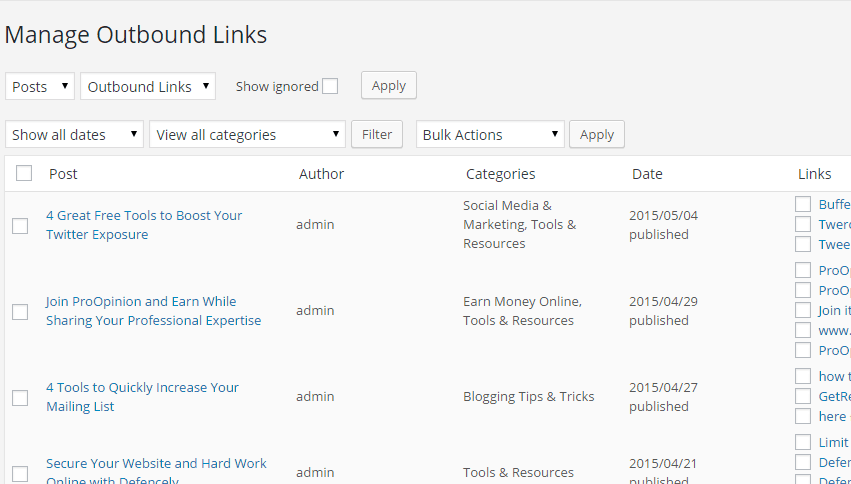 4. Duplicate Title Tags or Meta Tags
For a proper on-page SEO optimization your title tag, description tag and keywords tag must be unique for each page of your website.
I suggest you to use properly Google Webmaster Tools.
You can monitor the status of your site, like the research queries, sitemap, errors of server, backlinks and you may also check suggestions of pages with duplicated or missing meta tags that you should modify or improve.
5. Using Link Farm
You should also avoid link farm. Link popularity is fairly built, although it is challenging.
Just think to what happened to BuildmyRank: the big overwhelming majority of their network has been deindexed by Google.
So building your own private blog network is quite risky, think hard before doing it!
6. On-page Spam Techniques : Keywords Stuffing or Hidden Text
This is quite an old technique, but of course is still bad for your SEO.
This system was abused years ago from many webmasters. The practice consisted in adding a lot of keywords at the end of the page, hiding the text, camouflaging (cloaking) it with the same color of the page, so the visitors will not see it, but it was considered by search engines crawlers.
These techniques, if discovered, will lead to penalties or even the exclusion/ban of your website from search engines.
Google has become quite good in checking these techniques.
7. Do Not Create a Sitemap
A XML sitemap is a file that lists all the pages of your site and gives search engines other important information, as for instance how often you add content, which is helpful in getting new pages crawled quickly.
A sitemap is too important for a blog for neglecting its creation and you should be surprised in discover that many sites still do not have it.
Creating a sitemap on your WordPress site is really easy: I use  "Google XML Sitemaps" plugin. Just install it and follow the instructions.
Let Google and other search engines know that you have it, using Google Webmaster Tools.
8. Your URL is Too Long
When you choose a domain name for your new blog, you should avoid long URLs, if possible.
Avoid hyphens, dashes or numbers, as the name may look "spammy".
Try to take an easy to remember name, choose a dot.com when available (or at least .net or .org), pick a name easy to type, avoid copyright infringement and include your keywords in the name.
9. Weight of the Page More Than 100 Kbytes
Many spiders stop reading a page when the amount of bytes reaches a given value. This value is typically around 100 Kbytes.
Moreover, people on internet are "lazy" and they do not want to wait more than 8-10 seconds to display a page or a website. 3-4 seconds is already a high amount of time!
And as you surely know, the loading speed is a factor that Google consider in search engine results.
I use a cache plugin on most of my sites. It improves the speed and user experience of your site. Add browser, page, object and database caching as well as minify and content delivery network (CDN) to WordPress.
Check the speed score of your site with this free tool offered from Google: Developers.google.com/pagespeed and receive suggestions on how you can improve your blog.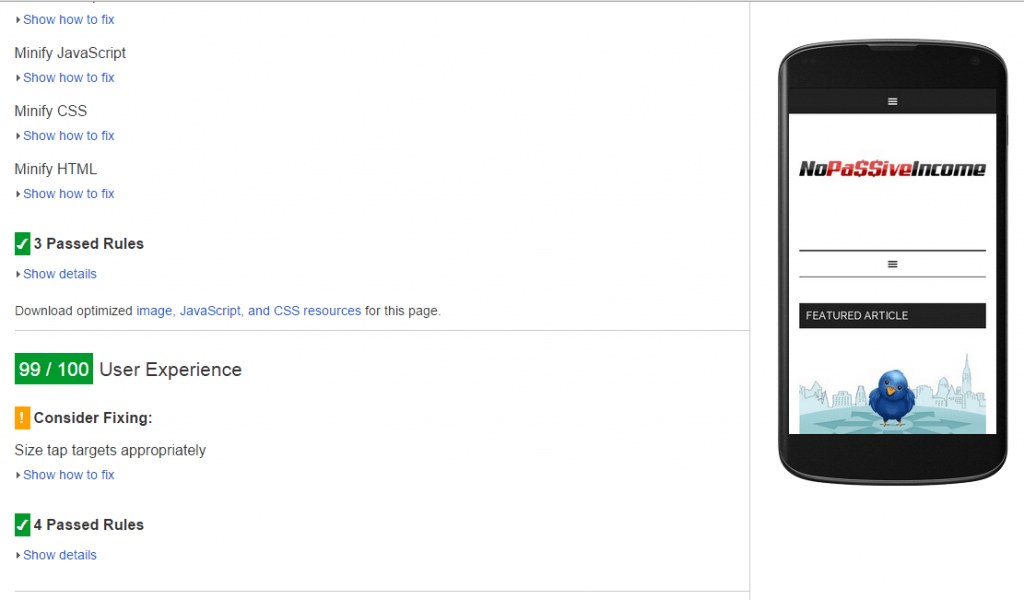 10. Using Flash or Javascript
There are still problems of proper placement of content created with Flash. Websites created in Flash are not search engine friendly.
The spiders have trouble reading also codes in JavaScript. So, use the HTML. The same goes for Ajax technology for Java applets and ActiveX controls.
Have you found something that can help you improve your site?
Do you have some other suggestions?
Please share your views in the comments below, thanks!